Falling leaves, pumpkins, apples, hot cocoa, sweaters, and reading a good book by the fireplace (and let's not forget pumpkin spice everything!) These are just a few of the many things that I just adore about fall. However, as much as I love fall, and all of it's associated comfort foods (think cozy casseroles, hot drinks, and scrumptious stews), I find I still have a taste for salads, too. Although the nature of my salad cravings might change with the seasons, I like to have a little something fresh along with all of my cool-weather favorites.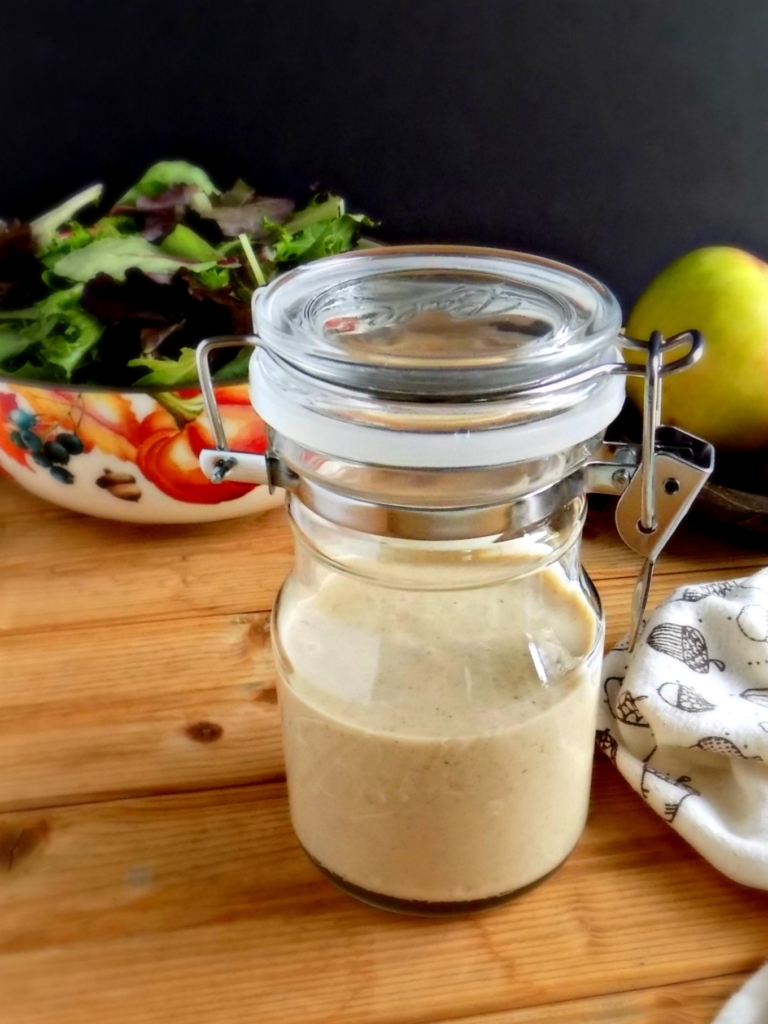 And leafy green vegetables are still in season in the fall, so when I can, I like to keep some growing in my garden well into October and November. If you don't have a garden, then lettuces, cabbage, kale, and other fall salad greens should be readily available at your local grocery store or farmers market (and at a good price, too, because eating with the seasons saves money!)
I like to dress up my salad with some yummy extras like roasted butternut squash, dried cranberries, roasted pumpkin seeds, and hearty rye croutons. And let's not forget that a fall salad this amazing requires an equally-amazing autumnal dressing to top it all off. I made up this jar of dressing for one such worthy salad, and it turned out to be light, and creamy, and possibly even a little healthy. It's made with creamy Greek yogurt, maple syrup, apple cider vinegar, and a touch of dijon mustard for a little extra punch of flavor. I think this flavorful, light vinaigrette is perfect for any fall salad and would even be a great accompaniment to Thanksgiving dinner!
Creamy Maple Apple Cider Vinaigrette
Ingredients
1/4 cup plain Greek yogurt
2 tablespoons apple cider vinegar
2 tablespoons extra virgin olive oil
2 tablespoons maple syrup
2 tablespoons Dijon mustard
Salt and pepper to taste
Instructions
Using a blender, or a whisk, combined the first 5 ingredients completely. Mix until smooth. Add salt and pepper to taste.
For more great recipes, visit my friends at:
Full Plate Thursday at Miz Helen's Country Cottage
Weekend Potluck at The Country Cook