In this recipe, the humble zucchini becomes a star as it gets transformed into this delicious Homemade Zucchini Relish for canning or freezing. Chopped zucchini, bell peppers, and onion are simmered in a sweet and tart vinegar brine. Add in a medley of spices, and I'm telling you, this relish is packed with flavor. Use it wherever you would use regular cucumber relish. I use it for burgers, hot dogs, sandwiches, or to add to spreads like ham salad or tuna salad. (And if you like to make your own condiments using fresh produce, check out my recipe for Peach BBQ Sauce for Canning or Freezing.)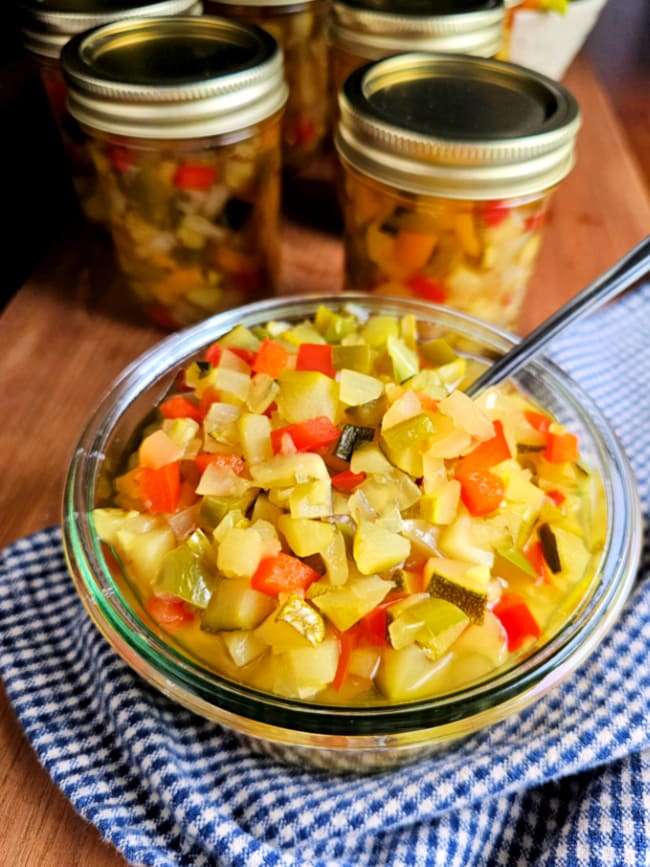 Now I know that when you think of relish, cucumber relish is probably what comes to mind. But zucchini works beautifully in relish. Actually, zucchini relish tastes much like cucumber relish and is just as delicious. And in this recipe, I give the zucchini relish the flavor of bread and butter pickles by adding pickling spices and celery seeds to a sweet and tangy vinegar solution. (And you aren't limited to zucchini for this recipe. Other summer squash, like yellow squash, can be used here, too!)
So why use zucchini in relish?
If you're a vegetable gardener, you know that zucchini and squash can grow rather abundantly in the home garden. And if you're like me, come late summer, you may begin fantasizing about sneaking baskets of zucchini onto your neighbors' porches in the middle of the night. (Desperate times call for desperate measures, am I right!?) But don't despair because I'm going to give you a recipe to help you use up that abundance.
And even if you don't have a garden, this relish is such a delicious and fun condiment to use as a topping and in your favorite recipes that you'll want to pick some up at the supermarket or your local farmers market and make this recipe anyway.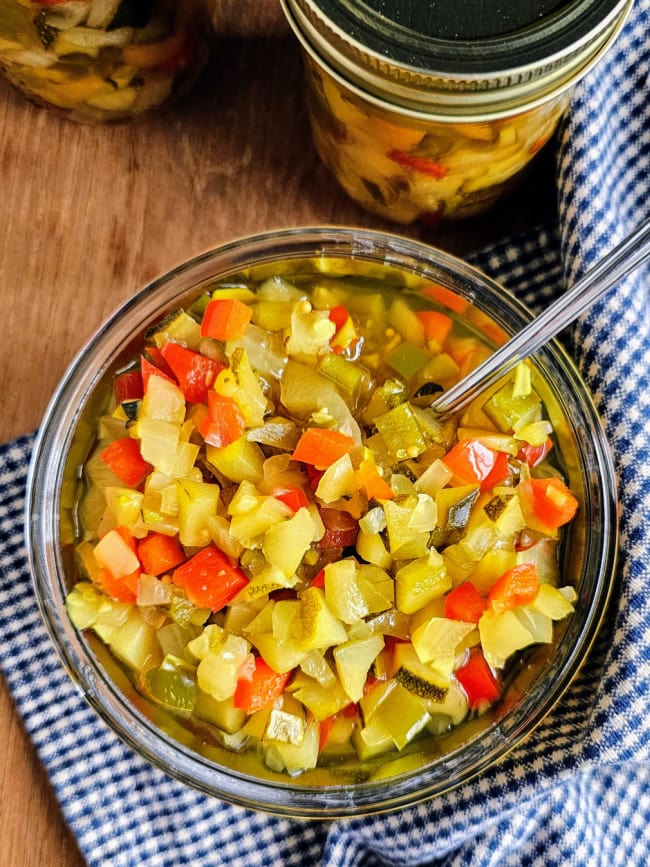 How to preserve Zucchini Relish
If you've been looking for a recipe for zucchini relish for canning, I've got you covered. This zucchini relish can be preserved long-term by canning or freezing. By preserving your zucchini relish, you will be able to enjoy the fruits of your labor for many months. Canned relish will retain good quality for up to a year on the pantry shelf, while frozen zucchini relish will last for up to 6 months. Whether you choose to can or freeze zucchini relish will depend on your personal preferences and storage space. Both methods of preserving yield high-quality results.
Of course, you can also choose to skip the preserving and simply store your relish in the refrigerator. It will last for weeks to months in the fridge.
Canning Zucchini Relish
To can Zucchini Relish you need to use the boiling water bath method of canning. This will ensure that your relish will be safe and shelf-stable.
And for anyone new to canning, I know it may seem like an intimidating project. But it's really quite simple to learn how to can. And it's very safe, provided you follow the guidelines and the recipe.
Also know that the recipe I'm giving you here is based on a safe, tested recipe from the Ball Blue Book of Preserving 37th edition. I've doubled the original recipe. And beyond that, the only ingredients I've altered are the dry seasonings. This means that this recipe is perfectly safe for canning.
So if you're new to canning and want to try this canning recipe, I am providing the basic instructions here, but you will need to familiarize yourself with the boiling water bath canning method. It takes only a little bit of time to learn the terminology and to understand the process.
I encourage you to pick up a good canning book, like this one by Ball, to learn the complete process. Or use a reliable online tutorial, like this one by Simply Canning. I also recommend checking out the National Center for Home Food Preservation website. They are located at the University of Georgia and are the experts in all types of home food preservation.
Freezing Zucchini Relish
An alternative way to preserve zucchini relish is to freeze it. It is definitely the less labor-intensive way to preserve this relish. And it's a great option, provided you have the freezer space.
To freeze zucchini relish, you simply pack it into freezer-safe containers and freeze it for up to 6 months. Frozen zucchini relish should be thawed overnight in the refrigerator before use. If you're interested, here is a link to the containers I use for freezing my jams, relishes, and pickles.
How to store an open jar of relish
Whether you freeze or can the relish, you will need to refrigerate it once you open the container or pull it out of the freezer. The relish should keep for weeks, and more likely for months, when refrigerated. But exercise good sense, and if the relish should look, smell or taste bad at any point, be safe and go ahead and discard it.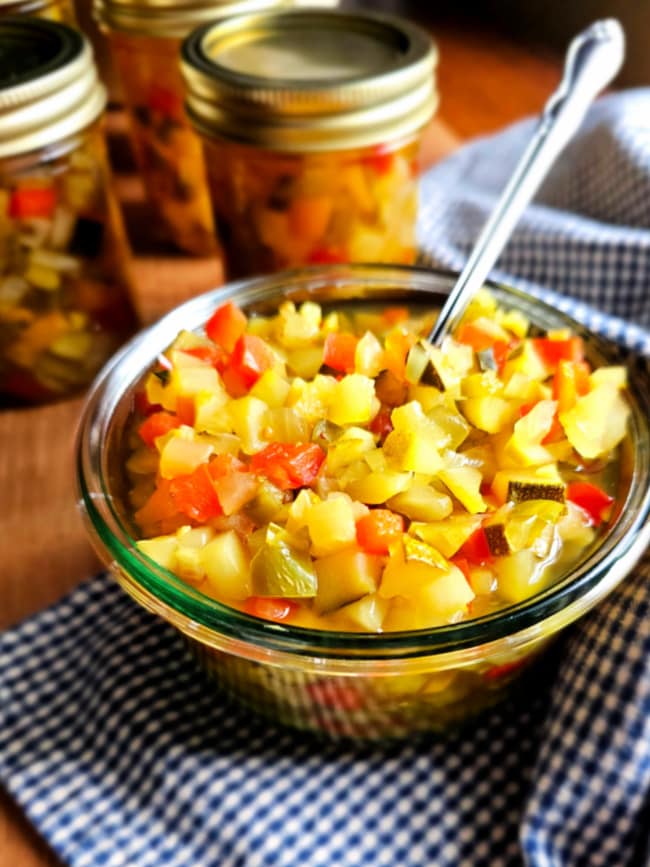 A word about the sugar in this recipe
There is A LOT of sugar in this recipe. More sugar than vinegar, actually. But that is the nature of sweet relishes. The sugar not only gives flavor but also keeps the vegetables plump and crisp and thickens the relish. Its pickling liquid is really more like syrup. I don't mind the sugar because I only eat a very small amount of relish at any one time. But I know that there are folks who are avoiding or cutting back on sugar. So I want to give you a few options.
The first option is to cut back. The full amount of sugar for a batch of relish this size is 3 1/2 cups. But I have experimented with it and have successfully cut it back to 2 cups. Without the full amount of sugar, the relish is a bit thinner, but it's still very tasty. And in terms of safety for canning, according to the University of Wisconsin Cooperative Extension, it is safe to reduce or eliminate sugar in pickling recipes. You can find this information in their pdf publication entitled: Play it Safe: Changes and Substitutions to Approved Home Food Processing Recipes.
As far as using stevia, monk fruit, or artificial sweeteners, there hasn't been a lot of official recipe testing done with that. However, I have seen it recommended not to use alternative sweeteners as they may become bitter when cooked. If you plan to experiment with alternative sweeteners, my advice would be to make a small batch for freezing or the refrigerator to see if it's something that you like.
You can also change up the type of sugar in this recipe to create different flavors. I use unprocessed granulated sugar. But you can use regular white granulated sugar or even brown sugar. Different types of sugar will give a different flavor and color to the relish.
Tips for Making Zucchini Relish
Very importantly, if you are canning this recipe, do NOT alter the amount of vegetables or vinegar. Also, do not add water to the vinegar. This will dilute the vinegar and could potentially change the acidity of the mixture and make it unsafe for canning. You can safely decrease the amount of sugar in the recipe, but this may result in a very tart relish, and will also alter the texture of the relish.
You can change up the recipe by using any kind of summer squash you prefer. Zucchini, yellow crookneck squash, or even patty pan squash will work. You can also use any type of peppers or onions that you like (just don't change the amounts!) For a spicier relish, I sometimes substitute a portion of the bell pepper with an equal amount of jalapeños. And you can choose to use red, white, yellow, or sweet onions in the recipe.
Make sure you use vinegar that is of 5% acidity. It needs to actually state this on the label of the jug or bottle. There are currently some vinegars being sold that are of a lesser acidity, which makes them unsafe for canning.
Use fresh, ripe vegetables. The quality of the vegetables will make a big difference in the quality of your relish. Choose vegetables that are ripe, but not overripe. Avoid using bruised or wilted vegetables.
Chop the vegetables into uniform pieces. This will make the texture more pleasant to eat. You may chop the vegetables using a sharp knife or a food processor. If you go the food processor route, however, be sure to chop the veggies and not turn them into puree. No one wants a mushy relish.
Peeling the zucchini is optional. I don't peel my zucchini, but the choice is yours.
If you are using large zucchini that have a lot of seeds, use a spoon to scrape out the seeds. Although the seeds are safe to eat, they may create a bitter or watery relish. Go ahead and discard the seeds, and then proceed with chopping.
You can half this recipe if you prefer to make a smaller batch of relish. You can also double or triple the recipe. Just be sure to accurately calculate the amounts of all of the ingredients so that you don't accidentally alter the ratio of vegetables or vinegar.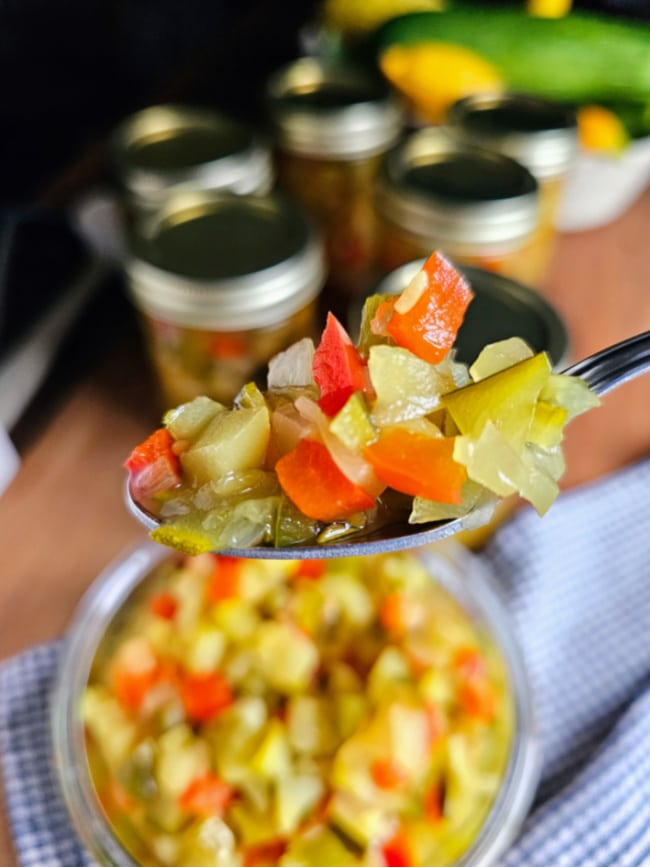 ---
If you try this recipe for Zucchini Relish, I hope you love it. And follow me on Facebook, Pinterest, and Instagram so you don't miss a post.
*As an Amazon Associate I earn from qualifying purchases. This post may contain Amazon or other affiliate links, which means I will earn a commission at no additional cost to you if you click through and make a purchase.*
Print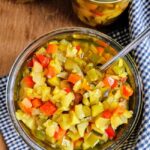 Zucchini Relish for Canning or Freezing
---
Author:

Total Time:

3 hours

Yield:

8

Half Pints

1

x
Description
This homemade zucchini relish is the perfect way to use up a bumper crop of zucchini. It's sweet, tangy, and flavorful. This relish is great for hot dogs, hamburgers, sandwiches, and more. It's also a delicious addition to salads, wraps, and dips. Preserve it by canning or freezing to enjoy it throughout the year.
---
4

cups

chopped zucchini (about 6 medium)

2

cups

chopped onion (about 2 medium)

2

cups

chopped bell peppers (any color)

1/4

cup

pickling salt (don't use table salt as it will give the relish an off flavor)

3 1/2

cups

granulated sugar

1 tablespoon

mixed pickling spice *see notes below

1 tablespoon

celery seed *see notes below

1/2 teaspoon

turmeric (This will give the relish a yellow color. It is optional.)

2

cups

apple cider vinegar, 5% acidity
---
Instructions
To prepare the relish:
Add chopped vegetables to a large mixing bowl and cover with cold water (I like to add a handful of ice cubes, too.) Allow the vegetables to stand for 2 hours. Drain and rinse.
Combine sugar, spices, and vinegar in a large, heavy-bottomed pot and bring the mixture to a simmer. Add vegetables and allow to simmer for 10 minutes. (The temperature of the simmering mixture should be about 180 degrees Fahrenheit.)
Proceed to instructions for canning or freezing. Otherwise, simply refrigerate the relish.
To freeze the relish:
Allow mixture to cool, then pack into freezer-safe containers, leaving about an inch of room in the container for expansion.
Place the containers into the freezer for storage.
To can the relish:
Fill hot half-pint jars with relish and brine, leaving 1/2″ headspace. Be sure the vegetables are completely submerged in the brine. If necessary, top up with extra vinegar.
Debubble the jars and wipe the rims clean with a damp towel. Apply lids and rings to the jars.
Process in boiling water bath for 10 minutes, adjusting processing time for altitude.
After the processing time is up, turn off the heat and remove the lid from the canner. Allow the jars to sit in the canner and cool for 5 minutes.
Remove the jars from the canner and allow them to sit undisturbed for 12 hours. Check seals and label jars before storing them in the pantry.
Notes
When adding the spices to the relish mixture, you can either add them directly or wrap them up in a bit of cheesecloth. With the cheesecloth, you will simmer the bundle of spices and then remove it before canning or freezing your relish. It depends if you want the spices floating free in the relish, or if you want the flavor but not the actual spices in your finished relish.
Prep Time:

30 minutes

Soaking Time:

120 minutes

Cook Time:

30