Every summer, I eagerly await the first ripe berries of the season to appear. Frozen berries are fine for the rest of the year, but when they are juicy and fresh, straight from the bush, they are simply heavenly. We always eat some of the berries fresh and then use the rest for pies and jam.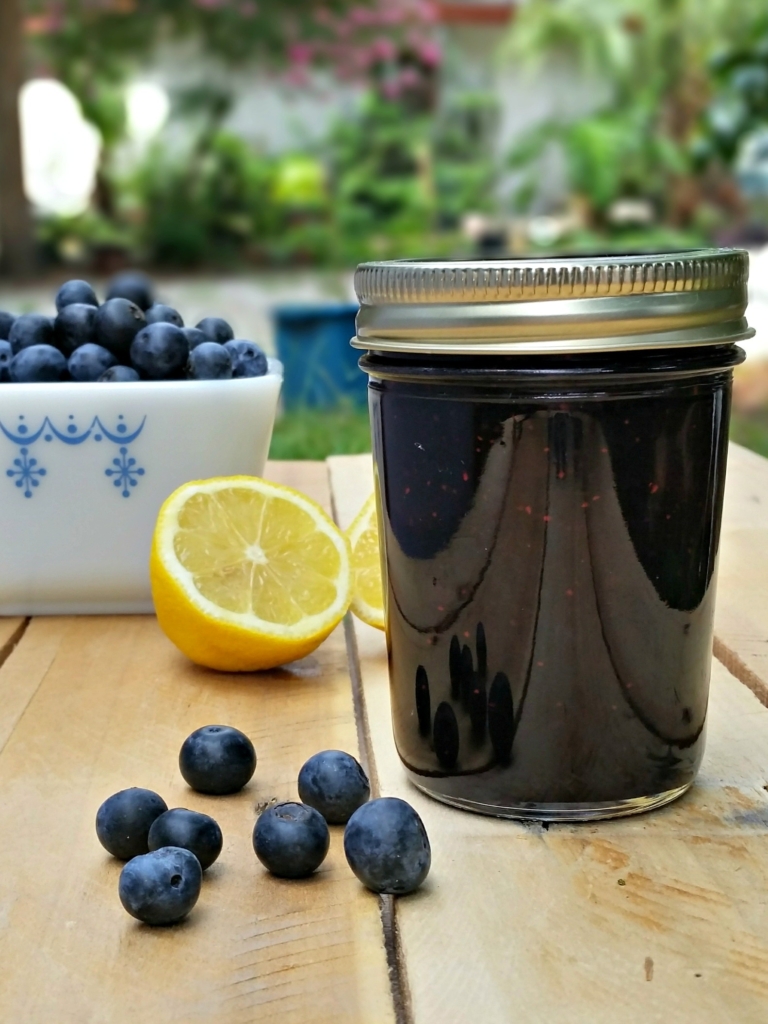 This summer, my first berry picking venture was for blueberries at a local farm. Unfortunately for me, I had chosen a day for blueberry picking where the temperature soared to unseasonably warm temps. I was feeling determined that day, so despite the scalding sun, I traipsed into the field armed with my berry bucket, and picked as many as I could before succumbing to the heat. Happily, they were worth it – these blueberries were just as delicious as I had hoped, and cost a mere $2 a pound to boot!
After we ate a ton of fresh berries from my haul, I used the rest to make my yearly batch of Blueberry Lemon Jam. It's a jam that is sweet, and a little lemony, and is perfect on toast, or as a topping for a cheesecake. I even once made a couple of hundred tiny jars of this jam as wedding favors, and they were a bit hit! I make it with a generous helping of lemon zest because that's where the real lemon flavor comes from.



Since blueberries are fairly low in naturally-occurring pectin (although you may see reports that mistakenly state otherwise), I prefer to hedge my bets and use added pectin to help this jam to set. Plus, jam made without added pectin typically needs to cook for more time than those with added pectin, giving the jam a more caramelized flavor. And while these kinds of jams are equally delicious, I like my Blueberry Lemon jam to have a fresh, bright flavor, so I go with the pectin.
I also use a moderate amount of sugar in this jam. There isn't as much sugar in this recipe as you find in many traditional jam recipes, but because of the added lemon, it really needs the sugar to balance out the flavor.  Also, jams that are low in sugar will be quicker to lose their color and flavor in storage and are also more likely to have a reduced shelf life and developing mold after opening. For this reason, when I want a very low or no-sugar jam, I will often freeze it, or make a small batch that goes straight into the refrigerator.
Of course, you can freeze this blueberry lemon jam, too – just freeze it in small jars, or look for small containers made especially for freezer jam that you can pick up nearly anywhere that canning supplies are sold.
If you are new to canning and would like to learn the process, rest assured that canning jam in a boiling water bath is safe and easy. Here are two references that will give you step-by-step instructions:
http://nchfp.uga.edu/ – The National Center for Home Food Preservation at The University of Georgia offers a free online course that gives you the basics of at-home food preservation. I have taken this course and I highly recommend it!
PickYourOwn.org – This website not only gives great instructions for canning and making jam, but it also gives information about local farms and orchards where you can pick your own fruits and vegetables in your area.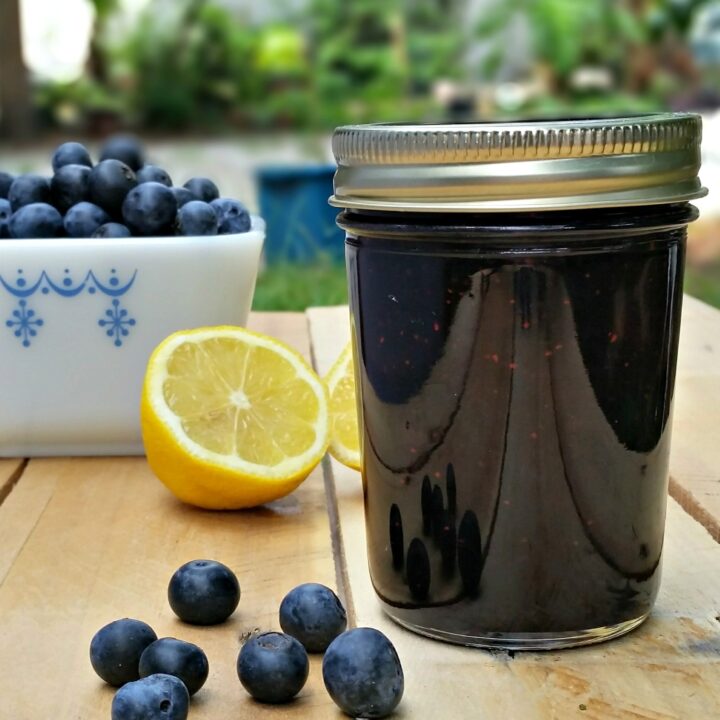 Blueberry Lemon Jam
Yield:
approximately 6 half pints
Ingredients
8 cups fresh blueberries
6 tablespoons low or no-sugar needed powdered pectin (for a stiffer jam, use 9 tablespoons)
6 cups sugar
Juice and zest from 2 lemons
Pinch of nutmeg
Instructions
In a large bowl, mash the berries with a potato masher, then transfer the crushed berries to a large, heavy-bottomed pot.
In a small bowl, mix the pectin with ¼ cup of the sugar, setting aside the remaining 5 ¾ cups of sugar. Stir the pectin/sugar mixture into the mashed berries, then add the lemon zest, lemon juice and nutmeg to the pot.
Stirring constantly, bring the berry mixture to a full rolling boil that can't be stirred down.
Add the remaining sugar. Return mixture to a full rolling boil. Boil hard 1 minute, stirring constantly. Remove from heat and allow to cool for 10 minutes, stirring occasionally to distribute the fruit. Skim foam if necessary.
Ladle into HOT jars* (never put hot jam in cold jars), and process in boiling water bath for a full 10 minutes (adjusted for altitude). If not canning, allow jam-filled jars to cool, then store immediately in the refrigerator or freezer. If using plastic freezer containers, follow the manufacturer's instructions.
*To keep the jars hot while making the jam, allow them to simmer in a pot of water, or run through the sanitizing cycle in the dishwasher, and keep the door closed until ready to use the jars.