Though these adorable little heirloom squashes are not as well-known as their cousins the acorn squash and the butternut squash, the delicata squash is definitely gaining in popularity – and for good reason. For the gardeners out there, they're fun and easy to grow, being planted in the summer like a typical summer squash (zucchini, yellow squash), but is actually harvested in the fall like a winter squash (butternut, kabocha, etc). What cooks need to know, however, is that since the skin is thinner and more "delicate" than other popular fall varieties, they are easier to cut and don't require a terrifying wrestling match using a large, sharp knife (and resulting risk to losing fingers) as is required with the tough butternut squashes. In fact, the skin is thin and tender enough to even be edible when cooked.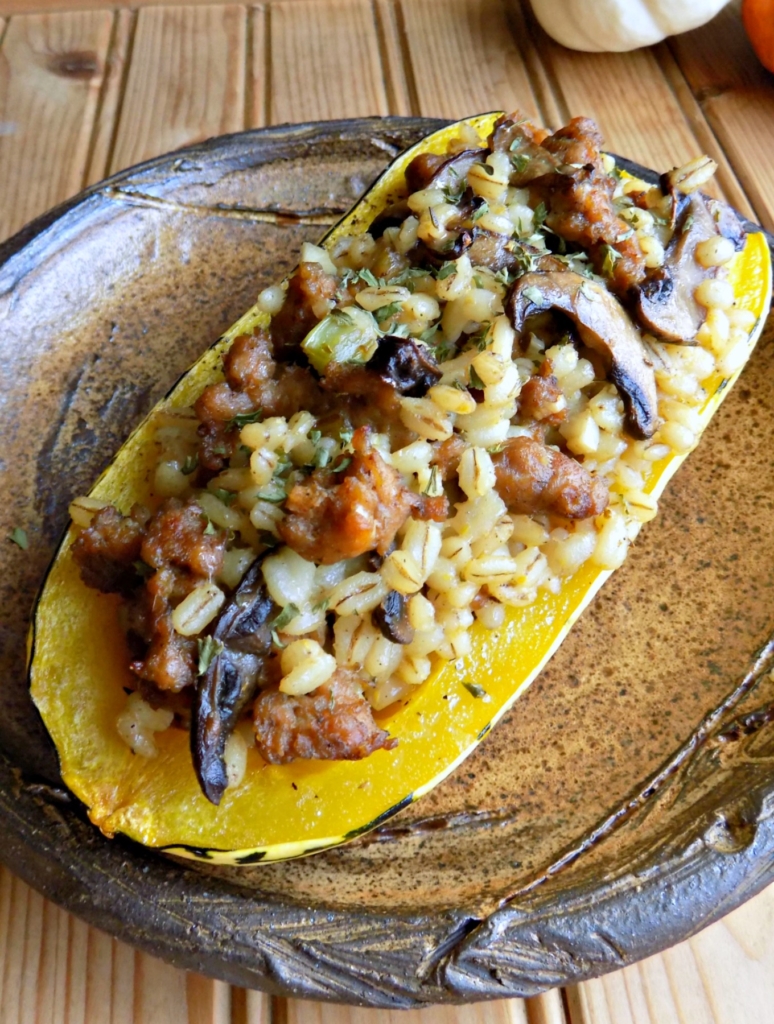 I should also mention they are quite delicious. The flesh of the delicata is sweet and creamy and has a flavor so much like a sweet potato that it's also been known as a sweet potato squash. In this recipe, I've stuffed it with a mix of chewy barley, sauteed mushrooms, and Italian sausage. You can serve it as a side dish, but I think it's hearty enough to eat as the main course. And though I adore these delicata squashes, you can also use this same recipe for acorn and butternut squash, though the actual baking time may vary.
Mushroom, Barley, and Sausage Stuffed Delicata Squash

Ingredients
For Roasted Squash:

Oil for coating baking dish
2 medium-sized delicata squash, halved and seeds scooped out
1 tablespoon melted butter
1 tablespoon maple syrup
Salt and Pepper
For Stuffing:

1/2 cup pearled barley
1 1/2 cups chicken stock
1 tablespoon olive oil
8 ounces Italian turkey sausage, removed from casing
1 stalk celery, diced
8 ounces mushrooms, sliced
1 teaspoon minced garlic
1/2 teaspoon dried thyme
1 teaspoon poultry seasoning
1/4 cup grated Parmesan cheese
Instructions
To Roast the Squash:

Heat oven to 375°F. Cut a thin slice off of the round side of each squash half to create a stable base. Place the squash halves cut side up on oiled baking dish.
Combine the melted butter and maple syrup, and brush on the flesh side of each squash half. Season with salt and pepper.
Roast for 30 minutes. Remove from oven and set aside to be filled.
To make the Stuffing:

While squash is roasting, prepare barley. Combine barley and chicken stock in a saucepan, and bring to a boil. Turn down to a simmer, cover with lid, and cook until liquid is absorbed and barley is tender.
In a large skillet, heat oil over medium-high heat. Add sausage, celery, and mushrooms and cook while breaking up into small pieces with spatula. When sausage is almost cooked through, and vegetables are tender, add garlic, thyme, and poultry seasoning, and cook for 1 more minute. Stir in cooked barley, then remove from heat and set aside until squash is finished roasting. Adjust seasonings to taste.
To Assemble and Bake Stuffed Squash:

Divide the stuffing mixture between the squash halves, spooning the stuffing into the hollow center of each squash. Sprinkle with grated Parmesan, and return to oven to bake for 10 minutes.
Remove from oven, and allow to cook for 5 minutes before serving.
https://myhomemaderoots.com/mushroom-barley-and-sausage-stuffed-delicata-squash/
Want more great recipes? Visit my friends at the following blogs:
Meal Plan Monday at Southern Bite
Weekend Potluck at The Country Cook