This recipe for Old Fashioned Swiss Steak (what I like to call Smothered Swiss Steak) is pure comfort food at its finest. It's at the top of my list for when there is a chill in the air, and I'm looking for something warm and cozy for supper. This Swiss Steak is fork-tender and smothered in a beefy tomato gravy filled with tender bell peppers, onions, celery, and mushrooms. I like to serve it with a scoop of mashed potatoes, egg noodles, or rice. (And if you love fall and winter comfort food, try my recipe for One Pot Ground Beef Stroganoff.)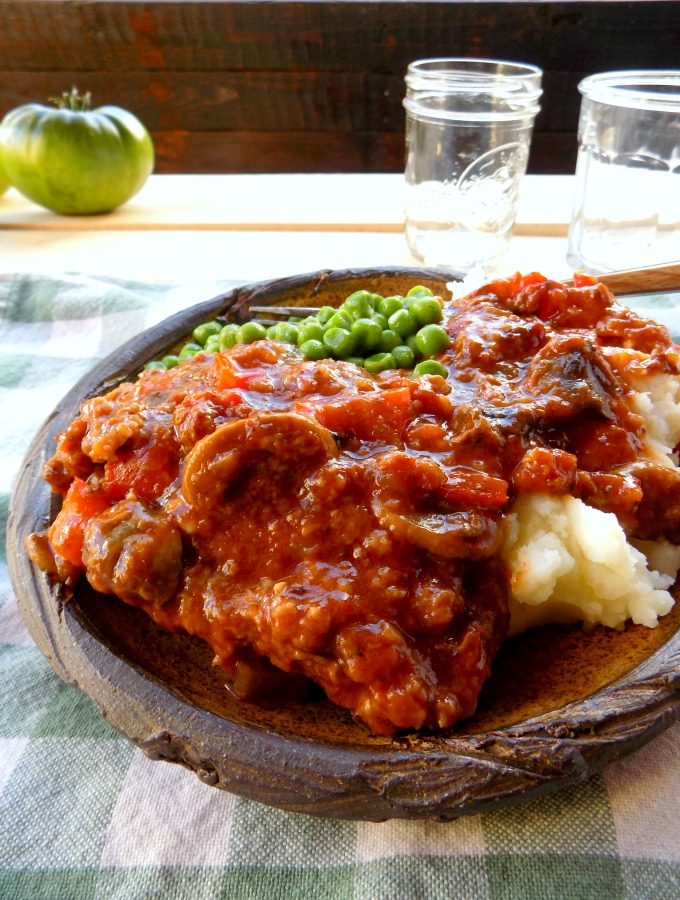 Now you can prepare this Swiss Steak recipe by simmering it on the stovetop, but I like to braise it in the oven for a few hours. Because when it's cold and blustery outside, it just makes my kitchen extra warm and inviting to have a pot full of something delicious slow-cooking in the oven. Also, can I just say that while these Swiss Steaks are in the oven simmering away, the whole house will be just amazingly fragrant with the aroma of home-cooked goodness!
But I do tend to think of this recipe as something a bit old-fashioned (in a really good kind of way). This dish is something from my childhood, that my mom or grandma would prepare for supper on a cold fall or winter evening. Back in those days, growing up in Pennsylvania, fall was just magical to me (and still is to this day!) Hearty, warming foods were standard fare on those crisp autumn, after-school evenings, and were definitely a part of the magic.
Aside from being a nostalgic kind of recipe, though, I think it's also a bit old-fashioned because I use cubed steaks for this dish, a cut of beef that I really don't see too often in modern recipes. I really believe these steaks deserve a revival, though, because when properly cooked low and slow, cubed steaks are just oh-so-tender. And as an added bonus, they are also typically very inexpensive. Often I can find cubed steaks on sale for less than the price of regular ground beef. But if you can't easily find cubed steaks, just go ahead and substitute thin-cut top-round steaks.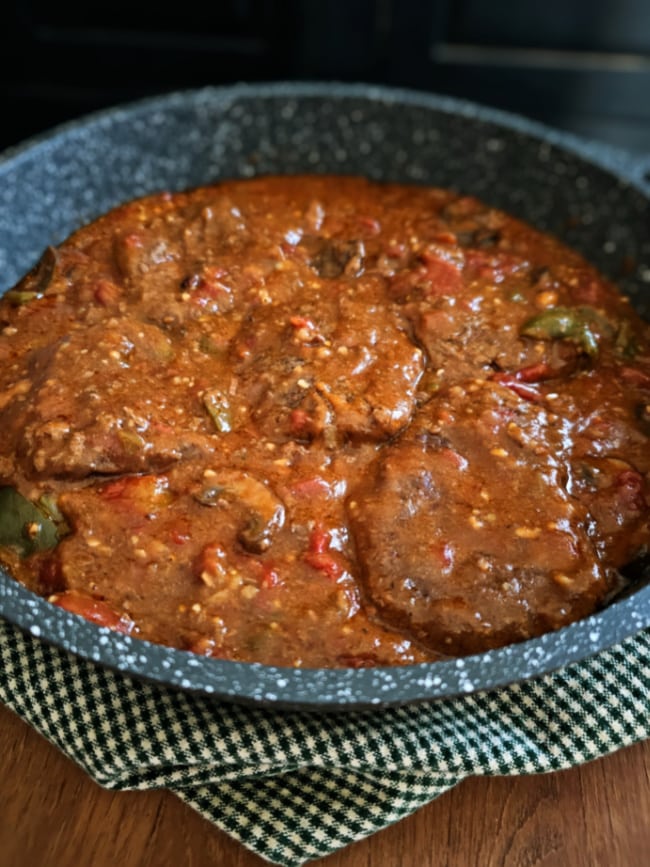 Let's talk about the ingredients for Swiss Steak (it's a long list, but don't be intimidated because these are all basic ingredients)
All-Purpose Flour – Used for dredging the cubed steak before browning. It helps create a crispy coating and also thickens the sauce as it cooks.
Salt – Enhances the overall flavor of the dish and balances the other seasonings.
Ground Black Pepper – Adds a mild spiciness and complements the other flavors in the dish. If you can grind your own black pepper, all the pepper.
Garlic – What can I say here but flavor! I use both granulated garlic and fresh garlic.
Cubed Steak – The main ingredient, typically cut from round steak, is pre-tenderized. You can also use regular round steak that has not been tenderized.
Oil – Used for browning the cubed steak before simmering to achieve a nice sear. I tend to use avocado oil, but you can use whatever high-temperature cooking oil you prefer.
Onion – Adds sweetness and flavor to the dish, forming the base of the sauce. I like a sweet onion like Vidalia, but any onion of your choice will do.
Celery – Gives the dish a lovely flavor and adds texture to the gravy.
Green Bell Pepper – Offers a slightly tangy and fresh flavor to complement the other ingredients. If you absolutely don't like green peppers, any color of bell pepper will work.
Cremini or White Button Mushrooms – Provide an umami-rich taste and add a meaty texture to the dish. I think fresh is best here, so skip the canned mushrooms.
Tomato Paste – Concentrated tomato flavor that thickens the sauce and adds a rich, savory element.
Canned Diced or Stewed Tomatoes – Adds more tomato flavor and a texture to the gravy.
Beef Broth – Provides a rich base for the sauce and enhances the beefy flavor.
Worcestershire Sauce – More flavor!
Dried Thyme – An herb that complements the flavors in the dish and adds a subtle earthiness.
Sugar – Balances the acidity of the tomatoes and other ingredients, bringing out the flavors.
Celery Seed (optional) – If used, it contributes a mild celery flavor and complements the fresh celery in the dish.
Water + Cornstarch – Combined to create a slurry that thickens the sauce to the desired consistency.
How do I make the best Swiss Steak?
Choose the Right Cut. For Swiss steak, it's best to use a tender cut of beef. My preference is cube steak but you can also use regular round steak. These cuts are ideal for slow cooking and will become fork-tender when prepared correctly.
Season Generously. Don't be shy with seasoning. Season the steak liberally with salt and pepper (I also use thyme but feel free to use any other herbs and spices you like.) This will add depth of flavor as it cooks.
Keep the steak moist. Ensure there's enough liquid in the pot to keep the meat moist and tender throughout the cooking process. If it begins to look dry, add a little bit of water to the pot.
Patience is the secret ingredient. Be patient and allow the steak to cook low and slow until it is tender. This slow-cooking method allows the meat to become tender and allows the flavors to meld together beautifully.
Check for Doneness. Cook the Swiss steak until it reaches the desired level of doneness. The meat should be fork-tender but not overcooked. You can check the doneness by piercing the meat with a fork – it should easily pull apart.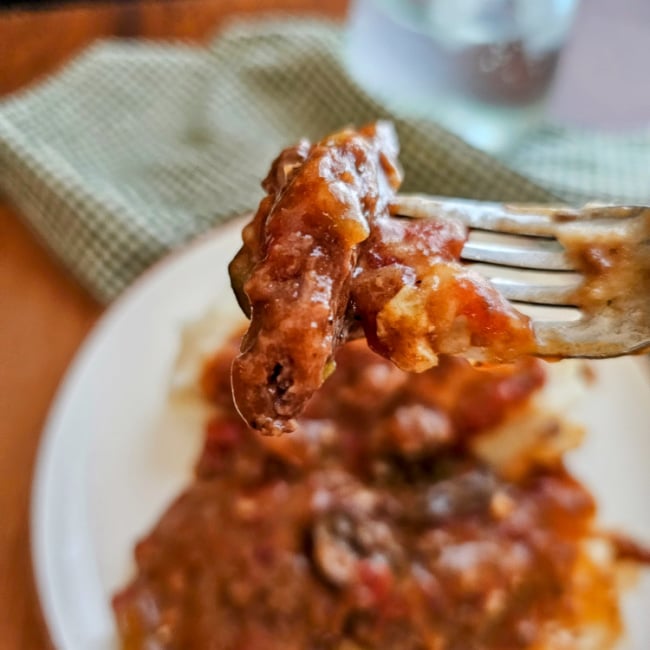 ---
If you try this recipe for Old-Fashioned Swiss Steak like Grandma made, I hope you love it. And follow me on Facebook, Pinterest, and Instagram so you don't miss a post.
*As an Amazon Associate I earn from qualifying purchases. This post may contain Amazon or other affiliate links, which means I will earn a commission at no additional cost to you if you click through and make a purchase.*
Print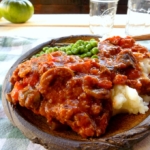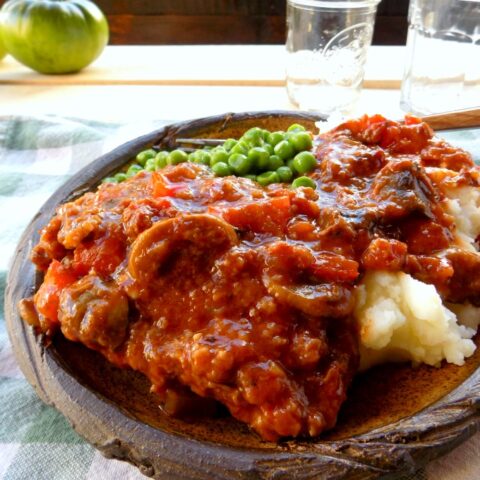 Old-Fashioned Smothered Swiss Steak
---
Author:

Total Time:

1 hour 45 minutes

Yield:

6

1

x
Description
These Smothered Swiss Steaks are so tender and covered with rich and beefy tomato mushroom gravy.
---
1/4

cup

all-purpose flour

1/2 teaspoon

salt

1/4 teaspoon

ground black pepper

1 teaspoon

granulated garlic

2

pounds

cubed steak (cut into serving-size pieces if necessary)

1/4

cup

vegetable oil (or other high-temperature cooking oil)

1

onion, diced

1

stalk celery, diced

1

green bell pepper, thinly sliced

8

ounces

of cremini or white button mushrooms, sliced

2

cloves garlic, minced

3 tablespoons

tomato paste

1

(15-ounce) can diced or stewed tomatoes (or use

1 pint

of home-canned tomatoes)

2

cups

beef broth

1 tablespoon

Worcestershire sauce

1/2 teaspoon

dried thyme

1 teaspoon

sugar

1

pinch celery seed (optional)

2 tablespoons

of water +

2 tablespoons

cornstarch
---
Instructions
Preheat oven to 325° F. In a large resealable plastic bag, combine flour, salt, pepper, and granulated garlic. Add steak, a few pieces at a time, and shake to coat.
On the stovetop, heat oil in a cast-iron Dutch oven (or other heavy, oven-safe pot) over medium-high heat. Brown steak in oil on both sides. Remove steaks to a plate.
To the same pot, add the onion, celery, bell pepper, and mushrooms. Turn the heat down to medium, and cook and stir for 6-7 minutes, or until vegetables are beginning to soften. If needed, add a little extra oil. Add garlic and tomato paste, and cook for 1 additional minute.
Stir in diced tomatoes, beef broth, Worcestershire sauce, thyme, sugar, and celery seed. Scrape the bottom of the pot with a spatula to release all of the flavorful bits. Return steaks to the pot, making sure they are covered by the gravy.
Cover and bake 1 1/2 to 2 hours, or until meat is tender. At this point, remove the pot from the oven and place it on the stovetop. Remove the steaks to a plate, leaving the gravy in the pot.
In a small bowl, combine corn starch and water into a paste; stir into gravy. Bring to a boil over medium heat, stirring continuously, until gravy has thickened. Serve steaks with gravy, and mashed potatoes, egg noodles, or cooked white rice.
Prep Time:

15 minutes

Cook Time:

1 hour 30 minutes