Lightly sugared and spiced with the warm flavors of cinnamon and chili, these Easy Spiced Candied Pecans are a delicious treat. Serve them as an appetizer for parties or holiday gatherings. Or wrap them in a pretty package and give them as gifts. But you don't need to wait for the holidays to make them. Candied pecans also make a satisfying snack and a sweet and crunchy topping for salads. (And if you're looking for other simple holiday treats, check out my recipe for Butterscotch Haystacks.)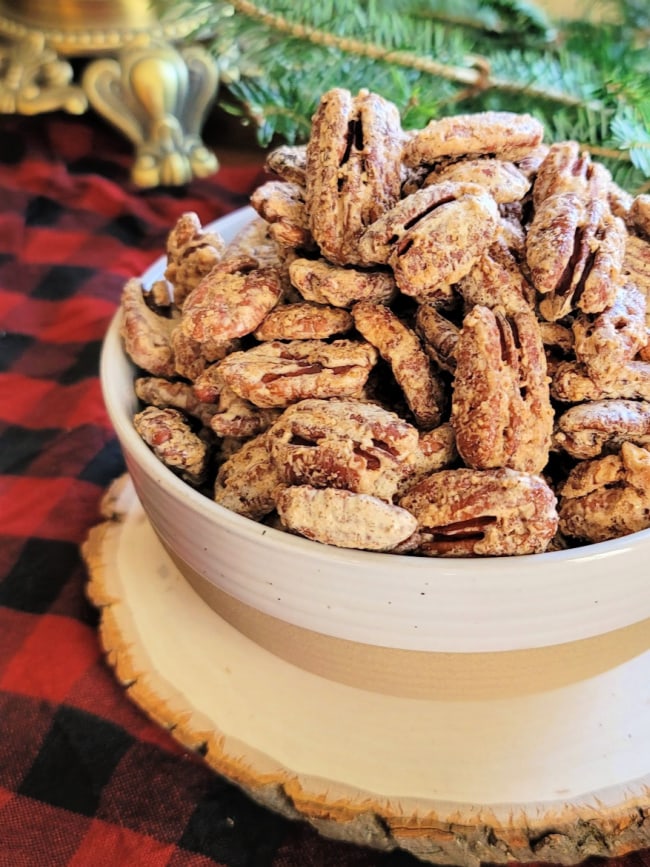 About Candied Pecans:
Simple, rustic, but also elegant, nuts are a holiday tradition. Back in the day, parents often stuffed whole nuts in children's Christmas stockings, along with other special goodies, like oranges. And growing up, my grandmother served nuts on a beautiful tray for Christmas day and put out the nutcracker for guests to crack their own nuts. I remember that it felt pretty special to crack your own nuts at holiday gatherings. After all, who doesn't think of a nutcracker as a symbol of the Christmas season?
Nuts also feature prominently in so many favorite recipes during the holiday season. Often these dishes are specialties that are only served once a year. Things like nut rolls, pecan tarts, and English toffee with walnuts. And there is a good reason that nuts are a favorite this time of the year (besides the fact that they are delicious!). Since many nuts are mainly harvested in the fall, historically, nuts were one of the freshest and readily-available ingredients during the winter months. And so the tradition continues today.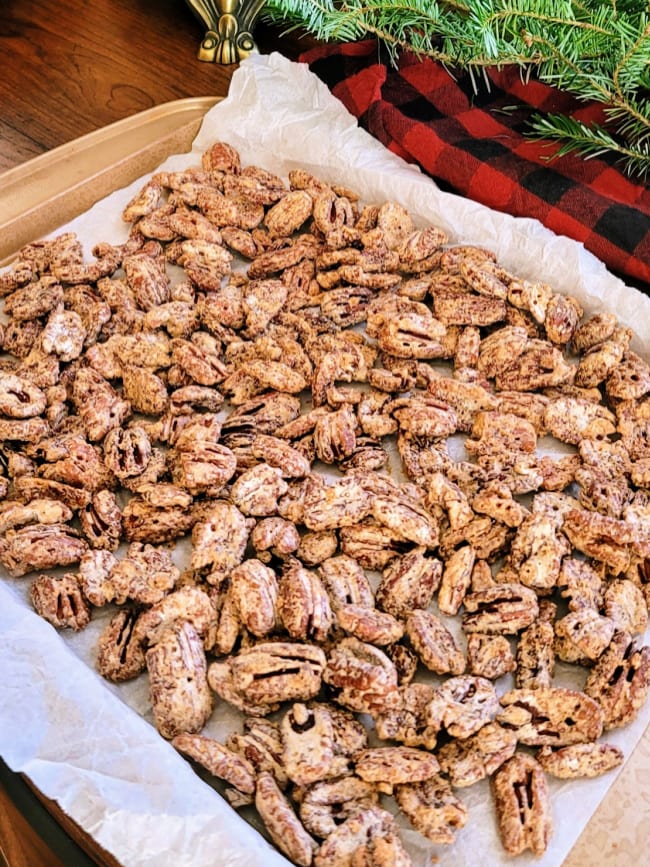 And one of my favorite nut recipes to make for holiday celebrations is these simple spiced candied pecans. If you aren't familiar with them, candied pecans are a simple confection you can make in your own kitchen with little effort. I love to serve them during the holidays because they're simple to prepare and are so deceptively delicious. They may not look very fancy, but they're so tasty, everyone will keep going back for more. I like to place them in a simple glass or stoneware bowl to serve, but they're also lovely on charcuterie boards and fruit and cheese platters.
So what are the ingredients for Spiced Candied Pecans?
The basic ingredients are simple:
Pecan halves – You can crack your own, but it's definitely easier to purchase them already shelled from the grocery store or farmer's market.
Sugar – Use granulated sugar. I like to use unrefined granulated cane sugar (like this one) because it has a hint of molasses flavor, but white granulated sugar will work, too.
Salt – Use a fine salt of your choice. Regular table salt or fine sea salt are good choices.
Ground cinnamon – The fresher your cinnamon, the more flavorful the result will be.
Chili powder – Regular old chili powder, which actually a blend of dried chiles and other spices, will do here. If you want a spicier nut, use your favorite spicy chili powder.
Egg white – The white of one large egg. Save the yolk in the fridge to add to your morning scrambled eggs or another dish.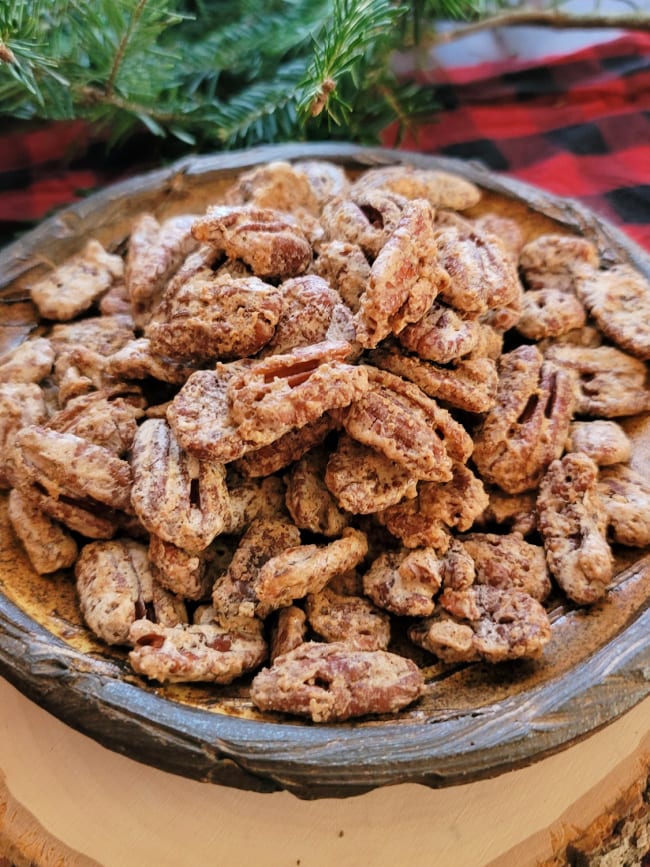 Tips for making Candied Spiced Pecans:
Making candied pecans, couldn't be simpler.
You'll need to froth your egg white. You can do this with a whisk by hand or use an eclectic hand mixer or stand mixer. I like to whip the egg white til its light and frothy, so I find it easier to use an electric mixer.
Don't be tempted to crank up the oven temp to do these faster or you'll likely end up burning the nuts. I like to roast the nuts low and slow at 300 degrees Fahrenheit.
These candied nuts are a mostly hands-off project, but you will need to keep an eye on them while in the oven. Give them a gentle toss every 15 minutes.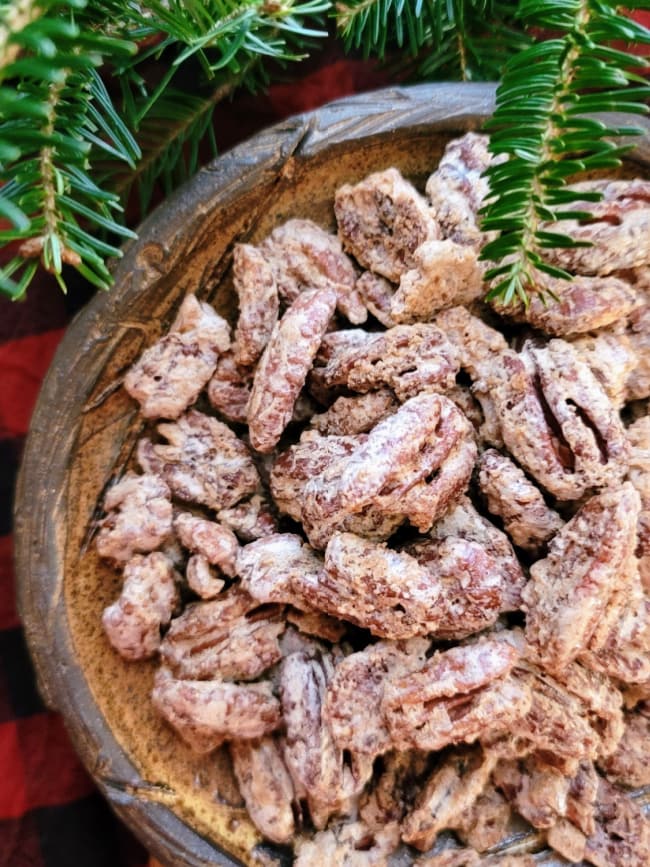 ---
So that's all there is to make Spiced Candied Pecans. If you try this recipe, I hope you love it. Let me know in the comments below.
*As an Amazon Associate I earn from qualifying purchases. This post may contain Amazon or other affiliate links, which means I will earn a commission at no additional cost to you if you click through and make a purchase.*
Print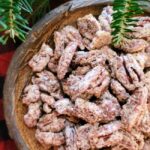 Easy Spiced Candied Pecans
---
Author:

Total Time:

1 hour 15 minutes

Yield:

1

pound candied pecans

1

x
Description
These Easy Spiced Candied Pecans are lightly sweet and spiced with the warm flavors of cinnamon and chili.
---
1

cup

granulated sugar

1 teaspoon

ground cinnamon

1/2 teaspoon

chili powder

1 teaspoon

salt

1

egg white from a large egg

1 tablespoon

water

1

pound

pecan halves
---
Instructions
Heat the oven to 300 degrees Fahrenheit.
In a small bowl, whisk the sugar, cinnamon, chili powder, and salt together to combine. Set aside.
Add the egg white and water to a separate mixing bowl. Use a hand whisk or an electric mixer to lightly froth the egg whites.
Add the sugar and spice mixture to the egg white. Whisk by hand or beat with an electric mixer until the sugar and egg whites are combined and the mixture is light and frothy. This should take about 1 minute, or a little bit longer if you are whisking by hand. (You aren't looking for the mixture to form peaks as you would for a meringue.)
Add the pecans into the mix. Stir to thoroughly coat.
Place the coated pecans on a baking sheet lined with parchment paper or a silicone mat. Make sure to use a baking sheet large enough to allow the nuts to be spread out in a single layer.
Bake for 1 hour, stirring every 15 minutes.
Remove from the oven and turn the pecans out onto a platter or sheet of parchment paper to cool.
Notes
Store in an airtight container for a week. For longer storage, store candied pecans in the refrigerator for 3 weeks, or in the freezer for several months.
Prep Time:

15 minutes

Cook Time:

60 minutes