This Easy Creamy Tomato Soup Recipe (aka Cream of Tomato Soup) is a comforting and delicious homemade tomato soup recipe that can be enjoyed any time of the year. This soup takes just a few simple ingredients from the pantry and fridge, and hardly any effort at all. I like to serve it as an easy lunch or a main course with some crackers or a sandwich. And if you enjoy homemade soup recipes, check out my recipe for Sausage, Kale, and Potato Soup.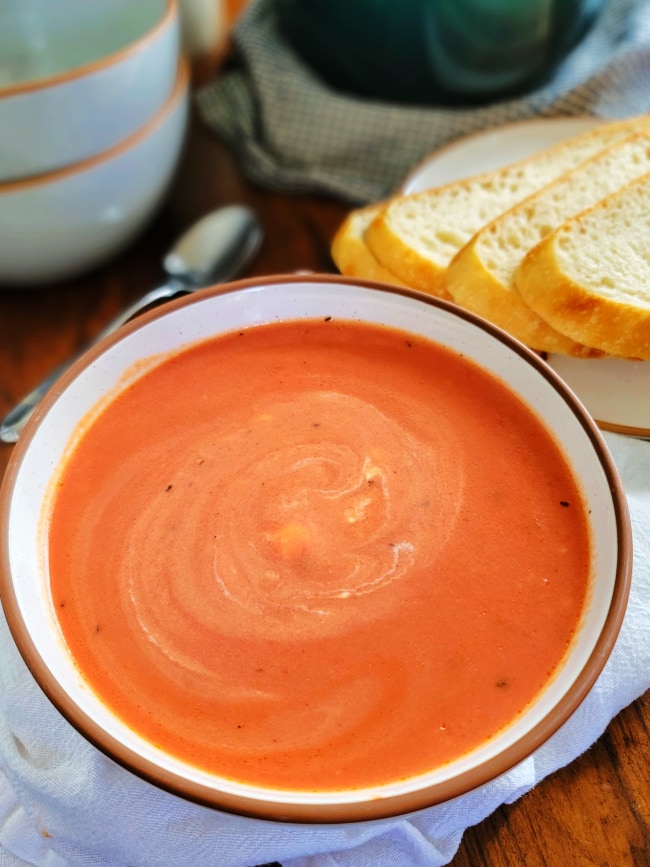 Now I know some readers out there are looking for a homemade tomato soup that uses fresh tomatoes. I know this because I've gotten more than a few requests now for that recipe. And I do have that recipe coming out eventually. But I'm writing this in January, and I have no homegrown tomatoes, and supermarket tomatoes are generally pretty sad at this time of year.
So instead, I'm giving you an easy and convenient recipe for a tasty tomato soup using canned tomatoes and milk. (I'm calling this creamy tomato soup, but I think we can also call this by the more classic name of Cream of Tomato Soup.)
So let's talk about the ingredients for this creamy homemade tomato soup:
What ingredients are in Creamy Tomato Soup?
Tomatoes – Of course, tomatoes are the main ingredient in creamy tomato soup. They provide the base flavor and texture of the soup. I use canned tomato sauce in this recipe because it's already smooth and I don't need to get out the blender to puree my soup. Also, tomato sauce has a rich, slow-cooked flavor compared to the bright, fresh flavor of tomato puree or crushed tomatoes. But be aware, if you are using store-bought tomato sauce, it most likely has salt added to it, so taste your soup before adding more salt. If you prefer a chunky tomato soup, you can add a can of diced tomatoes (go ahead and drain it before adding it to your soup).
Milk – It's best to use whole milk since fat free or reduced fat milk is more likely to curdle.
Butter – I like to sautee the onions in butter because I enjoy the rich, buttery flavor it adds to the soup. Use salted or unsalted as it won't make much of a difference in the finished soup. Or if you prefer, you can also use oil, like olive oil, in place of all or part of the butter.
Onion – Onion adds flavor and depth to the soup. You can use any type of onion, such as yellow, white, or red.
Flour – Flour helps to thicken the soup and add body to the broth. You can use all-purpose flour or a gluten-free alternative, such as a gluten-free all-purpose flour blend.
Brown sugar – A little bit of sugar helps to cut the acidity of the soup and tones down its sharpness. Technically, this is optional, but I think the flavor is better with the sugar.
Baking soda – Like sugar, baking soda reduces the acidity of tomatoes. And this is important not just for flavor, but to prevent the milk in the soup from curdling when combined with the tomatoes. This ingredient is important, so don't be tempted to leave it out.

Optional Ingredients:
Dried or fresh herbs – Herbs are optional, but I always add a bit of dried thyme while the soup is cooking. You can vary the herbs to suit your taste. Add dried herbs at the beginning of cooking. If you want to add chopped, fresh herbs, add those at the end of cooking, just before serving. Other common herbs used in creamy tomato soup include basil, dill, and oregano.
Sour cream – I don't always do this, but I often like to top my bowl of soup with a dollop of sour cream. It adds a bit of extra creaminess and a pleasant tanginess to the soup. It's especially good with a sprinkle of dill.
Parmesan cheese – A generous sprinkling of grated parmesan cheese is delicious. Combine it with dried Italian seasoning for an Italian flair. You can try other cheeses, too. Try shredded sharp cheddar, mozzarella, or even Swiss cheese.
Croutons – If I'm not having crackers with my soup, I like to add a small handful of croutons. It gives the soup a little bit of crunch and texture.
Tips for Making Homemade Creamy Tomato Soup:
Use a good quality tomato sauce. It doesn't have to be expensive, but it needs to be something that tastes good. If you don't like the taste of the tomato sauce, you won't like the taste of the finished soup.
Take a few minutes to saute the onions until they are soft and a little bit golden as it adds a little bit of sweetness to the soup. But be sure not to burn the butter or the onions. Butter burns easily, so I recommend using medium-low to medium heat.
When you add the milk, do it gradually and stir frequently. Then bring the soup to a gentle simmer. You don't need to boil the soup or you may end up curdling the milk.
Adjust the seasonings to taste. Tomato sauce varies in the amount of sodium it contains, depending on the brand and variety. I generally add about 1/2 teaspoon of salt to my pot of soup, but you may need more or less salt.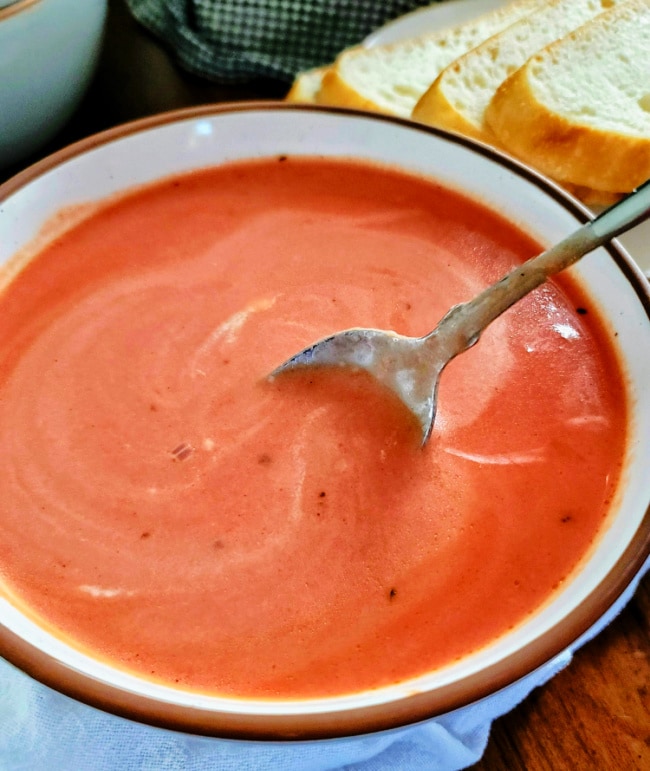 It's so easy to make this tasty tomato soup recipe for an easy lunch or dinner. It takes only a few simple ingredients and almost no effort at all. Experiment with different spices and seasonings to find your perfect blend, and don't be afraid to add your own personal touch to this classic dish. So, go ahead and give it a try – you'll be surprised at how easy and satisfying it is to make your own tomato soup from scratch.
---
If you try this recipe for Homemade Tomato Soup, I hope you love it. And follow me on Facebook, Pinterest, and Instagram so you don't miss a post.
*As an Amazon Associate I earn from qualifying purchases. This post may contain Amazon or other affiliate links, which means I will earn a commission at no additional cost to you if you click through and make a purchase.*
Print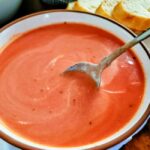 Easy Homemade Creamy Tomato Soup
---
Author:

Total Time:

30 minutes

Yield:

8

Servings

1

x
Description
This homemade Creamy Tomato Soup is warm and comforting. Made with staple ingredients like tomato sauce, milk, butter, and seasoning,  it's perfect for a cozy and satisfying meal.
---
4 tablespoons

butter

1

small onion, finely diced

4 tablespoons

all-purpose flour (for gluten-free, use a gluten-free flour blend)

4

cups

whole milk

1/4 teaspoon

baking soda

1/2 teaspoon

dried thyme

1 tablespoon

brown sugar

2

(15-ounce) cans of tomato sauce
Salt and ground black pepper
*See recipe notes for gluten-free and dairy-free options
---
Instructions
Heat butter in a large pot over medium heat. Add the diced onion and cook while stirring for 6-7 minutes, or until the onions are translucent and lightly golden brown.
Whisk the flour into the butter and onions. Cook while stirring for 1 minute. Be sure to smooth out any lumps of flour.
Gradually stir milk into the flour mixture until smooth and fully combined. Add baking soda, dried thyme, brown sugar, and tomato sauce.
Heat soup over medium-low to medium until gently simmering (you don't need to boil). Simmer, stirring occasionally for 8-10 minutes, or until the soup is thickened.
Remove from the heat. Taste and adjust seasonings to your liking. (Taste carefully – the soup will be very hot!)
Serve immediately and enjoy!
Notes
For a dairy-free creamy tomato soup, use oil or plant butter in place of dairy butter. You'll also need to substitute dairy milk with the plant-based milk of your choice (almond, cashew, oat, etc.)
For a gluten-free tomato soup, use a gluten-free all-purpose flour blend in place of regular all-purpose flour.
Prep Time:

10 minutes

Cook Time:

20 minutes