These Old-Fashioned Rolled Sugar cookies with Homemade Icing are a family favorite that reminds me of my childhood. They taste like the simple, delicious sugar cookies I grew up with. Just like mom and grandma made. The dough for these cookies is a rolled dough that is perfect for holiday cutout cookies. And the icing is an easy powdered sugar icing that makes decorating these sugar cookies easy and fun for both adults and children. (And if you love homemade cookies, check out my recipe for Old-Fashioned Gingersnaps.)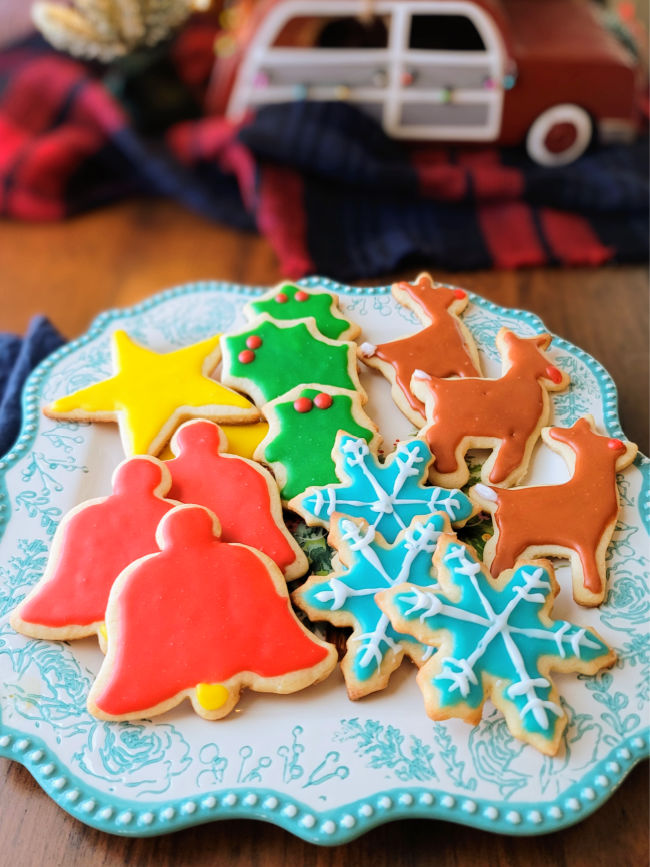 Don't you just love those adorable, perfectly-decorated holiday cookies that are so popular today? They are like works of art. I just love to go to the bakery and gaze at those beautiful cookies. However, I don't always enjoy the taste of those cookies. Most of those gorgeous cookies are decorated with royal icing which, I have to confess, I'm not a fan of. No offense to those royal icing lovers out there, but I don't care much for the flavor. Also, I don't love to spend many hours decorating my homemade cookies to perfection. Call me old-fashioned, but I love the rustic sugar cookies of my childhood that might have looked a bit less than perfect but tasted delicious.
This old-fashioned rolled sugar cookie dough is perfect for your favorite cutout cookies with all of the yummy sweet flavors expected for a holiday treat. And the icing is a simple powdered sugar icing that can be mixed up with food coloring to make an endless amount of colors for your cookie designs.
So let's talk about how to make these old-fashioned rolled sugar cookies:
First up, ingredients. And the ingredients are very simple, basic pantry staples:
Ingredients for Sugar Cookie Dough:
All-purpose flour – We call it all-purpose flour here in the U.S., but it is often called plain flour in some countries including the UK. I like to use unbleached all-purpose flour, but bleached all-purpose flour is fine, too. For this recipe, make sure to sift the flour before measuring.
Baking powder – Be sure to use baking powder and not baking soda for this recipe.
Salt – Regular table salt is what I use. If you're using another type of salt, like Kosher or sea salt, make sure that it is fine salt.
Butter – I use salted butter. If you're using unsalted butter, add another pinch of salt to your ingredients. For dairy-free cookies, use plant-based butter or shortening.
Sugar – Use granulated sugar. I prefer to use raw granulated cane sugar because I prefer the taste, but white granulated sugar is fine, too. If you prefer not to use real sugar, use a brand of sugar substitute that is approved for baking.
Eggs – For the best results, use large eggs at room temperature.
Milk – I use whole milk but any type of milk will work just fine. For dairy-free cookies, use your favorite plant milk.
Vanilla extract – I recommend using real vanilla extract and not imitation vanilla. But of course, I always recommend using what you already have.
Almond extract – This is an optional ingredient. If you enjoy an almond flavor, go ahead and use it. But be careful because the almond extract is very potent and can easily overpower the flavor of the cookie. Use no more than ¼ teaspoon.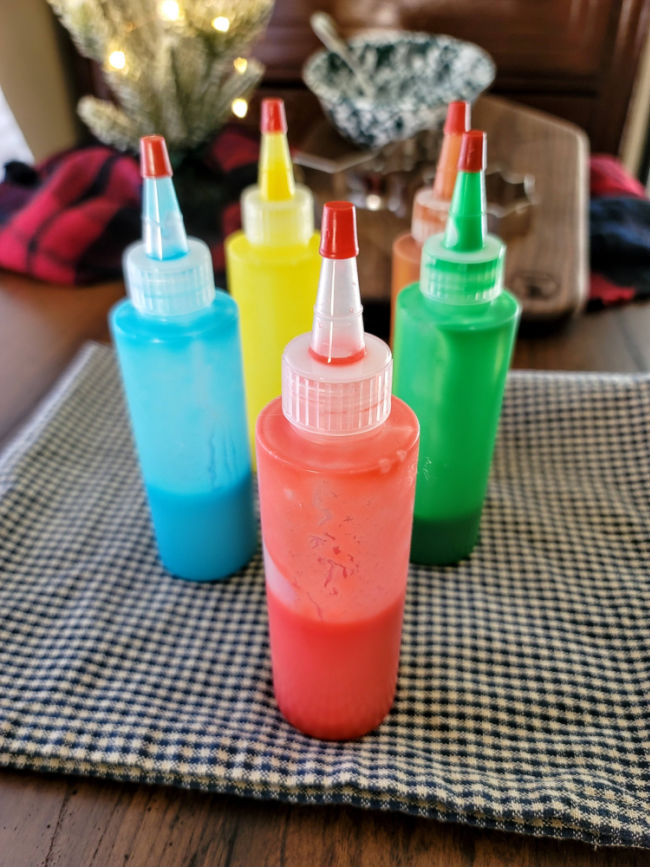 Ingredients for the Icing:
Confectioners' sugar – Confectioners' sugar is basically powdered sugar. Technically, it's powdered sugar that has a little bit of starch added to it. It's also sometimes called icing sugar. It's the white stuff that comes in a bag at the supermarket, and it will be labeled either powdered sugar or confectioners' sugar. You can also make your own powdered sugar at home from granulated sugar. I like this guide to making your own powdered sugar by Gemma's Bigger Bolder Baking.
Corn syrup or honey – This will give your icing some shine. Either one will work, but the honey will impart a slight flavor to the icing. You can also leave out the honey or corn syrup completely but just know that your icing won't be shiny at all without it.
Vanilla extract – I like a little bit of vanilla flavor in my icing, but you can leave it out or substitute another flavor like peppermint or almond if you prefer. You can also leave out the extract entirely and the icing will be just plain sweet and delicious. Also, if you want bright white icing, you will need to use clear vanilla extract, or just leave out the extract completely.
Food coloring – I prefer to use gel food coloring because it has the most vibrant colors and doesn't add extra liquid to the icing. You can leave out the food coloring for an all-white icing, or experiment with making your own natural food colorings. This article by Leite's Culinaria gives great instructions for making your own natural food coloring. And if artificial dyes are a concern, but you don't want to make your own food coloring, there are commercial food colorings you can buy that don't contain artificial dyes. I recommend this set by Watkins or this one by McCormick [affiliate links].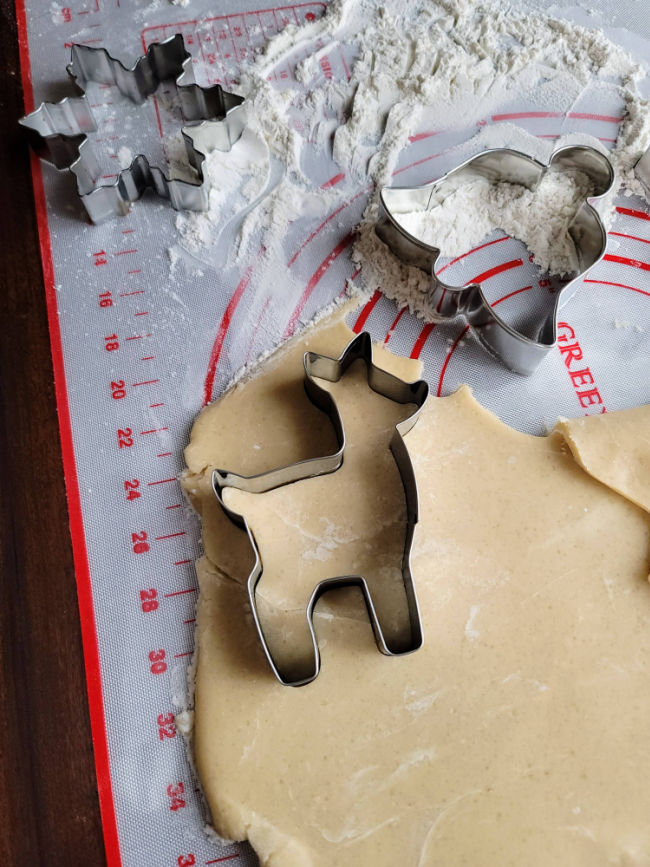 Tips for Making Old-Fashioned Iced Sugar Cookies:
When measuring the flour, be sure to sift first, then measure. This will help to make sure that you don't add too much flour into the mix. Too much flour will make the cookies tough.
To combine the dry ingredients thoroughly, take a whisk or a fork and thoroughly mix the flour, baking powder, and salt before proceeding with the rest of the recipe.
Add half of the flour mixture to the creamed butter and stir to combine. Gradually add the rest of the flour mixture until you have a smooth dough that holds together but is not too stiff. You may end up adding all of the flour, or you may have a few tablespoons left over. It depends on the humidity of your house, the brand of flour that you're using, and any number of other factors.
You will need to chill the dough for an hour or two in the refrigerator to let it firm up before rolling it out. It's best to split the dough into two portions before chilling because the dough will warm quickly (and begin to soften) after you take it out of the fridge. This way, you can roll and cut out half of the dough while the other half of the batch stays nice and chilly until you are ready to use it.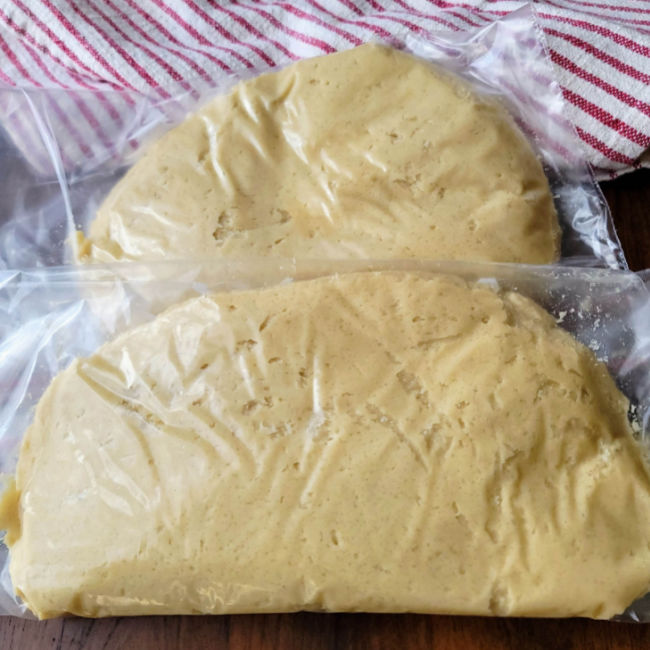 Roll the dough to about 1/4 inch, then use cookie cutters dipped in flour to cut it into shapes. You can reroll any scraps to roll out again and make more cookies. If the dough gets too soft at any point, pop it back into the fridge for a few minutes to firm up.
To keep the cookies from spreading and losing their shapes as they bake, bake them on an ungreased cookie sheet. The dough contains enough butter and the cookies shouldn't stick. Even so, I prefer to bake mine on a sheet lined with parchment paper or a silicone mat just as extra insurance that they won't stick.
Don't overbake the cookies or they will become hard. Bake them for about 7-9 minutes, or until the edges of the cookies begin to turn very slightly golden.
Allow the baked cookies to sit on a cookie sheet for a few minutes to cool before transferring them to a wire rack to cool completely.
Make sure the cookies are completely cooled before icing them.
You can apply the icing using a spatula, piping bag, or plastic bottles. I like to use these bottles [affiliate link] to ice my cookies. When mixing up the icing, adjust the milk and powdered sugar to get the consistency you need. You'll need thicker icing if you will be using a spatula or piping bag to spread the icing on the cookies. The icing will need to be a little bit thinner if using icing bottles.
After icing the cookies, you can eat them immediately, but if you want to stack them or package them as gifts, allow the cookies to sit uncovered for 24 hours. This allows the icing to totally dry and to become hard and shiny.
You can also use this same dough to make round cinnamon sugar cookies. Simple rough dough into balls and roll a mixture of sugar and cinnamon before baking.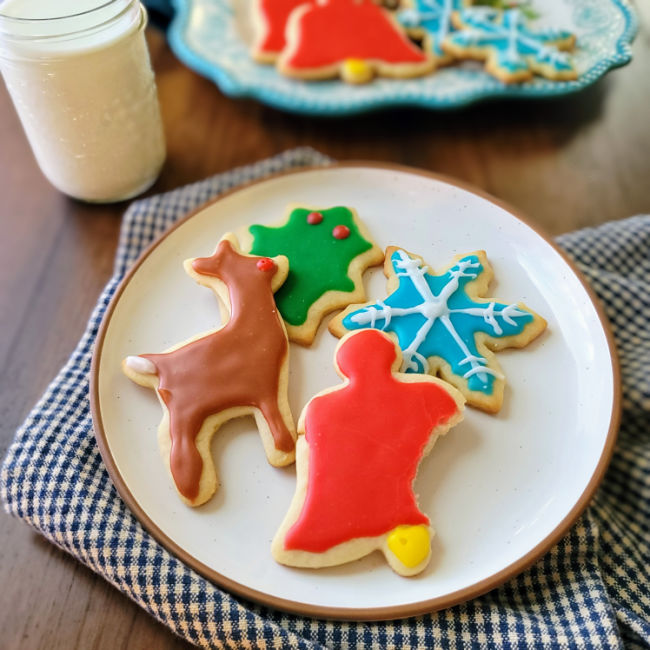 So that's all there is to make the best Iced Cutout Cookies around. If you try this recipe for Old-Fashioned Rolled Sugar Cookies, I hope you love it. Let me know in the comments below.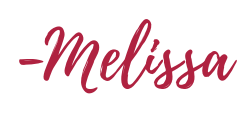 *As an Amazon Associate I earn from qualifying purchases. This post may contain Amazon or other affiliate links, which means I will earn a commission at no additional cost to you if you click through and make a purchase.*
Print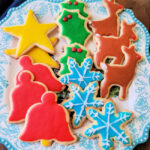 Old-Fashioned Iced Sugar Cookies
---
Author:

Total Time:

1 hour 38 minutes

Yield:

30

-

40

cookies, depending on size

1

x
Description
These cookies are rustic and delicious with old-fashioned flavor like Grandma used to make.
---
For the Cookies:
3

cups

sifted all-purpose flour (sift first, then measure)

2 teaspoons

baking powder

3/4 teaspoon

salt

1

cup

(2 sticks) butter

1 1/2

cups

granulated sugar

2

large eggs

1 tablespoon

milk

1 teaspoon

vanilla extract

1/4 teaspoon

almond extract (optional)
For the Icing:
4 1/2

cups

confectioners' sugar, sifted (measure first, then sift)

1/4

cup

light corn syrup or honey (honey will give your icing a slight honey flavor)

1/2 teaspoon

vanilla (optional)

6

–

10

tablespoons milk (start with

4 tablespoons

, then add

1 tablespoon

at a time until you reach your desired consistency)
Food coloring (gel coloring works best) (optional)
---
Instructions
To Make the Sugar Cookies:
Add half of the flour to a mixing bowl. Add the baking powder and salt to the flour in the bowl and use a whisk to combine. Set the other half of the flour aside. 

In a separate bowl, cream the butter and sugar until light and fluffy (use an electric mixer or stand mixer.) 

Add eggs, milk, and vanilla to the creamed butter and sugar. Beat on medium-low speed until combined. 

Mix in the portion of the flour that contains baking powder and salt to the butter mixture. Then g

radually mix in the remaining flour that you had set aside. Only add enough flour until everything forms a smooth dough. You may not need to add the whole amount. Adding too much flour will toughen the cookies. The dough shouldn't be loose and gooey, but not too stiff either. It's ok if the dough is a little bit soft because it will firm up as it chills. 

Split the dough in half and place each half into a plastic bag, or wrap it in plastic wrap. Place into the fridge to chill for 1-2 hours. 

After the dough has chilled, heat the oven to 400 degrees Fahrenheit. 

On a floured surface, roll out the dough to about ¼-inch thick. Use cookie cutters dipped in flour to cut out the cookies. Place the cookies onto an ungreased cookie sheet, about 1 inch apart.  (I like to line mine with a silicone mat or parchment paper, but this is optional.) Bake for 8-9 minutes, or until the edges become just barely lightly golden. Don't overbake or your cookies will be tough. 

Repeat rolling, cutting, and baking until you use up all of the dough. You can reroll the scraps to make more cookies. If the dough gets too soft at any time during the process, form it into a ball or disc and pop it into the refrigerator to firm up again. 

Allow cookies to cool for 5 minutes on the pan before transferring them to a wire rack to cool completely before icing.
To Ice the Sugar Cookies:
Use a whisk or spoon to mix the icing ingredients together. Adjust the icing to your desired consistency by adding powdered sugar to make it thicker, or adding milk to thin it out. Divide into bowls and color the icing with food coloring.
Ice the cookies using a butter knife, or another utensil for frosting. Or you can use icing bottles or a piping bag.
For the best results, allow the iced cookies to sit undisturbed overnight to allow time to dry. Don't stack the cookies until the icing is firm and completely dry.
Prep Time:

30 minutes

Chill Time:

1 hour

Cook Time:

8 minutes