This homemade Pumpkin Butter is a fun and tasty topping for toast, baked goods, and even to swirl into a yogurt parfait. I love it because it's delicious, but also simple and inexpensive to make at home. If you've come across the jars of fancy pumpkin butter at the store, you know they can be a bit pricey. And you can not only save some money by making pumpkin butter yourself, but you can also customize the flavors to your liking. And if you love homemade spreads that are full of fall flavors, check out my recipe for the Easiest Homemade Apple Butter!
I have to confess, I am a lover of all things pumpkin. I loved pumpkin way back before it was cool, well before pumpkin spice everything flooded the grocery store shelves every fall. And I love to use pumpkin puree throughout the year. So you're as likely to find me pulling a can of pumpkin puree out of my pantry to make a loaf of pumpkin bread in June as in October.
But I do also love fall and fall flavors. I love all the cozy feels of fall. The cozy soups, stews, and sweet fall-flavored treats. And pumpkin butter is definitely one of my favorite fall treats. A creamy texture with hints of cinnamon and ginger makes it an essential autumn goody for me. And by the way, don't be fooled by the name pumpkin "butter". This is a totally dairy-free sweet spread similar to apple butter.
This recipe is for a small batch of pumpkin butter that you can just store in the fridge to use for up to a couple of weeks. You can double or triple the batch, too, and then store the extra in the freezer. But if you are looking for a pumpkin butter recipe for canning, I'm sad to say that a safe canning recipe for pumpkin butter doesn't exist. Pumpkin butter is thick and dense which makes it unsafe for water bath canning or pressure canning. So stick to storing it in the fridge or freezer.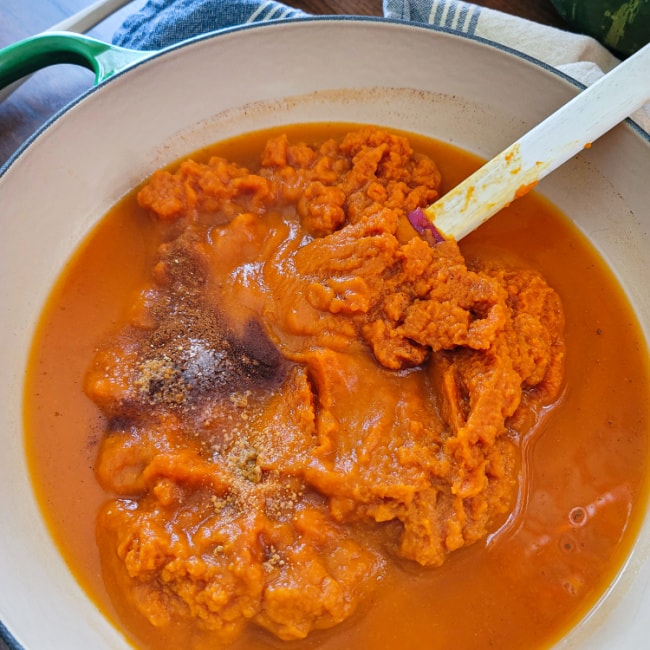 What are the ingredients in Homemade Pumpkin Butter?
My recipe for homemade pumpkin butter uses a few, simple ingredients. You can add optional ingredients to change up the flavors to your liking, but here are the basics:
Pumpkin Puree – Either canned, store-bought pumpkin puree or fresh homemade pumpkin puree will work for this recipe. Fresh puree will likely have a higher water content, so you may need to cook the recipe for a bit longer to achieve the consistency you want. Just be sure to avoid canned pumpkin that is labeled as pumpkin pie mix. (And here's a link to instructions for making your own pumpkin puree.)
Water – While many recipes call for apple juice or cider as an ingredient, I find that water works just fine. Of course, it's delicious to use apple cider, too, so feel free to substitute it for the water called for in the recipe.
Brown Sugar – I like to use brown sugar because I think the molasses flavor compliments the pumpkin, but you can also use regular white sugar. Or try swapping out some of the brown sugar for maple syrup for a hint of maple flavor. Also, you can reduce or increase the sugar to your taste.
Cinnamon and Ginger – These are the 2 spices I believe are essential to good pumpkin butter. I also add a few pinches of ground cloves and ground allspice, but these are optional spices. If you want to go full-on pumpkin spice flavor, swap out the cinnamon and ginger for pumpkin pie spice (added to your taste).
Apple Cider Vinegar – I use just a tablespoon of apple cider vinegar. This little bit of acid gives the pumpkin butter a more complex flavor.
Salt – I know, it seems so strange to add salt to a sweet spread, but it's a very small amount of salt and it enhances the overall flavor of the pumpkin butter. For the best flavor, I recommend using this tiny amount of salt, but it's totally optional.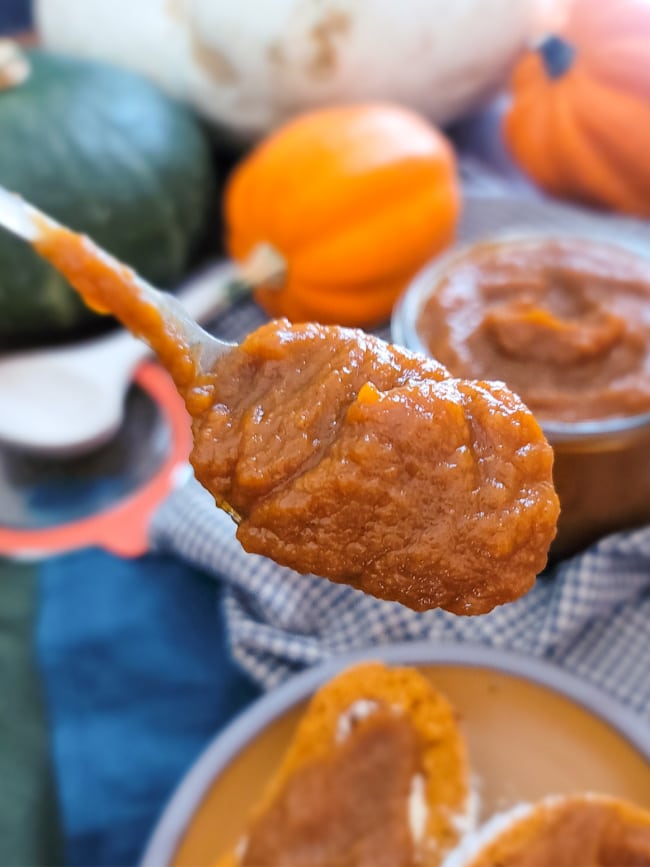 How do I cook up a batch of Homemade Pumpkin Butter?
Because pumpkin butter cooks so quickly (about 3o minutes), I typically cook it in a deep, heavy-bottomed pot on the stovetop. But if you prefer a hands-off approach, you can cook it in your slow cooker on low for about 4 hours, or high for about 2 hours.
It's going to bubble and splatter as it cooks down, so please use a splatter guard.
Pumpkin is kind of a stringy, fibrous fruit, so your butter may not come out not completely smooth. If you prefer it to be silkier and less chunky, you can use a stick blender to smooth it out a bit.
How do I use Pumpkin Butter?
It's good to use in so many ways! Use it as a cheesecake topping, in oatmeal or yogurt, or as a filling for cinnamon rolls. Top your cornmeal muffin, biscuit, or other baked good with pumpkin butter. Or just spread it on your toast or bagel. So good!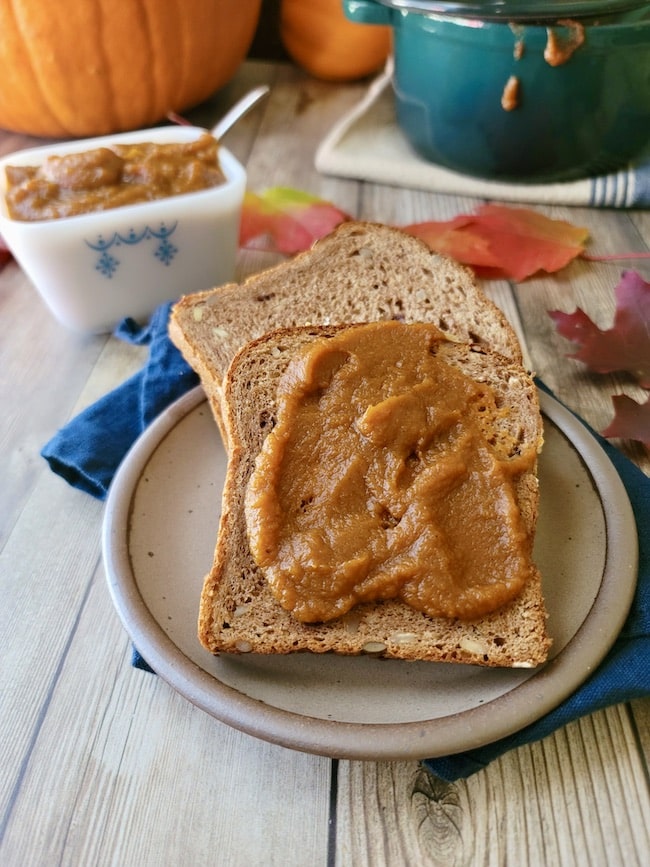 ---
If you try this recipe for Easy Homemade Pumpkin Butter, I hope you love it. And follow me on Facebook, Pinterest, and Instagram so you don't miss a post.
*As an Amazon Associate I earn from qualifying purchases. This post may contain Amazon or other affiliate links, which means I will earn a commission at no additional cost to you if you click through and make a purchase.*
Print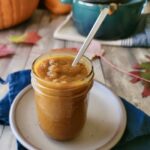 Homemade Pumpkin Butter
---
Author:

Total Time:

1 hour 10 minutes

Yield:

About

3 cups

1

x
Description
This Easy Homemade Pumpkin Butter is a sweet spread that is full of fall flavor!
---
2

(15-ounce) cans of pumpkin puree (be sure not to use pumpkin pie mix), or 3 1/2 cups of homemade pumpkin puree

1

cup

packed brown sugar

1

cup

water

1 tablespoon

apple cider vinegar

1 1/2 teaspoons

ground cinnamon

1/4 teaspoon

ground ginger
Pinch of ground cloves (optional)
Pinch of ground nutmeg (optional)

1/8 teaspoon

salt (optional)
---
Instructions
Combine all ingredients in a deep, heavy-bottomed pot. Heat to a gentle boil over medium to medium-high heat, stirring frequently.
Reduce heat to a simmer, then cover with a splatter guard or a pot lid left slightly ajar. Allow the pumpkin to simmer for 45 minutes to an hour, stirring occasionally. (Cook until pumpkin butter reaches your desired consistency.)
Remove from the heat. Allow to cool* and then place in containers to store in the refrigerator or freezer. *See Note
Notes
If the pumpkin butter is chunkier than you would like, go ahead and puree it with a blender or stick blender after cooling, and before you put it into your containers.
Prep Time:

10 minutes

Cook Time:

1 hour