The leaves are changing color and the days are getting chilly and feels like it's time for some hearty fare like this Autumn Harvest Beef Stew. This stew is like a fall harvest in a bowl. It's loaded with bites of potato, carrots, and squash, and even a secret fall ingredient (can you guess what it is?). And after simmering for a few hours in a low oven, this stew becomes just so tender and flavorful and makes the whole house smell amazing. I like to serve a steaming bowl of this stew with a crusty loaf of bread, or a batch of freshly-made biscuits, topped with generous dollops of butter.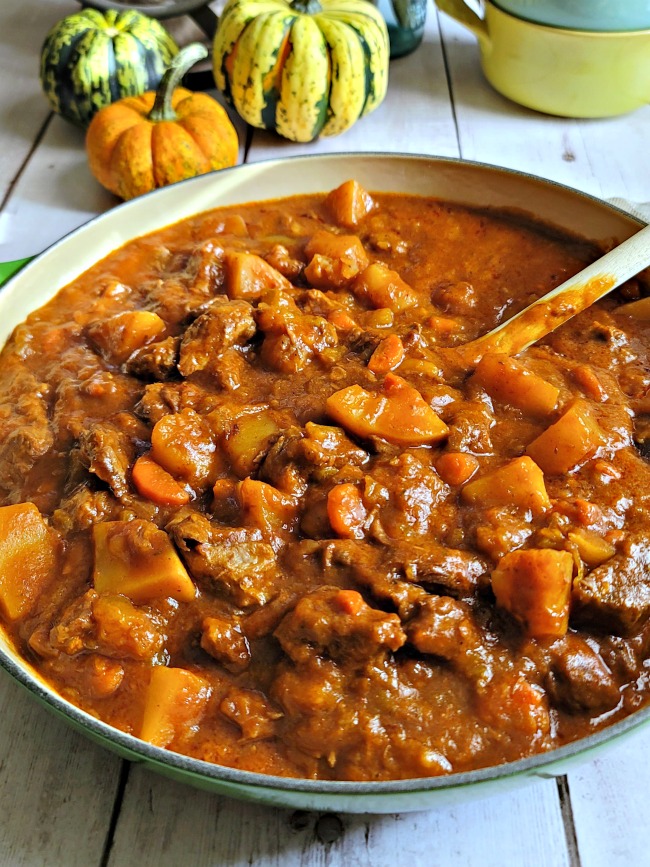 Now I did say there is a secret ingredient and you're probably wondering what that ingredient is right about now. So, I'll just go ahead and give it away that the secret ingredient is apple butter. And while it may sound a bit unusual, trust me when I tell you that it's totally delicious. The apple butter gives the stew a touch of sweetness but also a thick, rich texture. Plus the spices in the apple butter add a depth of flavor that goes perfectly with the tender chunks of beef. (And if you love apple butter like I do and want an easy recipe for making your own, try my recipe for the Easiest Homemade Apple Butter.)
But apples aren't the only ingredient that makes this stew perfect for fall. This homemade beef stew also includes bite-size chunks of squash (or pumpkin) for an authentic fall flavor. But really, you don't have to wait until fall to make this beef stew because it's just as good in the winter or anytime you're craving a hearty beef stew.
And if you're like me and really appreciate meals that can be made from the pantry and freezer ingredients, then this is a good recipe for you. I typically always have a few jars of apple butter on my shelf, plus a few quart bags of diced squash or pumpkin and a stash of beef in the freezer, so I can usually make this meal with ingredients I have on hand, no trip to the supermarket required.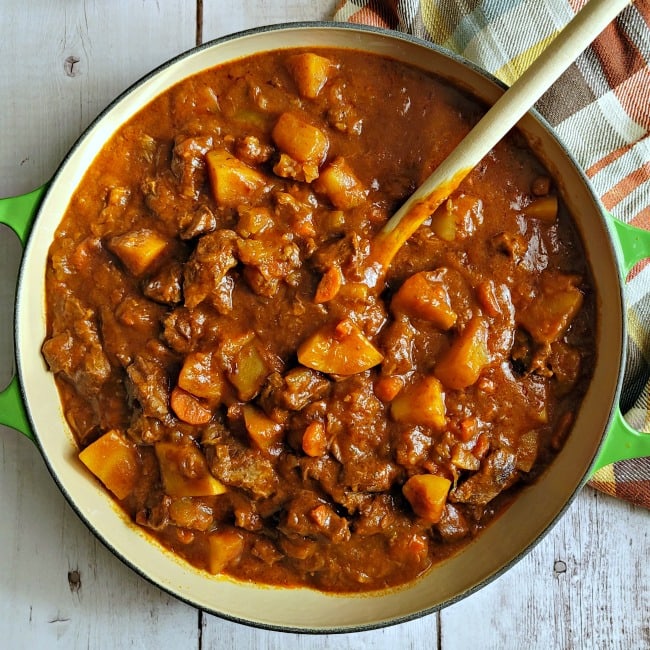 Before we get to the recipe, let's talk ingredients:
Chuck Roast – I like to buy a nice chuck roast and trim it and cut it up myself, or have the butcher do it. Of course, you can always purchase what is labeled as stew beef, but you never really know what cut of beef the meat comes from. I find I get more flavorful and more consistent results from a chuck roast.
Beef Stock – Use good quality beef stock for maximum flavor. If you feel like your stock could use a little more flavor, you can give it a stronger beef flavor by adding a spoonful of beef base or a couple of bouillon cubes (but be aware that bouillon can add a lot of salt, too, so use sparingly.)
Apple Butter – Any homemade or store-bought apple butter will do here, but I like to pop open a jar of my Easiest Homemade Apple Butter for this recipe. If you're buying your apple butter from the store, look for something with a thick texture and rich, dark color.
Squash – You'll want to use a winter squash here, not a summer squash. A butternut squash, acorn squash, kabocha squash, or even pumpkin are all good choices. Be sure to scoop out the seeds and (carefully) cut off the tough rind before cooking.
Potatoes – You can use any potato, but I prefer to use a firm, waxy potato like a red potato because it will hold it's shape better than a russet or baking potato.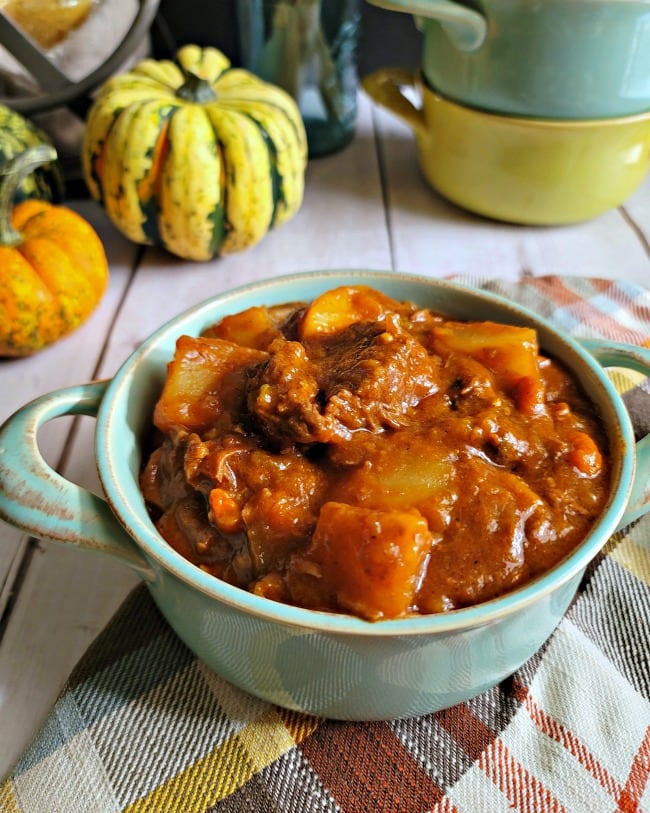 Cook's Tips:
When cutting your roast into pieces, don't make them too small because they will shrink as they cook. I find that cutting them into cubes of about two inches is just about the right size.
Depending on the size of your skillet, you may need to brown your beef in batches. Overcrowding the pan will cause the beef to boil in its own juices rather than getting a nice brown crust.
If you are using tomato paste from a can, be sure to cook the tomato paste with the spices for a minute or so before adding the stock to the pan. Doing this will get rid of any residual metallic flavor from the can.
You can't rush a good stew. Be patient with your stew and allow it to cook low and slow in the oven until it's tender to your liking.
This is totally optional, but to give the stew a little bit of color and fresh flavor, you can sprinkle it with some chopped fresh parsley before serving.
---
If you try this recipe, I hope you love it! Leave a review for this recipe or give it a rating in the comments below.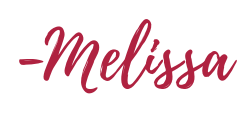 *This post contains affiliate links, which means I will earn a commission at no additional cost to you if you click through and make a purchase.*
Print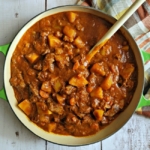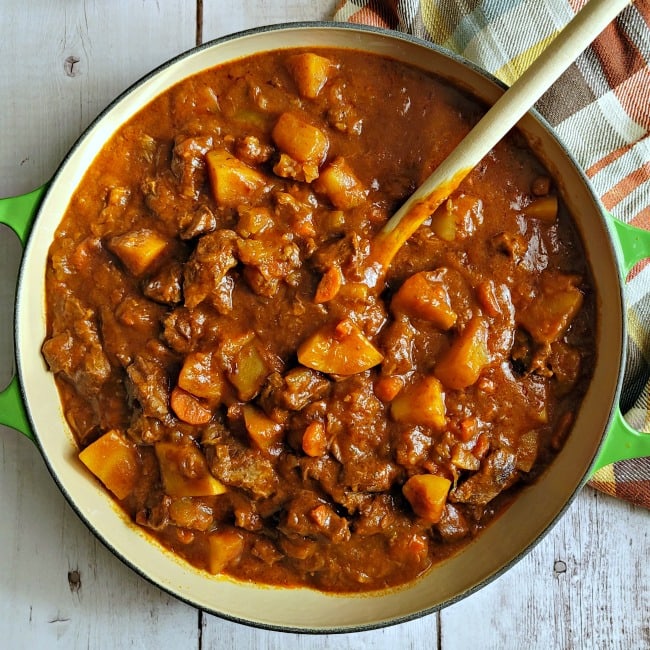 Autumn Harvest Beef Stew
---
Author:

Total Time:

3 hours 30 minutes

Yield:

6

Servings

1

x
Description
This Autumn Harvest Beef Stew is filled with fall vegetables and tender chunks of beef. It's perfect cool-weather comfort food.
---
2 tablespoons

avocado oil (or other high-temperature cooking oil), divided

2

pounds chuck roast, cut into

2

" pieces

¼ cup

all-purpose flour

1

medium onion, diced

3

medium carrots, sliced into half-moons

2

celery stalks, diced

3

fat cloves garlic, minced

¼ teaspoon

smoked paprika

½ teaspoon

dried thyme

6

-ounces tomato paste

4 cups

strong beef stock, divided

1 cup

apple butter

1 teaspoon

apple cider vinegar

2 cups

butternut squash, pumpkin, or other winter squash, cut into

1

" cubes

2 cups

waxy potatoes (like red or Yukon gold), cut into 1" cubes
Salt and ground black pepper
---
Instructions
Heat oven to 325 degrees Fahrenheit. 
In a large heavy skillet or saute pan, heat 1 tablespoon of oil over medium-high heat. While the oil is heating, toss beef cubes with flour and a generous pinch of salt in a large mixing bowl. 
When the oil is hot, brown the beef cubes. To get a golden-brown crust on the beef, be sure not to crowd the pan. Depending on the size of your pan, you may need to brown the beef in batches. Transfer the browned beef cubes to a Dutch oven or other heavy, oven-safe pot. 
Add the remaining tablespoon of oil to the same pan you used to brown the beef. Add diced onion, carrots, and celery to the pan. Season with a pinch of salt, and saute over medium-high heat for 5-6 minutes, or until vegetables are starting to soften and turn lightly brown at the edges. 
Add garlic to the vegetables and saute for 1 additional minute. Stir in smoked paprika, dried thyme, and tomato paste; cook for another 2 minutes. Add 2 cups of beef stock to the pan while scraping the bottom of the pan to loosen the brown bits. Remove from heat, and transfer mixture to the Dutch oven with the beef. (Everything is hot, so do this step carefully!)
Add apple butter and apple cider vinegar to the beef and vegetables in the Dutch oven. Stir to combine. Cover with a tight-fitting lid, place in the heated oven and bake for 1 ½ hours. 
Remove from the oven. Add squash, potatoes, and remaining beef stock. Stir to combine. Replace lid and return to the oven for 1 hour. 
Remove from the oven. Stir and return to the oven without the lid in order to allow the liquid to reduce and thicken. Bake for 30 minutes, or until meat and vegetables are tender, and liquid is reduced to desired consistency. 
When the stew is done to your liking, remove from the oven and allow to cool slightly. Season to taste with salt and pepper before serving.
Prep Time:

30 minutes

Cook Time:

3 hours
For more great recipes, visit my friends at:
Full Plate Thursday at Miz Helen's Country Cottage