This Old-Fashioned Hamburger Soup is a delicious homestyle soup that's loaded with fresh vegetables and ground beef and slowly simmered in a savory tomato beef broth. It's one of our family's favorite soups to be sure.
And when I make this soup, I haul out my largest stockpot and make it in a big batch because it's also one of my go-to recipes for freezer meals. Life just seems so much easier when I have a few ready-made meals stashed away in the freezer for those days that I'm too busy to cook, or those days when I just plain don't feel like cooking. (And if you love homemade soups as I do, also check out my recipe for PA Dutch Chicken Corn Soup with Rivels.)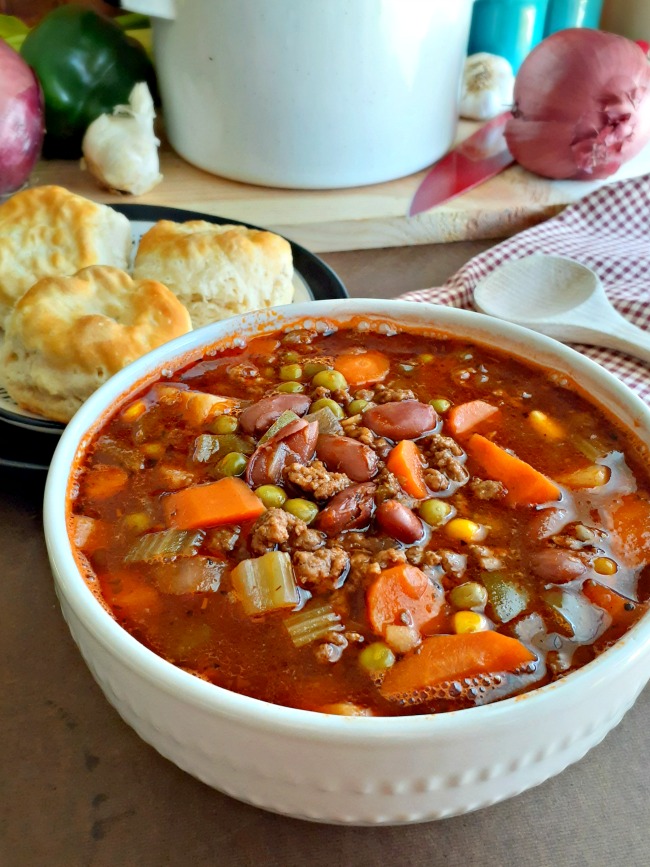 Now this old-fashioned hamburger soup is not a fancy soup. It's what I would call good country cooking because it's simple and good for using up what you have on hand (we country folk are very thrifty, ya know). Because while I often make this recipe just as I have it written, sometimes I change it up based on what I have rolling around in my produce drawer. I try my best to be mindful of using what I have and to reduce waste in the kitchen. I'm not perfect about it, but I do try.
So if I have green beans or lima beans that I need to use up, I'll use those instead of pulling a bag of peas out of the freezer. Or if I have a bin full of sweet potatoes, I'll substitute those for regular potatoes. Sometimes I'll use whatever is growing in the garden, or whatever I find that is fresh and in season at the market.
In the summer, chopped zucchini or yellow squash is a delicious addition to the soup. In the fall, you can't go wrong with adding some butternut squash. Or swap out the kidney beans with cannellini beans or great northern beans. The beauty of this recipe is that it is customizable!
Also, feel free to swap out the hamburger meat with the ground meat of your choice, or even to go totally meatless with this soup to make a delicious vegetable soup. Simply leave out the beef and replace it with extra beans or vegetables. I find that finely minced mushrooms make a good substitute for beef and will add some meaty texture. To make it vegan or vegetarian, be sure to use vegetable broth instead of beef broth.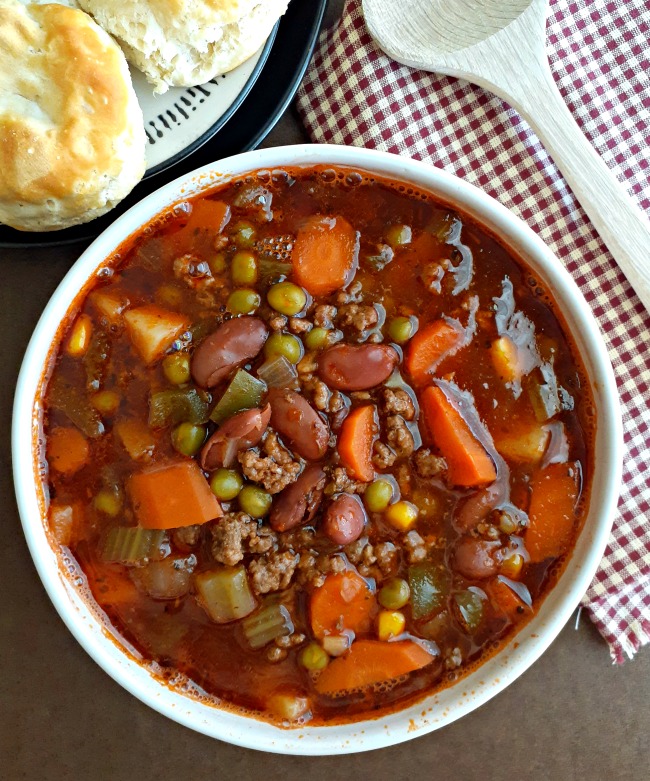 Tips for Making Old-Fashioned Hamburger Soup:
You'll be doing a lot of chopping on the day you make this soup, so make it easy on yourself and serve some of the soup for dinner that evening. I like to serve it with biscuits or a loaf of my homemade Cheddar Onion Beer Bread with butter.
Occasionally I like to add a small amount of pasta like orzo, ditalini, or elbow macaroni to the soup. To do this, I find that it's best to add the pasta while reheating it, just before serving. Adding pasta before freezing may cause the pasta to become too mushy.
I recommend serving this soup with a sprinkle of grated Parmesan and/or a handful of chopped fresh parsley.
Tips for Freezing Old-Fashioned Hamburger Soup:
After cooking your soup, you'll want to quickly cool the soup before you store it in the freezer. An easy way to do this is by placing the stockpot filled with hot soup into a clean sink filled with ice water. Give the soup a stir occasionally to help cool it down faster. When it is cooled down, it is ready for the freezer.
To freeze your soup, use freezer-safe plastic or glass containers. Plastic bags are convenient to use and can be laid flat in the freezer for more compact storage. Deli-style plastic containers are a good choice, too. If you prefer glass, make sure that it is safe for freezer usage. Use a size that will be most convenient for you down the road. Use small containers (pints or cups) for individual portions or quarts or gallons for larger portions. Leave a little space at the top of your container because the soup will expand as it freezes.
I like to vacuum seal my soups, but if you've ever tried to vacuum seal a liquid, you know that it can be tricky. I have a method to make this process easier and less messy, but it takes a few steps. My method is to fill my vacuum sealer bags with soup, squeeze most of the air out, and then use the machine to seal it without vacuuming. I then place the sealed bag in the freezer and allow it to freeze solid. Once it's frozen, I pull the bag out of the freezer, use a pair of scissors to snip off the seal at the top of the bag, and then fully vacuum seal it. This method does waste about an inch or so of the bag in this process, but I find that it really makes the soup last longer in the freezer when it's vacuum-sealed.
How to Reheat:
There are several ways to thaw and reheat your soup. The easiest way is to pull it out the night before and allow it to thaw overnight in the refrigerator. Once it is thawed the next day, heat the soup in a pot on the stove or in a slow cooker. To thaw and reheat the soup at the last minute, run the container under hot water for a minute, just until it is loose enough to slide out of the container. You can then transfer it to a pot and reheat it on the stove.
You can also thaw the soup by placing the container in a bowl of cold water in the refrigerator for about 30 minutes to an hour, depending on the size of your container. Once thawed, transfer to a pot on the stove to reheat. For the sake of safety, don't allow your soup to sit out and thaw at room temperature.
---
If you try this recipe for Old-Fashioned Hamburger Soup, I hope you love it. And follow me on Facebook, Pinterest, and Instagram so you don't miss a post.
*As an Amazon Associate I earn from qualifying purchases. This post may contain Amazon or other affiliate links, which means I will earn a commission at no additional cost to you if you click through and make a purchase.*
Print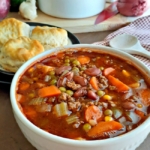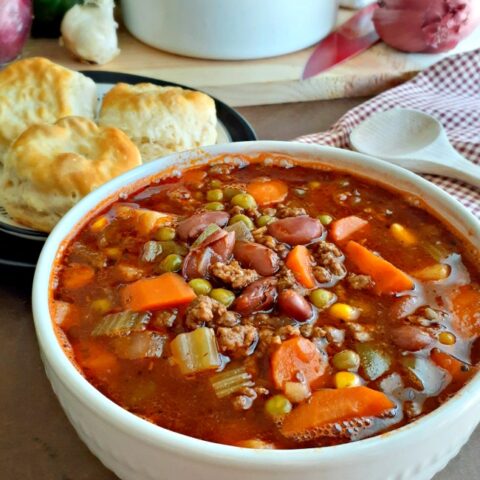 Old-Fashioned Hamburger Soup
---
Author:

Total Time:

0 hours

Yield:

6

-

7

Quarts

1

x
Description
A homestyle soup that's loaded with fresh vegetables and ground beef and slowly simmered in a savory tomato beef broth. This makes a big batch so you'll have plenty for the freezer!
---
2 1/2

pounds

ground beef

1

large or

2

medium onions, diced

5

stalks celery, diced

6

garlic cloves, minced

1 tablespoon

paprika

2

green bell peppers, coarsely chopped

2

pounds

carrots, peeled chopped into bite-size pieces

3

pounds

potatoes, peeled and chopped into bite-size (waxy potatoes like red potatoes work best)

6

cups

tomato juice or vegetable juice (or one 46-ounce bottle)

12

cups

beef stock

1/4

cup

ketchup (optional)

2 tablespoons

Italian seasoning

2

or

3

bay leaves

2 tablespoons

brown sugar

2

cups

frozen or fresh corn

2

cups

frozen or fresh green peas
1

15

–

ounce

can kidney beans, drained and rinsed
Salt and pepper
---
Instructions
To a large skillet, over medium-high heat, add ground beef, onions, and celery. Season with 2 generous pinches of salt and ground black pepper. Cook beef and vegetables while using a spatula or wooden spoon to break apart the meat. When the meat is browned and cooked through, and onions are lightly golden, add the garlic and paprika. Cook and stir for one more minute. If there is a lot of grease in the pan, spoon off all but a few tablespoons.
Transfer the meat and vegetable mixture to a large stockpot (a 10 or 12-quart size works well) and place stockpot on the stove. Add the bell peppers, carrots, and potatoes. Season again with a generous pinch of salt and pepper. Stir to combine.
Add tomato juice, beef stock, ketchup (optional), Italian seasoning, bay leaves, and brown sugar. Stir to combine. Bring to a simmer, and allow soup to simmer for 45 minutes, or until potatoes and carrots are tender.
Add corn, peas, and beans. Simmer for an additional 15 minutes.
Remove from heat and allow to cool. Season to taste with salt and pepper. Portion into containers and freeze.
Prep Time:

1 hours

Cook Time:

1 hour 15 minutes

Category:

Soups and Stews