If you're interested in growing a vegetable garden but have limited time or space, a theme garden might be a perfect solution. A theme garden is a simplified garden where you grow vegetables and/or herbs related to a particular theme. You can grow your garden in a small garden patch, a raised bed, or even in containers on your patio.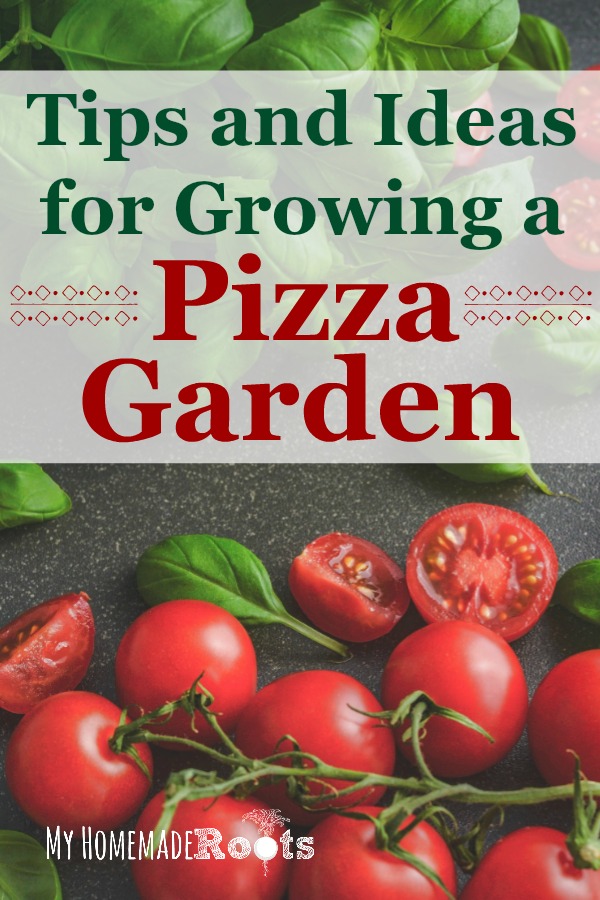 One of my favorite ideas for a theme garden is a pizza garden. And while this is a fun project to share with kids, it's really a fun project for anyone. You get to grow a little of your own food, while also getting creative and reaping the health benefits of fresh air and sunshine.
Here are some tips and ideas for getting started with your pizza garden:
Where to Plant
If you have a yard, the simplest way to grow your pizza garden is to choose a sunny part of the yard and create a vegetable patch in the ground. If digging up the yard isn't your thing, another way to plant your garden is in one or two raised beds. And while raised beds cost a little bit of money up front to build or to buy, they are a good option if you are looking to keep weeding to a minimum and your yard tidy. If you want to build your own raised bed garden, check out these plans by Ana White, or this collection of plans by Morning Chores:
And if you don't have a yard, or prefer to plant your garden on a porch or patio, you'll need to purchase or build some large planters or other containers that are suitable for your space. When planting in the ground, add in some good-quality compost. For raised beds and containers, you will want to use a good quality potting mix for soil.
When to Plant
To determine the best time to sow your seeds indoors, or when to plant seedlings outside in your garden, you'll need to figure out your hardiness zone and the first and last frost dates for your area. I use this garden planning tool to determine all of my planting dates, but you could also set up a worksheet like this one by Preparedness Mama to calculate your planting schedule.
What to Plant
Tomatoes
If you want to grow tomatoes for making pizza sauce, paste tomatoes (also called plum tomatoes) are a good option. They have more flesh and fewer seeds and juice, so they cook down easily into a rich sauce. My favorite varieties are Amish Paste Tomatoes, Roma Tomatoes, and San Marzano Tomatoes.
If you want tomatoes to top your pizza, a cherry or grape tomato variety is a good choice. They can be used fresh on your pizza, but are also delicious when they are roasted or oven-dried.
Keep in mind that tomato plants can get very large, so you will want to support them will a with stakes or a sturdy cage. If you are limited to growing your tomatoes in a container, stick with the smaller bush or determinate tomato varieties.
Fresh Herbs
You can read more here about why I love growing herbs. They are low maintenance, easy-to-grow, and beautiful. They are also perfect for growing in a container on a patio or on a sunny windowsill. Grow whatever herbs you like for your pizza. Basil, Oregano, Thyme, Parsley, and Rosemary are my favorites.
Peppers
Peppers are delicious as a pizza topping and also are easy to grow. If you enjoy peppers, you may want to include a few plants in your garden. Good choices are bell peppers and sweet or hot banana peppers. Other good options are Italian pepper varieties like Jimmy Nardello, Marconi, and pepperoncini. If you include peppers in your pizza garden, be sure to keep them in a spot where the soil is warm because pepper plants thrive in the heat.
Mushrooms
Mushrooms aren't essential to a pizza garden but can be an interesting addition to it. And although mushrooms don't often come to mind when thinking about growing vegetables, it is actually something that can be done at home. Around here, we grow our mushrooms on a log in our yard, but the easiest way to start is with a kit. Oyster mushrooms are one of the easiest to grow and make a very good pizza topping. And while mushrooms aren't always easy to grow successfully, it makes for a fun and educational activity.
Garlic and Onions
Like mushrooms, garlic and onions aren't a necessary part of a pizza garden, but they do make a nice addition to it. And while growing onions or garlic is not as challenging growing as mushrooms, it's not quite as straightforward as growing tomatoes or peppers.
Onions can be grown from seeds or onion sets (small bulbs). Onions form bulbs in response to the length of daylight hours, and so are classified as long-day and short-day types. Long-day varieties are better for more northerly climates (zone 6 and below) which have relatively long summer days. Short-day varieties are more suited for southern climates where the hours of summer daylight don't differ much from winter day length. Plant onions in the spring or fall, depending on your location and the variety. Harvest mature onions in the late summer/early fall, or harvest earlier as spring onions or scallions.
To grow garlic, you will need to plan ahead because, in most areas of the United States, garlic is planted in the fall. Choose a hardneck variety if you live in an area with cold winters or a softneck variety if you have more mild winters. Garlic is grown from the individual cloves from a bulb of garlic, but I suggest not using supermarket garlic for planting because there is no way of knowing if it will be a suitable variety for your area.
To find out more about when to plant onions or garlic, and which varieties grow best in your area, contact your local county extension office.
If you plant a pizza garden, I want to hear all about it! Do you have any tips to share? Let me know about your garden adventures in the comments below.
*This post may contain affiliate links, which means I will earn a commission at no additional cost to you if you click through and make a purchase.*