This savory Cheddar Onion Beer Bread comes together quickly and is perfect to go with soups, stews, or just toasted and slathered in butter. It's ridiculously easy to make (no kneading required!) and has a pleasantly chewy crust and tender crumb. And it's super-flavorful, too, with the addition of onions, chives, and sharp cheddar cheese. (And if you like quick and easy homemade bread recipes, check out my recipe for Maple Corn Muffins.)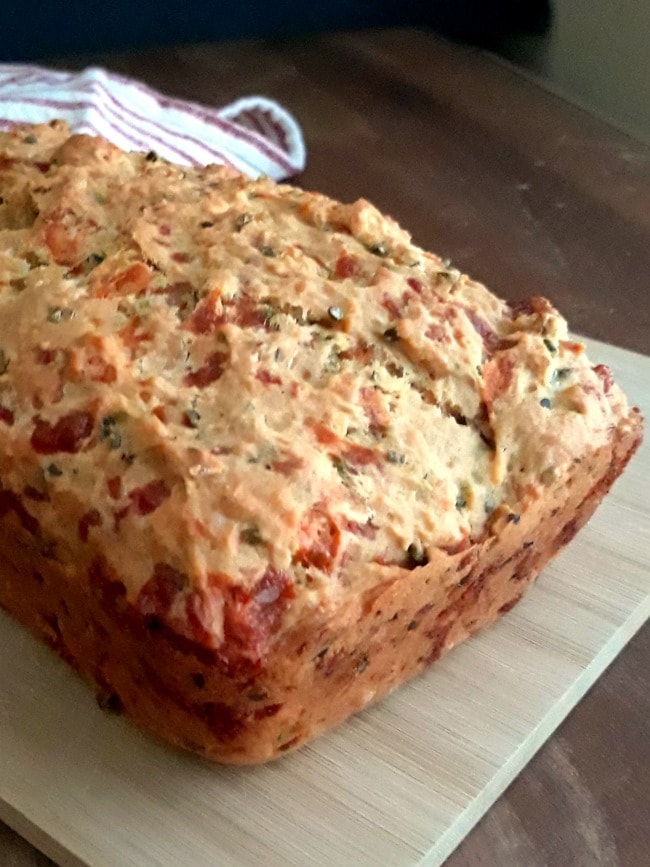 So why add beer to a bread recipe, and what does adding beer to bread do?
If you're unfamiliar with beer bread, you may be wondering why anyone would want to even make bread with beer. So the first, and maybe the most obvious answer, is the flavor. Beer adds a malty, slightly sweet flavor to the bread. And the stronger the flavor profile of the beer you use, the more pronounced it will be in your bread. So even if you don't like the flavor of beer, you might still like beer bread if you go with a very light, mild-tasting beer.
But, in fact, beer and bread actually have a lot in common, with both beer and bread being two of the oldest foods in the history of civilization. And not just two of the oldest foods, but two of the oldest fermented foods. This brings us to the second reason to add beer to bread – yeast. Yeast is essential for making both beer and leavened bread (or at least when making biologically-leavened bread). And in the case of beer bread, the yeast in the beer will contribute, to a degree, to the leavening of the bread. In other words, the yeast in the beer helps to make the bread rise.
However, because beer contains varying amounts of yeast, depending on the brand and how much it was filtered, we can't rely on the beer alone to make this bread rise. And since we don't want a sad, flat loaf of bread, the solution to this, is a little assistance with a chemical leavener (in this case, baking powder). So this beer bread recipe is technically a quick bread (like zucchini bread and banana bread).
So now let's talk about the ingredients:
Flour – Regular all-purpose flour will do just fine here. You can substitute one cup of the all-purpose flour with one cup of whole wheat if you want to add some fiber, but just know the loaf will be a little denser.
Beer – Use a beer with a flavor profile you enjoy. If you want the beer flavor to really shine in your bread, use a beer with a strong flavor. If you aren't sure about the whole idea of the beer-in-bread thing, go with a lighter beer with less flavor. And when it comes to the alcohol, there will only be a trace of it left in the finished bread. But if you want to avoid alcohol entirely, you can use a non-alcoholic beer in your bread (although it may affect the texture slightly).
Cheddar Cheese – Use strong sharp cheddar cheese in this recipe. It needs to be really sharp to stand up to the flavor of the beer.
Chives – The recipe calls for dried chives because I always have some in my pantry. If you prefer to use fresh chives, use double the amount called for in the recipe.
Onion – You will want to stick with using dried, minced onion in this recipe. Dried onion has a concentrated flavor and won't add any additional liquid to the batter the way fresh onion will.
Baking Powder – The only requirement for baking powder is that it is fresh. Using old, outdated baking powder will leave your bread flat and dense.
Salt – table salt or fine sea salt will work fine. If using Kosher salt, add an extra pinch of it.
Butter – I use salted butter. If you are using unsalted butter, add an extra pinch of salt to the recipe.
Cook's Tips:
Loaf pans come in different sizes. For this recipe, you need a loaf pan that is roughly 9″ x 5″. You can use a slightly larger or smaller pan, but you'll need to keep a close on your bread while baking to make sure it doesn't over- or under-bake.
You might find that a toothpick inserted into the center of the loaf comes out clean long before the 60-minute mark. Don't be fooled by this – the bread is probably still not fully baked. Allow it to bake for at least 55 minutes to ensure it is baked through.
To make the best beer bread, allow the bread to cool thoroughly before slicing.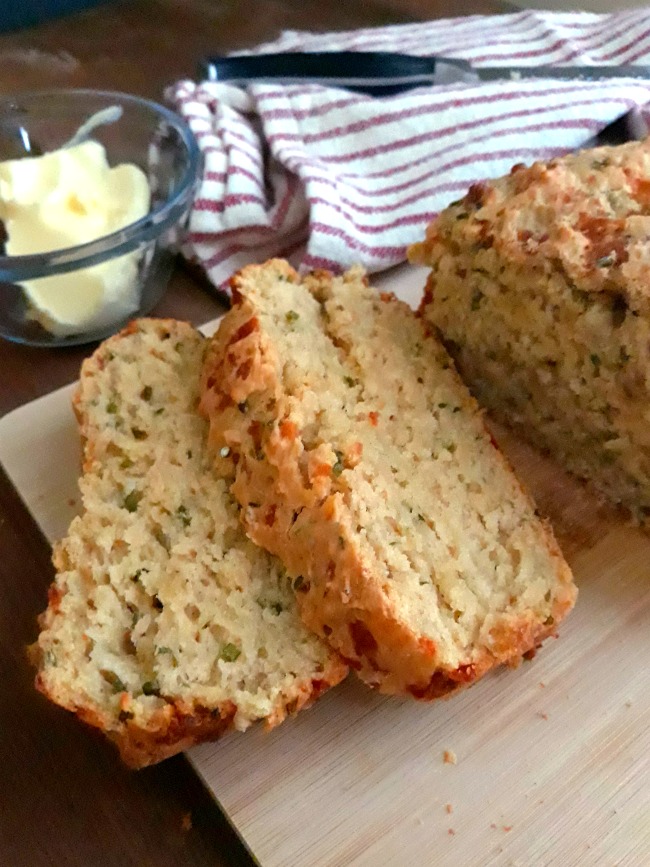 ---
As always, if you try this recipe for Cheesy Beer Bread, I hope you love it. Please let me know how it turned out in the comments below.
I hope you enjoy!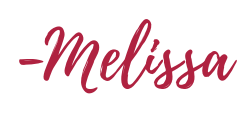 *As an Amazon Associate I earn from qualifying purchases. This post may contain Amazon or other affiliate links, which means I will earn a commission at no additional cost to you if you click through and make a purchase.*
Print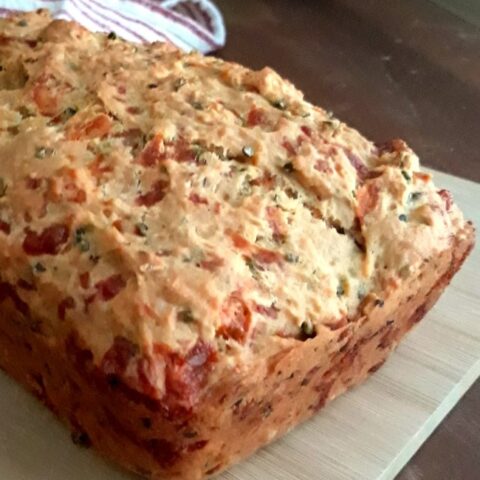 Cheddar Onion Beer Bread
---
Author:

Total Time:

0 hours

Yield:

1

(9x5 inch) loaf

1

x
3

cups

all-purpose flour

1 tablespoon

baking powder

1 1/2 teaspoons

salt

2 tablespoons

brown sugar

1/4

cup

dried chives

2 tablespoons

dried minced onion

4

ounces

(1 cup) shredded sharp cheddar cheese

12

ounces

beer

1/4

cup

melted butter, divided
---
Instructions
Preheat oven to 350 degrees Fahrenheit. Grease a 9" x 5" loaf pan.
In a large mixing bowl, whisk together the flour, baking powder, salt, brown sugar, chives, and onion. Stir in the cheese.
Make a well in the center of the dry ingredients, and add beer and 2 tablespoons of the melted butter. Stir everything together.
Spoon the batter into greased pan, then drizzle the remaining 2 tablespoons of butter over the top.
Bake bread for 55-60 minutes, or until a toothpick inserted in the center comes out clean. Allow to cool for 5 minutes before turning out onto a baking rack to cool completely.
Prep Time:

10 minutes

Inactive Time:

0 hours

Cook Time:

1 hours