Sometimes you just need some simple, nourishing comfort food. Nothing fancy, just no-frills, down-home cooking. And if this is the kind of food you're craving, well, I have a recipe for you! This recipe for Pennsylvania Dutch Chicken Corn Soup with Rivels is my take on an old-fashioned PA Dutch country classic. Tiny homemade dumplings, tender chunks of chicken, and kernels of fresh sweet corn in a rich homemade chicken broth. I'm telling you, this recipe is oh-so delicious. (Also, if you're a fan of hearty chicken soup, check out my recipe for Old-Fashioned Chicken and Dumplings.)
Now, for those folks who haven't heard of a rivel, it's just a rustic dumpling or noodle, similar to a spaetzle. And if you're thinking that homemade noodles take a little too much effort, let me assure you that rivels are very simple and take very little effort. The ingredients are just a little flour, an egg, and a pinch of salt. So easy.
Of course, this recipe is best prepared from scratch, but you can definitely take a few shortcuts on a day you find yourself not up for doing a lot of cooking (I hear you!- no judgments here!) Simply use a rotisserie chicken, and a few cartons of good-quality store-bought chicken broth to make this dish in a jiffy. I do recommend making your own rivels, though, because the rivels really make this soup something special.
I've included instructions for cooking the chicken and making the broth in a big stockpot or Dutch oven, but if you have a favorite way of preparing a whole chicken with broth (like in a slow cooker or Instant Pot) go right ahead and do it that way. I sometimes make my chicken the day before in my slow cooker, and then just refrigerate the meat and broth until the next day when I'm ready to make the soup. (Sometimes a just little meal prep makes life a whole lot easier!)
Cook's Tips:
If you prefer all-white meat instead of a whole chicken, substitute 4 split chicken breasts for a whole chicken. I don't recommend using boneless, skinless chicken breasts because the meat will be tougher and won't result in a flavorful broth.
I like to add a few spoonfuls of chicken base like this one to my homemade broth to give the soup a really intense chicken flavor. You could also use a few chicken bouillon cubes, or omit this ingredient completely (but it really does make for extra flavor!).
If it's summer and sweet corn is in season, I love to use fresh sweet corn kernels cut off the cob. If all you have is frozen or canned corn, that will work just fine, too.
When poaching the chicken, feel free to add garlic, herbs, or anything you want to add extra flavor to the chicken.
---
If you try my recipe for Pennsylvania Dutch Chicken Corn Soup with Rivels, I hope you love it. Please let me know in the comments and give it a review!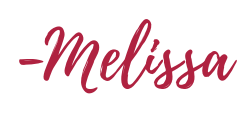 *This post may contain affiliate links, which means I will earn a commission at no additional cost to you if you click through and make a purchase.*
Print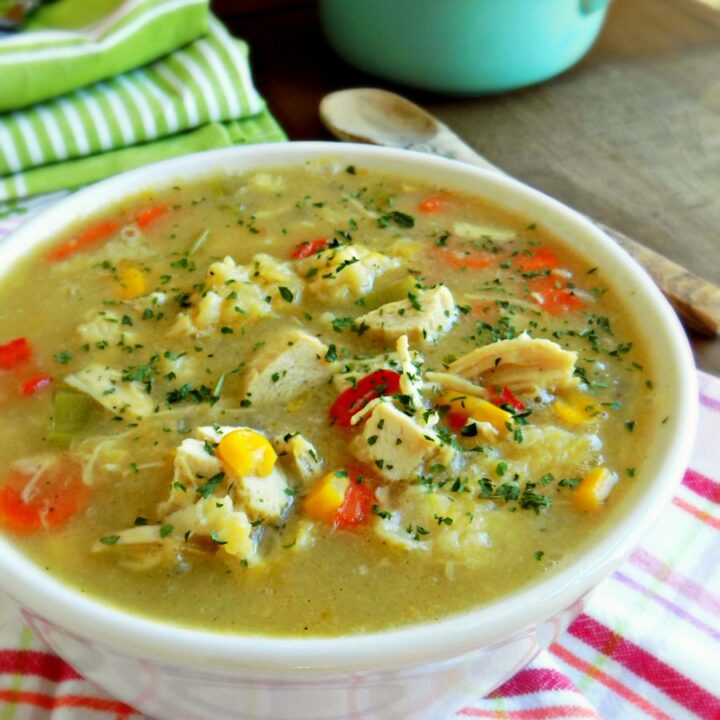 Chicken Corn Soup with Rivels
---
Author:

Total Time:

0 hours
For the Chicken and Broth:
1

whole chicken (about

4

–

5

pounds)

3 quarts

water
Salt

1

–

2

bay leaves
For the Rivels
1

egg

¾

–

1

cup flour
Pinch of salt
For the Soup:
2 tablespoons

olive oil

1

onion, diced

2

stalks celery diced

2

cloves garlic, minced

2

carrots, diced

1

red bell pepper, diced

3 quarts

reserved chicken broth (see step

1

above)

1

–

2

tablespoons chicken base (optional but boosts flavor)

1 teaspoon

poultry seasoning
Reserved meat from whole cooked chicken (see step 1 above), cubed (about 3-4 cups)

2 ½ cups

corn kernels (fresh, frozen or canned)
Salt and black pepper
Fresh or dried parsley (optional)
---
Instructions
Prepare chicken and broth:
Place chicken (giblets removed) in a large stockpot or Dutch oven. Cover with 3 quarts of water. Add a few pinches of salt, and bay leaves. Bring to a boil, then reduce to a gentle simmer. Place lid on pot, and simmer on low for 1 ½-2 hours, or until the chicken is falling-apart tender.
Remove chicken from pot. Allow to cool enough to be handled, then remove meat from bones and roughly chop. Strain broth. Set meat and broth aside.
If not using immediately, promptly refrigerate meat and broth.
Prepare rivels:
In a medium bowl, beat the egg well. Stir in ¾ cup flour, and salt. Add extra flour if needed to make a thick and crumbly dough. Rub dough between fingers until you have small pebbles of dough (the pieces of dough can be pea-sized and smaller, but not larger than that). Set aside while you prepare the soup.
Prepare soup:
In a pot or Dutch oven, heat olive oil over medium-low heat. Add onions, celery, garlic, carrots, and bell pepper. Season with a pinch of salt. Cook vegetables for 6-7 minutes, or until starting to soften. Don't brown the vegetables, and be careful not to burn the garlic.
Add 3 quarts of reserved chicken broth, chicken base (optional), poultry seasoning, cubed chicken meat, and corn kernels to the pot, and bring to a boil. Use your hands to sprinkle the rivels slowly into the boiling broth, stirring gently. Reduce heat to low, cover, and simmer about 15 minutes, or until the rivels are tender and cooked through.
Season generously with salt and pepper to taste. Sprinkle with parsley to garnish.
Prep Time:

0 hours

Inactive Time:

0 hours

Cook Time:

0 hours
Keywords: homemade soup recipe, hearty soup recipe, best chicken soup recipe, Amish soup recipe, Amish recipe, Pennsylvania Dutch Soup recipe
For more tasty, homemade recipes check out some of my friends:
Full Plate Thursday at Miz Helen's Country Cottage
Meal Plan Monday at Southern Bite