This Easy Split Pea Soup is a hearty and delicious soup that has been a beloved favorite for generations. A classic comfort food that is prepared simply with split peas, a few veggies, and ham (which you can leave out for a vegetarian version), it's a perfectly nourishing yet flavorful meal. And because it's made with such simple ingredients, it's budget-friendly, too! And if you love simple and delicious homemade soup, also check out my recipe for Stuffed Cabbage Soup.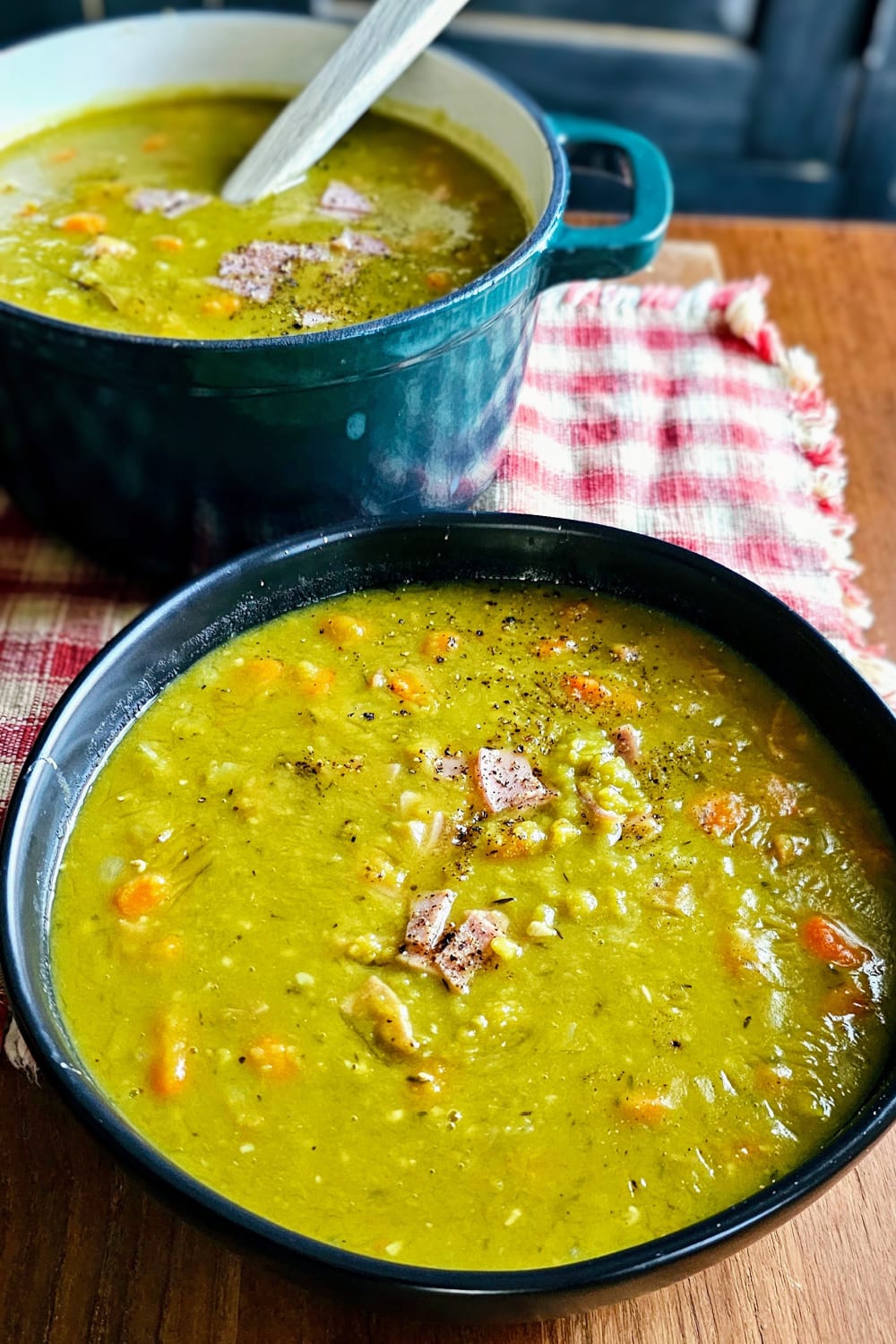 I love this easy split pea soup with ham recipe. I eat it year-round, but I especially love it on a cold day when I'm craving a soup that will fill and warm my belly. And this is a thick soup, not a light and brothy soup, so it can act as a meal all on its own. I like to serve it with a crusty roll, or a slice of buttered bread.
And if you're unsure about what split peas are, they are just regular peas that have been dried and split in half. They come in both green and yellow varieties, but I tend to use the green type because I think the green peas are a bit sweeter. But of course, you choose what you like in your soup.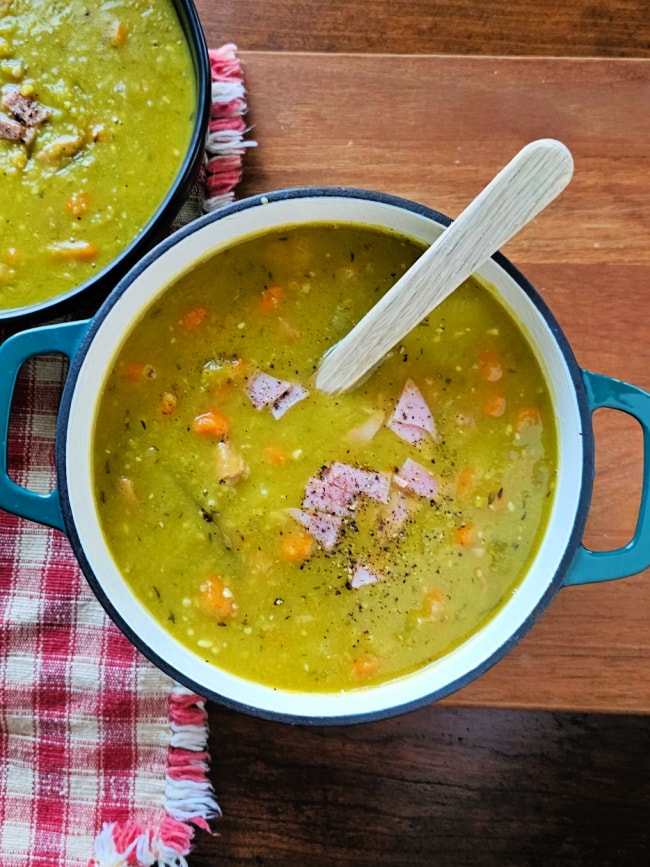 A bit of the history of Split Pea Soup:
Did you know that peas are one of the oldest cultivated crops? They've been grown for thousands of years originating in places like Turkey and Egypt, before spreading throughout the world. At some point, people began to dry and split the peas for longer storage. Hence, the name split peas.
And split peas were a staple in Early America, even being provided as a component of soldiers' rations in the American Revolutionary War. They found their way into various regional American cuisines, especially in the northeastern and midwestern United States where split pea soup became a popular dish. And it's no wonder because split peas are economical, nutritious, and filling. I bet most of our grandmas made plenty of a pot of split pea soup back in the day.
To this day, split pea soup remains popular with the most common version being the familiar ham and split pea soup, like the recipe I'm giving you here. But there are many ways to make split pea soup, and many cultures and cuisines have their own versions of the soup using different vegetables, spices, and meat (or even going meatless).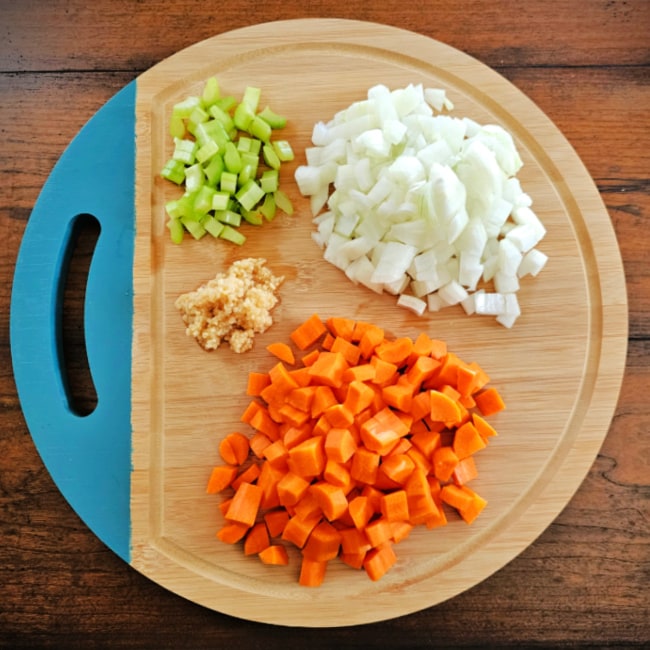 Let's talk about the ingredients for Easy Split Pea Soup:
Split Peas – You can use green or yellow split peas. The flavors are very similar, but I find the taste of the green peas to be a little sweeter. Other folks prefer the yellow. So go ahead and use whatever you like or whatever you have on hand.
Ham – You can use leftover ham, or purchase diced ham at the store. I've also used chopped deli ham and ham steaks with success. And if you happen to have a leftover ham bone, you can use that, too. Simmer it in the soup until the ham starts to fall off the bone, then pick off the ham and add it to the soup (discarding the bone). For a vegetarian soup, omit the ham. You can add a little bit of liquid smoke to replace the smoky ham flavor if you like.
Onion – Any type of onion will do. I typically use a yellow onion or sweet onion like Vidalia.
Garlic – A few cloves of minced garlic. If you don't have fresh garlic, use granulated garlic to taste or omit it (but it's better with garlic!)
Carrots – Regular carrots are all you need for this recipe.
Chicken Broth – You can use plain water to make split pea soup, but I think the chicken broth gives it so much more flavor. For a vegetarian soup, use vegetable broth.
Dried Oregano and Dried Thyme – These are the herbs I like to use in my soup, and I prefer the taste of dried herbs for this recipe. If you don't have thyme and oregano on hand, you can substitute Italian seasoning.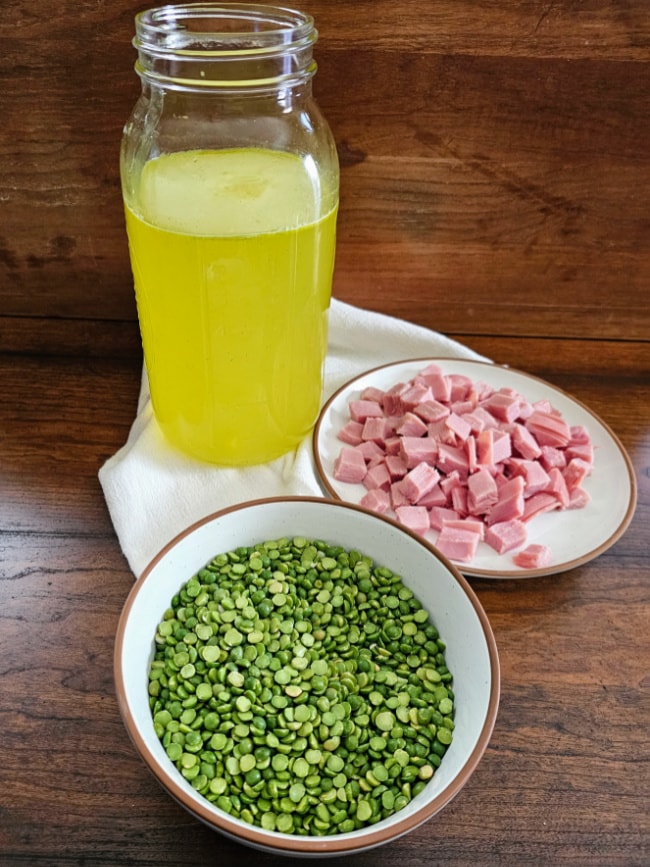 Tips for Making the Easy Split Pea Soup:
And you may be wondering, do split peas need to be soaked? The answer to that is no. Unlike dried beans, split peas do not need to be soaked before using them in your soup. They are small enough that, like lentils, they cook fairly quickly and can be cooked right in the soup without soaking beforehand. You do, however, need to pick through the peas and remove any debris. And you'll want to give them a rinse, too.
Keep in mind that split peas take up a lot of liquid and make a very thick soup. So when you are cooking your soup, it will look thin and brothy at first. But don't let that fool you because your soup will thicken as it cools down. If you reduce the liquid too much, it will likely thicken into a mixture resembling something like concrete as it cools. If that happens, don't fret! Just add a little water to the soup to thin it down to your liking. And if you refrigerate and want to reheat your soup, you will likely need to add some extra liquid at that point, too.
Use a flavorful chicken or vegetable broth. While you technically can use water to make your soup, I prefer to use a flavorful broth or stock, or even water and a stock cube. Split peas are very mild and can use the added flavor of broth. However, if you are using salted broth, hold off on adding extra salt until the soup is finished cooking. With the combination of ham and salty broth, I often don't need to add extra salt at all.
Change up the seasonings to your preference. I typically like thyme, oregano, and bay leaf, or an Italian seasoning blend in my soup. But I do like to change up the seasonings on occasion. Smoked paprika makes a nice addition. Curry powder and cumin make a nice curry-inspired soup. Or try any of your favorite herbs or herb blends like marjoram, rosemary, or Herbs de Provence.
How to Store Split Pea Soup:
Store split pea soup for 3-4 days in an airtight container in the fridge. Or store for 3 months in an airtight container in the freezer.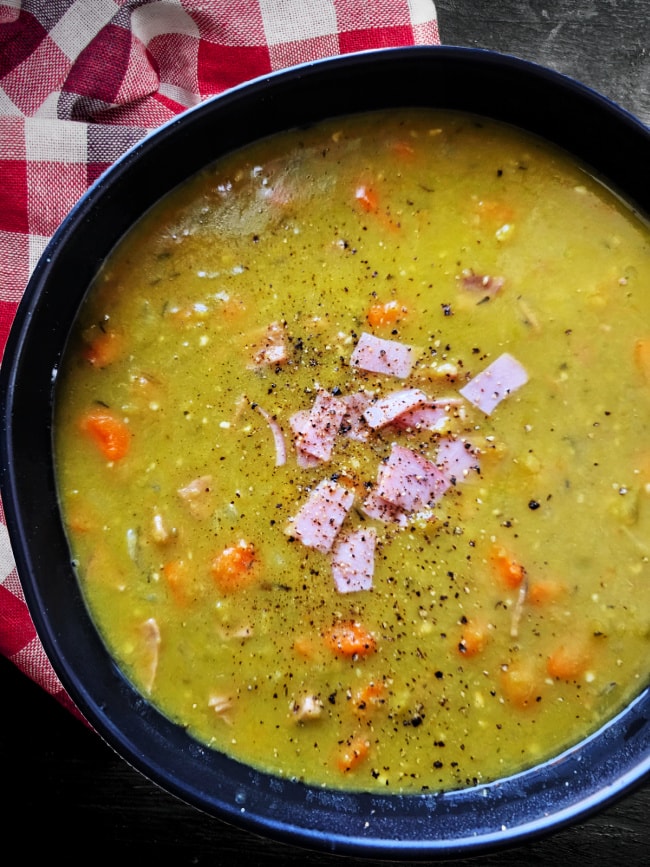 So if you're looking for a tasty, hearty, and frugal meal, I hope you'll try this Easy Split Soup. It's guaranteed to please and make hungry bellies happy!
---
If you try this Easy Split Pea Soup with Ham Recipe, I hope you love it. And follow me on Facebook, Pinterest, and Instagram so you don't miss a post.
*As an Amazon Associate I earn from qualifying purchases. This post may contain Amazon or other affiliate links, which means I will earn a commission at no additional cost to you if you click through and make a purchase.*
Print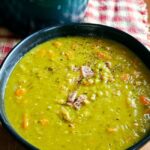 Easy Split Pea Soup
---
Author:

Total Time:

2 hours

Yield:

6

Servings

1

x
Description
This Easy Split Pea Soup recipe is hearty, delicious, and budget-friendly. With just a handful of ingredients, you can have a steamy, homemade pot of soup on the table for dinner. Serve it with a salad or your favorite crusty bread to make it a full meal.
---
1

pound

dried split peas

2 tablespoons

olive oil

2 tablespoons

butter

1

small onion, diced

1

celery stalk, diced

1

cup

diced carrots (2-3 carrots)

1 tablespoon

minced garlic (

2

–

4

garlic cloves)

1 teaspoon

dried thyme

1/2 teaspoon

dried oregano

8

ounces

ham, diced (*see note below for using a meaty ham bone)

6

cups

of chicken broth (use vegetable broth if you're making a vegetarian soup)

1

bay leaf
Salt and ground black pepper
---
Instructions
Pour the split peas into a shallow bowl or onto a plate. Pick through and remove any stones or other debris, then rinse the peas in a strainer under cold water.
Heat the oil and butter over medium heat in a large soup pot or Dutch oven. Add diced onions, celery, and carrots and saute for 5-7 minutes until beginning to soften. Add the minced garlic, dried thyme, dried oregano, and diced ham and cook, while stirring, for 1 more minute.
Stir in the chicken broth and add the bay leaf. Bring soup mixture to a boil, then reduce to a simmer and cover the pot. Simmer for 1 1/2 hours, or until the peas are soft and the soup thickens. (*See the note below about soup thickness).
Before serving, remove the bay leaf and season to taste with salt and ground black pepper.
Notes
You can use a meaty ham bone instead of diced ham in your split pea soup. To do this, simply add the ham bone to the broth and vegetables and simmer until the soup is done. Remove the ham bone (carefully because it will be hot), and remove the meat from the bone. Add the ham back into the soup and discard the bone.
When the peas are soft and your soup is done, it may initially look to be a bit thin or too brothy. But don't be fooled! Those split peas will thicken up quite a lot as it cools. If you reduce the liquid too much, the soup will end up with the thickness of wet concrete. So let your soup cool for 10 minutes or so. Then stir it and see how the thickness seems at this point. If it is too thick, add a little bit of water. If it still seems too thin, you can put it back on the heat and reduce the liquid down for a few minutes.
Prep Time:

30 minutes

Cook Time:

90 minutes