These Smokehouse-Style Turkey Burgers are juicy and packed with flavor. They are truly crave-worthy with a subtle smokiness and loads of savory toppings including bacon, caramelized onions, mushrooms, cheese, and BBQ sauce. (And don't worry – there is no actual smokehouse required!)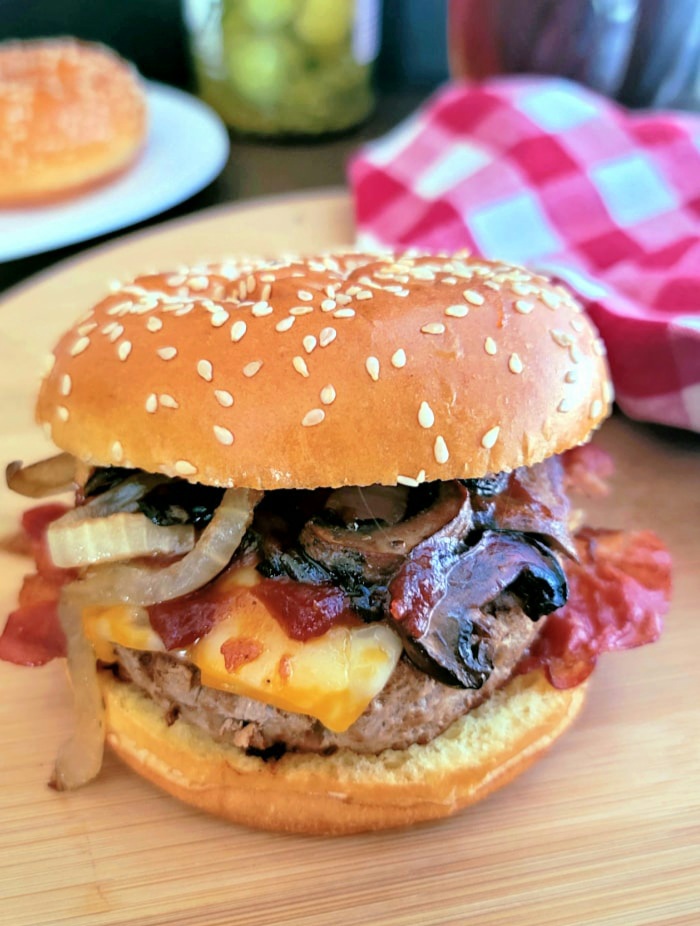 I have to confess, I sometimes like the idea of turkey burgers more than I do the actual burger because I often find that they can tend to be on the dry, flavorless side. Definitely not what I'm looking for when I'm craving a good burger. But since I've come up with this recipe, turkey burgers are back on the menu. There are a couple of things that make this a flavorful and juicy turkey burger.
How to Make Juicy Turkey Burgers with Tons of Flavor:
First, the grill is out. I love grilled burgers, but because turkey is lean meat, it dries out when grilled. What little fat there is just drips out and slips right through the grates of the grill. To get a juicy turkey burger, I prefer to cook it in my cast iron skillet.
Second, add in lots of flavor. In this recipe, seasoned salt, Worcestershire sauce, and smoked paprika give the turkey burger a savory, smoky flavor. And then the bacon, caramelized onions, and mushrooms, along with Colby cheese and BBQ sauce transform this burger from good to something spectacular. I mean, the seasoned burgers are good on their own, but the toppings make it something amazing.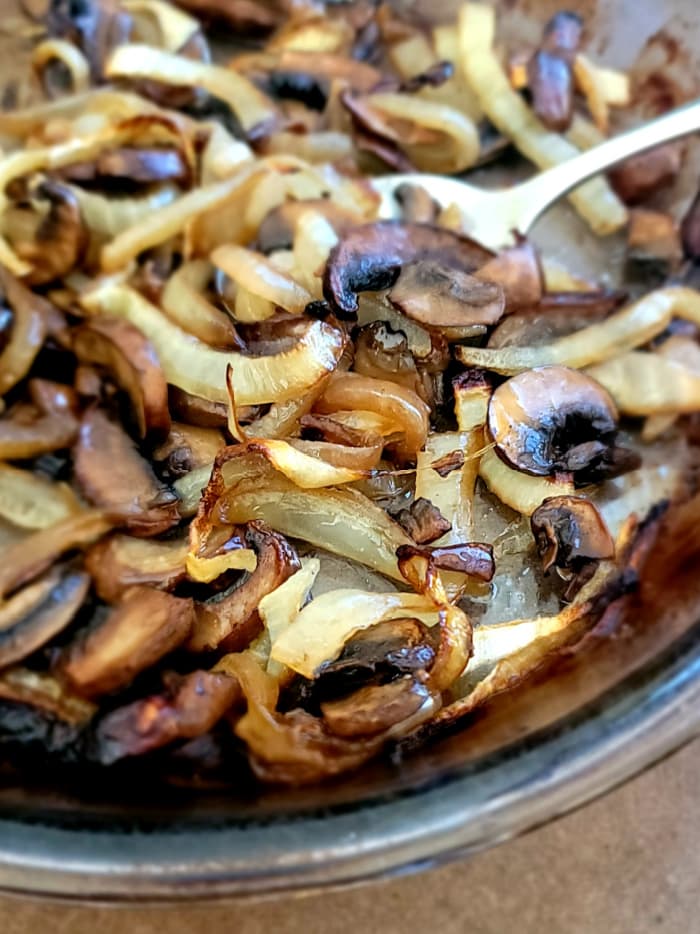 So let's talk about some of the ingredients that go into an incredible Smokehouse Turkey Burger:
Ground Turkey – Don't go too lean with the ground turkey or your burger won't be juicy. I prefer somewhere between 85% to 93% lean. I would avoid using all-white or 99% lean ground turkey.
Smoked Paprika – You could substitute regular sweet paprika, but smoked paprika is part of what gives these burgers the smokehouse flavor. So definitely opt for the smoked paprika if you have it.
Seasoned Salt – I use Lawry's Seasoned Salt, but any seasoned salt should work fine. You can also use a salt-free seasoning blend like Mrs. Dash and then add salt to your preference.
Worcestershire Sauce – Worcestershire sauce really amps up the savoriness of these burgers, but if you don't have any on hand, you can substitute your favorite steak sauce.
Balsamic Vinegar – The balsamic vinegar adds another layer of flavor to the caramelized onions and mushrooms. If you don't happen to have any, you can use a splash of apple cider vinegar and a pinch of sugar.
BBQ Sauce – Use whatever store-bought or homemade BBQ sauce you prefer, but I say that for this recipe, the smokier the sauce the better.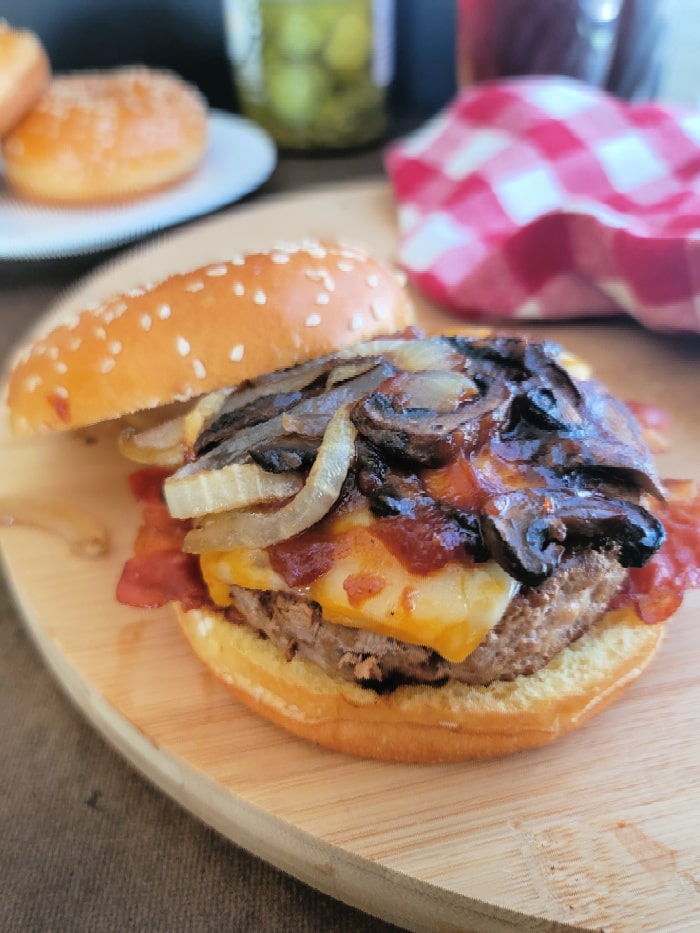 Cook's Tips:
If you're camping or just prefer to cook your burgers outdoors, you can still do that with this recipe. Simply use your cast iron skillet directly on your gas or charcoal grill.
Colby cheese is my choice for this burger, but other cheeses are delicious, too. Try sharp cheddar, Monterey Jack cheese, or even Swiss.
And I love the mushrooms as a topping, but if you're not a fan you can always leave the mushrooms out.
Serve with your favorite buns. If you're like me and you enjoy a good homemade bun, try my recipe for Quick and Easy Hamburger Buns.
---
If you try this recipe, I hope you love it! Please let me know in the comments below.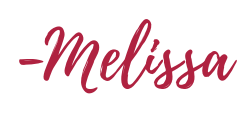 *As an Amazon Associate I earn from qualifying purchases. This post may contain Amazon or other affiliate links, which means I will earn a commission at no additional cost to you if you click through and make a purchase.*
Print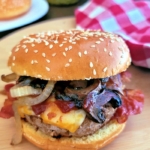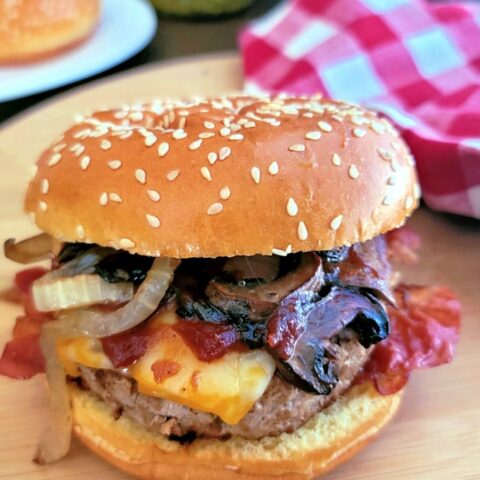 Smokehouse Style Turkey Burgers
---
Author:

Total Time:

0 hours

Yield:

4

Burgers

1

x
Description
These juicy Smokehouse-Style Turkey Burgers are truly crave-worthy with a subtle smokiness and lots of savory toppings like bacon and onions.
---
For the Onion and Mushroom Topping:
1

onion, sliced

8 ounces

mushrooms, sliced

2 tablespoons

avocado oil (or other neutral-flavored oil)

1 tablespoon

balsamic vinegar
For the Burger:
2 tablespoons

avocado oil (or other neutral-flavored oil)

1

pound 85% lean ground turkey

1 teaspoon

seasoned salt

1/4 teaspoon

smoked paprika

1 tablespoon

dried minced onion

1 tablespoon

Worcestershire sauce
To Assemble the Burgers:
4

slices Colby cheese

4

slices cooked bacon

1/2 cup

BBQ sauce, divided

4

Hamburger Buns

1/4 cup

mayonnaise, divided
Lettuce (optional)
Sliced Tomato (optional)
---
Instructions
Heat oven to 350 degrees Fahrenheit. In a baking dish, toss onions, mushrooms, and oil together and place in the oven. Roast for 30 minutes. Add Balsamic vinegar to onion and mushroom mixture, stir, and roast for another 10-15 minutes, or until onions are caramelized to your liking.
While the onions and mushrooms are roasting, combine the ingredients for the burgers and form into 4 patties.
Heat oil a cast iron or other heavy-bottomed skillet over medium heat. When oil is hot, add the patties to the skillet. Cook the patties, turning several times, until they are cooked through and internal temperature reaches 165 degrees Fahrenheit. If the skillet gets too hot, turn it down as necessary to preventil the burgers from burning. You want them to be a nice, golden brown, not charred.
Assemble the burgers by topping each burger with a slice of cheese, a slice of cooked bacon, 2 tablespoons of BBQ Sauce and 1/4 of the caramelized onions and mushroom mixture. As an optional step, you can add a tablespoon of mayo, lettuce, and/or tomato to the bottom half of the bun.
Prep Time:

0 hours

Additional Time:

0 hours

Cook Time:

0 hours