I love soup and I also love beans. But soup with beans? Perfection. In the case of this soup, I used a mix of 15 beans (because I couldn't choose just one kind!) and added some veggies and a bit of smoky kielbasa. Seriously, you can't go wrong with this soup – frugal, filling, and oh-so-tasty. On a cold winter day, a steamy bowl of this Kielbasa and 15 Bean Soup really hits the spot.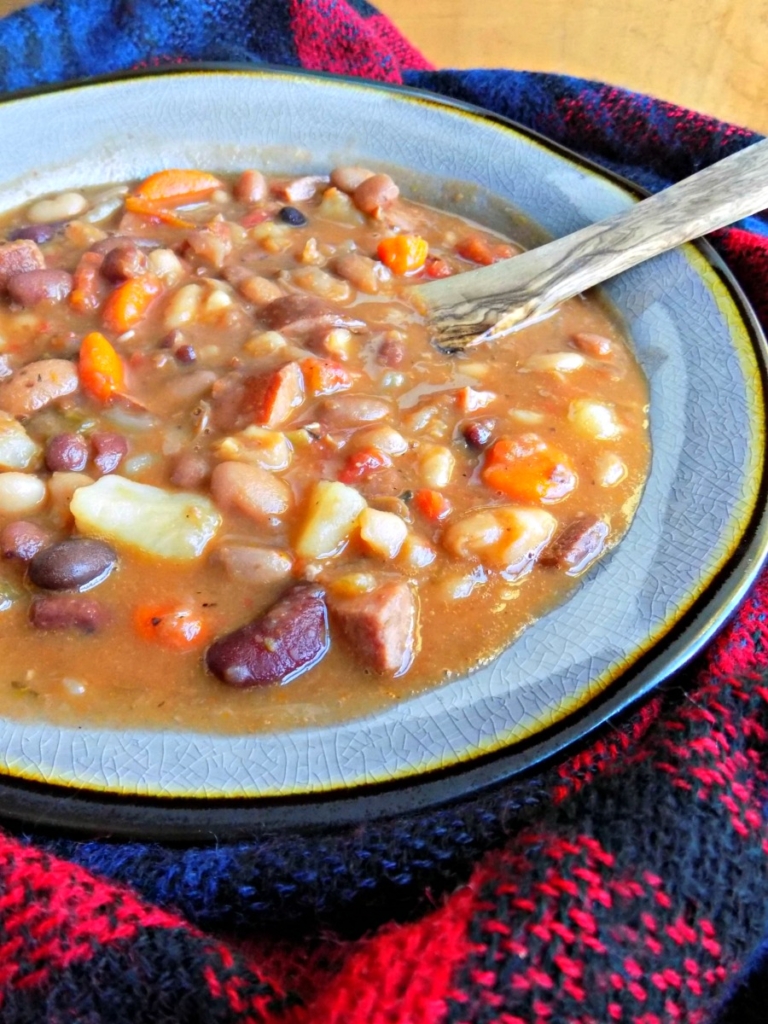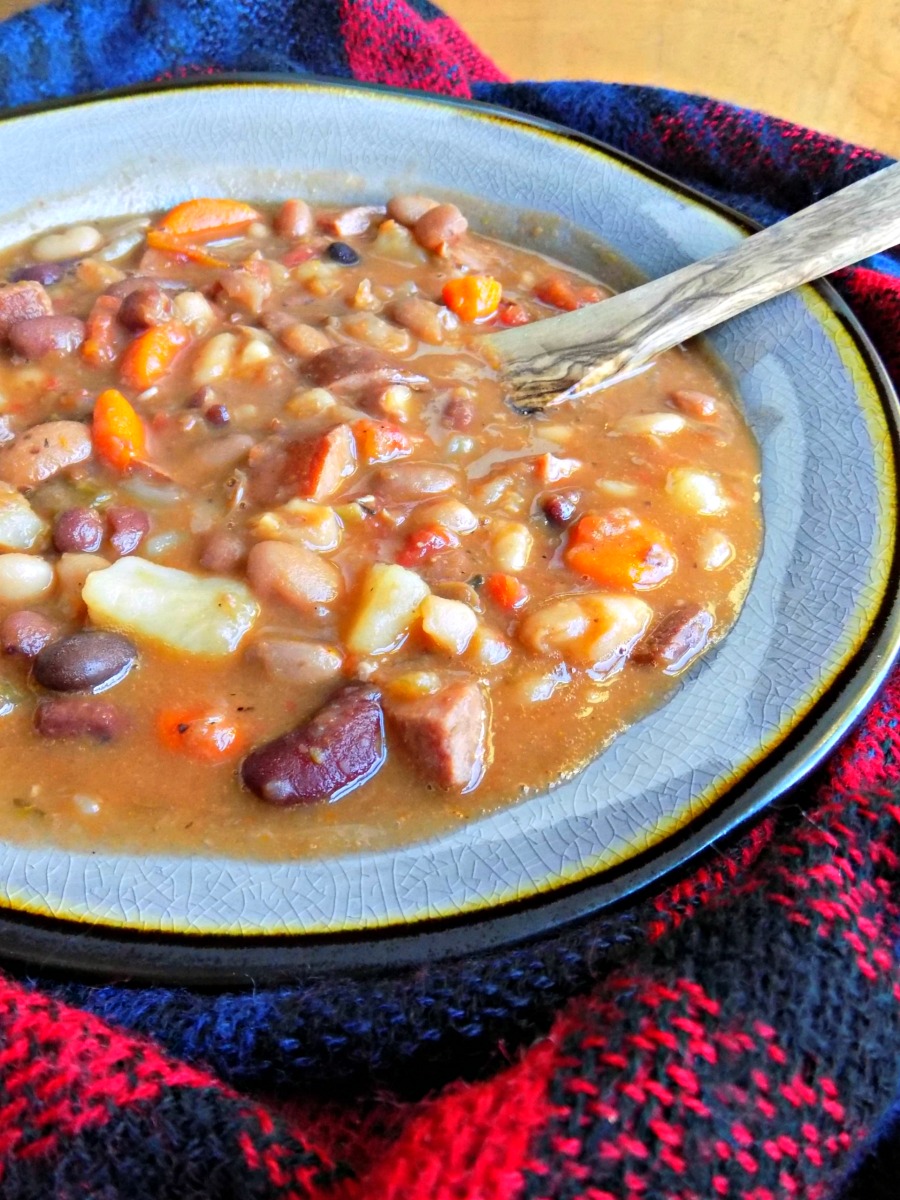 And although I used a particular brand of dried beans that happened to have 15 different kinds of beans, you can use any mixture you like. Some brands may have 12 beans, or 16 beans, or some other amount – any mix will work just fine. If you can't find mixed dried beans (they are often labeled as "soup beans"), dried navy beans or great northern beans would be great, too.
Another thing I love about this soup – it freezes beautifully. Actually, it's the kind of soup that is even better when reheated. When I make a batch, I typically serve half for dinner and then freeze the other half to eat later. Or sometimes I just load the leftovers into a thermos and send it as a packed lunch during the week.
If you try this recipe, let me know. I love to hear your comments!
Kielbasa and 15 Bean Soup
Ingredients
20 ounces mixed dried beans
Water for soaking the beans
1 onion, diced
2-3 cloves garlic, minced
2 stalks celery, diced
2 carrots, peeled and diced
8 cups vegetable broth
2 tablespoons avocado oil (or other cooking oil or fat)
12-14 ounces fully-cooked kielbasa (or other smoked sausage), chopped into bite-size pieces
14 ounces fire-roasted diced tomatoes (or 1 pint home-canned diced tomatoes)
1 medium russet potato, peeled and diced
1/2 teaspoon dried thyme
1/2 teaspoon ground cumin
1/2 teaspoon smoked paprika
Instructions
Sort the beans, picking out and discarding and bad beans or debris. Rinse beans in a colander under running water, then place them in a large bowl. Cover the beans with water (a few inches above the level of the beans), cover the bowel with a lid or towel, and refrigerate overnight.
The following day, drain the beans and discard the soaking water.
In a large pot or Dutch oven, add the beans, onion, garlic, celery, carrot, and vegetable broth. Stir to incorporate.
Bring the mixture to a boil, and boil for 15 minutes. Turn down to a simmer, and place lid on the pot, leaving lid slightly ajar to allow steam to escape.
Simmer for 1 1/2 -2 hours, or until beans are just barely tender.
In a skillet, heat oil over medium-high heat. Brown the kielbasa in the oil until golden brown around the edges. Drain off any grease, and add kielbasa to the soup along with tomatoes, potato, dried thyme, cumin, and paprika.
Simmer for 1 more hour, or until beans and vegetables are tender. Season with salt and pepper to taste.
https://myhomemaderoots.com/kielbasa-and-15-bean-soup/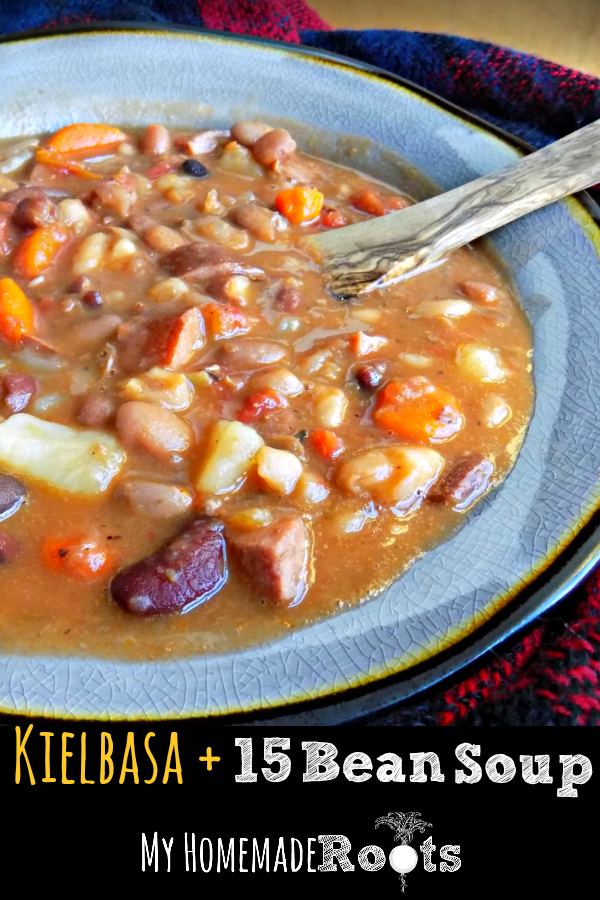 For more great recipes, visit my friends at:
Full Plate Thursday at Miz Helen's Country Cottage
Meal Plan Monday at Julia's Simply Southern