Here is a back-to-basics recipe for Easy Homemade Flour Tortillas. Not only are these tortillas simple to prepare, but they are made with just a few ingredients, and my family actually thinks they taste even better than store-bought flour tortillas. They are versatile, too. Delicious in your favorite Mexican recipes, but also good to use as wraps, and even for mini pizza crusts.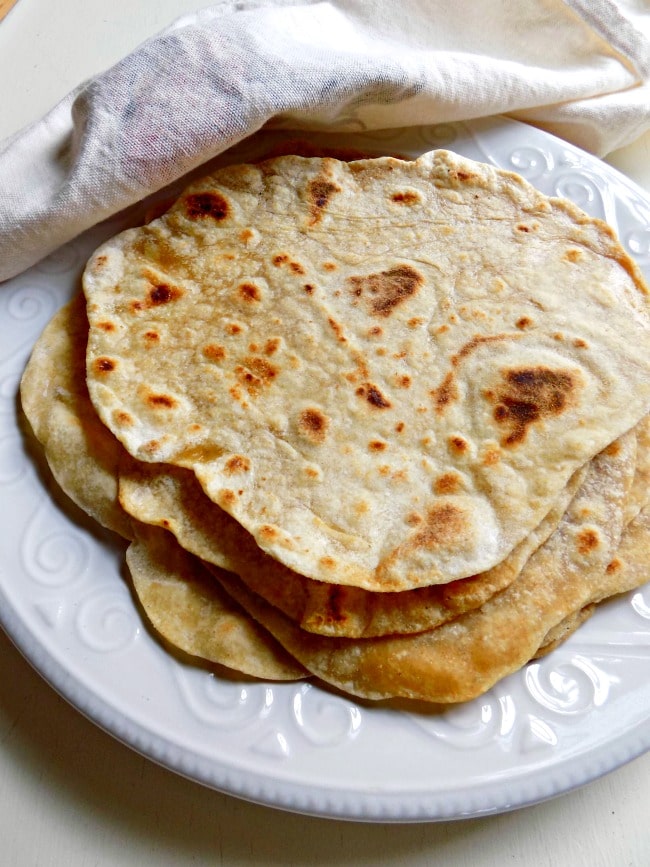 Now don't get me wrong, there is nothing wrong with store-bought tortillas. They are fairly inexpensive to buy, and they get the job done. But fresh tortillas have a texture and flavor that just can't be matched by premade flour tortillas. You can really elevate a batch of simple enchiladas just by using homemade tortillas.
But taste alone isn't the only reason I am sharing this recipe. I also feel like it's important to get back to the basics in these uncertain times and to have solid recipes like this on hand. There is comfort and reassurance in being able to pull a few common ingredients from your pantry to make something that you would normally run to the store to buy. There is a little bit of magic in simple acts of self-reliance.
And the knowledge of how to make the staples we can rely on for sustenance is something I believe has been lost a bit in recent years. With a mind-boggling array of choices at the typical supermarket, and with cooking shows that really push the idea of variety in terms of ingredients and recipes, these simple types of recipes have fallen by the wayside. Bread, beans, stews, fresh vegetables, and roasted meats are the kind of foods that our grandparents relied on daily for nourishment. And these are just the type of meals that we can rely on to feed ourselves and our families, friends, and neighbors – both in tough times and in times of stability and prosperity.
So let's talk about ingredients:
Flour – I typically use regular unbleached all-purpose flour for my tortillas because that is what I frequently have on hand. You can also use all-purpose spelt flour, or substitute a portion of the all-purpose flour with whole wheat flour, or white whole wheat flour. And if you are gluten-free, use an all-purpose gluten-free flour mix. Experiment and find what you like best.
fl
Fat – All tortillas need some kind of fat in them. Lard is traditional but is something I rarely have on hand, so instead, I use oil. Avocado oil, grapeseed oil, or sunflower oil are neutral-flavored oils that work well in this recipe. But you can use a solid fat like lard, butter, or shortening if that is your preference. There are directions for both oil and solid fat in the recipe.
Baking Powder – This is an optional ingredient, but it does help to make the tortillas a little lighter and fluffier. If you prefer a flat tortilla, just leave it out.
Hot Water – The water needs to be hot, but not boiling. Hot tap water is fine.
Salt – I use fine salt in this recipe, so any type of fine sea salt or table salt will work.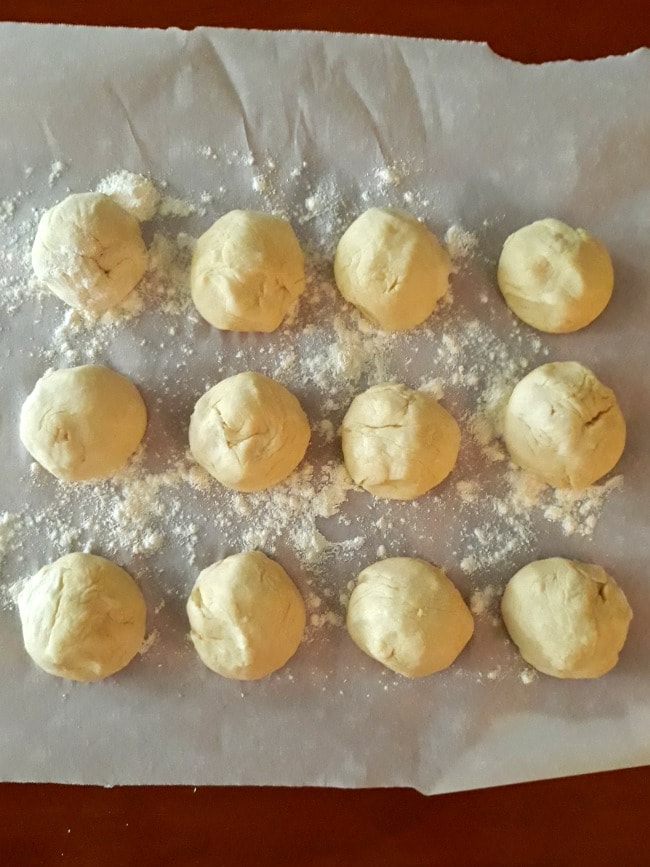 Cook's Tips:
I like to keep it simple and use a wooden spoon and a bowl to mix up my dough, but you can also use a stand mixer or even a food processor if you choose.
Since the tortillas are small, I find it easier to use a small pastry roller or a glass jar, rather than a large rolling pin, to roll out my tortillas.
After making the dough, don't skip the resting period. Resting the dough allows it to relax and will make it easier to roll out the tortillas. When rolling out a tortilla, if you find it springing back, stop rolling and allow the dough to rest and relax a little longer.
Roll the tortillas as thin as you can. You should be able to just about see your hand through the tortilla when you hold it up. You will get 16 small tortillas, 12 medium tortillas, or 8 very large tortillas from one batch of dough.
Making a perfectly round tortilla is something that takes patience and practice. Take your time, and rotate and flip the dough while rolling as necessary to make them round. But don't worry if your tortillas come out looking a bit (or a lot) misshapen – they will still be tasty! I very rarely make a totally round tortilla.
I roll out no more 2-3 tortillas at a time, then cook the tortillas, and repeat. You want to avoid rolling out the tortillas all at once and stacking them because they are likely to become all stuck together into a single lumpy mess.
A comal, a round cast iron griddle is traditionally used for making tortillas. Since I don't own a comal, I like to use a regular well-seasoned cast-iron skillet for cooking my tortillas. Almost any skillet or flat griddle will work, though. Just use a pan that is safe to heat (dry, without oil) to a high temperature.
Cook up an extra batch and store in the freezer to pull out and use later. Warm tortillas in the microwave for a few seconds, or in a dry skillet over medium heat.
---
As always, if you try this recipe, I hope you love it! Please let me know in the comments below.
Enjoy!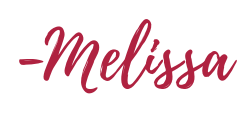 *As an Amazon Associate I earn from qualifying purchases. This post may contain Amazon or other affiliate links, which means I will earn a commission at no additional cost to you if you click through and make a purchase.*
Print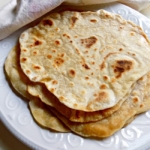 Easy Homemade Flour Tortillas
---
Author:

Total Time:

0 hours

Yield:

16

small tortillas, 12 medium tortillas, or

8

large tortillas

1

x
3 cups

all-purpose flour

1 ¼ teaspoon

salt

¾ teaspoon

baking powder

⅓ cup

oil (or solid fat like butter, lard, or shortening)

1 cup

hot water
---
Instructions
Add the flour, salt, and baking powder to a large mixing bowl. Whisk to combine.
If using oil, mix oil and hot water together then stir mixture into flour. Mix with a wooden spoon, and bring dough together into a shaggy ball. If the dough seems too dry, add a tablespoon or two of hot water.
If using a solid fat like lard, use your pastry cutter or your fingers to mix the fat into flour until you have a mixture that is the texture of coarse crumbs. Stir in the hot water and bring dough together into a shaggy ball.
Turn dough onto lightly-flour surface and knead for about 20 turns, or until the dough is smoother and less sticky. If dough seems too sticky, add in a little extra flour as you knead. Don't over-knead or you will have tough tortillas.
Divide dough into evenly-sized balls. Divide into 16 balls for small, taco-sized tortillas. Divide into 12 balls for medium tortillas, or 8 balls for larger tortillas. Cover dough balls with a lint-free towel and allow to rest for 30 minutes.
Heat a cast iron skillet over medium heat until hot.
While the skillet is heating, roll out 2 or 3 of your dough balls into thin tortillas. Dust with a little flour if needed, and flip and rotate the dough as necessary to achieve a round-ish shape.
Place tortilla in the ungreased hot skillet, and cook for 30 seconds per side. Place cooked tortillas onto a plate and cover with a towel to keep warm as you cook remaining tortillas.
Prep Time:

45 minutes

Inactive Time:

0 hours

Cook Time:

15 minutes

Category:

Uncategorized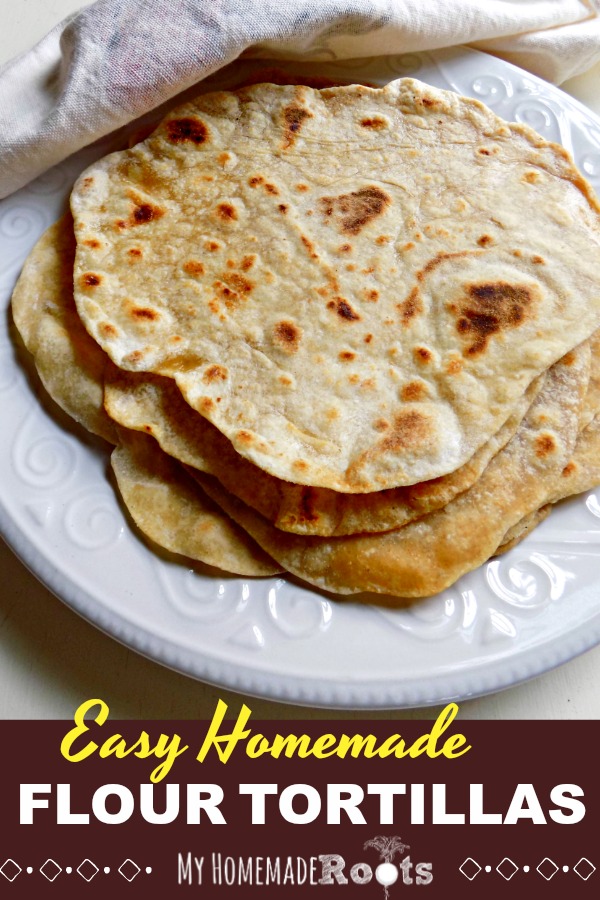 For more great recipes, visit my friends at:
Meal Plan Monday at Southern Bite
Full Plate Thursday at Miz Helen's Country Cottage
Weekend Potluck at The Country Cook
Simple Blog Hop at Oak Hill Homestead