Blueberry season is a time I look forward to every year. Here in the mountains of western North Carolina, they are some of the earliest berries to arrive, showing up in early summer, right after the juicy, red strawberries of spring. Then, come the end of summer, we have the wild blueberries to look forward to, growing up at the high elevations of the Blue Ridge Parkway, and the taller peaks over 5000 ft. Trust me when I say I pick my fair share of blueberries every year. I have many good uses for them, including stashing many, many quart bags in the freezer, but this homemade Skillet Blueberry Cobbler with a biscuit topping is one of my favorites (but don't worry if you don't have a cast-iron skillet – you can bake this in a deep baking dish, too).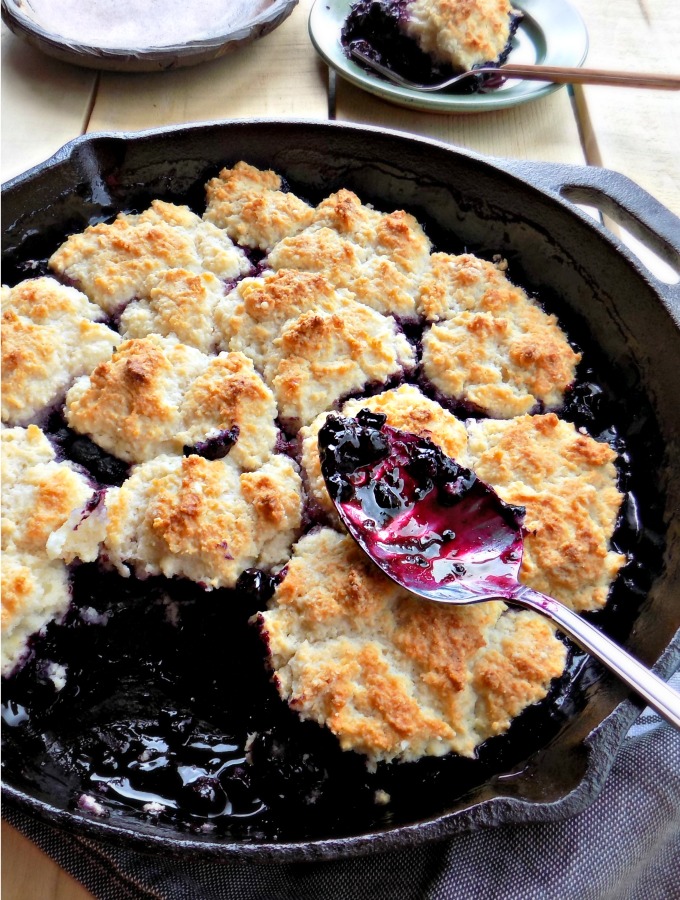 And apparently, blueberries are not only totally yummy but really healthy, too. A superfood, jam-packed with antioxidants. I don't always pay a whole lot of attention to that kind of thing, being that I tend to just favor whatever fruit or vegetable: 1) grows locally – preferably in my garden 2) is currently in season, and 3) makes my belly happy. I do know, however, that this healthy little berry totally rocks in this skillet cobbler. So definitely give this recipe a try. Because blueberries are healthy. And this cobbler is delicious. And your friends and family will sing your praises. The end.
If you try this recipe, let me know in the comments how you like it. I hope you enjoy!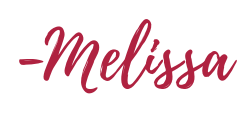 This post may contain affiliate links, which means I will earn a commission at no additional cost to you if you click through and make a purchase.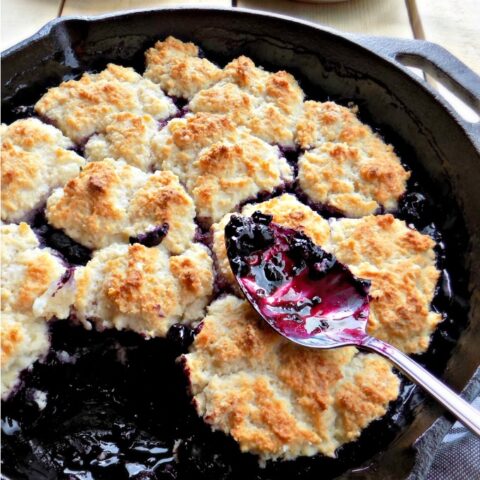 Skillet Blueberry Cobbler
Ingredients
For the Filling:
3 cups fresh or frozen blueberries
1/4 cup white cane sugar
1/2 cup brown sugar
3 tablespoons all-purpose flour
1/4 teaspoon salt
1/2 teaspoon ground cinnamon
1/4 teaspoon ground nutmeg (optional)
For the Topping
1 3/4 cups all-purpose flour
2/3 cups cornmeal
3 tablespoons sugar
1 tablespoon baking powder
1/2 teaspoon salt
1/2 cup cold butter, cubed
1 cup full-fat yogurt or buttermilk
Instructions
Generously grease a large, oven-safe skillet, or a deep baking dish. Preheat oven to 400°F.
In a large bowl, combine the filling ingredients. Set aside.
In a separate bowl, whisk together the flour, cornmeal, sugar, baking powder, and salt.
Add butter to the bowl. Using your fingers or a pastry cutter, combine the flour and butter until the texture of coarse sand.
Stir in the yogurt or buttermilk until it forms a loose dough that still holds its shape.
Pour the filling into the greased skillet.
Drop dough by spoonfuls onto the top of the filling.
Place skillet in the heated oven, then immediately reduce temperature to 375°F. Bake for 35-45 minutes, or until filling is bubbly, and biscuits are golden.