If you're looking for a quick and easy dessert that's perfect for sharing, a skillet blueberry cobbler might be just the thing. My version of this classic dessert is made with fresh or frozen blueberries in a simple blueberry filling, and a tender biscuit topping. It's perfect for serving warm with a scoop of vanilla ice cream on top. (Also, if you like desserts made with fruit like this one, also be sure to check out my recipe for Chocolate Cherry Pear Crisp.)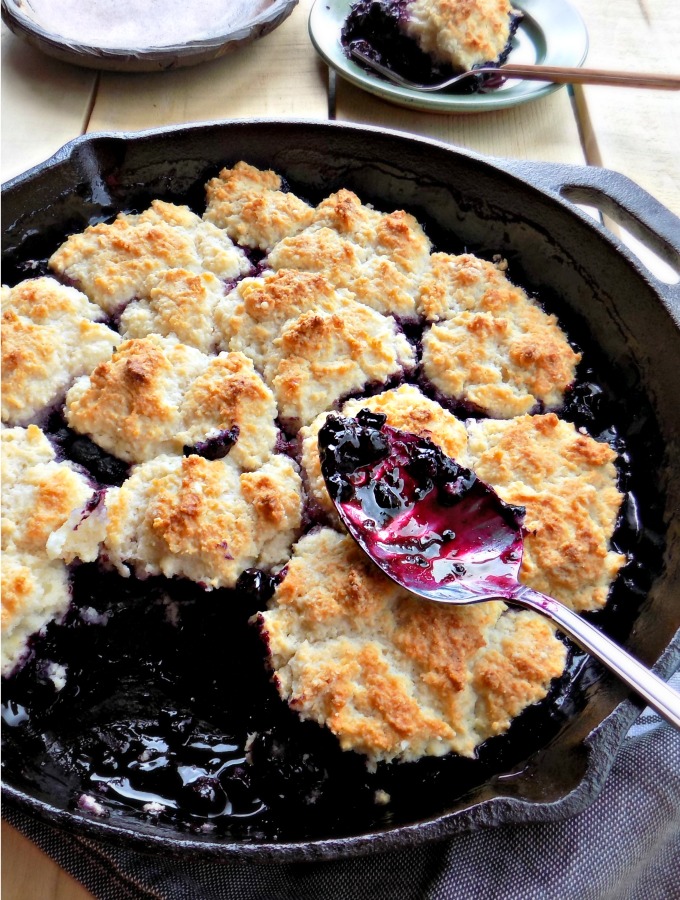 Blueberry season is a time I look forward to every year. Here in the mountains of western North Carolina, blueberries are one of the earliest berries to arrive at the local farmer's markets, showing up in early summer, right after the juicy, red strawberries make their appearance. Then at the end of summer, we have the wild blueberries that grow up at higher elevations to look forward to. So trust me when I say I pick my fair share of blueberries every year. And this recipe for blueberry cobbler, that I make in my trusty cast iron skillet, is one of my favorite ways to use those blueberries.
So you may be wondering, what Ingredients are in a Blueberry Cobbler?
To make my blueberry cobbler recipe, you'll need a few basic ingredients, including flour, cornmeal, sugar, baking powder, salt, butter, buttermilk or yogurt, and of course, blueberries. You'll also need a skillet or other oven-safe pan to bake the cobbler in (I typically make mine in a skillet, but you can also use an oven-safe baking dish).
And you can change up this cobbler to your liking. One of the best things about a cobbler is how versatile it is. You can easily adapt the recipe to suit your tastes by adding in other fruits, like strawberries or raspberries, or by adjusting the amount of sugar or other ingredients. You can also experiment with different toppings, like a dollop of whipped cream or a drizzle of caramel sauce.
So here are a few tips for making the best Blueberry Cobbler:
Grease your pan thoroughly. Whether you use a cast iron skillet or a baking dish, you will want to grease your pan so that the filling doesn't stick too much. I prefer to use butter to grease my pan, but you can also use a neutral-flavored liquid oil (like canola), a spray oil, or coconut oil (if you don't mind a little coconut flavor).
Add lemon zest and juice. This is optional, but if you have a lemon handy, adding lemon zest and juice to the blueberry filling can help brighten the flavors and add a little acidity to balance out the sweetness of the cobbler. Don't add too much. I like to add about half of a large lemon or a whole small lemon.
Don't over-mix the biscuit topping. When making the topping for the cobbler, be careful not to over-mix it. Over-mixing can lead to a tough and chewy texture, which is not what you want in a cobbler. Mix until it's just combined, with a few visible lumps of butter remaining.
Keep and eye on the cobbler while baking. If you leave your cobbler in the oven for too long, the filling will get too thick and the topping will dry out. You want to bake at 375 degrees Fahrenheit for 35-40 minutes, or until the biscuit topping is lightly golden and the filling is a little bubbly.
This easy Blueberry Cobbler recipe is a classic dessert that's easy to make and always delicious. Whether you're serving it for a family dinner or bringing it to a potluck, it's sure to be a hit with everyone who tries it.
---
If you try this recipe for Homemade Blueberry Cobbler, I hope you love it. And follow me on Facebook, Pinterest, and Instagram so you don't miss a post.
*As an Amazon Associate I earn from qualifying purchases. This post may contain Amazon or other affiliate links, which means I will earn a commission at no additional cost to you if you click through and make a purchase.*
Print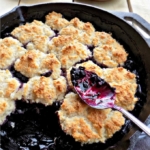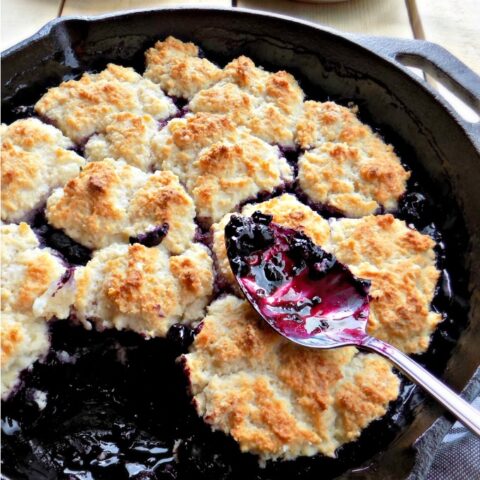 Skillet Blueberry Cobbler
---
Author:

Total Time:

0 hours
Description
This recipe for Blueberry Cobbler is made with fresh or frozen blueberries, a simple blueberry filling, and a tender biscuit topping.
---
For the Filling:
4

cups

fresh or frozen (thawed) blueberries

1/4

cup

granulated sugar (I like to use raw cane sugar but regular white sugar will work, too)

1/2

cup

brown sugar

1/4

cup

all-purpose flour

1/4 teaspoon

salt

1/2 teaspoon

ground cinnamon

1/4 teaspoon

ground nutmeg (optional)
Zest and juice of 1/2 to one whole lemon (optional)
For the Topping
1 3/4

cups

all-purpose flour

2/3

cups

cornmeal

3 tablespoons

sugar

1 tablespoon

baking powder

1/2 teaspoon

salt

1/2

cup

cold butter, cubed

1

cup

full-fat yogurt or buttermilk
---
Instructions
Generously grease a large, oven-safe skillet, or a deep baking dish. Preheat oven to 400°F.
In a large bowl, combine the filling ingredients. Set aside.
In a separate bowl, whisk together the flour, cornmeal, sugar, baking powder, and salt.
Add butter to the bowl. Using your fingers or a pastry cutter, combine the flour and butter until the texture of coarse sand.
Stir in the yogurt or buttermilk until it forms a loose dough that still holds its shape.
Pour the filling into the greased skillet.
Drop dough by spoonfuls onto the top of the filling.
Place skillet in the heated oven, then immediately reduce temperature to 375°F. Bake for 35-45 minutes, or until filling is bubbly, and biscuits are golden.
Prep Time:

0 hours

Inactive Time:

0 hours

Cook Time:

0 hours