Here where I live in the mountains of western North Carolina, our home is located just about 30 or so minutes away from the border of upstate South Carolina. And right now, SC peaches are in full swing. Freshly plucked from the tree, these peaches are sweet, juicy, and abundant, and I've been making sure to have my fill of fresh peaches while the season lasts. I've also been hard at work preserving enough of these beauties to get us through the winter. (Fun fact: South Carolina is the 2nd largest producer of peaches in the U.S., just behind California. True story.) And if you like canning recipes, check out my recipe for Blueberry Lemon Jam!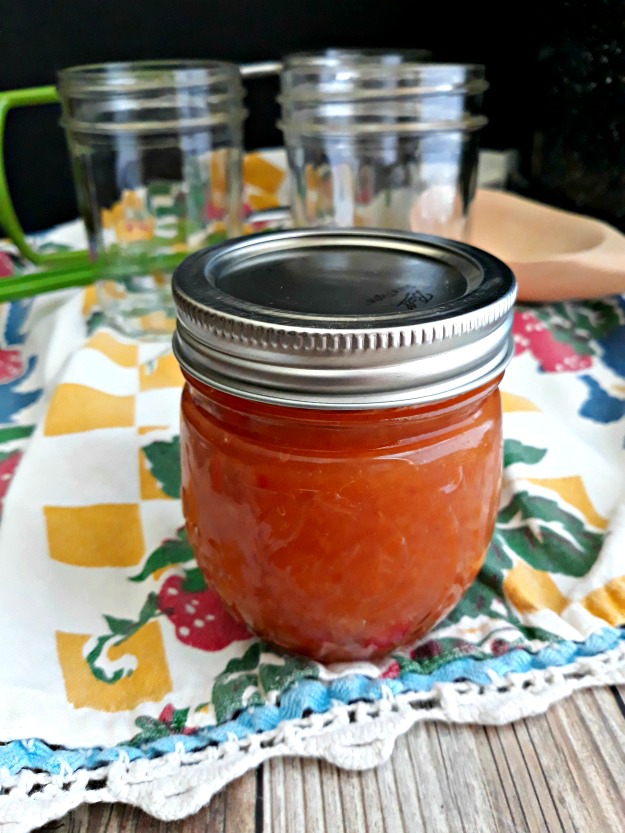 When it comes to preserving peaches, I like to have quite a few jars of canned peaches to make cobbler and pie, to serve over ice cream, and as a topper for my lunchtime cottage cheese. And you just can't go wrong with a few jars of some small-batch peach butter or a batch of dehydrated peaches stashed away in the pantry. But I also try and find some new and different ways to preserve peaches, too.
So recently, while searching websites and my preserving books for some new ways to preserve peaches, I came across a recipe for Peach BBQ Sauce. And because we have a great love of all things BBQ sauce here in our house, Peach Barbecue Sauce sounded like something I needed to try. And oh my, I was not disappointed! This sauce is seriously good. Sweet and a little smoky with a bright peach flavor. It's just perfect for chicken or even as a glaze on pork chops or a pork loin.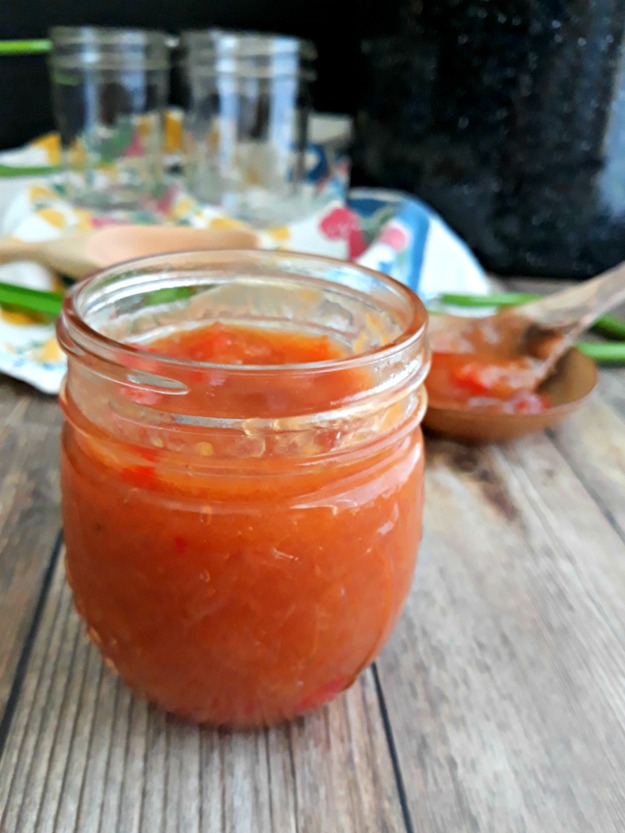 This recipe for Peach BBQ sauce is adapted from a Ball recipe. I've changed up the spices but have not altered the amount of vinegar and low-acid vegetables, so the recipe remains safe for water bath canning. And if you don't want to can this sauce, just pop it in the freezer and thaw when needed (I like to use these reusable freezer containers when I freeze sauce or jam).
Note: The original recipe can be found on the Fresh Preserving website, and also in the Ball Complete Book of Home Preserving.
Cook's Tips:
An easy way to peel peaches is to submerge them in a pot of boiling water for 30 seconds, or until the skins split, then immediately transfer to a bowl of ice water. The skins will then easily slip off using a paring knife.
This recipe contains onions, garlic, and peppers, which are all low-acid vegetables. In order to keep this recipe safe for water bath canning, do not alter the amount of produce or vinegar in the recipe. Also, be sure to use 5% acidity vinegar.
If you like a spicier BBQ sauce, substitute some or all of the bell pepper for an equal amount of jalapeno peppers or a spicier pepper. Be sure and keep the total amount of peppers the same as the original recipe.
Use only yellow peaches if you plan on canning your BBQ sauce. White-fleshed peaches are lower in acidity and aren't safe for water bath canning.
If you are new to water bath canning, you can find step-by-step instructions here.
To find out more information about the hows and whys of safe canning, check out the National Center for Home Food Preservation website.
If you try this recipe, let me know in the comments. I hope you enjoy!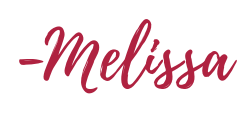 *This post may contain affiliate links, which means I will earn a commission at no additional cost to you if you click through and make a purchase.*
Print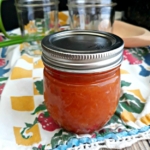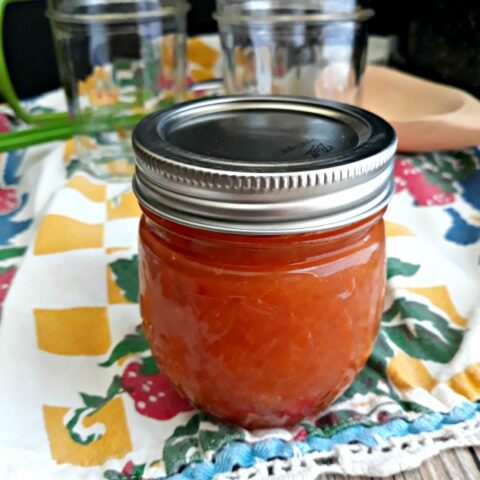 Peach BBQ Sauce for Canning or Freezing
---
Author:

Total Time:

0 hours

Yield:

8

(8-ounce) half pints

1

x
6 cups

finely chopped pitted and peeled yellow* peaches (about

3

pounds or

9

medium peaches)

1 cup

finely diced red bell pepper (about

1

large pepper)

3 tablespoons

finely chopped garlic

1 cup

finely diced onion (about

1

large)

1 ¼ cups

honey

¾ cup

apple cider vinegar (must be 5% acidity)

1 teaspoon

smoked paprika

½ teaspoon

ground ginger

½ teaspoon

hot pepper flakes

2 teaspoons

dry mustard

1 tablespoon

Worcestershire sauce

1 tablespoon

kosher salt (or

2 teaspoons

fine sea salt)
---
Instructions
Combine ingredients in a large, heavy-bottomed pot. Bring to a boil. Reduce heat and simmer, stirring frequently. Simmer for 25 minutes, or until peaches begin to break down and mixture turns into a thin and chunky sauce.
Allow sauce to cool for a few minutes until it is no longer bubbling. Carefully, blend with an electric blender or an immersion blender to desired consistency.
If canning: ladle hot sauce into hot sanitized jars, leaving ½-inch headspace. Wipe jar rims and place lids on jars, fingertip-tight. Process in boiling water bath canner for 15 minutes, adjusting for altitude.
If freezing: ladle into sanitized, freezer-safe containers, leaving an inch of headspace and freeze immediately.
Notes
* Use ONLY YELLOW peaches if you are canning this recipe. White-fleshed peaches are lower in acidity and not safe for canning.
Prep Time:

0 hours

Inactive Time:

0 hours

Cook Time:

0 hours