This recipe for Braised Red Cabbage and Pears is a beautiful side dish next to roasted chicken, a slow-cooked pot roast, or wild game. It makes for a hearty meal alongside sausages and a big scoop of homemade mashed potatoes. For a vegetarian meal, try it as an accompaniment to your favorite pierogies.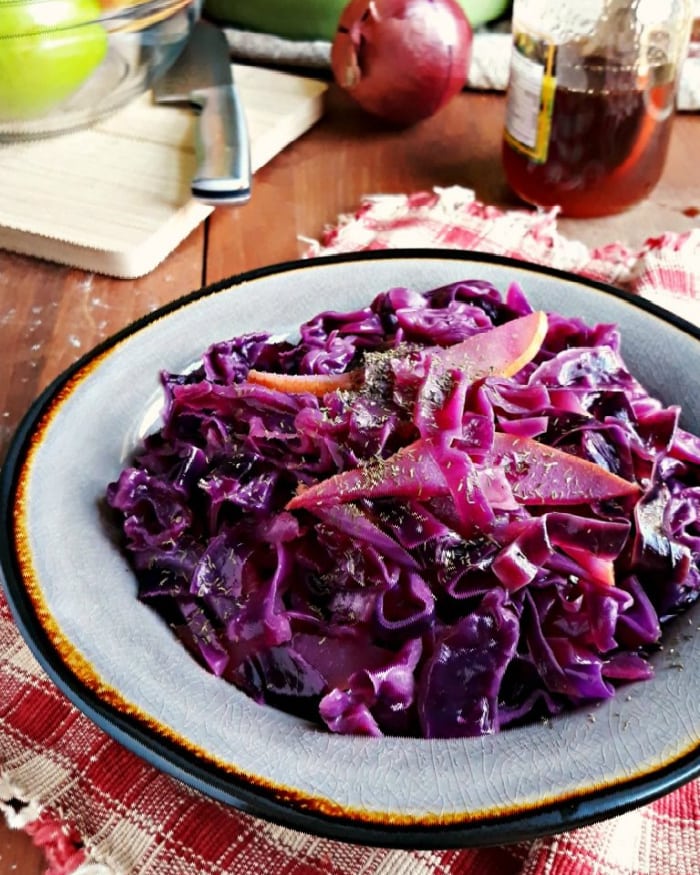 In our family, we try to eat seasonally as best as we can. In the winter we tend to eat a lot of root vegetables, plus frozen and canned vegetables and fruits. But towards the end of winter, the cravings for something fresh really start to set in. And now don't get me wrong, I do still purchase some fresh produce from the grocery store in the winter, but it's often pricier and the quality can be lacking. Fortunately, we aren't limited to eating sad, out-of-season tomatoes when craving garden-fresh produce in the wintertime. Instead, we can turn to those fruits and vegetables that are at their peak in cooler temps. And one of my very favorites is cabbage. It's inexpensive but also versatile and can be used in so many different ways.
In this recipe for Braised Red Cabbage and pears, I've used red cabbage plus a pear for a little bit of sweetness and then braised them together in a German-style sweet and sour sauce. It's one of my favorite side dishes for when it's chilly outside, and I need a vegetable dish to accompany a hearty meal, like a roast, sausages with mashed potatoes, or some homemade pierogi. It's also a beautiful, colorful dish that's perfect for any holiday table. This recipe is one that I originally wrote for Capper's Farmer. If you want to read the whole post, read it here at Capper's Farmer, but if you just want the recipe, then just scroll down the page for it.
I hope you enjoy!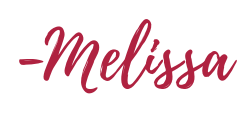 This post may contain affiliate links, which means I will earn a commission at no additional cost to you if you click through and make a purchase.
Print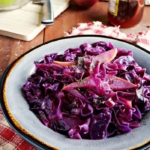 Braised Red Cabbage with Pears
---
Author:

Total Time:

0 hours

Yield:

8

Servings

1

x
2 tablespoons

butter

1

yellow onion, sliced

3 tablespoons

water

1/3 cup

apple cider vinegar

1/4 cup

honey

1

medium head red cabbage, cored, and thinly sliced

1

firm pear, thinly sliced

1 tablespoon

Kosher salt (or

1

–

½

teaspoons fine sea salt or table salt)

¼

ground black pepper

¼ teaspoon

ground cloves
Dried or fresh dill for garnish (optional)
---
Instructions
In a large Dutch oven or heavy-bottomed pot, heat the butter over medium-low heat. Add the onions, and cook for 5 minutes, or until the onions begin to soften.
Add water, cider vinegar, and honey to the onions and butter, and stir to combine. Add the cabbage, pear slices, salt, pepper, and ground cloves, and gently mix everything together. It may look dry at this stage, but do not add extra liquid at this point because the cabbage and pears will create more liquid as they cook.
Cover with a lid and simmer for 1 hour, stirring occasionally. (Cook a little longer if you want the cabbage to be more tender).
Season with salt and pepper to taste. Garnish with fresh or dried dill before serving (optional).