This Easy Apple Butter Recipe is sweet and delicious and packed with fall flavor. And for this recipe, I use a couple of shortcuts so there's no hard work involved – no peeling, chopping, or standing over a hot stove. It's so easy and delicious, you may want to make a double batch! So if you are looking for an easy recipe for homemade apple butter, you don't need to look any further because here it is! (And if you're in the mood for seasonal fall recipes, check out my recipe for Old Fashioned Hot Spiced Apple Cider.)
Every year, one of my first fall projects is to make some homemade apple butter. The goal is to stash enough jars in my pantry to last us well through fall and winter. Homemade apple butter is delicious on biscuits and toast, of course, but it's handy to have a few jars on hand to use in holiday appetizers, in apple butter pumpkin pie, in cheesecake, and even as a glaze on pork and chicken. And since we live in a huge apple-growing region, we are fortunate to have dozens of orchards within a few miles of our home, and easy access to many fresh apples for my annual apple butter-making project.
But this year, I haven't gotten around to making the trip to the orchard just yet. I plan to, but it hasn't happened yet. Honestly, I think I've been waiting for the weather to cool down a wee bit before we go and pick apples. It just isn't as much fun to be picking apples in 85-degree temperatures as it is on a crisp fall day. Even so, we're still feeling in a fall mood around here, and craving all of the usual fall goodies – maple scone with apple butter and a mug of pumpkin spice coffee anyone? So for the time being, I've made a batch of my super-easy, super-yummy, small-batch apple butter.
I do use my slow cooker for my apple butter. Even for "traditional" apple butter where I pick and peel and chop apples, I use my slow cooker. I mean, I don't have a big copper pot that I can slowly stir all day over a fragrant hardwood fire in my backyard, so I figure my slow cooker will just have to do. But for this recipe, I take it a step further and make it even easier. And here's the trick – I start with applesauce.
Either store-bought or homemade applesauce will work just fine for this recipe. And it couldn't be easier – just dump the applesauce and the other ingredients in the slow cooker, and let it slowly bubble and simmer until it's thick and rich, and nicely caramelized. It can then be canned in a boiling water bath for 10 minutes (adjusting for altitude), or you can skip the canning part and pop it into the fridge once the apple butter is fully cooled. This recipe makes about 2 pints, but feel free to double or triple the recipe to make a larger batch. If you're new to canning and want to learn the proper, safe procedure, I recommend Ball Canning Back to Basics: A Foolproof Guide to Canning Jams, Jellies, Pickles, and More.)
Cook's Tips:
This recipe makes lightly spiced apple butter. If you enjoy more robustly spiced apple butter, add more spices. You may also want to add a little bit of freshly ground nutmeg to the recipe.
I like my apple butter sweet, but not too sweet. If you want sweeter apple butter, just go ahead and add more sugar to your batch of apple butter. Taste it and adjust the sugar to your liking. I wouldn't, however, recommend adding less sugar than the recipe calls for because adding too little sugar can affect the texture and the shelf life of the finished product.
As your apple butter cooks down, don't forget to give it a stir occasionally so that it doesn't stick to the pot.
And a word of safety here: please exercise caution when blending the hot apple butter. You can let it cool to a safe temperature before blending or follow the instructions that came with your blender for blending hot liquids. The splatter from hot preserves contains a lot of sugar and is not only super-heated but also likes to stick to your bare skin and burn. Think of hot lava. Unfortunately, I've learned this the hard way on more than one occasion. Don't be like me!
---
So if you're short on time, or just want an easier way to make a batch of Easy Homemade Apple Butter, I hope give this easy recipe for homemade apple butter a try. Happy Fall Y'all and I hope you enjoy!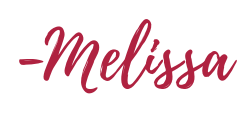 *This post contains affiliate links, which means I will earn a commission at no additional cost to you if you click through and make a purchase.*
Print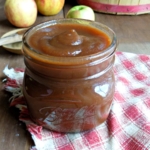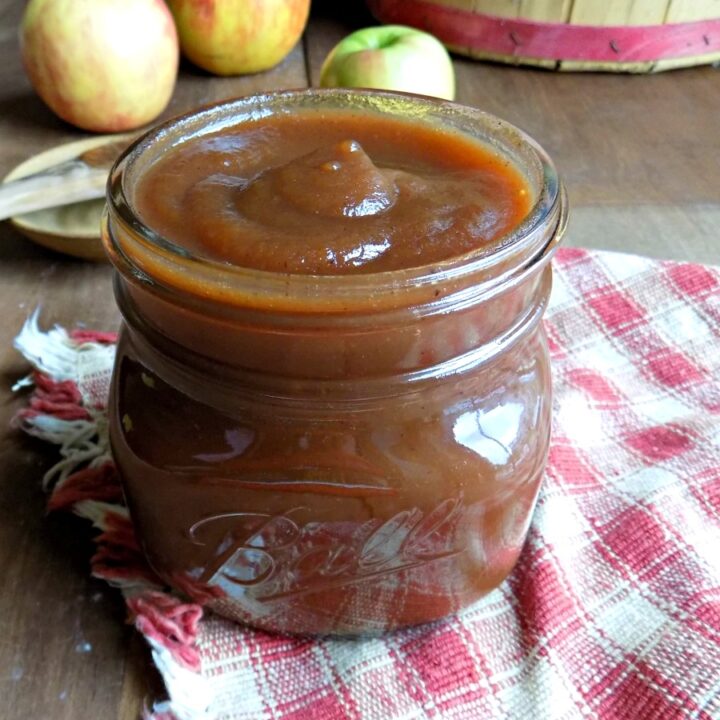 The Easiest Homemade Apple Butter
---
Author:

Total Time:

24 hours 10 minutes

Yield:

About

2 Pints

1

x
Description
This Easy Homemade Apple Butter is sweet and delicious and packed with fall flavor.
---
1

46

–

ounce

jar unsweetened applesauce (or 1 1/2 quarts homemade)

3/4

cup

granulated cane sugar

3/4

cup

brown sugar

2 tablespoons

apple cider vinegar

1 teaspoon

ground cinnamon

1/2 teaspoon

ground ginger
Pinch of ground cloves
Pinch of salt
---
Instructions
Add all of the ingredients to a slow cooker. Cook on low for 8-10 hours, stirring occasionally, until the applesauce has turned a caramel color.
Carefully ladle into a blender (or use an immersion blender), and blend until smooth. Be very careful in this step because the apple butter will be extremely hot! Be sure to follow the manufacturer's instructions for your blender for blending hot liquids.
Return the blended apple butter to the slow cooker. Place lid on slow cooker leaving it slightly ajar to allow enough space for steam to escape. Cook on high for another 2-3 hours, stirring occasionally, until the sauce has thickened, and has become dark brown in color.
If canning, ladle hot apple butter into hot, sanitized jars, and process in boiling water bath for 10 minutes (adjusting for your altitude.) If not canning, allow Apple Butter to cool for a few hours, then ladle into clean jars and refrigerate.
Prep Time:

10 minutes

Inactive Time:

12 hours

Cook Time:

12 hours
For more great recipes, visit my friends at:
Full Plate Thursday at Miz Helen's Country Cottage
Meal Plan Monday at Southern Bite