This easy homemade Enchilada-Style Sauce recipe is made from just a few pantry ingredients that you probably have on hand and takes just minutes to make. And making your own enchilada sauce at home allows you to make it just the way you like it by controlling the ingredients and the spiciness. Plus I find that it saves a little money because I don't have to buy special ingredients. And did I mention it's super tasty, too?
My family loves the flavors of Mexican food, but I tend to not keep a lot of jars of specialty sauces in the pantry. This is especially true if it's something I can make a decent version of at home for just pennies. Of course, I might occasionally buy a couple of big cans of enchilada sauce for the pantry if they are BOGO at the grocery store. But most of the time I just make my own because it saves me money by using ingredients I already have in my pantry, and it's also, in my opinion, a lot tastier than the stuff in the cans.
And for an easy dinner, I love to make a pan of hearty beef, chicken, or even bean enchiladas. But enchilada sauce can be used in so many ways besides just enchiladas. You can use it in any type of Mexican casserole or soup like this One Pot Chicken Enchilada Soup. I sometimes use it on my Huevos Rancheros instead of my usual ranchero sauce or stir it into a melty, cheesy dip for dipping corn chips. If you enjoy Mexican flavors, I am telling ya', this is a good recipe to keep in your back pocket.
But I do need to mention that this is a decidedly inauthentic Mexican enchilada sauce. Authentic enchilada sauce starts with whole dried chiles and doesn't include any tomato products. It's totally delicious, with rich, complex flavors. I take some shortcuts in this version to make it quick and easy, like using chili powder and adding in some tomato paste for richness. And although this version is still delicious, I would say that, technically, this is more of an enchilada-inspired red sauce.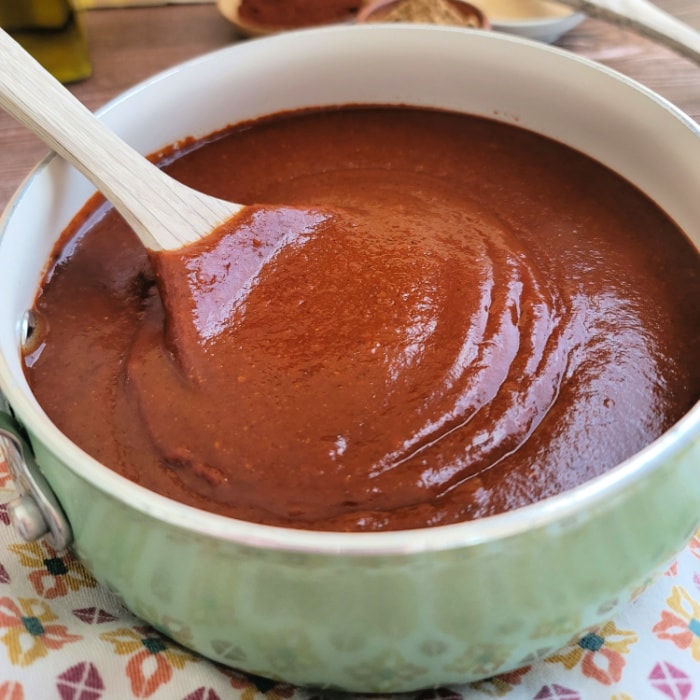 So let's talk about a few of the ingredients:
Oil – I like to use avocado oil, but any type of neutral-flavored oil, like canola or vegetable oil, will work perfectly.
Flour – Regular all-purpose flour is what I use. If you are gluten-free, you can use a gluten-free all-purpose flour blend.
Chili Powder – Authentic Mexican enchilada sauce is often made using whole, dried chiles, plus other seasonings. To speed things up, I start with premade chili powder. Chili powder is a blend of ground dried chiles, plus other spices and seasonings, so it's an easier and quicker way to whip up a flavorful sauce. You can use whatever chili powder blend that you enjoy. I use the regular store-bought chili powder that I use to make chili with, but you can get creative and add in other chili powders like ancho chili powder, or even chipotle chili powder if you like it really spicy.
Broth – You could technically use plain water, but I find that using chicken broth or vegetable broth makes this sauce much more flavorful. I recommend using a low-sodium broth and then adding salt to taste so that you can control the sodium levels in the sauce.
Cook's Tips:
Use fresh spices so that your homemade enchilada sauce will have maximum flavor.
When cooking the oil and flour, make sure the oil is lightly sizzling, and cook for a full 1-2 minutes so that the raw flour taste will be cooked out.
Add salt to taste. You will probably need to add a little bit of salt at the end, but you'll need to add it to taste. I typically use about ¼ teaspoon of salt, but the amount will vary according to the amount of sodium in the broth and the chili powder that you use.
---
If you try this recipe, I hope you love it! Please let me know in the comments below.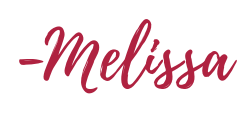 *As an Amazon Associate I earn from qualifying purchases. This post may contain Amazon or other affiliate links, which means I will earn a commission at no additional cost to you if you click through and make a purchase.*
Print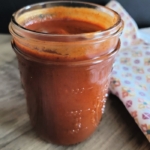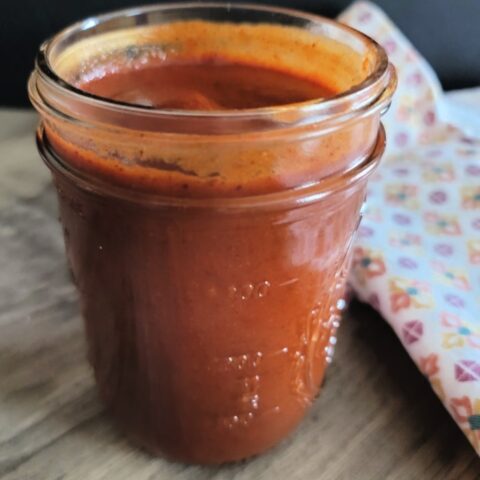 Easy Homemade Enchilada Sauce
---
Author:

Total Time:

20 minutes
4 tablespoons

avocado oil (or other neutral-flavored oil)

4 tablespoons

flour

1/3

cup

chili powder

1/2 teaspoon

ground cumin

1/2 teaspoon

garlic powder

6

ounces

tomato paste

3 1/4

cups

chicken broth (vegetable broth for vegan)

1/4 teaspoon

apple cider or white vinegar

1/4 teaspoon

salt (or to taste)
---
Instructions
Heat the oil over medium heat. Add flour to the oil, then cook and stir for 2 minutes.
Stir in chili powder, ground cumin, garlic, powder, and tomato paste. Cook and stir continuously for another minute.
Whisk in chicken broth and combine until sauce is smooth.
Stir in vinegar. Season with salt.
Prep Time:

10 minutes

Cook Time:

10 minutes