This cottage pie is a rustic and homey one-pot meal. It's filled with beef and vegetables in a rich gravy and topped with a thick crust of buttery mashed potatoes. A very old kind of dish, dating back to the 18th century British Isles (when the potato was just being introduced there), the cottage pie was just the kind of thing a housewife would prepare to use up scraps and leftovers. I can just imagine this pie being prepared over a fire in the hearth, in a thatched-roof cottage somewhere chilly and wind-swept (yeah, I get a little carried away sometimes).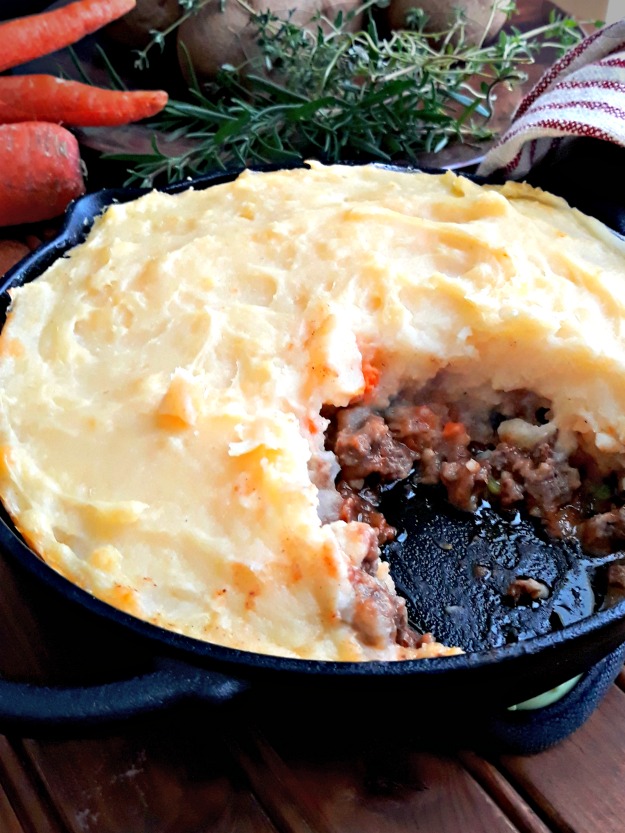 And if this description sounds just like a shepherd's pie, that's because it's basically the same thing, with the difference being that a cottage pie filling is made with beef and a shepherd's pie is made with lamb. But we don't need to be picky about technicalities – use whatever ground meat you like and have on hand.
Besides being totally delicious comfort food, this cottage pie is frugal, too. Potatoes, carrots, and peas are inexpensive vegetables, and the beef is stretched a bit with the addition of chopped mushrooms. And if you're feeling ambitious, double the recipe and make two pies so that you have an extra for the freezer.




Cook's Tips:
I prefer to make this a one-pot meal by using a large, deep-sided cast iron skillet to make this recipe. If you don't have a deep oven-safe skillet, just transfer filling to an oven-safe casserole pan before baking.
For a more complex flavor, substitute some of the beef broth with red wine.
Replace the ground beef with ground turkey to lighten up the recipe, or use ground lamb to make it a shepherd's pie.
Change up the vegetables based on what is in season or what's ready in the garden. Substitute sweet corn kernels for the peas in mid-summer. Or try mashed butternut squash or pumpkin instead of potatoes for a pie with a fall flavor.
If you give this recipe a try, let me know how it turned out in the comments. I hope you enjoy!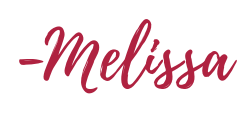 *This post may contain affiliate links, which means I will earn a commission at no additional cost to you if you click through and make a purchase.*



Ingredients
For the Mashed Potatoes:

2 pounds russet potatoes, peeled and diced
¼ cup butter
½-¾ cup whole milk
Salt and pepper
1 egg yolk
For the Filling:

2 tablespoons olive oil
1 medium onion, diced
2 medium carrots, diced
1 pound ground beef
1 teaspoon salt
1/2 teaspoon ground black pepper
8 ounces mushrooms, coarsely chopped
2 cloves garlic, minced
1 tablespoon butter
2 tablespoons all-purpose flour
2 tablespoons tomato paste
1 ¼ cup beef broth
1 teaspoon Worcestershire sauce
1 sprig rosemary (or ½ teaspoon dried rosemary)
½ sprigs thyme (or ½ teaspoon dried thyme)
1 cup English peas
Instructions
To make the mashed potatoes:

Place potatoes in a pot and cover with 1-2 inches of cold water. Add a large pinch of salt and bring to a boil. Boil potatoes for 15-20 minutes, or until completely tender. Drain.
For smooth, lump-free potatoes, use a potato ricer, or pass potatoes through a strainer using a wooden spoon. If you prefer more rustic potatoes, add cooked potatoes to a mixing bowl and mash thoroughly with a potato masher.
Stir in butter, then add milk to potatoes until they reach desired consistency. Season to taste with salt and pepper, then stir in the egg yolk. Set aside until filling is ready.
To make the filling:

Preheat oven to 400°F
Heat oil in large skillet over medium heat. Sauté carrots and onion for 7-10 minutes or until tender. Add ground beef to the vegetables in the same skillet, using a spatula to break up and brown the beef. Season with a generous pinch of salt and pepper.
Add mushrooms and garlic to the beef mixture, and cook for another 5-7 minutes, or until mushrooms are cooked (you want the mushrooms to shrink in size and lose their moisture.) Drain off any excess grease.
Add butter, flour, and tomato paste to filling mixture, and stir gently for 1 minute.
Whisk in beef broth, whisking out any lumps.
Add Worcestershire sauce, rosemary, thyme, and peas. Simmer uncovered for 10 minutes.
Adjust seasonings to taste. If using sprigs of fresh herbs, remove them from the filling before adding the potato topping.
To make the pie:

Top the filling with mashed potatoes. (If you didn't cook the filling in a large, oven-safe pan, then go ahead and transfer the filling to a buttered casserole dish before topping with the mashed potatoes.)
Bake for 30 minutes. If you want a browner crust, broil for a few extra minutes.
Allow to cool for 10 minutes, then serve.
https://myhomemaderoots.com/cottage-pie/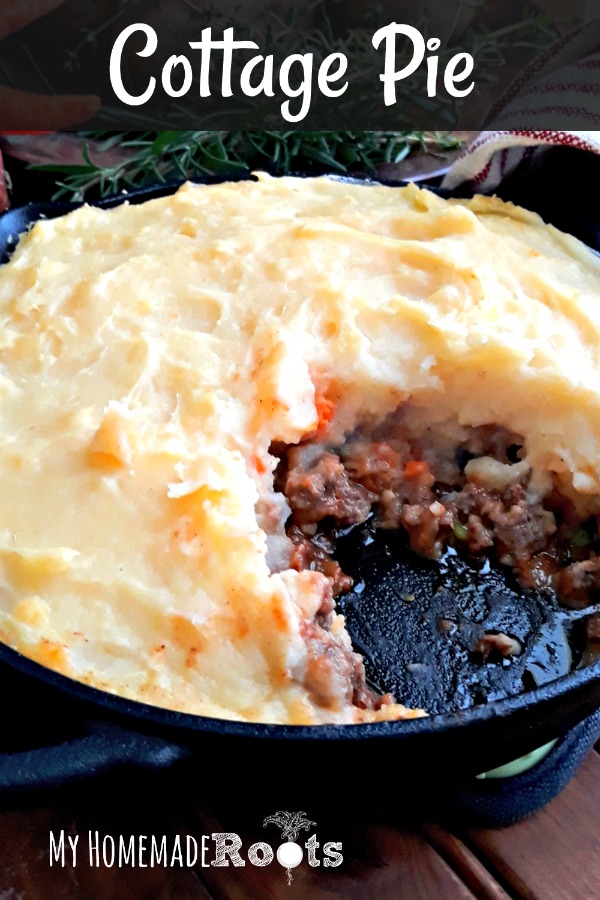 For more great recipes, visit my friends at:
Full Plate Thursday at Miz Helen's Country Cottage
Meal Plan Monday at Julia's Simply Southern