With this recipe for Stuffed Turkey Tenderloins with Cranberries, you can have a homemade turkey dinner filled with Thanksgiving flavor on the table in only an hour. The recipe makes four servings, so it's perfect for a small holiday gathering or a Sunday dinner for the family. If you have a larger family or want to serve this dish for a bigger gathering, just double or triple the recipe. For an easy and delicious side dish to go with the turkey, try my recipe for Slow Cooker Maple Brown Sugar Sweet Potatoes.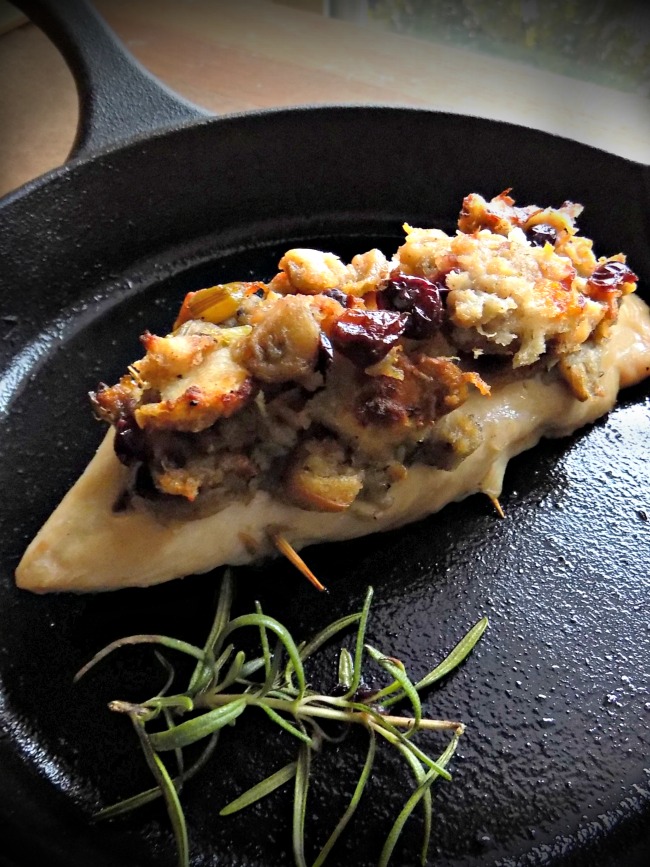 This year there will be only three of us for Thanksgiving dinner, and the idea of roasting a whole turkey for the occasion seems like a bit too much. I mean, I am all for leftovers, but the leftovers from an entire bird when there are only three of us eating could be quite substantial! I thought of making something less traditional like lasagna or a roasted side of salmon, but in the end, I decided to stick with the traditional turkey dinner – but a more manageable, pared-down version.
One of my favorite things about this recipe for Stuffed Turkey Tenderloins, though, is that it's not just for Thanksgiving. The presentation is elegant enough to be served for Thanksgiving or other holiday dinners. But it's also super-easy to prepare and takes only 30 minutes to cook, so it's perfect for a regular family dinner, too. Prepare the stuffing ahead and you can even serve it on a weeknight.
Cook's Tips:
I use plain, unseasoned bread cubes in the stuffing. If you are using preseasoned stuffing cubes, you might not need to add any poultry seasoning or salt and pepper to the stuffing. In this case, you will just need to taste and decide for yourself if the stuffing needs any additional seasoning.
When creating a pocket in the turkey for the stuffing, try not to cut the whole way through the sides of the bottom of the tenderloin piece. You want it to be like a boat for the stuffing. The piece may seem to not retain its shape before you stuff it, but no worries because it will be secured with toothpicks or twine before going into the oven.
I like to use my cast iron skillet for baking the tenderloins, but a ceramic or glass baking dish will work, too.
Use a thermometer to measure the temperature of the turkey. It needs to reach 165°F for safety reasons. But because a turkey tenderloin is all white meat, you don't want the temperature to go much above that, or the turkey will be dry.
Unfortunately, because turkey tenderloin is so lean, there won't be any pan drippings to make gravy with. The good news is that it's easy to whip up a little homemade gravy using just broth and flour. Whisk together 2 cups of chicken or turkey broth (make sure the broth is room temperature or colder) with ¼ cup all-purpose flour. Heat to boiling in a small pot, whisking continuously, until the gravy has thickened, then just season with a little salt and pepper.
---
So I hope you try this recipe. Even if it doesn't make it onto your Thanksgiving menu, it's a delicious recipe for dinner anytime. If you do try this recipe, please let me know in the comments how you liked it.
I hope you enjoy!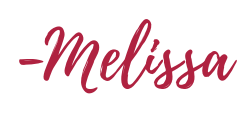 *As an Amazon Associate I earn from qualifying purchases. This post may contain Amazon or other affiliate links, which means I will earn a commission at no additional cost to you if you click through and make a purchase.*
Print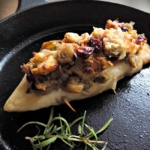 Stuffed Turkey Tenderloins with Cranberries
---
Author:

Total Time:

0 hours

Yield:

4

Servings

1

x
For the Stuffing:

1 tablespoon

olive oil

1 tablespoon

butter

1

large stalk celery, finely diced

¼

medium onion, finely diced

2

cloves garlic, minced

1 teaspoon

poultry seasoning

2 cups

plain dry bread cubes

¼ cup

dried cranberries, coarsely chopped

1 cup

chicken broth
Salt and pepper
For the Stuffed Turkey Tenderloin:

2

turkey tenderloins (they typically come

2

per package)

2 tablespoons

melted butter
Salt and pepper
---
Instructions
To Make the Stuffing

Heat oil and butter in a large skillet or saute pan over medium heat.
Add celery and onion to pan and cook, stirring frequently, for 7-8 minutes, or until soft and golden.
Add garlic and poultry seasoning to celery and onion and cook for 1 additional minute.
Add cooked vegetables to a large mixing bowl. Add bread cubes and cranberries. Slowly stir in the chicken broth, until bread cubes are moist, but not completely soggy (you may not need the whole cup of chicken broth.) Season to taste with salt and pepper.
Set aside while you prepare the turkey.
To make the Stuffed Turkey Tenderloin

Preheat oven to 400 degrees Fahrenheit
Lightly grease a baking dish or cast iron skillet
Slice each tenderloin in half lengthwise so that you have 4 pieces of tenderloin.
Place each tenderloin piece in prepared baking dish or skillet, cut-side facing up
Cut a pocket in the top of each tenderloin piece, taking care not slice the whole way through the tenderloin. Brush each piece with butter and season with a pinch of salt and pepper.
Place a scoop of stuffing in each turkey pocket. Pull the sides of the pocket up around the stuffing to form a turkey "boat" with stuffing in the middle. Secure with a few toothpicks, or with cotton cooking twine. If you have more stuffing than will fit into the turkey, just nestle the extra stuffing around the outside of the turkey in the pan.
Bake for 25-30 minutes or until turkey reaches 165 degrees Fahrenheit in the center.
Prep Time:

30 minutes

Inactive Time:

0 hours

Cook Time:

30 minutes