I don't often call my recipes "the best" because there are so many delicious recipes out there for almost anything you can think of. But these dinner rolls are so light and pillowy-soft, I really do think this is one of the best soft dinner roll recipes around. I make these rolls with a yeast dough enriched with milk, eggs, and butter. The result is a soft, fluffy roll with an unbeatable flavor and texture. And if you like this recipe for homemade dinner rolls, also check out my recipe for Quick and Easy Hamburger Buns.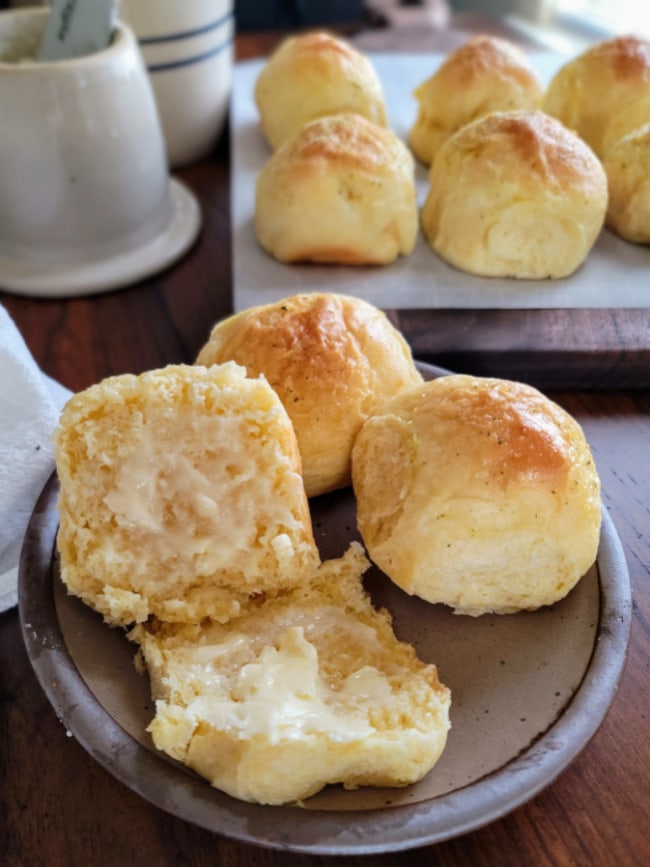 These homemade soft and fluffy dinner rolls are a real treat at our house. When I serve these rolls with a meal, you know it's going to be a good one, and it's an occasion the whole family looks forward to. And that's because I don't make these rolls an everyday affair. They aren't difficult to make, but they do take a bit more time and effort than whipping up a quick batch of biscuits. So I tend to make this recipe when I have a little extra time for dinner preparation. I love to serve these rolls when I'm making a nice roast or a hearty pot of beef stew.
So what makes a soft dinner roll?
In this case, these dinner rolls get their pillowy softness from an enriched dough. Yeast doughs can be lean or enriched. A lean dough contains very little in the way of fat or sugar. Lean doughs produce bread products that are crusty and chewy. Things like artisan bread loaves, baguettes, and pizza crust. In contrast, an enriched dough has a higher content of fat and sugar, typically from the addition of milk, dairy, eggs, and/or sugar. Brioche, cinnamon rolls, and soft sandwich bread come from the enriched dough. And it is this type of enriched dough that I use in these rolls and it's what makes these rolls so soft.
Let's talk about a few of the ingredients for the Best Soft Dinner Rolls
Milk – I have used both 2% and whole milk for this recipe. I haven't tested the recipe with skim milk, but it's possible that the lack of fat in skim milk may affect the texture. So, I recommend sticking to 2% or whole milk.
Butter – Use either salted or unsalted butter. If you're using unsalted butter, add an extra 1/4 teaspoon of salt (in addition to the amount called for in the recipe).
Yeast – For soft dinner rolls, I prefer the old-fashioned active dry yeast to instant yeast or rapid-rise yeast. I like that the dough rises a bit more slowly with the active dry yeast. From my experience, a slower rise results in a softer, tastier roll. That being said, you can use instant or rapid-rise yeast. Just skip the proofing part, and add the yeast directly to the flour. (The proofing is where you add the yeast to the water with sugar to make sure it is active). Also, keep a close eye on the dough while it's rising, because it's likely to rise faster than indicated in the recipe.
Eggs – Large eggs are what I use in this recipe.
Sugar – Granulated sugar of your choice. It's best to use fine sugar (like table sugar) and not coarse sugar (like turbinado).
Flour – Just regular all-purpose flour is what you need to make the best soft dinner rolls. I use unbleached, all-purpose flour, but bleached flour will work, too.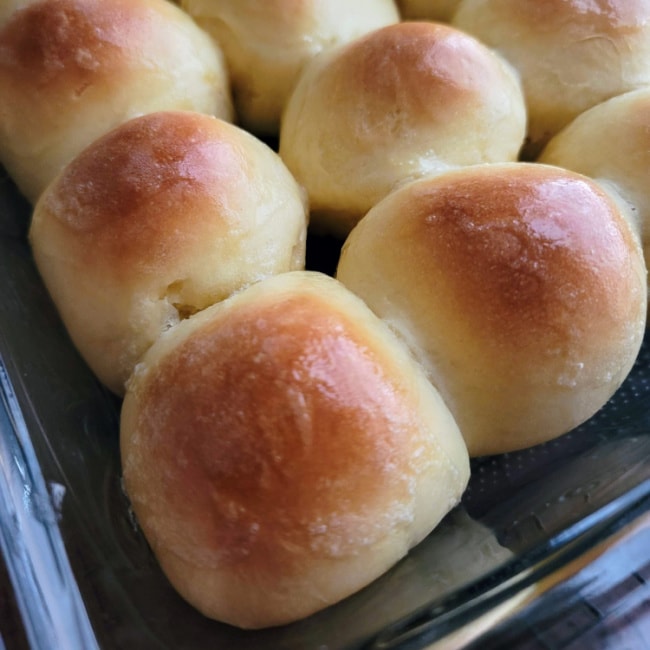 Tips for making the best dinner rolls:
One batch of dough should make 24 rolls, provided you divide the dough evenly. The easiest way I have found to do this is to use my bench knife to divide the dough first into half. Then divide each half again, giving you 4 pieces of dough. Divide in half again, giving you 8 pieces of dough. Then divide each of these 8 pieces of dough into 3 pieces. This should leave you with 24 (relatively) equal size pieces of dough. If you want to be really precise, you can use a kitchen scale to weigh out the pieces. I don't bother with this, however, because close enough is good enough for me. For a little extra help with this, see the photos below: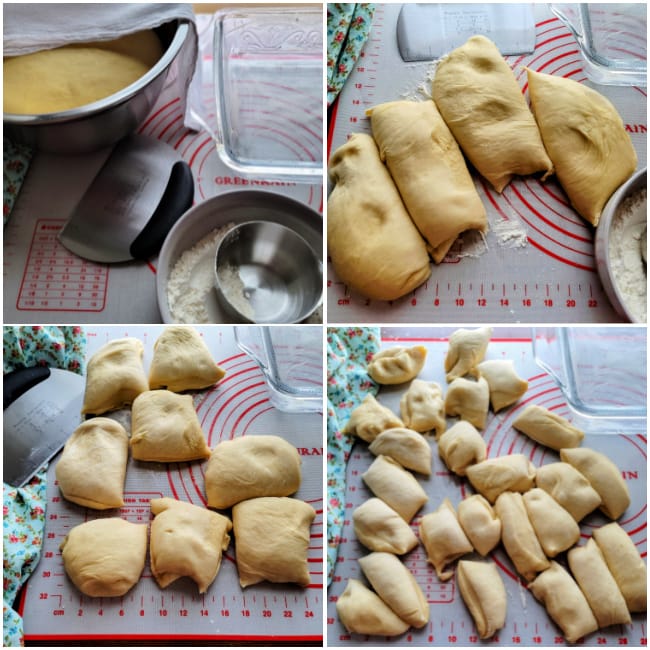 Properly shaping the dough is an important part of getting the best result in terms of texture and the final shape of the rolls. This means we need to create tension in the surface of the dough. To do this, you want to take each piece of dough and turn it inside out on itself while rolling the edges under. This forms a dough ball with tight skin on the top surface. You then pinch the underside together in the middle to form a seam, creating what looks like a pouch or a purse. Then you'll place the rolls seam-side down in the prepared baking dish. See the photos below: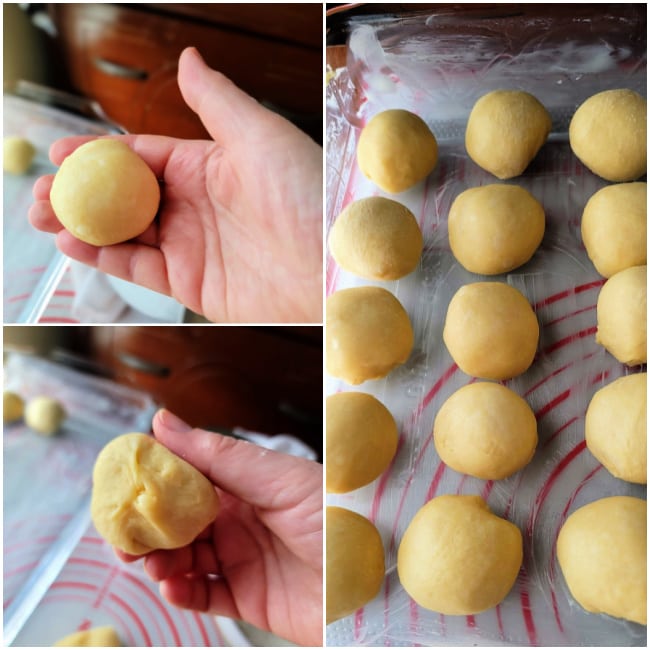 Allow the rolls to rise again in the baking dish, but don't let them get too big. The sides of the rolls should just be starting to touch when you put them in the oven. They will finish rising in the oven. When they're finished baking they will have that soft pull-apart quality that we all love.
Use a baking dish of around 9 x 13 -inches. It will need to be a few inches deep so that the rolls rise properly. Prepare the baking dish by generously greasing it. You can use oil, but I prefer to use a solid fat like butter.
Tools for making homemade dinner rolls:
The truth is, you don't need a lot of tools for making dinner rolls. You can get by with the most basic tools like a mixing bowl and a wooden spoon. I also like to use a pastry mat, a bench knife, and a stand mixer, but these are optional.
How to store and reheat fresh, soft dinner rolls:
Of course, soft homemade dinner rolls are best served fresh from the oven. But should you have leftover rolls, you can store them in an airtight container for about 2 days. To reheat dinner rolls, I usually pop them into the microwave for about 20 seconds. You can also reheat them in the oven on a baking sheet at 350 degrees Fahrenheit for 5-7 minutes.
Can I freeze soft dinner rolls?
Yes, you can freeze the rolls. You can freeze the baked rolls by wrapping them tightly in a layer of plastic wrap followed by a layer of foil. For best quality, freeze for no more than a few weeks to a month.
You can also freeze the rolls when they are shaped but unbaked. To do this, place the shaped rolls on a parchment-lined cookie sheet in the freezer, and freeze them for a few hours until solid. Then pop the frozen rolls into an airtight, freezer-safe container before storing them in the freezer. On the day you want to bake the rolls, place them in the prepared baking dish at room temperature and allow them to defrost and rise for about 5 hours. Then they should be ready to bake. Follow the recipe instructions for baking.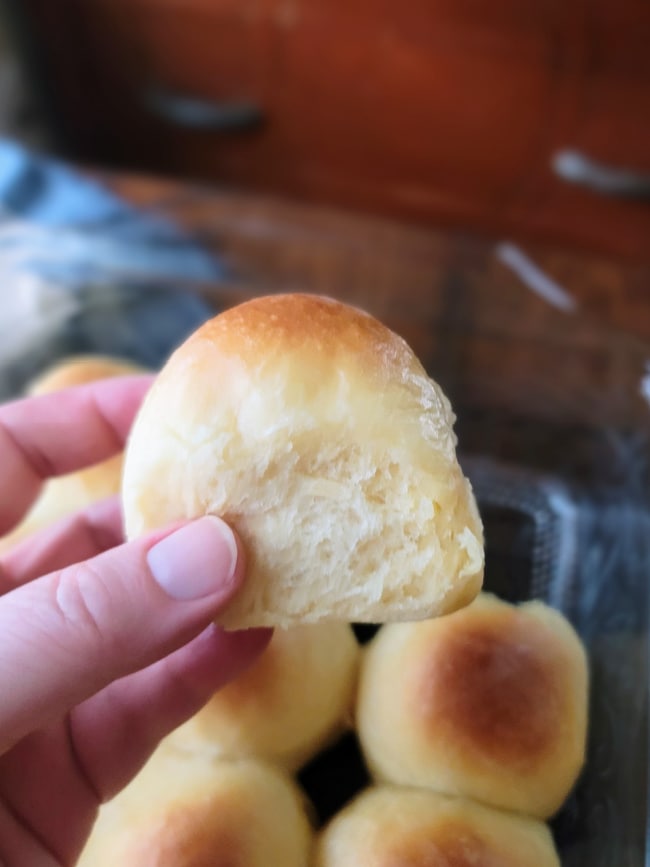 Making the Best Soft Dinner Rolls is an easy project. It takes a little bit of time and effort but with minimal ingredients, a few tools, and a bit of patience, you'll be serving up a fluffy, delicious dinner roll in no time. The finished product is sure to be a hit with your friends and family.
---
If you try this recipe, I hope you love it. And follow me on Facebook, Pinterest, and Instagram so you don't miss a post.
*As an Amazon Associate I earn from qualifying purchases. This post may contain Amazon or other affiliate links, which means I will earn a commission at no additional cost to you if you click through and make a purchase.*
Print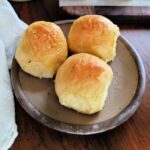 The Best Soft Dinner Rolls
---
Author:

Total Time:

2 hours 10 minutes

Yield:

24

rolls

1

x
Description
These dinner rolls are buttery and pillowy-soft. Serve them warm with butter and they are sure to be a hit.
---
1

cup

milk

1/2

cup

butter

2 1/4 teaspoons

active dry yeast (

1

packet)

1/4

cup

warm water (about 110 degrees Fahrenheit)

2

large eggs, beaten

3 tablespoons

sugar, divided

1 1/2 teaspoon

salt

4 1/2

cups

all-purpose flour

1

large egg (for egg wash)
---
Instructions
In a small saucepan, heat the milk and butter over low heat until the butter is melted.
In a large bowl, combine the yeast, warm water, and 1 tablespoon of sugar. Allow the mixture to stand for 5 minutes, or until foamy. (If the mixture doesn't become foamy, your yeast isn't viable and you will need to start with fresh yeast).
Add the warm milk and butter mixture, plus the beaten eggs, remaining sugar, and salt to the yeast mixture. Stir to combine.
Gradually add the flour, 1 cup at a time until a soft dough forms. You can do this by hand in the mixing bowl, or use a stand mixer.
Knead the dough by hand on a floured surface for 10 minutes, or in your stand mixer, for 5 minutes. The dough should still be soft, but also smooth and elastic.
Place the dough in a clean greased bowl. Cover and allow to rise in a warm place for 1 hour, or until doubled in size.
Heat the oven to 375 degrees Fahrenheit. While the oven is heating, divide the dough into 24 equal pieces, shape them,  and place them on a greased baking sheet. See above for tips on dividing and shaping the rolls.
Allow the rolls to rise for an additional 15 minutes. When the rolls are risen and ready to bake, the sides of the rolls will be slightly, but not completely, touching. They will expand more as they bake.
Whisk a large egg together with 1 tablespoon of water. Use a pastry brush to brush the egg wash over the rolls. Bake the rolls for 14-16 minutes, or until golden brown.
Serve rolls warm with butter, jam, or other toppings.
Notes
The secret to making beautiful rolls with a tender crumb is to create surface tension when shaping the rolls. See the instructions and photos in the directions above the recipe card for tips on how to do this.
Prep Time:

20 minutes

Rising Time:

95 minutes

Cook Time:

15 minutes