This Spring Greens with Hot Bacon Dressing recipe is a salad filled with fresh, tender baby greens and topped with a tangy hot bacon dressing. It's a perfect Spring tonic after a long and dreary winter. Add in some thinly-sliced onions and a few hard-boiled eggs to round it out for a tasty light supper, or a fresh side dish. (And if you love fresh salads, check out my recipe for Blackberry and Baby Greens Salad.)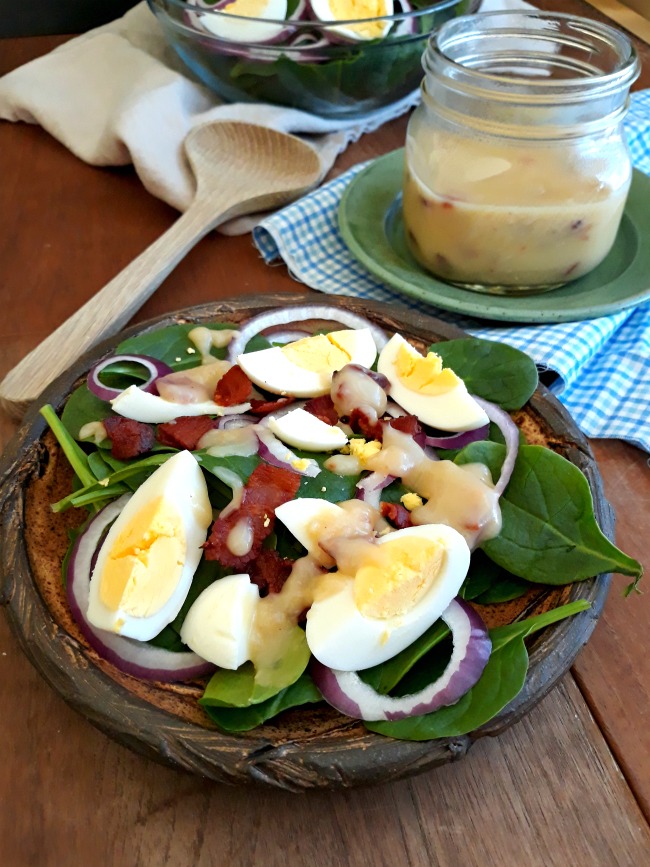 Both a traditional Pennsylvania Dutch recipe and also a traditional recipe here in the southern Appalachians, a spring greens salad tossed with hot dressing is an old-fashioned spring tonic. The PA Dutch version is typically made with the new tender dandelion leaves that are just beginning to pop up in the spring. Here where I live in the mountains of southern Appalachians, you'll find this same type of salad made with dandelion, lettuce, or other tender greens, and referred to as a killed or "kilt" salad because the idea is to wilt or to "kill" the leafy greens. But you don't need dandelion or other wild greens to make this recipe. I enjoy many types of tender baby greens in this salad – baby spinach, baby kale, Swiss chard, or arugula.
And if you're unfamiliar with a hot dressing, this may sound like a very strange kind of salad, but let me tell you, it's really very delicious (I mean, it does have bacon in it after all!) And though the hot dressing is actually intended to wilt the greens a bit, if you prefer your greens more on the crisp side, just allow the dressing to cool a bit first and serve it just barely warm.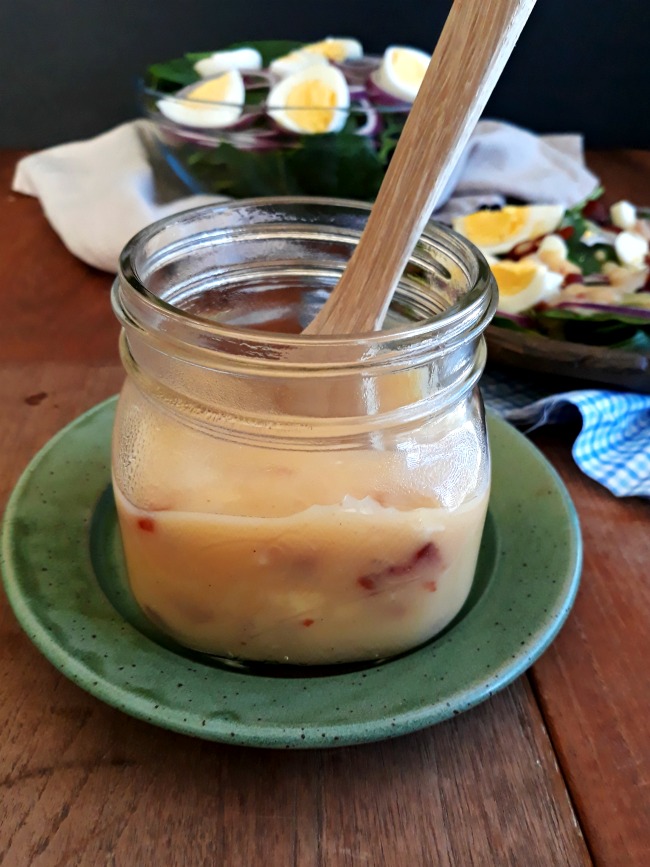 Cook's Tips:
When cooking the bacon, cook it as crisp as you like, then quickly remove it from the heat before you get a lot of burned, blackened bits in your skillet (because you don't want burned bacon bits in your dressing.) If you really want a nice clear dressing, you can strain it through a sieve lined with a coffee filter (but seriously, I would only do this step if I'm expecting company for dinner or preparing this dressing for a holiday.)
This is a traditional sweet and sour dressing that does use quite a bit of sugar. If you are limiting your sugar, just use the sugar substitute of your choice. And while I generally approve of using natural sweeteners in my recipes, like honey or maple syrup, I don't recommend it here because the taste and texture could be (unpleasantly) affected.
This dressing uses eggs as an ingredient in the dressing, so when you add the dressing mixture to the hot bacon drippings in the skillet, make sure to whisk constantly, or you may end up with a few scrambled egg bits. (But if you do happen to end up with a few scrambled egg bits in your dressing, don't even worry about it – it will still be delicious and no one will even notice!)
If you like your greens wilted, immediately mix the hot dressing into the greens. If you prefer your greens more on the crisp side, allow the dressing to cool until it is just a little warm, and serve it on the side of the salad.
---
And as always, if you try this recipe, please let me know in the comments below.
I hope you enjoy!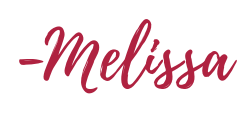 *As an Amazon Associate I earn from qualifying purchases. This post may contain Amazon or other affiliate links, which means I will earn a commission at no additional cost to you if you click through and make a purchase.*
Print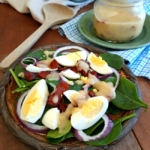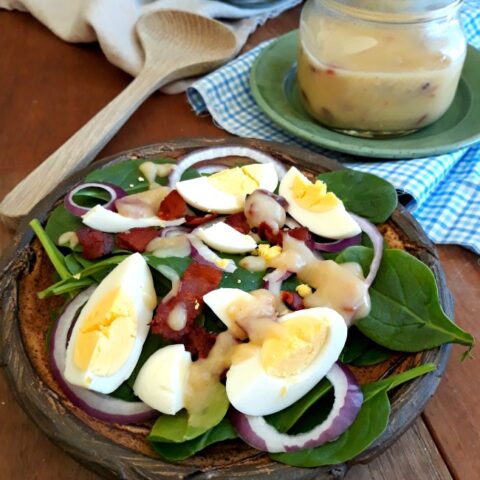 Spring Greens with Hot Bacon Dressing
---
Author:

Total Time:

0 hours

Yield:

4

Servings

1

x
8 cups

of baby greens (spinach, kale, Swiss chard, arugula, and/or dandelion)

1

large egg

⅓ cup

sugar

⅓ cup

apple cider vinegar

¾ cup

water

¼ teaspoon

salt

½

pound bacon, cut into

½

-inch pieces

1 tablespoon

all purpose flour

4

hard boiled eggs, quartered or sliced (optional)

¼

red onion, thinly sliced (optional)
---
Instructions
Place greens in a large salad bowl and set aside while you make the dressing.
In a mixing bowl, whisk the egg and sugar together, then add the vinegar, water, and salt. Whisk until well-blended. Set aside while you cook the bacon.
Cook the bacon pieces in a skillet until desired level of crispness. Remove skillet from heat and use a slotted spoon to remove the cooked bacon pieces to a paper towel-lined plate.
Spoon off all but 3 tablespoons of bacon fat from the skillet. Return skillet to medium-low heat and stir tablespoon of flour into the bacon fat. Cook and stir for 1 minute.
Add dressing mixture to the pan. Whisk constantly, allowing mixture to thicken and come to a slight bubble (this should only take 1-2 minutes). If dressing seems too thick at this point, add a few tablespoons of water.
Remove dressing from heat and stir in half of the reserved cooked bacon. Serve dressing hot over greens, or allow to cool and serve warm.
Top salad with remaining cooked bacon.
Add hard-boiled eggs and sliced onions to salad, if desired.
Prep Time:

0 hours

Inactive Time:

0 hours

Cook Time:

0 hours
For more great recipes, visit my friends at:
Meal Plan Monday at Southern Bite
Full Plate Thursday at Miz Helen's Country Cottage
Weekend Potluck at The Country Cook