If you're looking for a delicious and easy way to add some tropical flair to your next chicken dish, this Key West Chicken Marinade is the way to go. It's inspired by the sunny flavors of the Florida Keys, with a zesty blend of citrus, spices, and herbs. Whether you're grilling, baking, or sautéing your chicken, this marinade will infuse it with bold and bright flavors. I'm telling ya, the tropical flavors of the Conch Republic will have you dreaming of crystal blue waters, palm trees, and white sand beaches. (And if you're a fan of tropical flavors, check out my recipe for Key Lime Snowball Cookies.)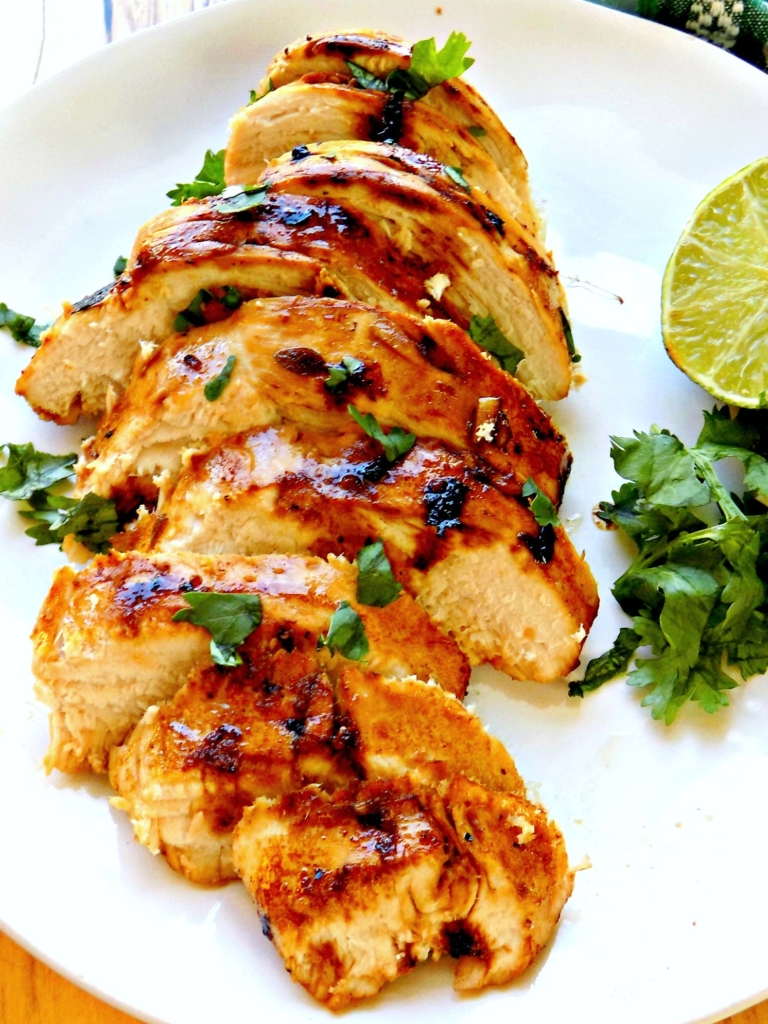 True story – my husband and I eloped on a boat in the Florida Keys, where we were married by the boat captain. There were manatees all around, the captain blew a conch shell during the ceremony, and the wedding music was courtesy of a Jimmy Buffet CD. Not your typical wedding, to be sure, but it was perfect for us. I grew up in the northern Appalachians, and we now live in the southern Appalachians, but I married a Florida guy, and as a result, spent a number of years living in South Florida. It took me some time to adjust to life on the coast, but now I totally consider it one of my adopted homes.
And this tropical chicken marinade is one of those recipes for when I'm feeling homesick for sun, sand, and surf. I love a piece of Key West marinated chicken on the grill with some homemade yellow rice on the side. If it's summer and I have some ripe tomatoes from the garden, I like to make my Mango and Tomato Fresh Salsa, too.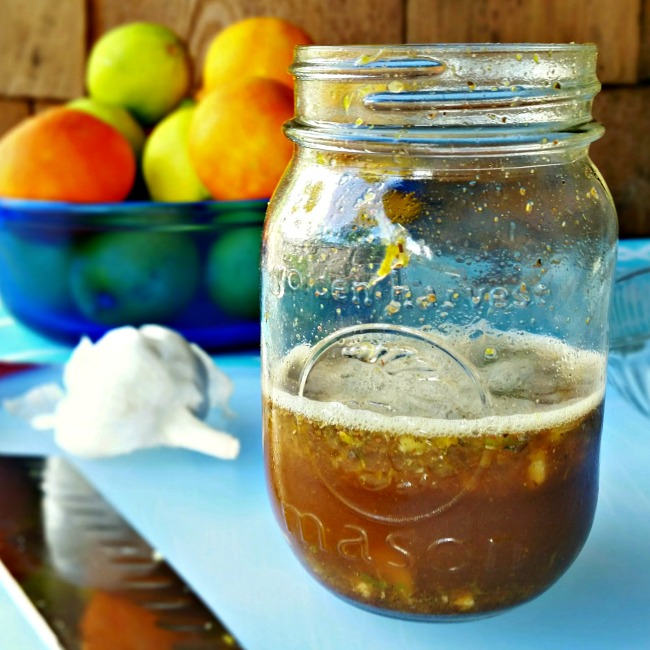 What ingredients are in Key West Marinade?
If you look at the ingredients in the recipe list, you'll see that it's packed with flavorful herbs and spices. But don't panic, because these are ingredients that are common and you probably have them in your pantry already.
But let's talk about a few of the other important ingredients:
Citrus juice and zest: Citrus juice, such as the orange and lime juice used in this recipe, can add brightness and tanginess to a marinade. And the zest can add a strong citrus flavor and aroma. The acidity in the juice can also help to tenderize the chicken by breaking down the proteins. So definitely don't skip the citrus in this marinade recipe.
Red wine vinegar: Red wine vinegar can add a tangy and slightly sweet flavor to a marinade, while also helping to tenderize the chicken. It is also acidic, which can help to break down the proteins in the meat.
Olive oil: Olive oil can add richness and flavor to a marinade, while also helping to keep the chicken moist during cooking. It can also help to distribute the other flavors in the marinade evenly throughout the meat.
Soy sauce: Soy sauce can add a savory, umami flavor to a marinade, as well as a salty component. It can also help to tenderize the chicken by breaking down the proteins, thanks to the enzymes in the soy sauce.
Salt: It may be tempting to leave the salt out of this marinade recipe, but it's crucial to add some salt (but if you are on a low salt diet, please follow doctor's orders!) Salt plays a crucial role in a marinade by enhancing flavor and helping to tenderize meat. When salt is added to a marinade, it breaks down the proteins in the meat, allowing the marinade's flavors to penetrate deeper into the meat. Additionally, salt helps to retain moisture, resulting in juicier meat when it is cooked. The salt also aids in the browning process, creating a crisp and caramelized exterior on the meat. Overall, salt is an essential ingredient in a marinade that helps to improve flavor, texture, and appearance of the final dish. So if you aren't on a low-salt diet, please go ahead and add the salt.
Tips for making Key West Chicken Marinade:
Use fresh citrus juices: Key West-style cuisine is known for its tangy and zesty flavor, and the key to achieving that is using fresh citrus juices. Plus, you'll want to include the citrus zest in your marinade, so using fresh, whole fruit is the best way to go.
Let it marinate for at least 2 hours, but no more than 4 or 5 hours. To ensure that your chicken is infused with all the delicious flavors of the marinade, be sure to let it marinate for at least 2 hours. This will give the marinade time to penetrate the chicken and make it tender and juicy. But don't let it marinated for much more than 3 hours, or the citrus juices will begin to alter the texture of the chicken.
Add some heat. To balance out the citrus, I like to add a little bit of heat from minced fresh jalapeño peppers. You can also crushed red pepper flakes, or cayenne pepper to your marinade to give it a spicy kick. If you don't like any heat in your marinade, leave out the seeds from the peppers, or omit them completely.
Make a double or triple batch of marinade. This recipe makes enough for about 1 1/2 pounds of chicken. So feel free to scale up the recipe if needed.
You can use this recipe for any type of chicken you prefer. It works great for chicken breast, chicken thighs, leg quarters, or whatever you like.
Cook your Key West marinated chicken with whatever method you prefer. I find it works great on the grill, or seared in my cast iron skillet.
And this marinade can be used for pork, too. Try it on a pork loin or pork chops for great tropical flavor.
So if you enjoy a delicious tropical marinated chicken, I hope you give this recipe for Key West Style Chicken Marinade a try.
---
If you try this recipe, I hope you love it. And follow me on Facebook, Pinterest, and Instagram so you don't miss a post.
*As an Amazon Associate I earn from qualifying purchases. This post may contain Amazon or other affiliate links, which means I will earn a commission at no additional cost to you if you click through and make a purchase.*
Print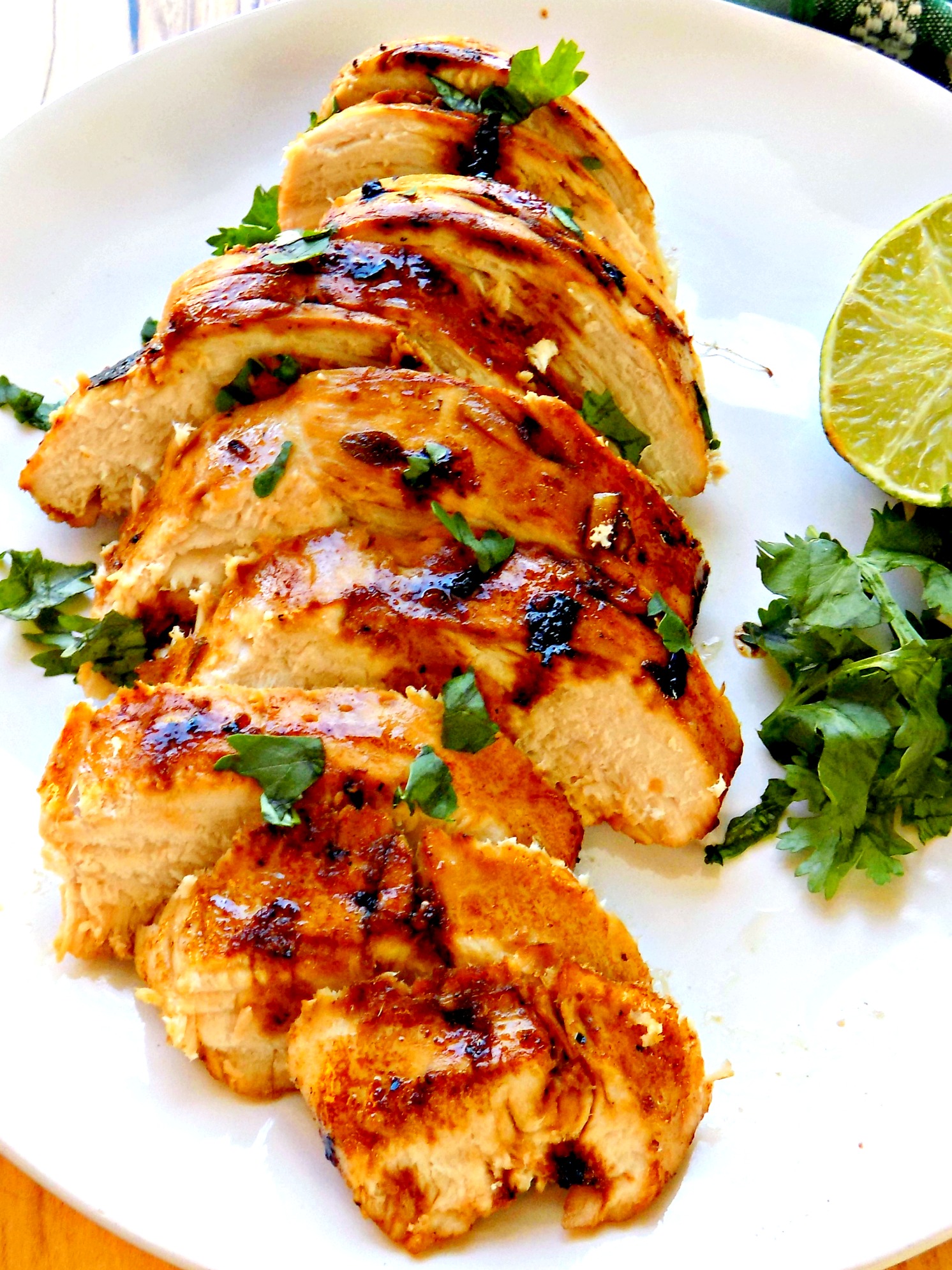 Key West Chicken Marinade
---
Author:

Total Time:

0 hours
1

large orange (juice and zest)

1

lime (juice and zest)

1 tablespoon

red wine vinegar

2 tablespoons

olive oil

1 teaspoon

honey

1 tablespoon

soy sauce

1 teaspoon

minced garlic

1

jalapeno, minced (for less heat, leave out the seeds)

1 teaspoon

salt

1/2 teaspoon

ground cumin

1/2 teaspoon

dried thyme

1/2 teaspoon

ground allspice
pinch of crushed red pepper

1/4 teaspoon

ground black pepper

1/4 teaspoon

ground cinnamon

1 1/2

pounds

of chicken (any chicken pieces of choice)
---
Instructions
Combine all of the ingredients in a glass bowl, or a resealable plastic bag. Add chicken, and place in the refrigerator to marinate for 2-3 hours. When ready to cook, remove from the fridge and allow chicken to warm up for a few minutes. Cook chicken on the grill, saute on the stove top, or use your favorite method for cooking chicken.
Prep Time:

0 hours

Inactive Time:

0 hours

Cook Time:

0 hours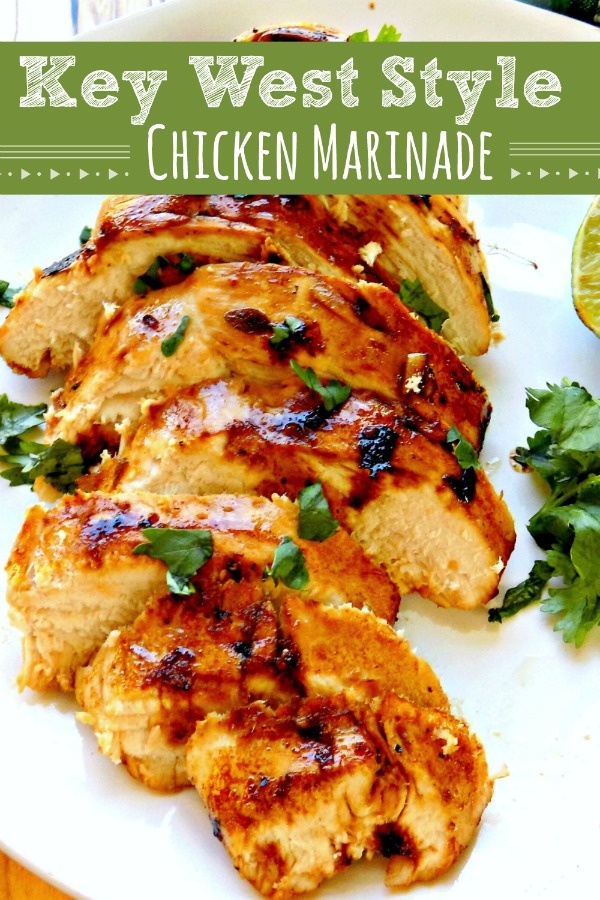 For more great recipes, visit my friends at:
Meal Plan Monday at Julia's Simply Southern