This Old-Fashioned Creamy coleslaw recipe is full of classic charm and wholesome goodness. It's the kind of timeless dish that brings back memories of family gatherings, backyard barbecues, and lazy summer afternoons. With shredded cabbage and carrot in a creamy, tangy homemade coleslaw dressing, this coleslaw is deliciously satisfying. Serve it with burgers, Sunday dinner, fried chicken, your favorite BBQ, or on a fish sandwich. There are so many ways to serve this homemade creamy coleslaw. (And for a mayo-free coleslaw recipe, check out my recipe for Pennsylvania Dutch Pepper Slaw.)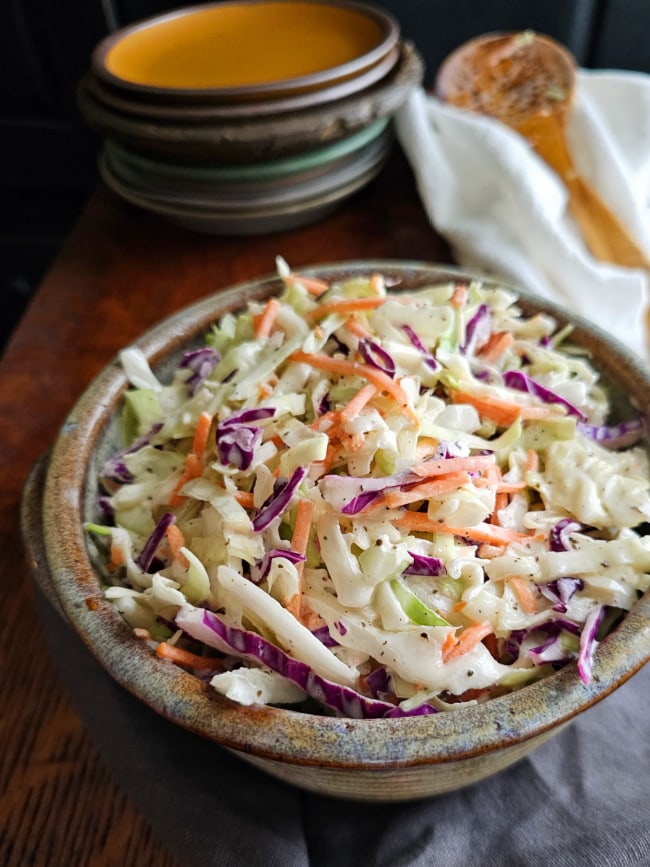 I've always gravitated toward the old-fashioned recipes that have stood the test of time. I love those budget-friendly, uncomplicated recipes that have been passed down through the generations, keeping families fed and nourished along the way. And this creamy coleslaw is one of these delicious and comforting recipes. (And I think about my great-grandma and I can just picture her in the kitchen garden picking a few ingredients to make this fresh coleslaw to go with dinner!)
But don't get me wrong, this creamy coleslaw recipe may be old-fashioned but is still just as good now as it was back in the day. With just shredded cabbage and carrots and an easy homemade coleslaw dressing, this recipe is one of those essential recipes you'll want to hang onto to make over and over again.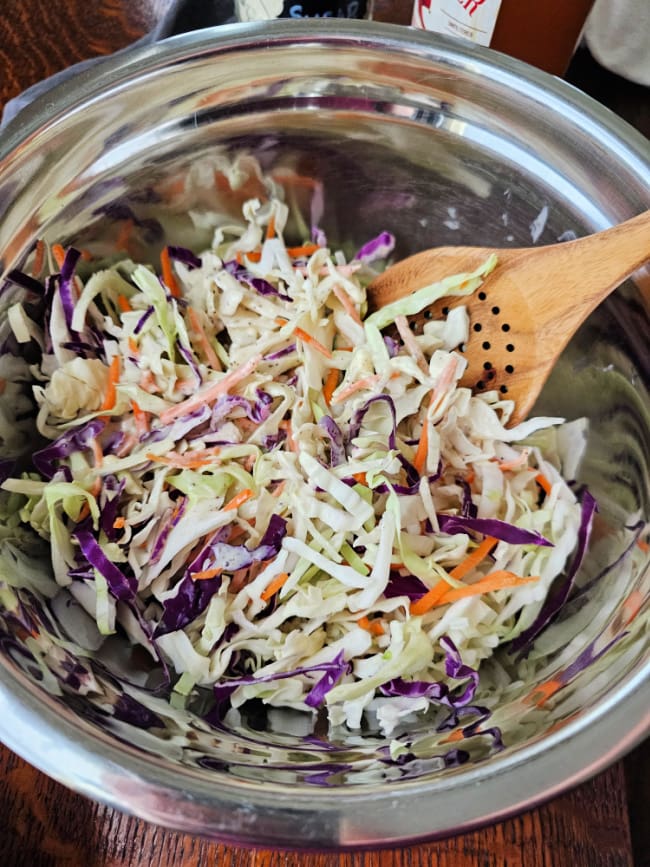 Let's talk about the ingredients for Old Fashioned Creamy Coleslaw:
Cabbage mix (coleslaw mix) – Cabbage is the main ingredient and the star of the show. You can use a 16-ounce bag of coleslaw mix, or make your own mix by combining 1/2 head of shredded green cabbage and 1-2 shredded carrots (if you happen to have some red cabbage on hand, you can add some of that, too). You'll want about 4 cups of shredded coleslaw mix.
Mayonnaise – Use your favorite store-bought or homemade mayonnaise. You can use any type of mayonnaise you prefer. Be sure it's one you like because it's the main ingredient for this coleslaw dressing.
Celery seed – Celery seed really gives this coleslaw a punch of flavor, so I don't recommend skipping out on this ingredient. If you don't have celery seed on hand, it's a pretty inexpensive seasoning to purchase and it's worth having on hand to use in so many recipes.
Sugar – Regular granulated sugar is what I use for this recipe. You can also substitute honey or your favorite sugar substitute.
Vinegar – I prefer to use apple cider vinegar because I think it gives this coleslaw the best flavor. You can substitute red wine vinegar if you prefer.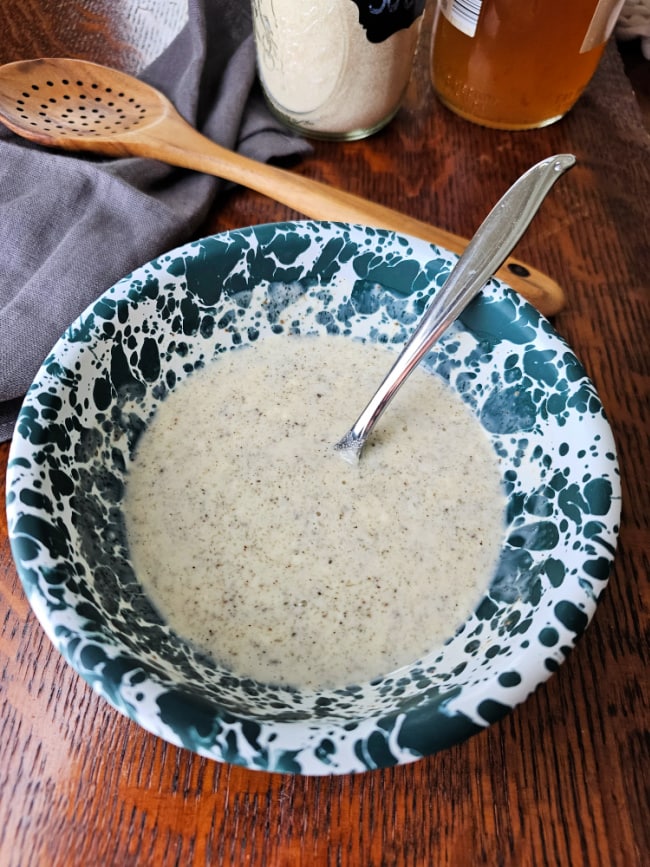 Tips for making the best creamy coleslaw:
Use the freshest ingredients. Whether you are using a bagged coleslaw mix or you are shredding your own, make sure everything is fresh and crisp. Be sure to use a bag with cabbage and carrots that don't look dried out. If you're shredding your own vegetables, look for firm, vibrant-colored cabbage heads and crisp carrots (leave those soft carrots for your next stew). Your slaw will taste much better when you start with a base of fresh ingredients.
If you're shredding your own coleslaw mix, take the time to shred the cabbage and carrots evenly. You can decide how finely to shred the vegetables, but make sure they are uniform. Use a sharp knife or a mandoline slicer to ensure even and thin slices. This will help the vegetables absorb the creamy dressing and create a more enjoyable texture.
Balance the flavors. Getting the balance of creaminess and tanginess right is important for a flavorful coleslaw. I think the recipe for this coleslaw dressing is perfect the way it is written. But you may decide that the seasonings may need to be adjusted to your liking. If you make adjustments, keep in mind that the flavors tend to mellow as the coleslaw sits. So I like to make sure the dressing is extra flavorful.
Let It Chill. After mixing the shredded vegetables with the dressing, allow the coleslaw to chill in the refrigerator for at least an hour before serving. This resting time allows the flavors to meld together and the dressing to penetrate the vegetables, resulting in a tastier coleslaw.
Experiment with additions. While this classic creamy coleslaw is delicious and needs no alterations, don't be afraid to get creative and change things up. Consider incorporating ingredients like thinly sliced onions, grated apples, raisins, or even a touch of mustard or horseradish for something a little bit different.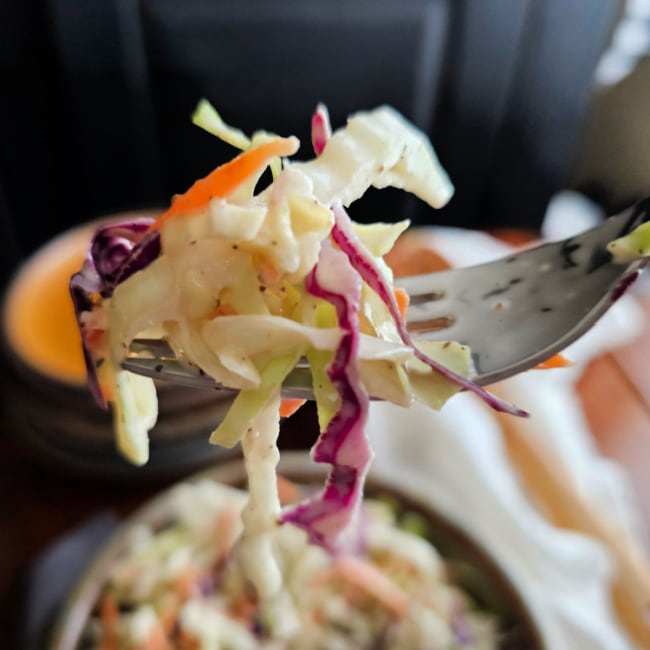 How to store Coleslaw:
Here are some guidelines for keeping your coleslaw fresh:
Transfer the coleslaw to an airtight container or place it in a bowl and wrap it tightly with plastic wrap. Make sure the container is clean and food-safe.
To store the coleslaw for maximum freshness and safety, refrigerate it as soon as possible. Don't allow it to sit at room temperature for a long stretch of time.
The shelf life of homemade coleslaw is typically 3 to 5 days in the refrigerator. However, this can vary depending on the ingredients used and the freshness of the cabbage and other vegetables.
When pulling your coleslaw out of the fridge to eat, always visually inspect it for any signs of spoilage, such as mold growth, discoloration, or an off smell. If you notice any of these signs, it's best to discard the coleslaw to avoid foodborne illness.
Also, note that coleslaw tends to become more watery as it sits in the refrigerator due to the vegetables releasing moisture. If you find the coleslaw has become too watery, you can drain off excess liquid before serving.
Remember, these guidelines are general recommendations, and it's important to use your best judgment when it comes to food safety. If in doubt, it's safer to discard the coleslaw rather than risk consuming spoiled food.
So if you're searching for the best Old-Fashioned Creamy Coleslaw recipe, I hope you'll give this one a try. It's our family's favorite and I hope it will become yours, too.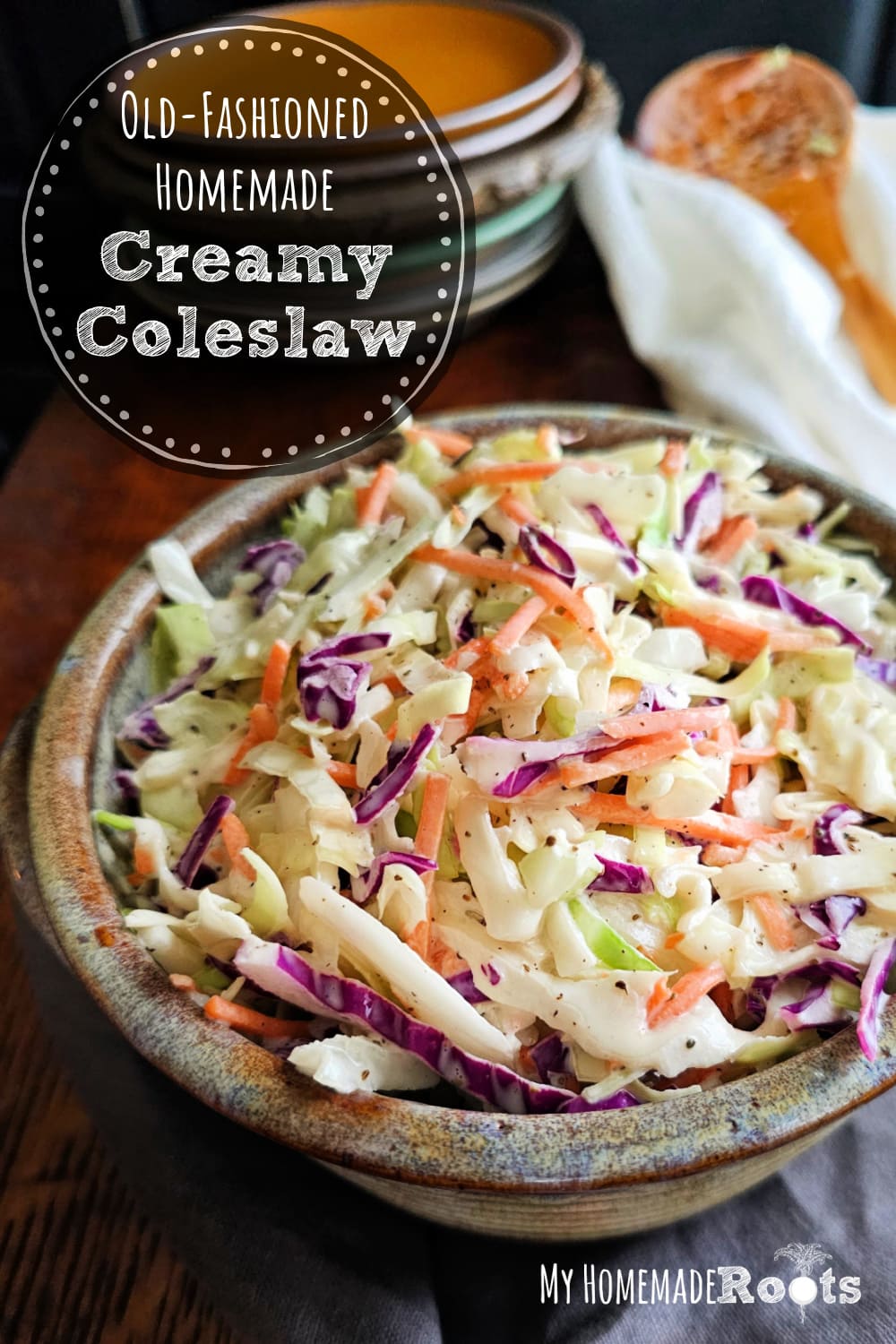 ---
If you try this recipe for the Best Old-Fashioned Creamy Coleslaw, I hope you love it. And follow me on Facebook, Pinterest, and Instagram so you don't miss a post.
*As an Amazon Associate I earn from qualifying purchases. This post may contain Amazon or other affiliate links, which means I will earn a commission at no additional cost to you if you click through and make a purchase.*
Print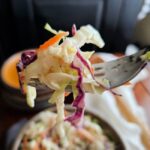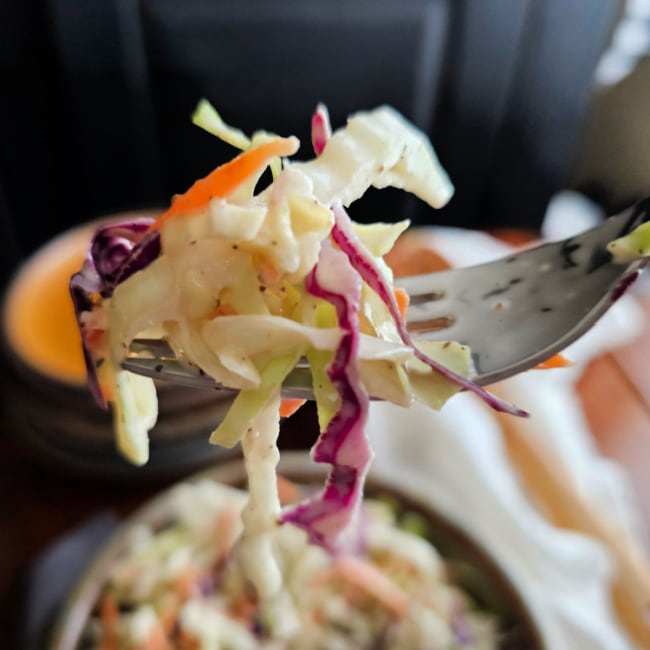 The Best Old-Fashioned Creamy Coleslaw
---
Description
This Old Fashioned Creamy coleslaw recipe is full of classic charm and wholesome goodness. With shredded cabbage and carrot in a creamy, tangy dressing, this homemade coleslaw is deliciously satisfying.
---
3/4

cup

mayonnaise

3 tablespoons

apple cider vinegar

3 tablespoons

sugar

3/4 teaspoon

salt

1/4 teaspoon

ground black pepper

3/4 teaspoon

celery seed

16

-ounce bag of coleslaw mix, or shred your own cabbage and carrot to equal 16 ounces (about

4 cups

)
---
Instructions
In a large bowl, combine mayonnaise, vinegar, sugar, salt, pepper, and celery seed. Whisk well to combine.
Add shredded cabbage mix and toss with dressing.
Cover and chill in the refrigerator for at least 2 hours before serving to allow the flavors to blend.