This Fresh Strawberry Pie with Homemade Strawberry Glaze is an old-timey favorite. It's filled with ripe, juicy strawberries in a homemade strawberry glaze, all in a buttery graham cracker crust. This pie is sure to please your guests at any gathering, but I also love it just for dessert on a spring or summer day. And if you love homemade strawberry desserts, check out my recipe for Old-Fashioned Strawberry Buckle.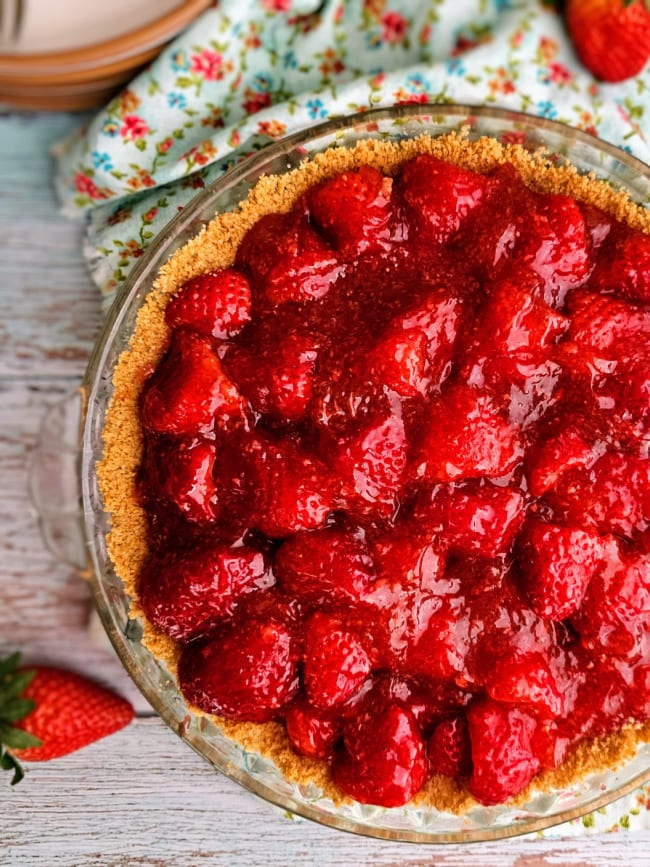 This Glazed Strawberry Pie is an 0ld-fashioned kind of pie just like Grandma used to make—the kind of pie that used to be commonly served at country diners and church potlucks. And although I don't mind a dessert that uses jello, this strawberry pie glaze is made without jello. It's made simply with just mashed strawberries, lemon juice, and a little bit of cornstarch. One of the things that I love about this pie is that it has a very natural strawberry flavor and texture. The beauty of this pie is in its simple deliciousness.
And for this glazed strawberry pie, I use a graham cracker crust. The graham cracker crust recipe I'm giving you is a homemade deep-dish graham cracker crust. It's buttery and a little bit sweet, and roomy enough to load up with fresh strawberries. (But I know that some folks like a pastry crust with their pie, so if that's you, feel free to use your favorite pre-baked pastry crust instead).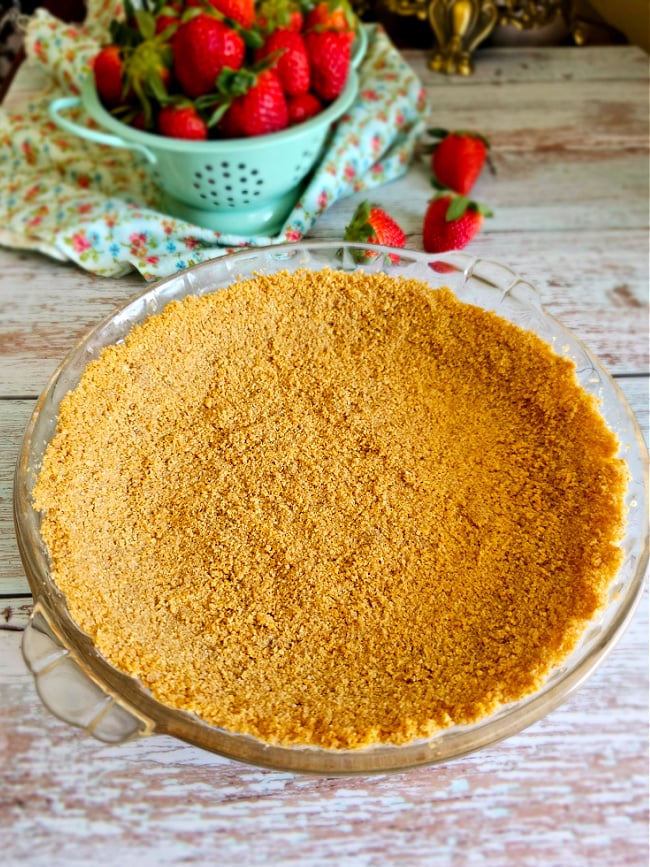 Let's talk about a few of the ingredients for this homemade Glazed Strawberry Pie
Strawberries – You'll need to use fresh, ripe strawberries for this fresh strawberry pie. Don't be tempted to use frozen strawberries or you will have a watery, mushy pie.
Sugar – Use granulated sugar. I use granulated raw cane sugar but white granulated sugar will work just fine.
Cornstarch – Cornstarch acts as a thickener for the strawberry pie glaze. You can substitute arrowroot powder in an equal amount.
Lemon juice – I believe that fresh lemon juice has a nicer flavor than bottled juice, but bottled lemon juice will also work.
Graham cracker crumbs – You can use premade graham cracker crumbs, or you can make your own by coarsely crushing graham crackers with a rolling pin or using a food processor. If you want a gluten-free pie, there are a number of gluten-free graham cracker brands you can purchase.
Butter – I use salted dairy butter, but for a plant-based crust, use a plant-based butter that is suitable for baking.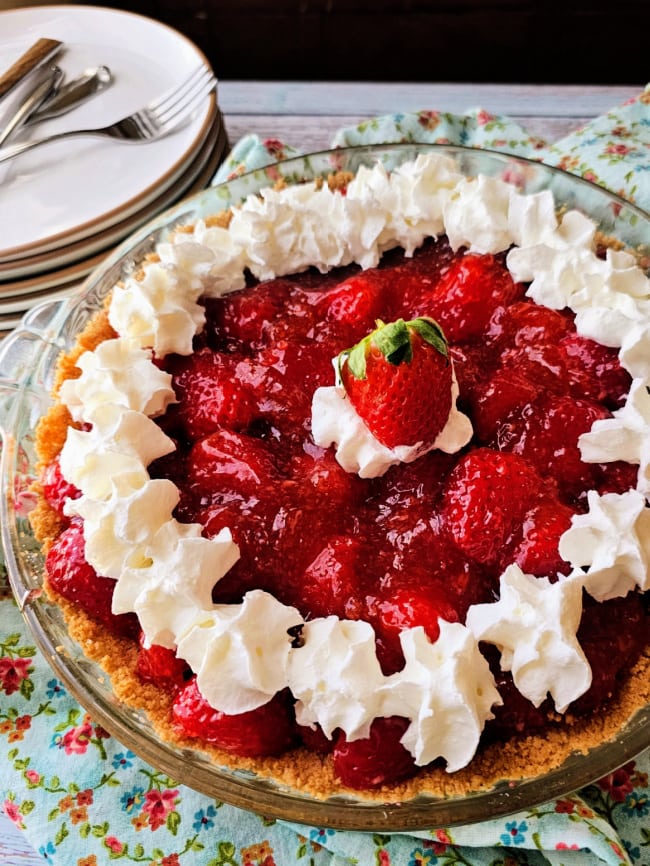 Tips for making the best fresh strawberry pie:
When I make this recipe, I buy 3 pounds of strawberries. But in reality, you will probably need slightly less than a full 3 pounds of strawberries to fill your crust. If you should happen to find yourself with a few extra strawberries, don't panic! I call this the cook's treat and you should go right ahead and munch on those extra strawberries while you prepare your pie! 😊
If you are short on time or don't feel like making your own crust, you can use a store-bought graham cracker crust. Just be sure to use a 10-inch crust or a deep dish 9-inch crust.
If you prefer a pastry crust for your strawberry pie, you can use a homemade or store-bought pastry crust. Be sure it is a deep dish crust or will fit a 10-inch pie pan. Also, remember to fully bake the crust before adding the strawberries.
For the best results, chill the pie in the refrigerator before slicing. And be aware, that first slice probably won't come out perfectly, but it will still be delicious!
Store the pie in the refrigerator for 2-3 days. Eat it up sooner rather than later so the crust doesn't become too soggy.
This pie is so yummy as it is that it doesn't really need anything else, but I do like to serve it with some fresh whipped cream or even a scoop of ice cream.
For something different, try using other berries or even fresh sliced peaches instead of strawberries.
So if you're searching for a recipe for fresh strawberry pie, I hope you'll give this recipe a try. It's truly a family favorite for a fresh spring or summertime dessert.
---
If you try this recipe, I hope you love it. And follow me on Facebook, Pinterest, and Instagram so you don't miss a post.
*As an Amazon Associate I earn from qualifying purchases. This post may contain Amazon or other affiliate links, which means I will earn a commission at no additional cost to you if you click through and make a purchase.*
Print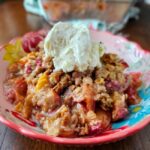 Fresh Strawberry Pie with Homemade Strawberry Glaze
---
Description
This old-fashioned Glazed Strawberry Pie is made with fresh strawberries and a homemade glaze (no jello) in a buttery graham cracker crust. It's a perfect dessert for spring and summer.
---
For the Graham Cracker Crust
2 3/4

cups

coarse graham cracker crumbs

1/2

cup

granulated sugar

1/4 teaspoon

salt
Pinch of ground cinnamon

1/2

cup

butter, melted
For the Strawberry Pie
3

pounds

of fresh strawberries, divided

1/2

cup

water

1

cup

granulated sugar

3 tablespoons

cornstarch
Pinch of salt

2 tablespoons

lemon juice

2 teaspoons

butter
---
Instructions
To Make the Graham Cracker Crust
Heat oven to 350 degrees Fahrenheit.
In a mixing bowl, whisk together the graham cracker crumbs, sugar, salt, and cinnamon until well blended.
Stir in the butter until everything is combined. The crumb mixture should have a texture like wet sand and should hold together when squeezed.
Spread the crumb mixture evenly into a deep dish 9-inch pie pan or a 10-inch pie pan. Use your hands or the bottom of a measuring cup to firmly press the crumbs into the pan, bringing the crumbs up the sides to the top rim of the pan.
Bake for 10-12 minutes or until crust lightly browns. Cool completely before using it in your pie.
To make the strawberry pie:
Wash and remove the hulls from the strawberries. Set aside 8 large strawberries to use in the glaze. Cut the remaining strawberries in half (or in quarters for larger strawberries, and set these aside.
Use a blender or potato masher to crush the 8 strawberries to a pulp.
Combine the strawberry pulp, water, sugar, cornstarch, salt, and lemon juice in a saucepan. Bring to a boil, stirring constantly. Continue to boil and stir for one minute. Remove from the heat and stir in the butter. Allow the glaze to cool slightly but don't allow it to get cold.
Spread 1/4 cup of the glaze over the bottom of the crust. Arrange the strawberries in the crust to your liking, then pour the remaining glaze over top of the strawberries.
Chill the pie for several hours. Serve with whipped cream or ice cream.
And for more homemade from-scratch recipes, visit my friends at the Homestead Blog Hop here!