These Slow Cooker Maple Brown Sugar Mashed Sweet Potatoes are buttery and slightly sweet with a hint of maple flavor. For me, they're just perfect for Thanksgiving or other holiday dinners because I just set them and forget them for the next four hours, while I get about preparing the rest of the meal. Because really, who couldn't use a little more oven space when whipping up a holiday feast?! (But don't wait for a holiday to have the Mashed Sweet Potatoes because they are delicious anytime!) And if you are looking for more delicious holiday side dishes, check out my recipe for Scalloped Corn Casserole.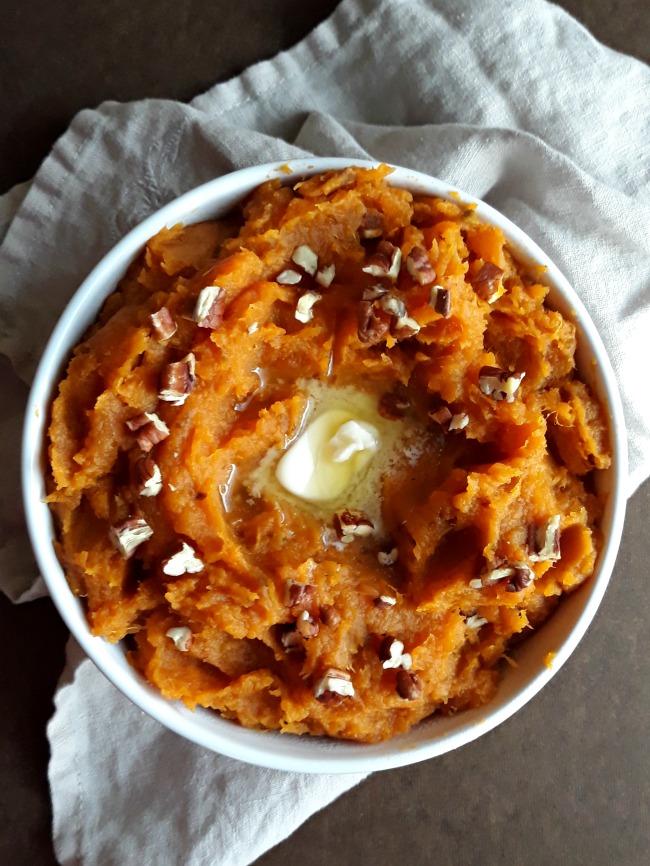 Growing up, my grandmother always prepared what she called candied yams (basically just sweet potatoes caramelized in syrup) for Thanksgiving dinner. I think, for this reason, I've never really fallen in love with a sweet potato casserole with marshmallows as an adult. I mean, don't get me wrong. If you were to offer me a dish of homemade sweet potato casserole loaded with marshmallows, I wouldn't turn ya down. I love almost any good homemade dish. It's just that with all of the pies and other goodies on the Thanksgiving table, I prefer my sweet potatoes to be served just a little less sweet. In fact, I like to leave the super-sweet star of the show to be my grandma's traditional butterscotch pie (but that's a recipe I'll share another time).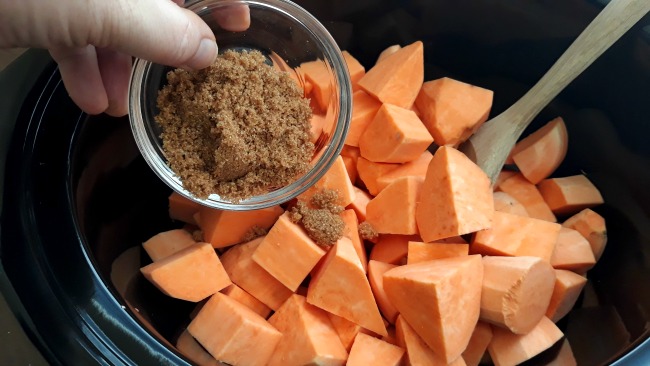 So let's talk ingredients:
Sweet potatoes or yams? – OK, so a little explanation is in order. Here in the United States, we often refer to those large, orange potato-like root vegetables as yams. And you may sometimes see them labeled as yams in the supermarket. But what these vegetables really are, despite their label, are sweet potatoes. A real, actual yam is something that is actually quite difficult to find in a typical grocery store in the United States. I lived for a number of years way down at the southern tip of Florida where real yams could often be found in the outdoor produce markets, and trust me when I say, a real yam really looks nothing at all like what we sometimes refer to as a yam.
An actual yam, commonly used in Caribbean and African cooking, is typically brown and similar in appearance to another root vegetable called yucca. Its flesh is starchier than a sweet potato, and not very sweet in flavor at all. So to be clear, what you want for this recipe, and what is most commonly found at any U.S. supermarket, is the big, orange potato-shaped root vegetable that may be either labeled as yam OR sweet potato. (And while there are also white and purple varieties of sweet potatoes, I recommend sticking to the orange ones for this recipe.) If you're interested to find out more about the yam vs. sweet potato and how this confusion all started, I recommend this article by Bon Apetit.
Maple syrup – I prefer to use pure maple syrup because it has a more subtle flavor and is less sweet than imitation maple syrup. If you don't have maple syrup, just use a little extra brown sugar to taste.
Lemon juice – Lemon juice may sound a little strange in a recipe for sweet potatoes, but it's a necessary ingredient. The acid brightens the flavor but it also helps the sweet potatoes to retain their orange color. Even with the added lemon juice, the sweet potatoes will oxidize and darken a little bit in the slow cooker anyway, but the lemon juice will help to prevent that somewhat.
Pecans – Pecans are my choice of nuts to top my sweet potatoes, but chopped and toasted walnuts are delicious, too. Of course, if you don't like nuts or have allergies, the recipe will work just fine without any nuts at all.
And let me also mention a couple of optional ingredients:
Mini marshmallows – If you are someone who does happen to enjoy marshmallows in your sweet potatoes, just go ahead and throw on a handful or two along with the toasted pecans.
Cooked, crumbled bacon – Add a little salty savoriness, top with a few ounces of cooked, crumbled bacon. You really can't ever go wrong with bacon.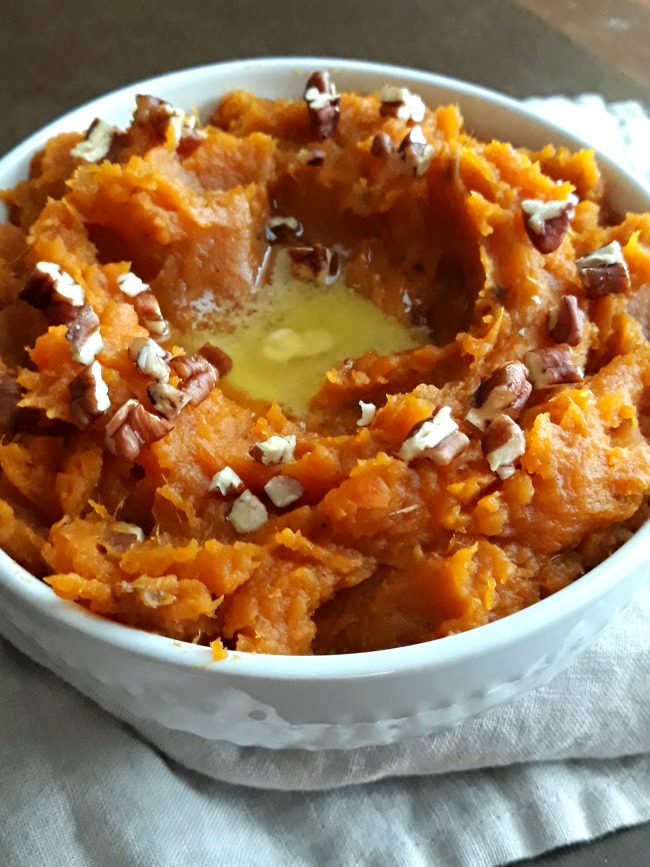 ---
So I hope you try this recipe. Even if it doesn't make it onto your Thanksgiving menu, it is a perfect, easy side dish for any day of the week. If you do try this recipe, please let me know in the comments how you liked it.
I hope you enjoy!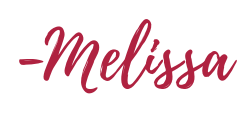 *As an Amazon Associate I earn from qualifying purchases. This post may contain Amazon or other affiliate links, which means I will earn a commission at no additional cost to you if you click through and make a purchase.*
Print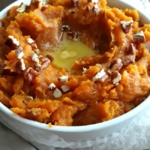 Slow Cooker Maple Brown Sugar Sweet Potatoes
---
Author:

Total Time:

0 hours

Yield:

8

Servings

1

x
3

pounds sweet potatoes, peeled and coarsely chopped
Juice from

1

lemon

¼ cup

water

3 tablespoons

brown sugar

1 teaspoon

salt

¼ teaspoon

ground black pepper

5 tablespoons

softened butter, divided

2 tablespoons

pure maple syrup
Pinch ground cinnamon
Pinch ground ginger

⅓ cup

chopped toasted pecans
---
Instructions
Lightly grease a 5-quart (or larger) slow cooker.
Add chopped sweet potatoes, lemon juice, water, brown sugar, salt, and ground black pepper to slow cooker. Stir to combine. Set slow cooker to high and cook 3½-4 hours, or until potatoes are fork-tender.
Mash potatoes using a potato masher or potato ricer. Stir in 4 tablespoons of butter, maple syrup, cinnamon, and ginger. Spoon into serving bowl and top with remaining tablespoon of butter and and toasted pecans.
Prep Time:

15 minutes

Inactive Time:

0 hours

Cook Time:

4 hours
Full Plate Thursday at Miz Helen's Country Cottage
Meal Plan Monday at Southern Bite