These White Chocolate Chip Cookies with Cranberries are sweet and buttery with just a hint of tartness. They are hands-down one of my favorite cookies to make for the holidays (but don't wait for a holiday to make these cookies because they are delicious any time of the year!) And if you love homemade cookies as much as I do, also check out my recipe for Old-Fashioned Ginger Snap Cookies.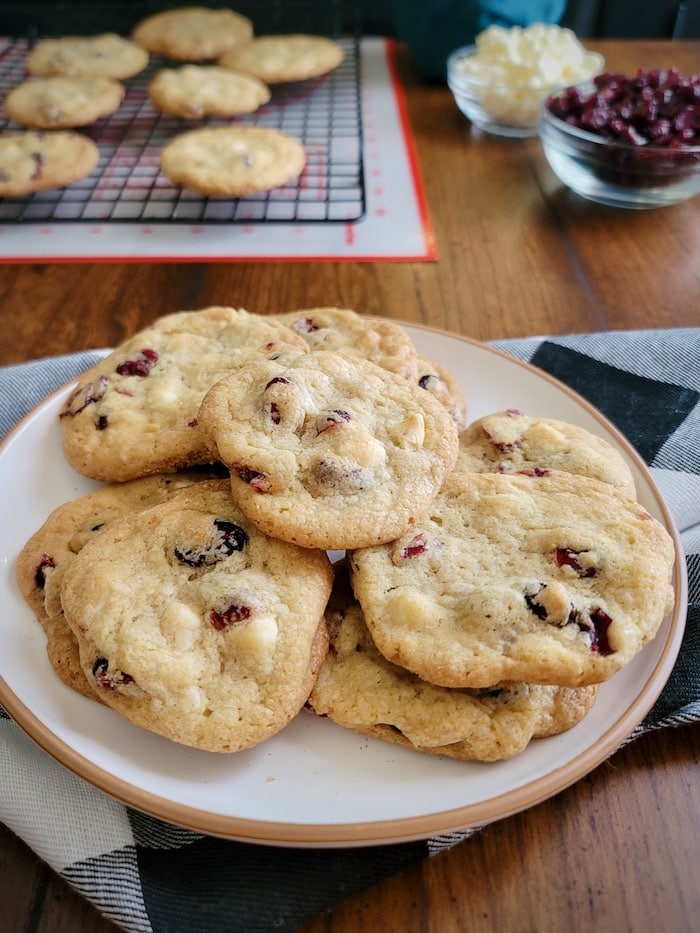 These White Chocolate Chip Cookies with Cranberries are actually a fairly recent addition to my Christmas baking lineup. These cookies weren't one of the many varieties of Christmas that my mom made every year for the holidays, but they are now a tradition in my own home. And this recipe is a family favorite – my whole family thinks these are the best White Chocolate Chip Cranberry Cookies around. And not only do they please a crowd of guests, but they also make great gifts, too. Package them in a nice tin with a bow and you have a homemade gift that doesn't disappoint.
And what I also love about these cookies is that they freeze very well. I like to make a double batch and stick some in the freezer to pull out for last-minute company or gifts (it's always a great convenience to have some premade treats stashed away in the freezer!) And yes, I've also been known to pull out a cookie (or two) for myself when the craving for a sweet treat strikes.

So let's talk about a few of the ingredients:
Butter – I use regular salted butter here. If you are using unsalted, you may want to add an extra tiny pinch of salt (about 1/8 teaspoon).
White chocolate – I like to use white chocolate chips but you can also chop up a bar of white chocolate for more of a white chocolate chunk cookie. For the best flavor make sure it is real white chocolate and lists cocoa butter as an ingredient.
Dried Cranberries – You can use either sweetened or unsweetened dried cranberries depending on your preferences. I've made them with both and they are delicious either way.
Cook's Tips:
These cookies are made with all butter so they will spread a bit and get nice, crispy edges. If you want taller cookies, substitute half of the butter with shortening. I also like to roll the dough into little balls rather than just drop the dough onto the baking sheet. You can skip this step, but I find it helps to keep the cookies from spreading too much.
To store the finished baked cookies, place them in an airtight container and keep them at room temperature. They should last about a week or so before they start to get stale. To store them for longer than a week, store them in your freezer.
When baking these cookies, I recommend using parchment paper or a silicone baking mat. It's the most reliable way to get a good result. If you are going to bake them directly on the pan, I recommend using an ungreased baking sheet. Because there is enough fat in the dough to keep them from sticking, adding additional fat to the pan may cause your cookies to spread too much or the bottom of the cookies to burn.
How to Freeze Cookies:
To freeze the finished baked cookies, place them in a gallon-size plastic bag or a freezer-safe reusable container. If you are storing the cookies in layers, separate the layers with wax paper to keep them from sticking together.
You can also freeze the raw cookie dough and pull raw cookies out of the freezer to bake as needed. To do this, you'll need to flash-freeze the raw cookies. Start by lining a baking sheet with parchment paper or a silicone baking mat. Use a cookie scoop to portion out the cookie dough and place the cookies onto the baking mat. You won't be baking them at this point, so it's ok to crowd the cookies as long as they aren't touching. Place the whole tray into the freezer and freeze the cookies solid. Put the frozen cookies into a plastic bag or reusable container and place them back into the freezer for storage. Bake the cookies from frozen, following the baking instructions in the recipe, adding another 2 minutes or so to the baking time.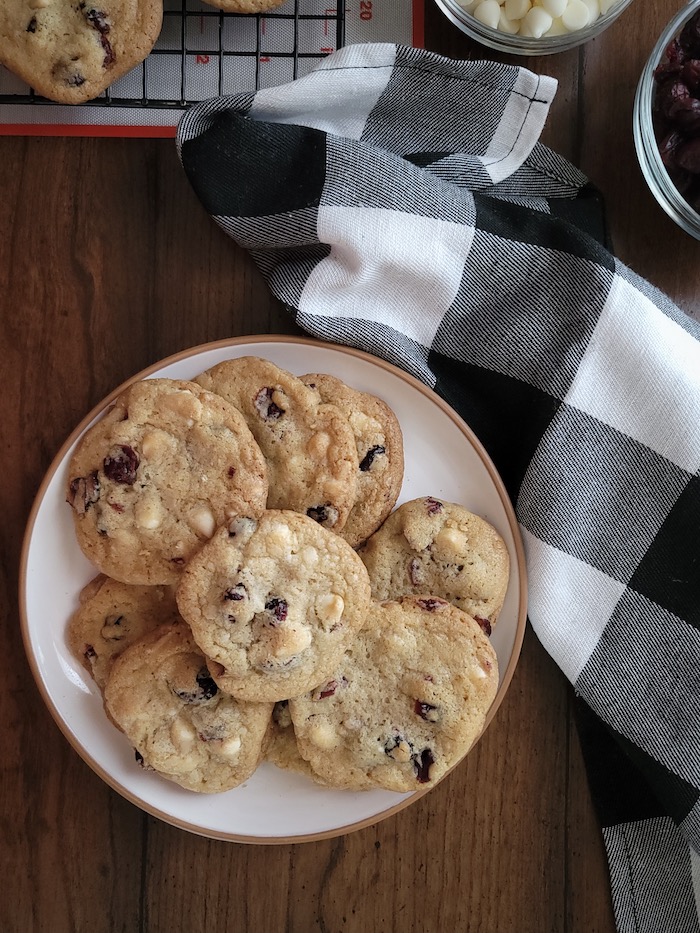 ---
I hope you try this recipe for White Chocolate Cranberry Cookies, and if you do, I hope you love it. Please let me know in the comments below.
I hope you enjoy!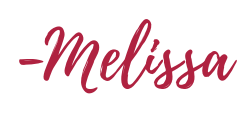 *This post may contain affiliate links, which means I will earn a commission at no additional cost to you if you click through and make a purchase.*
Print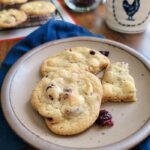 White Chocolate Chip Cookies with Cranberries
---
Author:

Total Time:

1 hour 30 minutes

Yield:

About

30

Cookies

1

x
Description
These White Chocolate Chip Cookies with Cranberries are sweet and buttery with a hint of tartness.
---
1 3/4

cups

all-purpose flour

1 teaspoon

baking soda

1/2 teaspoon

salt

1

cup

butter, softened

3/4

cup

sugar

1/2

cup

brown sugar (unpacked)

1

egg

2 teaspoons

vanilla extract

10

ounces

white chocolate chip cookies (or white chocolate bar, coarsely chopped for chunk cookies)

1

cup

dried cranberries
---
Instructions
In a mixing bowl, whisk together flour, baking soda, and salt.
In a separate mixing bowl, using a stand mixer or electric hand mixer, cream together butter, sugar, and brown sugar until light and fluffy.
Beat in egg and vanilla.
Add flour mixture to creamed butter mixture and mix until combined. Stir in white chocolate chips and cranberries.
Chill dough in the refrigerator for 1 hour.
Heat oven to 350 degrees Fahrenheit. Line a baking sheet with parchment paper or a silicone baking mat.
For each cookie, use a spoon or cookie scoop to scoop out dough (about 1 ½ – 2 tablespoons.) Lightly roll the dough to form a ball and place it on the baking sheet.
Bake for 12-14 minutes until cookies are lightly browned around the edges. Remove cookies from the oven and let stand for 5 minutes before transferring to a wire rack to cool.
Prep Time:

30 minutes

Additional Time:

1 hours

Cook Time:

14 minutes