This Fire and Ice Salad is an old-fashioned favorite. It's a simple marinated salad that is deceptively flavorful. With a combination of tomatoes, onion, green bell pepper, and cucumbers in a sweet and tart homemade brine, this zesty salad is delicious as a side dish or even as a light lunch. And it's also a crowd-pleaser, so it's perfect to serve at get-togethers. And if you love simple, old-fashioned vegetable salads, check out my recipes for Creamed Cucumbers and Dutch Pepper Slaw.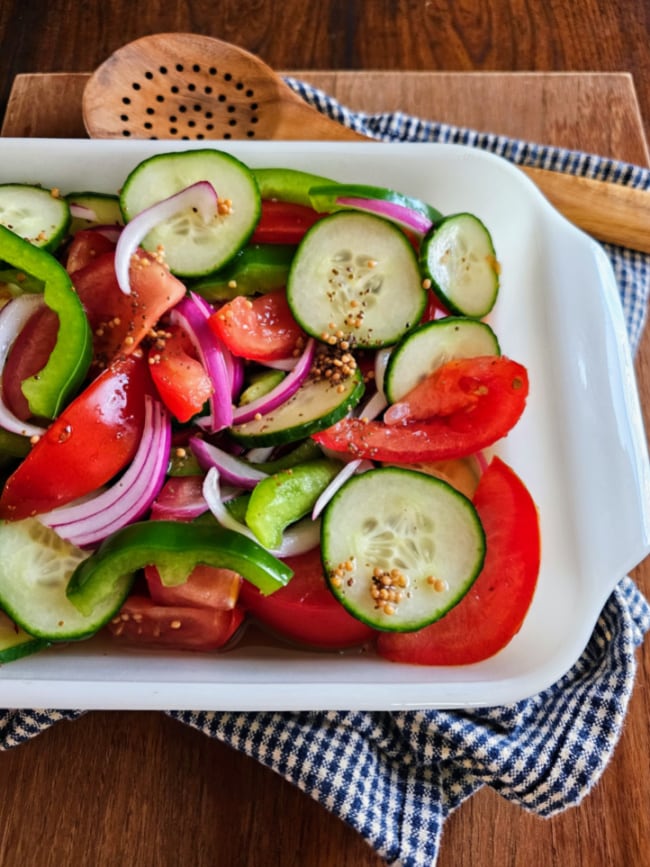 What is a Fire and Ice Salad?
If you've never heard of a Fire and Ice Salad, also sometimes called Fire and Ice Tomatoes, it's a classic here where I live in the South. It's a simple dish of marinated fresh tomatoes, onions, green bell pepper, and cucumbers. (Some recipes leave out the cucumbers, but I prefer it with cucumbers.)
Of course, marinated cucumber, tomatoes, and onions are a popular summertime dish, and not only in the South. But I can tell you that Fire and Ice Salad is an old-time southern favorite. And what makes it unique from other marinated vegetable dishes is the marinade. Unlike traditional marinades, this one is more akin to a bread and butter pickle brine. And with the addition of mustard seed and celery seed, it has a zesty and bold flavor that makes this dish so good.
Let's talk about a few of the ingredients
Tomatoes – Use any kind of ripe tomato here. The fresher the better (bonus points for garden-fresh tomatoes!) You can even use cherry tomatoes if you like.
Onions – I like a purple onion or a sweet onion like a Vidalia. Use what you like and what you have on hand.
Green Bell Pepper – I love the green pepper in this salad, but I know some people don't enjoy green peppers. If that's you, you can substitute whatever kind of pepper you like. I've even used sweet Italian peppers and mild banana peppers and it was delicious. If you like some spiciness, try using some jalapeno peppers in place of the green bell pepper.
Cucumber – Any kind of cucumber will work here, but I prefer to use cucumbers that have few seeds like English cucumbers, mini cucumbers, or pickling cucumbers. If you are using a regular slicing cucumber, I recommend scooping out the seeds before adding them to the salad to avoid the salad becoming too watery as it marinates.
Apple Cider Vinegar – Apple cider vinegar is what I prefer. You can experiment and try other kinds of vinegar like white wine or red wine vinegar. An herb-flavored vinegar could work here, too.
Sugar – Use regular granulated sugar, or substitute with the sugar substitute of your choice. You may have to adjust the amount, however, because sugar substitutes can be many times sweeter than real sugar. Be sure to use a sweetener that is safe for cooking because this marinade is heated on the stove.
Mustard Seed – This gives the salad a distinctive zesty flavor, so be sure not to skip it. If you don't have mustard seed, you can substitute dry mustard (also called ground mustard) in its place.
Celery Seed – Celery seed also contributes to the distinct flavor of the salad, so I recommend you leave it in. If you don't like the flavor of celery seed, however, you can leave it out.
Salt – Any type of salt can be used in this recipe. If you are using Kosher salt, use a bit more than the recipe calls for since Kosher salt is more airy and less dense than fine salt.
Tips for making the best Fire and Ice Salad:
Choose fresh and high-quality ingredients: Start with, ripe tomatoes, crisp fresh cucumbers and peppers, and firm onions. Using good quality vegetables will greatly affect the final taste and texture of the dish.
Slice the vegetables uniformly. Cut the cucumbers, tomatoes, and onions into uniform slices or chunks to ensure even marination.
Salt the cucumbers before marinating. This is an optional step, but if I have the time, I will sprinkle some salt over the cucumber slices and let them sit for about 15 minutes. Then I pat them dry with a lint-free towel. This will help draw out excess moisture from the cucumbers and help them to stay crunchy in the marinade.
Adjust the flavors according to your preference. If you don't like celery seed or mustard seed, you can substitute with other spices or herbs like dill weed, dill seed, fennel seed, caraway, or coriander, among others. Also, adjust the sweetness to your taste. Some people, like my husband, prefer a very sweet marinade. Others enjoy a very tart marinade. Also, add salt and ground black pepper to your taste to the finished dish.
Marinate the vegetables for sufficient time. I like to allow the vegetables to marinate for at least 2 hours to allow the flavors to meld and infuse the vegetables.
This salad is essentially pickled, so it will last for many days in the fridge. However, I find that it's best eaten within about 2 days. Any longer than that and the tomatoes become a bit rubber.
This Fire and Ice Salad is a delightful and refreshing dish. that combines the crispness of cucumbers, the tanginess of onions, and the infusion of flavors from the marinade. It can be enjoyed on its own as a light lunch, as a side dish, or even used as a topping for sandwiches. I think once you give it a try, it's bound to become a favorite in your house like it is in ours.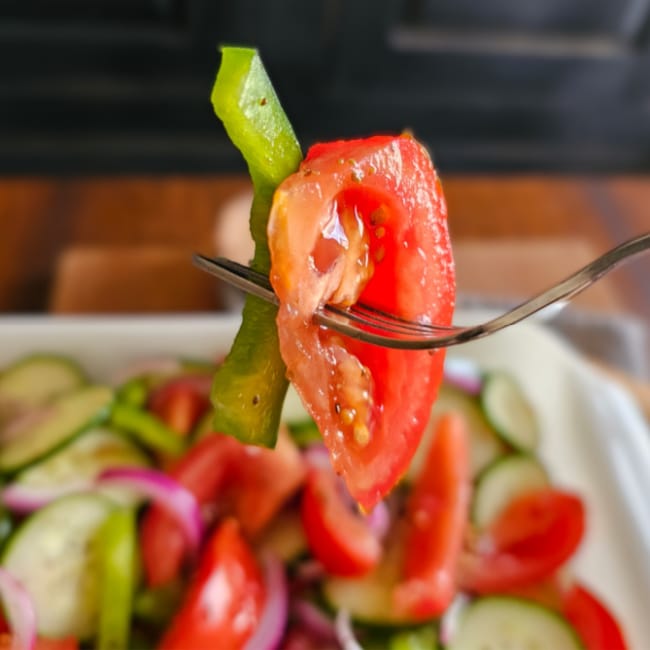 ---
If you try this recipe for Fire and Ice Salad, I hope you love it. And follow me on Facebook, Pinterest, and Instagram so you don't miss a post.
*As an Amazon Associate I earn from qualifying purchases. This post may contain Amazon or other affiliate links, which means I will earn a commission at no additional cost to you if you click through and make a purchase.*
Print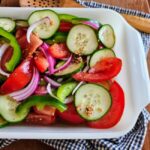 Fire and Ice Salad
---
Description
This vintage Southern Fire and Ice Salad is a zesty dish of marinated tomatoes, onions, green peppers, and cucumbers. Serve it as a side dish or enjoy it for lunch on a hot summer day.
---
6

medium tomatoes, cut into wedges

1

medium green bell pepper, sliced

1

medium onion, sliced

1

cucumber, sliced (I prefer to use an English cucumber) *see notes below

3/4

cup

apple cider vinegar

1/4

cup

water

4 tablespoons

sugar (or sugar substitute of choice)

1 1/2 teaspoons

mustard seed

1 1/2 teaspoons

celery seed

1 teaspoon

salt
Pinch of ground black pepper
---
Instructions
In a large, heat-safe bowl or pan, combine the tomato wedges, sliced pepper, and sliced onion. Set cucumbers aside.
In a saucepan, combine vinegar, sugar, mustard seed, celery seed, salt, and ground black pepper. Heat the mixture to a boil, stirring to dissolve the sugar. Boil for 1 minute, then remove from heat and set aside for 5 minutes to cool slightly.
After the marinade has cooled for 5 minutes (the marinade should be hot, but not scalding hot), carefully pour it over the tomato, pepper, and onion mix. Stir gently to combine. Set aside and allow to cool to room temperature (about 10 minutes).
When the marinade vegetables have cooled, mix in the sliced cucumber.
Refrigerate the salad for at least 2 hours (preferably 3-4) before serving. Gently toss it in the marinade once or twice during this time.
Before serving, taste and adjust salt and pepper.
Notes
I prefer to use a cucumber with little to no seeds in this recipe because the seeds tend to be watery and dilute the flavor of the brine. I use one English cucumber, or 3-4 mini seedless cucumbers, or 2-3 pickling cucumbers. If using a regular slicing cucumber, I find it's better to slice it in half lengthwise and scoop out the seeds using a spoon before slicing. You can decide whether or not to peel the cucumbers. I tend to leave the peel on if it's a thin-skinned cucumber like the English variety.