As the weather gets cooler and autumn colors paint the landscape, I find myself craving a mug of old-fashioned hot spiced apple cider. This hot drink, which many folks call mulled apple cider, blends the sweet taste of apples with aromatic spices. The result is a comforting drink that warms the tummy and brightens the spirit. But this isn't only a fall drink. Enjoy it in the winter and during the holidays as a wassail. And if you enjoy an alcoholic libation, go ahead and add a shot of rum, bourbon, or brandy. [And if you enjoy a nourishing warm beverage, check out my recipe for a caffeine-free herbal latte.]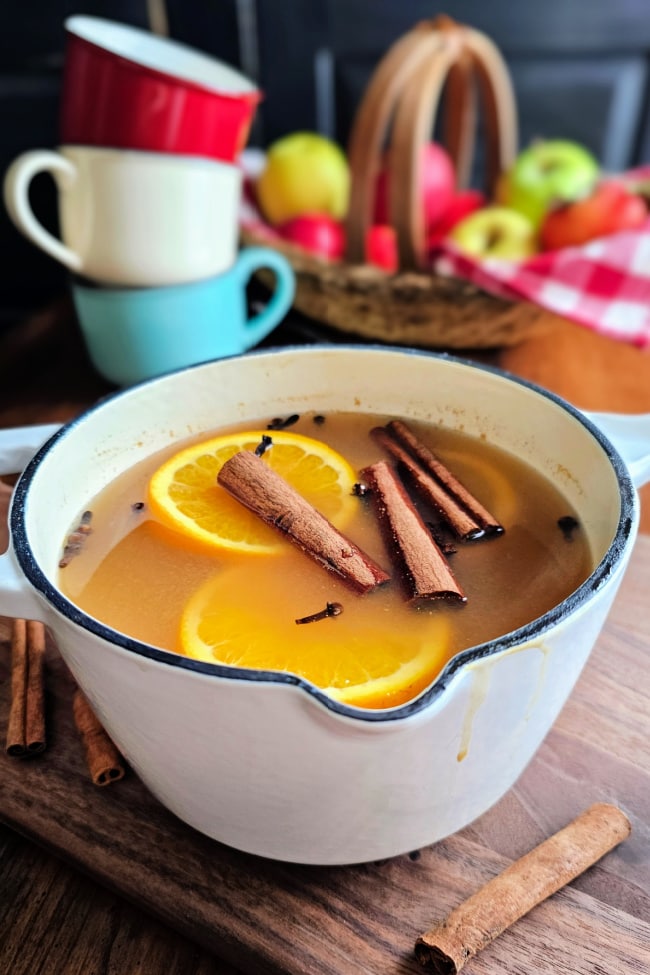 I call this recipe old-fashioned hot spiced apple cider because this beverage really does have some roots. To give you a bit of the history…
Hot spiced apple cider, also called mulled apple cider, has its roots in medieval Europe, and possibly to even earlier Roman times. To keep warm during colder weather, people began adding spices to their ciders and serving them up hot. This tradition continued in the American colonies, where apple orchards were abundant and apple cider – often an alcoholic beverage – was a favorite drink.
Over time, combining apple cider with spices like cinnamon and cloves became a fundamental part of autumn and fall festivities. Today we often enjoy spiced cider at fall festivities, like apple picking at local orchards, Halloween parties, and during fall and winter holidays.
So what exactly is Hot Spiced Apple Cider?
Actually, hot spiced cider is a delicious but simple beverage. To prepare it, you slowly heat apple cider with a medley of spices. Though there are many variations of this recipe, the most common spices include cinnamon sticks, whole cloves, and a dash of nutmeg. Some variations, like the recipe I'm giving you here, also add a hint of citrus by including orange slices or zest. I then sweeten it with either maple syrup or brown sugar (or a blend of the two). Then gently simmer, allowing the spices to blend and infuse the cider. Trust me when I say that your whole house will smell amazing when you simmer a pot of this cider!
For those seeking a warming adult beverage, you can spike your hot spiced cider with a splash of rum, bourbon, or brandy. And while this recipe is written using non-alcoholic apple cider, you can feel free to mix in a bottle of your favorite hard cider to give it a kick. And just to clarify for any readers from across the pond, apple cider in the United States is non-alcoholic, and is basically fresh, unfiltered apple juice. Hard cider is what we call a cider that contains alcohol.
For those who are interested, this article by Atlas Obscura is a great read about the history of apple cider and the differences between American and European apple cider.
Let's talk about the ingredients for Old-Fashioned Hot Spiced Cider
Apple Cider – You will want to use unfiltered apple cider. Most grocery stores carry apple cider in the fall, but it is extra delicious if you can get your cider straight from the orchard.
Maple Syrup or Brown Sugar – Apple cider is already sweet, but this spiced cider is extra delicious when you add a little bit of maple syrup or brown sugar. I love the maple flavor in my cider but brown sugar will work, too. You can also add a mixture of maple syrup and brown sugar. If you prefer to avoid added sugar, simply omit the sweetener.
Salt – Just a pinch of salt is all you need. You can skip it if you want, but a little bit of salt enhances the flavors.
Ground Ginger – I use regular dry, ground ginger. If you have fresh ginger on hand, you can simmer a peeled 1-inch piece of ginger in your cider.
Whole Cloves – I like to use whole cloves in my cider, but you can use a pinch of ground cloves if that is what you have on hand. Only add a small amount of ground cloves, however, because a little goes a long way.
Cinnamon Sticks – A few cinnamon sticks are enough to give this cider a potent cinnamon flavor, and they look nice, too. But if ground cinnamon is what you have, then simply add it to taste.
Ground Nutmeg – I use just a pinch of ground nutmeg but you can feel free to add more to your taste. And if you happen to have a whole nutmeg that you can grate fresh into your hot spiced cider, even better.
Orange – Any type of orange will do. I typically use a large navel orange. You can also use 2 smaller oranges or even tangerines. For a different flavor, try using a lemon.
Optional Ingredients – You can garnish your spiced apple cider with apple slices, or top a mug with whipped cream and a drizzle of caramel or a cookie. If using whipped cream, I like to let the cider cool a bit, or else the whipped cream will immediately melt into the cider (although that's not necessarily a bad thing!)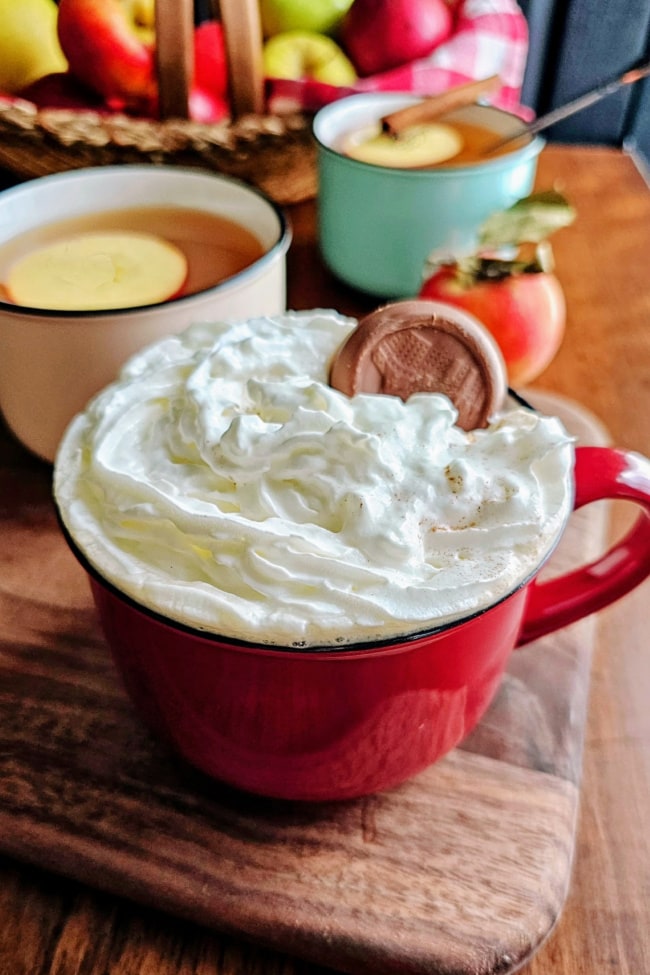 So if you're looking for a drink to warm you up on a cold day, or if you enjoy celebrating the seasons, I hope you'll try this old-fashioned hot spiced apple cider recipe. It's a simple tradition that can connect us to the rustic autumns of the past and remind us of the enduring joy of gathering with friends and family to enjoy the simple pleasures of the season.
---
If you try this recipe for Hot Spiced Apple Cider, I hope you love it. And follow me on Facebook, Pinterest, and Instagram so you don't miss a post.
*As an Amazon Associate I earn from qualifying purchases. This post may contain Amazon or other affiliate links, which means I will earn a commission at no additional cost to you if you click through and make a purchase.*
Print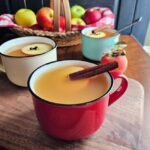 Old Fashioned Hot Spiced Apple Cider
---
Author:

Total Time:

1 hour 10 minutes
Description
This hot spiced apple cider, also called mulled cider, is a sweet and spicy drink that will warm you right up on a cold day.
---
1/2

gallon

apple cider (sweet apple cider, not hard cider)

1/2

cup

maple syrup (you can substitute brown sugar or a mixture of maple syrup and brown sugar)

1/4 teaspoon

salt

1 teaspoon

ground ginger

1 teaspoon

whole cloves

3

–

4

cinnamon sticks
Dash of ground nutmeg (if you can grate fresh nutmeg, it's even better)

1

orange, sliced
---
Instructions
To cook on the stove, combine all ingredients in a heavy pot and place the lid on the pot set slightly ajar. Simmer over low to medium-low heat for 1 hour. You want the cider to bubble gently around the edges of the pot but do not allow it to boil.
To make the spiced apple cider in a slow cooker, combine all of the ingredients in the slow cooker, and set it on low to cook for 3-4 hours. If you are pressed for time, set it on high and cook for 2 hours.
Before serving, use a strainer to strain out the spices and orange slices. Take care to strain out all of the cloves as they could present a choking hazard. Be cautious because the cider will be piping hot! (*See Notes below)
If you want to keep the cider hot at a party or other gathering, return the strained cider to a pot and set on the stove on low. You can also return to the crockpot and set on warm. Place a ladle in the cider and allow guests to serve themselves.
To make the hot cider extra special, you can add whipped cream, a drizzle of caramel, or garnish with apple slices or a cookie. For an adult beverage, add a shot of rum, bourbon, whiskey, or brandy.
Notes
If you wish, you can tie up the whole spices in a piece of cheesecloth and float it in the cider while it simmers. This way, you can avoid having to strain the hot cider.
Prep Time:

10 minutes

Cook Time:

1 hour