These homemade, from-scratch Amish Baked Beans are just like Grandma's old-fashioned baked beans. They're delicious during the summer for backyard cookouts and barbecues, but they're also perfect for those chilly days when it's nice to have a little extra heat given off from cooking something delicious in the oven. I start with dried beans and slow cook them for hours until they are perfectly tender and bathed in a rich and hearty sauce that is just a little smoky and a little sweet. And although beans baked made from scratch take a little more time than starting with canned beans, the preparation is simple, and the end result is so delicious it makes it worth the extra time. And if you love homestyle side dishes, check out my recipe for homemade Squash Casserole.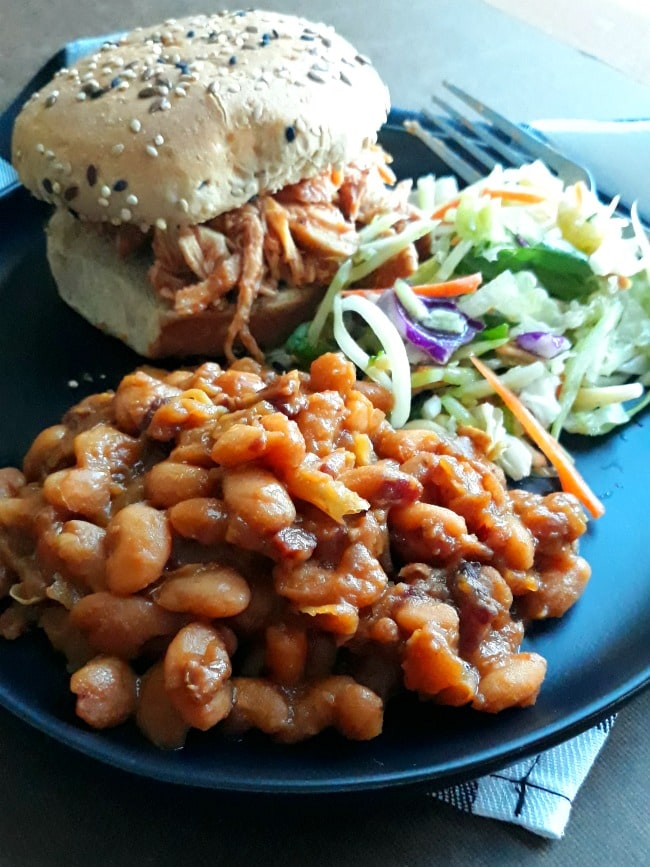 If you're wondering what makes these homemade baked beans Amish, it's simply because my recipe is (slightly) adapted from a recipe found in a little printed booklet of old Amish recipes that I have in my cookbook collection (it's dated 1980 so it's definitely in a vintage recipe). So I'm giving credit where it is due by calling these Amish Baked Beans. And also, being originally from PA, I can tell you that when it comes to hearty comfort food, the Amish are experts. This is the kind of recipe that you can trust is stick-to-your-ribs home cooking.
I like to serve my beans alongside any kind of smoked or roasted meat. They are also delicious with burgers, meatloaf, or braised sausages. But truly, these beans are so hearty, you could skip the meat altogether and eat them with some crusty bread or brown bread, and some greens like spinach or Swiss chard. You can even dress them up a little with a dollop of homemade chow-chow or a drizzle of maple syrup.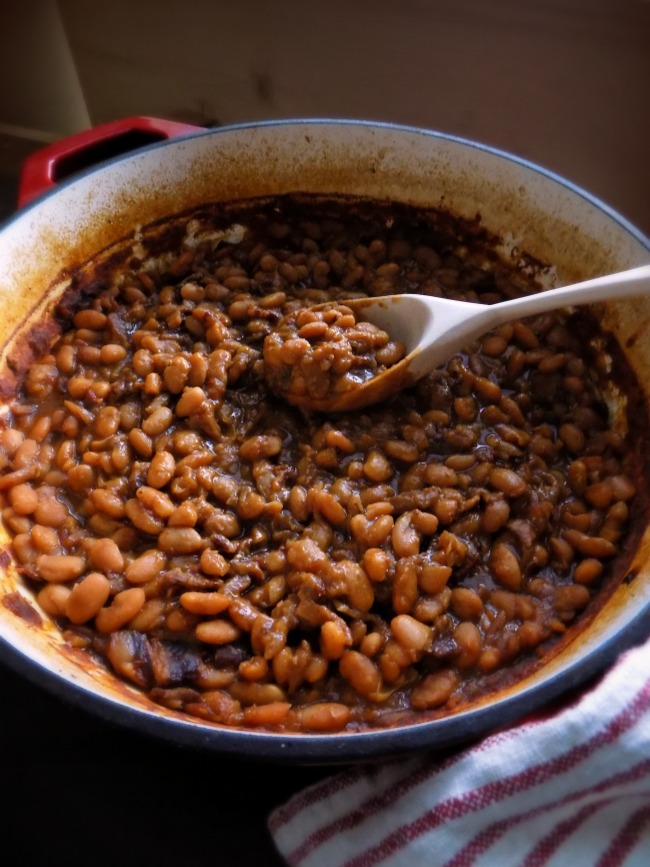 Cook's Tips:
I find that my enameled cast iron Dutch oven is the perfect vessel for baking these beans. If you don't own a Dutch oven, however, you can cook the beans and brown the onions and bacon in any large pot, and then transfer the whole mixture to a baking or casserole dish to bake in the oven.
This recipe takes about 4 hours in the oven, but the baking time might be a little more or less due to factors such as the age of the dried beans, the variety of beans, the hardness of your water, and how hot your oven runs. I like to check my beans every hour or so just to see how they are coming along, and to add a little more water or reserved cooking liquid if they are looking dry. I like to keep the beans looking nice and saucy for most of their time in the oven.
Towards the end of the baking time, when the beans have been in the oven for about 3 hours, I set the lid slightly ajar on the pot, so that the liquid reduces down to a rich, thick sauce. If your beans are already reduced, you can just leave the lid fully on the pot.
The baked beans are finished after about 4 hours in the oven, or whenever they are tender and the sauce is rich and thick. You will just need to use your judgment and decide when they are done to your liking.
---
If you try this recipe for Amish Homemade Baked Beans, I hope you love it. And follow me on Facebook, Pinterest, and Instagram so you don't miss a post.
*As an Amazon Associate I earn from qualifying purchases. This post may contain Amazon or other affiliate links, which means I will earn a commission at no additional cost to you if you click through and make a purchase.*
Print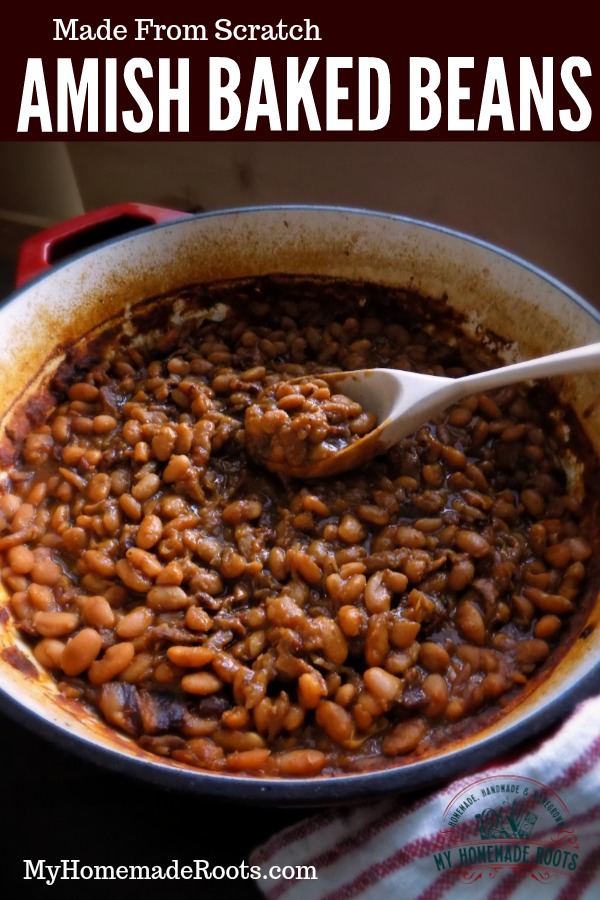 Amish Baked Beans
---
Author:

Total Time:

12 hours

Yield:

10

Servings

1

x
Description
These homemade, from-scratch Amish Baked Beans are just like Grandma's old-fashioned baked beans. Dried beans are slow-cooked in the oven until they're perfectly tender and bathed in a savory and lightly sweet sauce.
---
1

pound dried navy or great northern beans

6 cups

water (plus water for soaking)

½

pound bacon, diced

1

medium yellow onion, diced

⅓ cup

molasses

⅓ cup

brown sugar

¼ cup

ketchup

2 teaspoons

dry mustard

1 ½ teaspoons

salt

¼ teaspoon

ground black pepper

2 tablespoons

apple cider vinegar

3 cups

liquid reserved from cooking beans
---
Instructions
Place dried beans into a shallow pan and sort through them, picking out any broken beans, stones, or other debris. Pour sorted beans into a colander and rinse under cold running water.
Place rinsed beans into a large bowl and cover with 2-3 inches of cold water. Cover bowl and allow beans to soak overnight.
After an overnight soak, drain beans and add them along with 6 cups of water to a Dutch oven or other large, oven-safe pot. Bring to a boil. Reduce to a simmer and simmer beans for 30 minutes, or until beans are just barely tender. Drain beans through a colander set over a large bowl to reserve cooking liquid. Set drained beans and cooking liquid aside.
To the same pot, add onions and bacon. Cook over medium heat until onions are soft and bacon is lightly crisp. Return the beans to the pot with the onions and bacon along with the remaining ingredients. Stir in 3 cups of reserved cooking liquid (if you don't have 3 cups of cooking liquid, add enough water to make up the difference.).
Cover pot with a tight-fitting lid (or transfer to a baking dish and cover tightly with aluminum foil) and bake for 4 hours at 300 degrees Fahrenheit. Check occasionally and add more water if necessary to keep beans moist. If after 3 hours the beans look too soupy, remove the lid slightly to allow steam to escape and continue to bake for 1 hour, or until reduced to your desired consistency.
Taste before serving and season with additional salt and pepper, if necessary.
Prep Time:

12 hours

Inactive Time:

0 hours

Cook Time:

0 hours
Keywords: Amish recipes, Amish side dishes, side dishes, homemade baked beans, baked beans from scratch