I've put this easy Big Mac Salad with Thousand Island Dressing on repeat lately in our meal rotation. This burger salad recipe takes all the flavors and elements of that favorite fast food cheeseburger and piles them high in a salad bowl instead of on a bun. Perfectly seasoned ground beef, cheddar cheese, crisp lettuce, ripe tomatoes, and your favorite burger toppings, all in one delicious dish. Then I add in some homemade fries and top it all with a homemade Thousand Island dressing for a hearty, delicious salad. (And if you prefer your burger on a bun, check out my recipe for Quick and Easy Homemade Burger Buns.)
This Big Mac Salad with Thousand Island Dressing is, of course, inspired by that fast food favorite, the Big Mac. And don't get me wrong, I love a good burger on a bun. I'm a total carb lover and adore good homemade bread. But I still enjoy this burger salad because it's a little different from the usual cheeseburger. There is something fun about having my burger in a bowl. Also, as someone who loves toppings, I like that I can really pile on my favorite toppings with this burger salad bowl.
And if you do happen to be watching your carbs, this Big Mac Salad is a good option for that, too. Because while I do include oven-fried potatoes in the recipe, you can always leave them out. Or, you can substitute a low-carb "fry" in your bowl. Zucchini fries are one of my favorites, but I've also heard good things about rutabaga fries (although I haven't tried them yet.)
Also, these bowls also happen to be gluten-free as long as you use gluten-free ingredients in your sauce and potatoes (if you happen to be using prepared frozen fries or potatoes.)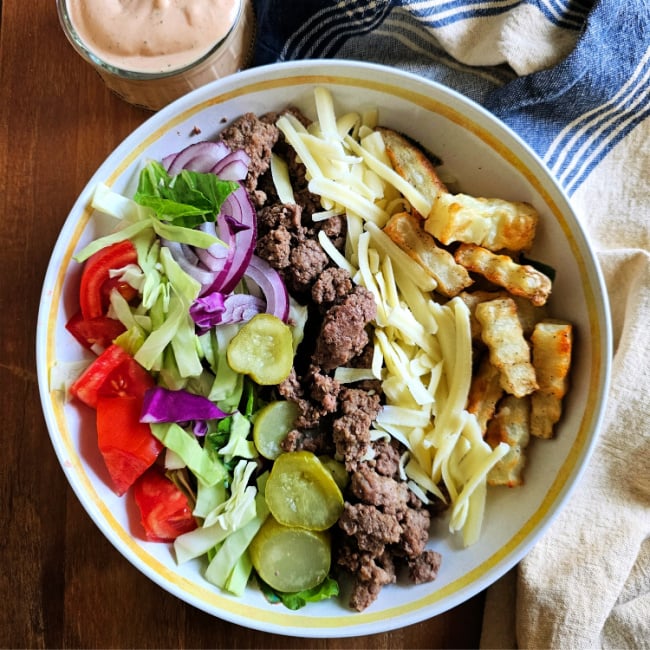 Let's talk about the ingredients for this Big Mac Salad with Thousand Island Dressing:
You can be as true to the original Big Mac as you like, or change up the toppings to make your own kind of Burger Salad! For me, I like to use grass-fed ground beef, homemade oven fries, and all of my favorite toppings. Here is what I used to make my salad for this recipe:
Ground Beef – I like to use grass-fed ground beef that's in the range of 80-85% lean for maximum juiciness. Of course, you can use leaner ground beef and it doesn't need to be grass-fed. You can also use another type of ground meat like ground turkey or bison. And for a vegetarian option, you can use your favorite burger substitute, like frozen veggie burger crumbles.
Oven Fries – I dice up a few large russet potatoes, toss them with avocado oil, and roast them in the oven. (In the photo above I used my favorite crinkle-cutter gadget to make the potatoes into crinkle-cut fries.) Sweet potatoes also make great oven fries. And if you prefer, you can bake up a batch of your favorite frozen fries.
Lettuce Mix – And like a mixture of crunchy lettuce like romaine or iceberg, along with some chopped cabbage. If you want to be authentic, however, use iceberg lettuce.
Tomato – This is where I part ways with the authentic Big Mac. I gotta have tomato with my burger. The riper and juicer the better. If it's wintertime when I'm making this salad, I use cherry tomatoes or Roma tomatoes because I feel like they are the tastier option for out-of-season tomatoes. Of course, you can leave the tomato out if you choose.
Pickles – Use any kind of pickle that you like on your burger. I love a good brine fermented dill pickle, like my homemade pickles, or a brand like Grillo's or Bubbies. You could also use bread and butter pickles or sweet pickles on your salad. Use whatever you like and have on hand.
Shredded Cheese – The real Big Mac has American cheese on it, but cheddar or Colby cheese are good, too. So go ahead and use whatever you like. If possible, I recommend you buy a block of cheese and shred it yourself. The taste is so much better than pre-shredded cheese and it's also generally cheaper to buy cheese by the block. I use a simple hand-cranked shredder to make it easy. Of course, if you prefer not to shred your own cheese, that's OK, too! Just go ahead and use a bag of shredded cheese.
Onions – Red onions or sweet onions like Vidalia are my preference. Use your favorite burger onions. The original Big Mac is topped with minced onions, but I like to thinly slice them because they are better on a salad that way. And if you aren't a fan of onions, feel free to skip it.
Thousand Island Dressing – No Big Mac Salad is complete without a special sauce. And while this homemade Thousand Island Dressing isn't identical to Big Mac sauce, it's delicious, and my family likes it even better.
Optional Toppings – You can get creative here and use your favorite burger toppings. My husband loves to put jalapenos or my homemade cowboy candy on his burger salad. Caramelized onions or onion straws are delicious, as are sauteed mushrooms. The sky is the limit for topping your Big Mac Burger Salad!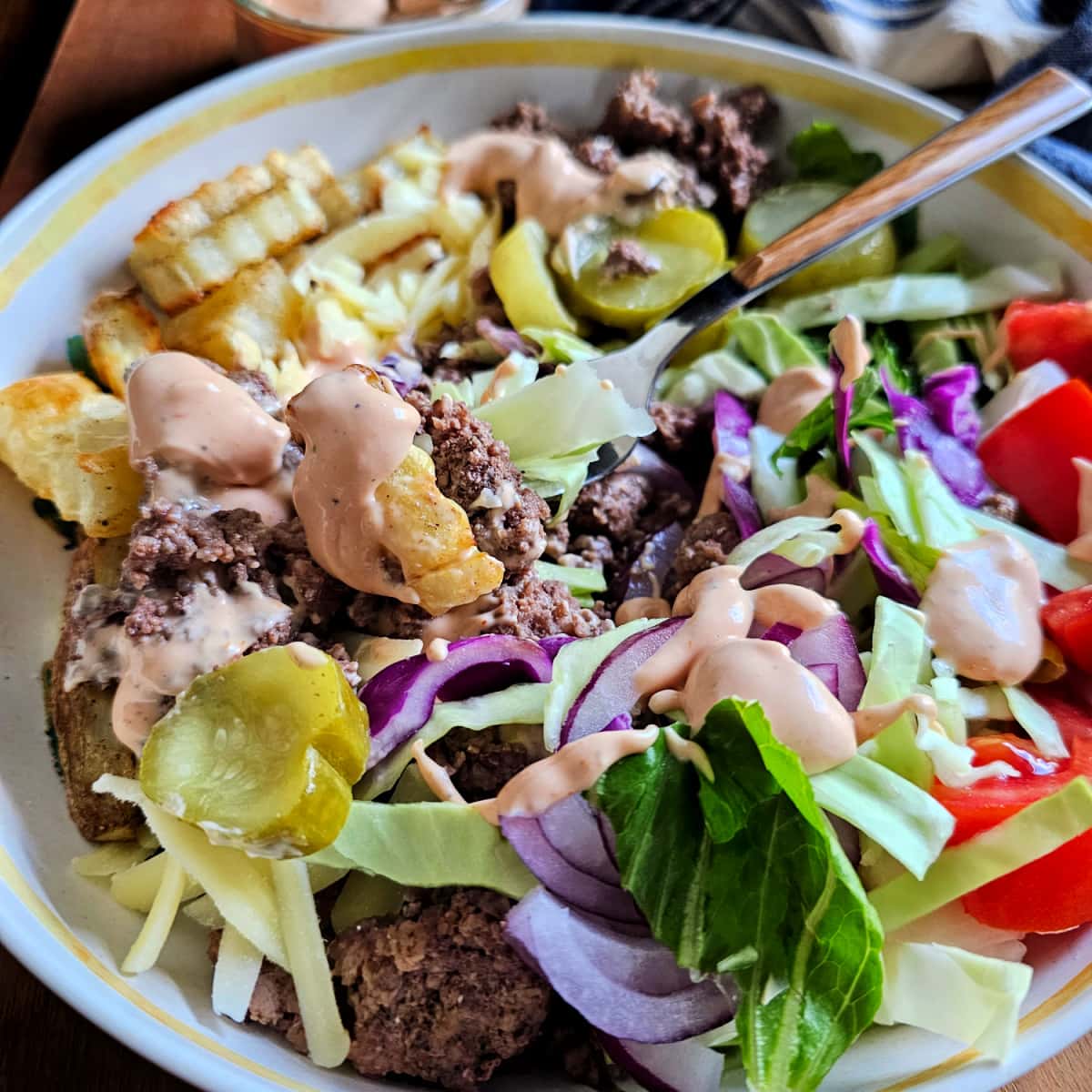 Here are a few tips for making the best Big Mac Salad:
Use good quality ingredients. Your salad will only be as tasty as your ingredients. Use good quality meat and fresh veggies and toppings. This doesn't mean you have to spend a lot of money on this meal, but you do want your ingredients to be fresh. Wilted lettuce makes for a sad salad.
Season the meat while you're browning it and not after it's cooked. This will infuse the meat with maximum flavor. I use salt, pepper, and garlic powder, but you can season the meat to suit your taste using whatever you normally use to season your burgers.
Serve and enjoy your Big Mac Salad right away. I really feel like this is one of those meals that tastes best when it's eaten right after it's prepared. But if you do happen to have leftovers, I recommend storing the cooked meat separately in the fridge separately from the vegetables and toppings so that it can be reheated separately.
---
If you try this recipe for Big Mac Salad with Thousand Island Dressing, I hope you love it. And follow me on Facebook, Pinterest, and Instagram so you don't miss a post.
*As an Amazon Associate I earn from qualifying purchases. This post may contain Amazon or other affiliate links, which means I will earn a commission at no additional cost to you if you click through and make a purchase.
Print
Big Mac Salad with Thousand Island Dressing
---
Author:

Total Time:

1 hour

Yield:

4

servings

1

x
Description
With this Big Mac Salad, you can have your favorite fast-food-style burger and a salad, too. This burger salad is piled high with sauteed crumbled ground beef and all your favorite burger toppings, minus the buns. Plus, they're customizable and easy to make low-carb meal or gluten-free.
---
2

–

3

large russet potatoes (use more potatoes if you're using smaller potatoes)

2 tablespoons

of avocado or olive oil, or cooking oil of your choice.

1

1/2 pounds 85/10 ground beef (or ground burger meat of your choice)

Salt, pepper, and garlic powder

8

cups

chopped lettuce, or a mixture of chopped lettuce and cabbage

1

onion, sliced or diced

1

cup

pickle slices

1

–

2

tomatoes, chopped

2

cups

shredded sharp cheddar cheese (or other cheese of your choice)
For the Burger Sauce:
2/3 cup

mayonnaise

2 teaspoons

Worcestershire sauce

2 teaspoons

prepared mustard (I like to use Dijon or spicy brown mustard)

3 tablespoons

ketchup

1/2

–

1

teaspoon all-purpose seasoning like Morton Nature Seasons or Lawry's
---
Instructions
Start by making the burger sauce. Whisk all of the ingredients together in a bowl. Adjust the seasonings to taste, then set aside in the refrigerator while you cook the burger meat and make the fries. 

Heat the oven to 400 degrees Fahrenheit. Dice the potatoes or cut them into french fry shapes. You can choose to peel or not peel the potatoes.
Toss the potatoes with the oil and spread them onto a large cookie sheet. Season with generous pinches of salt and pepper.
Bake the potatoes for 20-30 minutes, or until they are golden brown and soft in the center. I like to turn them over once while they are cooking to make sure they get browned on all sides. *See note below

Cook the burger while the potatoes are in the oven. In a large skillet, brown the ground meat over medium-high heat until it is cooked through. Season to taste with generous pinches of salt, pepper, and garlic powder as the meat cooks. Drain off any excess grease.  *See note below

Assemble your lettuce, meat, and toppings in large bowls. Arrange it any way you like. Then drizzle with the burger sauce, or serve the sauce on the side.
Notes
*If the potatoes don't look golden brown, turn up the heat on the oven to 425 degrees and cook them for another 5 or so minutes.
*Make sure to use a big enough skillet so that the meat doesn't crowd the pan. Using a roomy pan will allow the meat to get brown and crispy around the edges, which means better flavor. 
Prep Time:

40 minutes

Cook Time:

20 minutes