These Old-Fashioned Ginger Snap Cookies have crispy snap and a festive, ginger-spiced bite that I just love. And if you love the spicy flavor of ginger as I do, you'll love these cookies, too! They're perfect to serve as a Christmas cookie, but they're good any time of year – especially with a cup of tea or coffee for dipping. And because they freeze so well, I like to stash a few batches in the freezer and pull them out throughout the holiday season when I need them.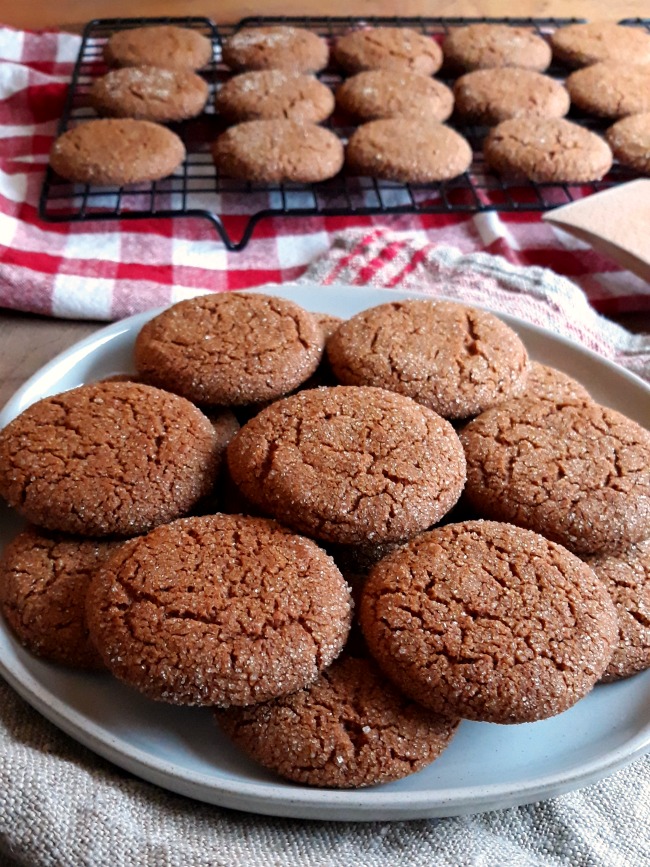 This recipe for Ginger Snap cookies is an authentically vintage recipe that I've been using for many years. It's a tried and true family favorite. And while it's true that these cookies are not showy, the flavor is amazing, and truth be told, I am rather fond of their simplicity. They are just the kind of cookie that you can imagine putting out on a plate for Sants (along with a cold glass of milk, of course!)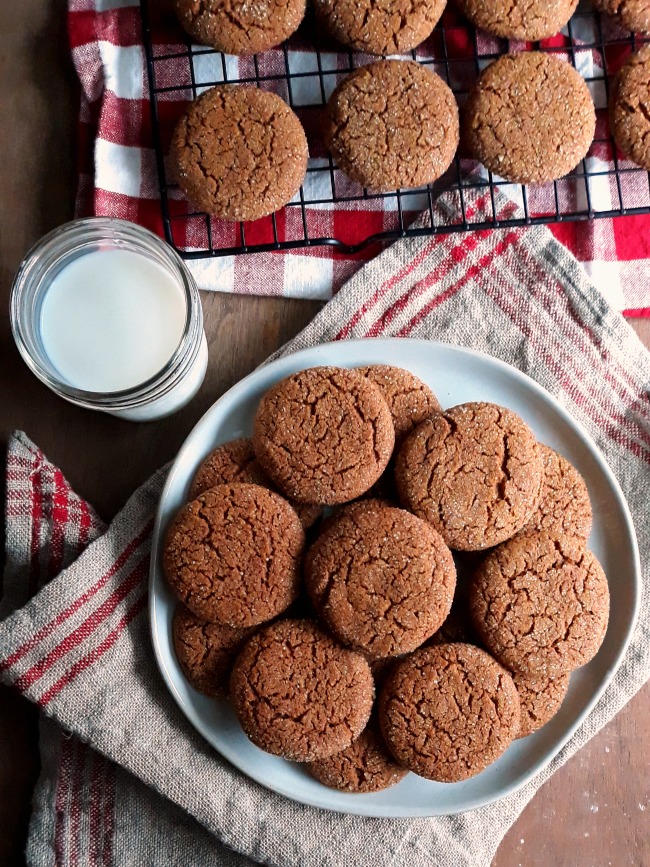 Cook's Tips:
When it comes to brown sugar, you can use either dark or light brown sugar. The dark brown sugar will give it extra molasses flavor and a darker color.
Use all-purpose cooking molasses for this recipe. Don't use blackstrap molasses because your cookies will turn out very bitter.
Don't use the old bottles of spices that have been lingering in your pantry for years. For maximum spicy flavor, make sure your ground cloves and ground ginger are very fresh.
Be sure to chill the dough in the refrigerator for at least two hours. Chilling the dough ensures that the cookies don't spread and become flat during baking, and also helps to create the desired texture. Pop the remaining dough into the freezer between batches to keep it cold.
To keep the cookies from getting too dark during baking, line your baking sheet with a silicone baking mat or parchment paper.
Store these Ginger Snap Cookies at room temperature in a container for a week or so. To keep your cookies crispy, keep them away from moisture and humidity. For longer storage, pop them in the freezer and pull them out as needed.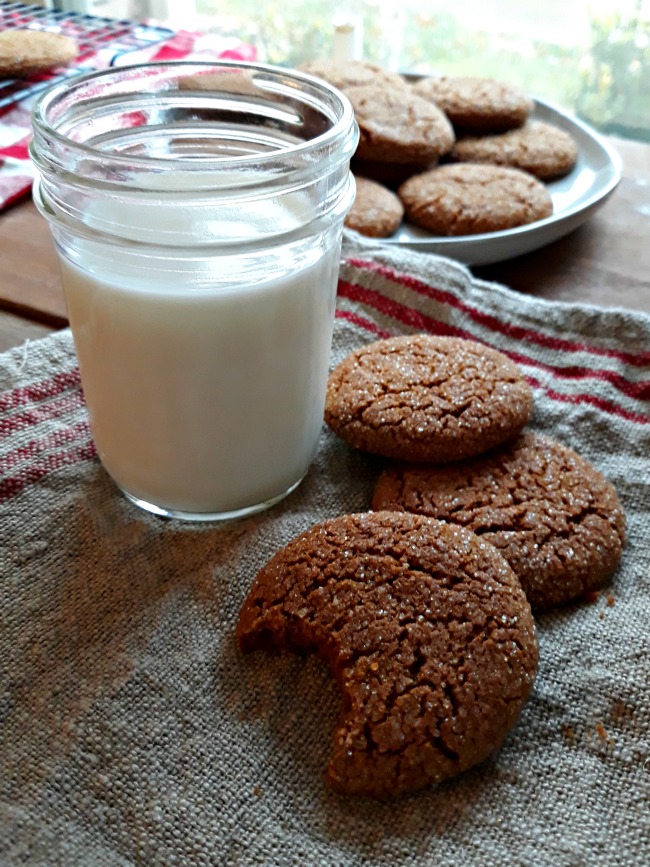 ---
I hope you try this recipe, and if you do, I hope you love it. Please let me know in the comments below.
I hope you enjoy!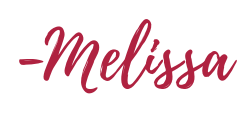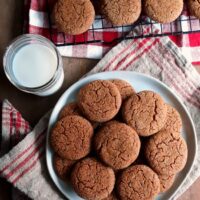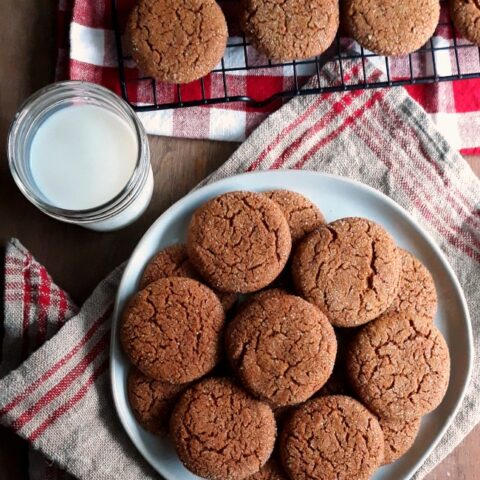 Old-Fashioned Ginger Snaps
Yield:
about 3 dozen cookies
Ingredients
½ cup butter, softened
½ cup brown sugar
1 large egg
½ cup molasses
2 cups flour
½ teaspoon salt
1 ½ teaspoon baking soda
1 ½ teaspoons ground ginger
½ teaspoon ground cloves
⅓ cup granulated sugar, for rolling
Instructions
Preheat the oven to 350°F and line a cookie sheet with parchment or a silicone baking mat.
In a large mixing bowl, cream butter and brown sugar together. Mix in beaten egg and molasses.
In a separate bowl, sift dry ingredients together.
Gradually mix dry ingredients into the butter mixture until well-blended.
Chill dough in the refrigerator for 2-3 hours.
Use a teaspoon or small cookie scoop to scoop small pieces of dough and roll into 1 ½-inch balls. Roll balls in sugar and place 2 inches apart on cookie sheet, flattening each ball slightly.
Bake for 12-14 minutes. The cookies should be cooked through without getting browned. Allow to cool on the pan for 5 minutes, then transfer to a cooling rack to finish cooling.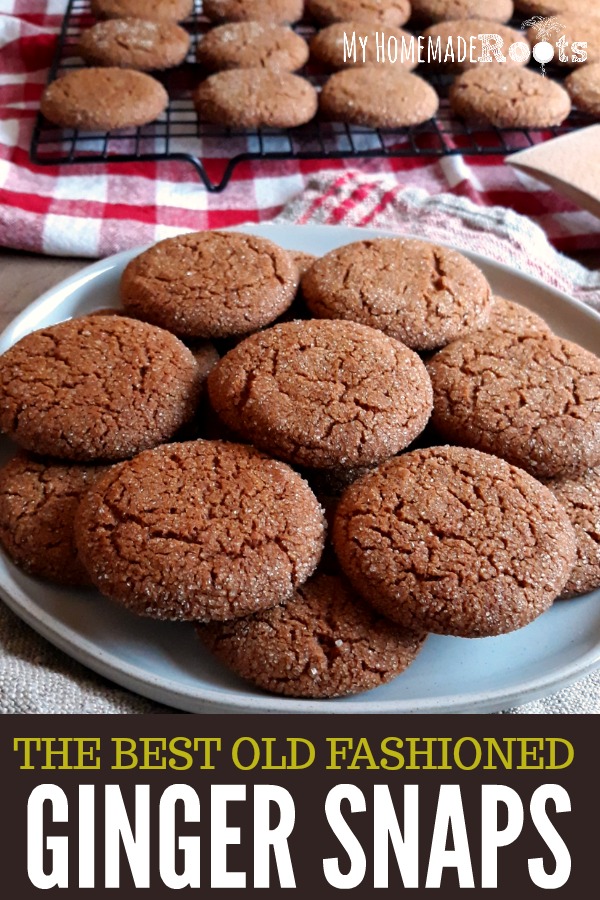 For more great recipes, visit my friends at:
Meal Plan Monday at Julia's Simply Southern
Full Plate Thursday at Miz Helen's Country Cottage
Weekend Potluck at The Country Cook