I confess I love potatoes. Boiled, mashed, baked, stuffed, stewed, or fried – I could eat 'em any night of the week (and often do).  They are just perfectly versatile. I mean, the humble spud is a frugal ingredient, to be sure – perfect for a simple supper of potato soup and a loaf of homemade bread. But if I'm feelin' a little fancy, well, potatoes can do that, too (Potatoes Dauphinoise anyone?) In this all-in-one skillet recipe, I took the middle route: fried potatoes with a little sausage, and a handful of fresh zucchini, corn, and basil from my garden. Simple and rustic made just a tiny bit more elegant with the addition of veggies and fresh herbs.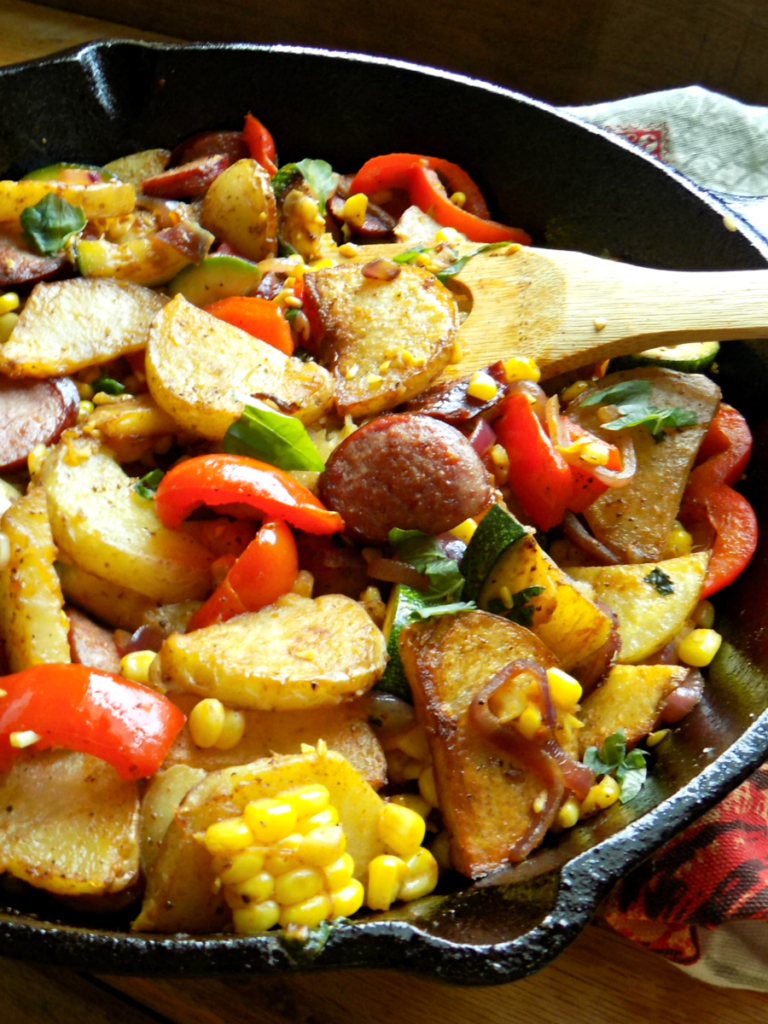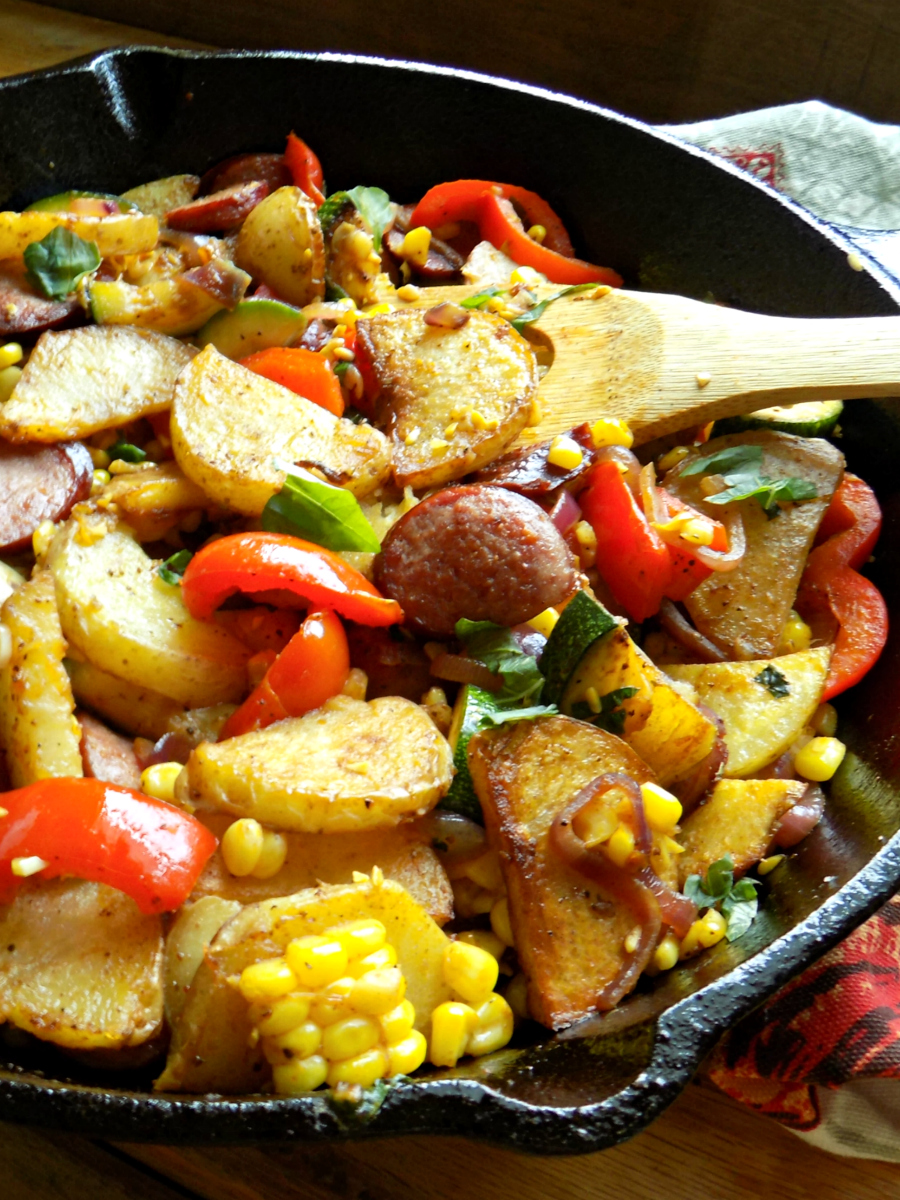 Now even though this recipe is simple and rustic, there is one step I like to take that some may consider a little fussy. Because I like my potatoes to be crispy and golden-brown on the outside, while staying soft and fluffy on the inside, I like to spend a few extra minutes and par-cook the potatoes. Just boil the sliced potatoes in a pot of salted, boiling water for about 5 minutes, or until they are just shy of being tender. Then you drain them and give a good toss in the colander to get the potato slices a little roughed-up. Definitely don't skip the tossing part – this not only gets the water off, but it also creates a surface that's perfect for forming that golden crust when you fry them.
Everything after this is just a matter of tossing in the pan, and frying in a little oil and butter. I don't even bother cooking the ears of corn first before removing the kernels because the slight crunchiness of the corn goes well in this dish. If you want to serve this as an easy weeknight meal, I would simply par-cook the potatoes the evening before, and store them in the fridge. Make it extra easy by chopping the vegetables and sausage the night before, too.
I hope you enjoy!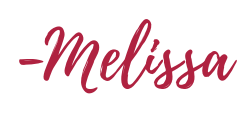 This post may contain affiliate links, which means I will earn a commission at no additional cost to you if you click through and make a purchase.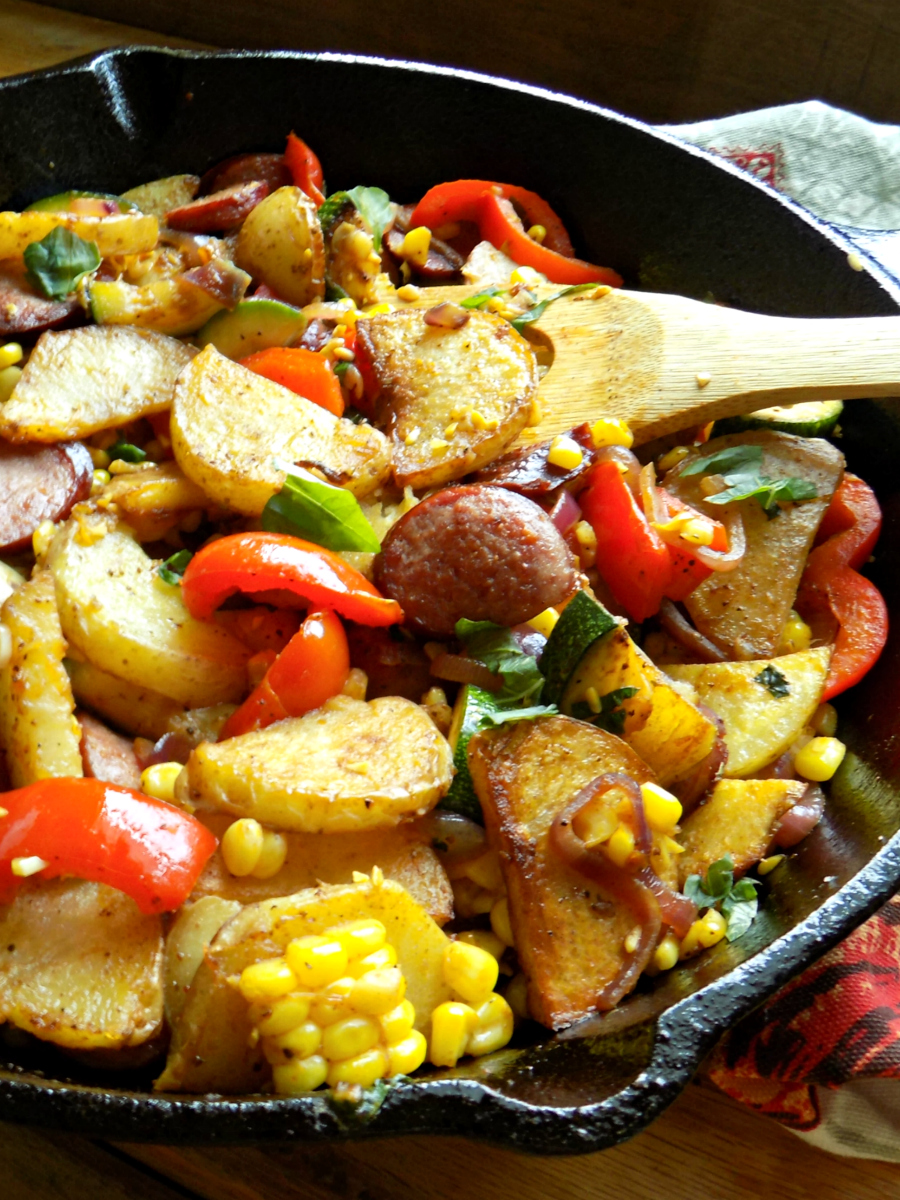 Sausage Potato Skillet with Zucchini, Corn & Basil
Ingredients
2 tablespoons avocado oil (or vegetable oil)
12 ounces of fully-cooked smoked sausage, sliced
2 tablespoons butter, divided
2 medium yellow potatoes, sliced 1/4-inch thick and par-cooked (about 2 cups sliced potatoes)
1/2 teaspoon seasoned salt
1/4 teaspoon smoked paprika
1 medium red onion, sliced
1 red bell pepper, sliced
Kernels cut from 2 ears of corn (about 1 cup corn kernels)
2 medium zucchini, sliced 1/4-inch thick
1 teaspoon apple cider vinegar
Handful of chopped fresh basil (or 1 teaspoon dried basil)
Salt and Pepper
Instructions
Heat 2 tablespoons oil in a large skillet over medium heat. When oil is hot, brown the sausage slices on each side, then remove to a plate. Set aside.
Add 1 tablespoon of butter to the leftover oil in the same skillet. Add the potato slices, seasoned salt, and smoked paprika, and pan-fry until the potatoes are golden brown. Remove to the plate with the sausages, and set aside,
Add remaining 1 tablespoon of butter to the skillet, along with the onion, bell pepper, corn kernels, and zucchini. Season with a big pinch of salt and pepper. Cook vegetables until tender, using a spatula or tongs to toss the vegetables while cooking (about 8-10 minutes.)
Add sausage and potatoes back to skillet, combining with the cooked vegetables. Stir in 1 teaspoon apple cider vinegar, and the chopped fresh basil.
Season to taste with salt and pepper.
Visit my friends for more great recipes:
Full Plate Thursday at Miz Helen's Country Cottage
Meal Plan Monday at Christy Jordan's Southern Plate