This Nectarine Crisp is summertime in a bowl. Packed with sweet and juicy nectarines and complemented by a buttery, crumbly oat streusel topping, this dish is the perfect summer indulgence. I love to eat it warm and topped with a scoop of cool, creamy vanilla ice cream. And if you love fruity summer desserts, check out my recipe for Old-Fashioned Strawberry Pie.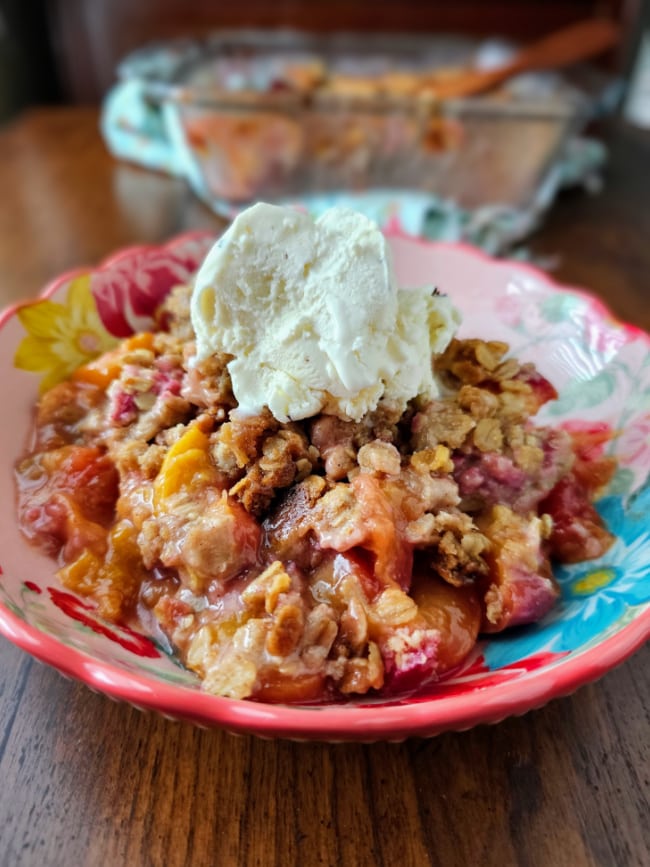 For this crisp recipe, I used nectarines instead of the more common choice of peaches. I find that nectarines have a delightfully sweet and tangy flavor that I love in this dish. And while some may argue that peaches and nectarines taste identical, I disagree. To my tastebuds, the flavor of a nectarine is slightly more floral and tangy. Also, nectarines have a delicate skin that almost dissolves when baked, making peeling unnecessary. That being said, peaches can also be used in this recipe to make a peach crisp. But it's important to peel the peaches first since they have thick, fuzzy skin.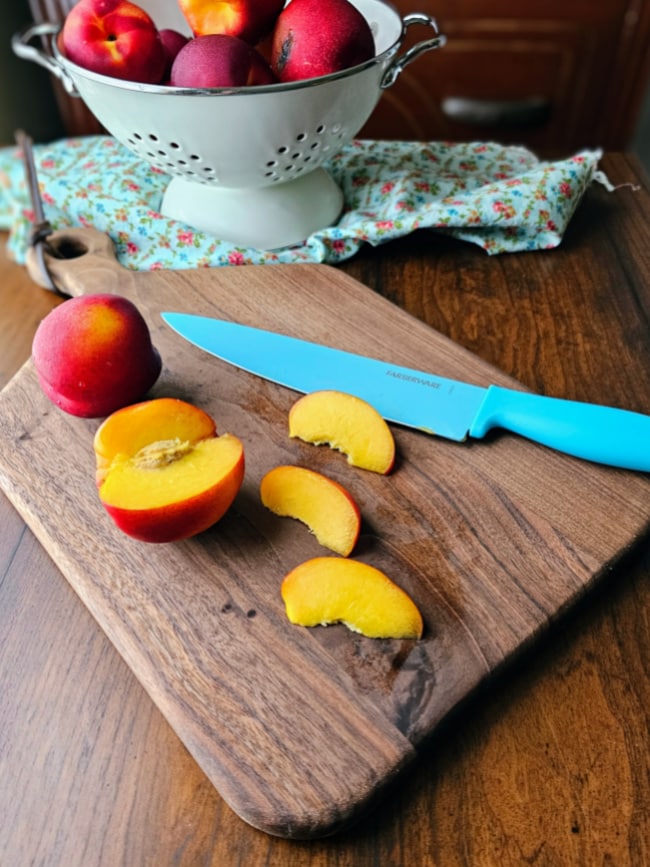 A bit about the history of fruit crisps…
Fruit crisps have roots in both traditional American and British cuisine. They fall into the same category of rustic fruit desserts as crumbles, cobblers, betties, slumps, grunts, pandowdy, and sonkers (what names!) These desserts are basically a simple way to showcase seasonal fruit and turn it into a comforting sweet treat. These types of fruit dishes go back hundreds of years, but crisp recipes didn't start appearing in cookbooks until sometime in the early 20th century. And these early recipes would have been apple crisp recipes since that was the most common type of crisp at the time.
And if you're curious about the difference between a crisp and a crumble, it's simply that a crisp recipe incorporates oats into the streusel topping, whereas a crumble recipe does not. Additionally, crisps are said to have originated in America, while crumbles are more commonly associated with British cookery. However today you'll often see the terms crisp and crumble used interchangeably.
Let's talk about a few of the ingredients for this homemade Nectarine Crisp
Nectarines – Ripe and juicy stone fruits with a sweet-tart flavor, nectarines serve as the star ingredient, providing the luscious fruit filling for the crisp.
All-Purpose Flour – Using flour in the fruit filling helps to thicken it and prevent it from being too runny. If you prefer a gluten-free option, you can use cornstarch instead. However, keep in mind that you will only need half the amount of cornstarch compared to flour, which means using only 1 tablespoon for this recipe.
Honey – Honey adds a subtle natural sweetness that complements the fruity flavors. Its sticky texture also helps bind the fruit together into a luscious filling. If you prefer not to use honey, you can substitute brown or granulated sugar, or maple syrup.
Rolled Oats – For the topping, I recommend using rolled oats (also called old-fashioned oats). These oats provide a satisfying crunch and texture to the streusel topping, which contrasts perfectly with the softness of the nectarines.
Brown Sugar – With its rich caramel notes, brown sugar enhances the sweetness of the crisp topping and contributes to the golden color when baked.
Cinnamon – A warm and aromatic spice, cinnamon infuses the crisp topping with a cozy and comforting flavor that complements the nectarines beautifully.
Butter – Cold unsalted butter is incorporated into the crisp topping, lending a rich and buttery taste while ensuring a crisp and crumbly texture when baked.
Salt – Don't worry, the salt in this recipe won't make your dessert taste salty. Salt actually enhances the flavor of the dish, and helps to balance the sweetness.
Vanilla Extract – A hint of vanilla extract adds a fragrant and subtle sweetness, enhancing the overall taste and aroma of the nectarine filling.
Tips for making the best fruit crisp:
Choose ripe nectarines: Opt for ripe nectarines that are fragrant, juicy, and slightly soft to the touch. They will have the best flavor and texture for the crisp.
Substitute the sweetener. I like the flavor of honey in the filling, but you could use granulated sugar, brown sugar, or even maple syrup if you prefer.
Incorporate different spices. Experiment with spices like nutmeg or cardamom, in addition to, or instead of, cinnamon for a unique flavor profile.
Change up the fruit. Make it a blueberry nectarine crisp by swapping out some of the nectarines with blueberries. Or try a blackberry nectarine crisp. There are so many delicious possibilities.
Keep the butter cold. When preparing the crisp topping, ensure the butter is cold. This will help create a crumbly texture as the butter melts during baking.
Use old-fashioned rolled oats. Rolled oats provide the best texture for the crisp topping. Avoid using instant oats, as they can become mushy.
Mix the topping until crumbly. Rub the cold butter into the dry ingredients for the crisp topping until the mixture resembles coarse crumbs. This will result in a crispier texture.
Watch for bubbling and browning. Keep an eye on the crisp while it bakes. Once the topping turns golden brown and the nectarine filling is bubbling, it's a good indication that it's done. Also, I like to place the baking dish on a sheet pan in the oven. This will prevent a mess in the oven in case the filling bubbles over.
Allow it to cool slightly. Let the nectarine crisp to cool for a few minutes before serving to allow the filling to set and make it easier to serve.
Serve with ice cream or whipped cream. Top your nectarine crisp with a scoop of vanilla ice cream or a dollop of whipped cream for a delicious touch.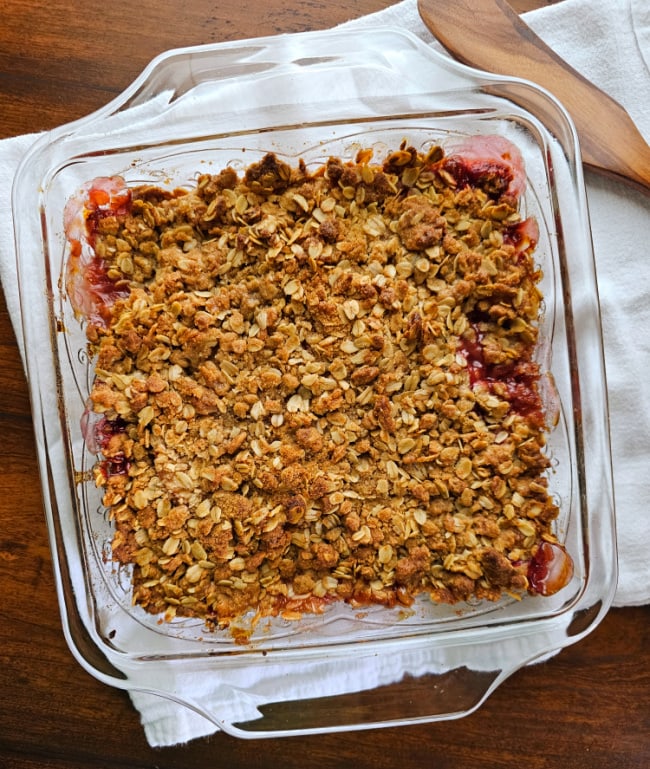 So if you're looking for a summery new dessert, I hope you'll give this recipe a try. Enjoy your Nectarine Crisp!
---
If you try this recipe, I hope you love it. And follow me on Facebook, Pinterest, and Instagram so you don't miss a post.
*As an Amazon Associate I earn from qualifying purchases. This post may contain Amazon or other affiliate links, which means I will earn a commission at no additional cost to you if you click through and make a purchase.*
Print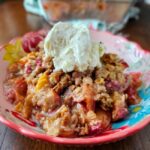 Nectarine Crisp
---
Description
This luscious Peach Crisp is summertime in a bowl. It's sweet and just a little tart, with a crumbly, buttery oat topping.
---
For the Filling
6

large nectarines (or

8

small nectarines)

1/3

cup

honey

1 teaspoon

vanilla extract

2 tablespoons

all-purpose flour (or

1 tablespoon

cornstarch for gluten-free)

1/4 teaspoon

ground cinnamon
Pinch of salt
For the Topping
1

cup

old-fashioned rolled oats

1/2

cup

all-purpose flour

1/2

cup

packed brown sugar

1/2 teaspoon

ground cinnamon

1/4 teaspoon

salt

1/2

cup

cold butter, cut into small pieces
Optional
Vanilla ice cream or whipped cream for serving
---
Instructions
Preheat your oven to 375°F (190°C). Butter a 9-inch square baking dish or a similar-sized ovenproof dish.
In a large bowl, combine the filling ingredients. Toss gently until the nectarines are well coated. Let the mixture sit for about 10 minutes to allow the flavors to meld together.
In a separate bowl, prepare the crisp topping. Whisk together the rolled oats, all-purpose flour, brown sugar, ground cinnamon, and salt. Add the cold butter pieces to the mixture and use your fingers or a pastry cutter to blend everything together. Continue mixing until the mixture resembles coarse crumbs.
Transfer the nectarine filling to the greased baking dish, spreading it out evenly. Sprinkle the crisp topping evenly over the nectarines.
Place the dish in the preheated oven and bake for about 50-60 minutes, or until the topping is golden brown and the nectarines are tender and bubbling. (To keep your oven clean, place the baking dish on a baking sheet, just in case the filling bubbles over.).
Once done, remove the crisp from the oven and let it cool for a few minutes before serving. You can serve it warm or at room temperature.
For serving, top the nectarine crisp with a scoop of vanilla ice cream or whipped cream, if desired.