This recipe for Old-Fashioned Chicken and Dumplings is a family favorite. Tender chunks of chicken and light and fluffy dumplings float in a rich, homemade chicken broth. And while this recipe takes a little bit more time, the resulting dish of made-from-scratch Chicken and Dumplings is worth the extra effort. This is a comfort-food classic and is guaranteed to impress. And if you like hearty, old-fashioned chicken recipes, check out my recipe for Pennsylvania Dutch Chicken Corn Soup with Rivels.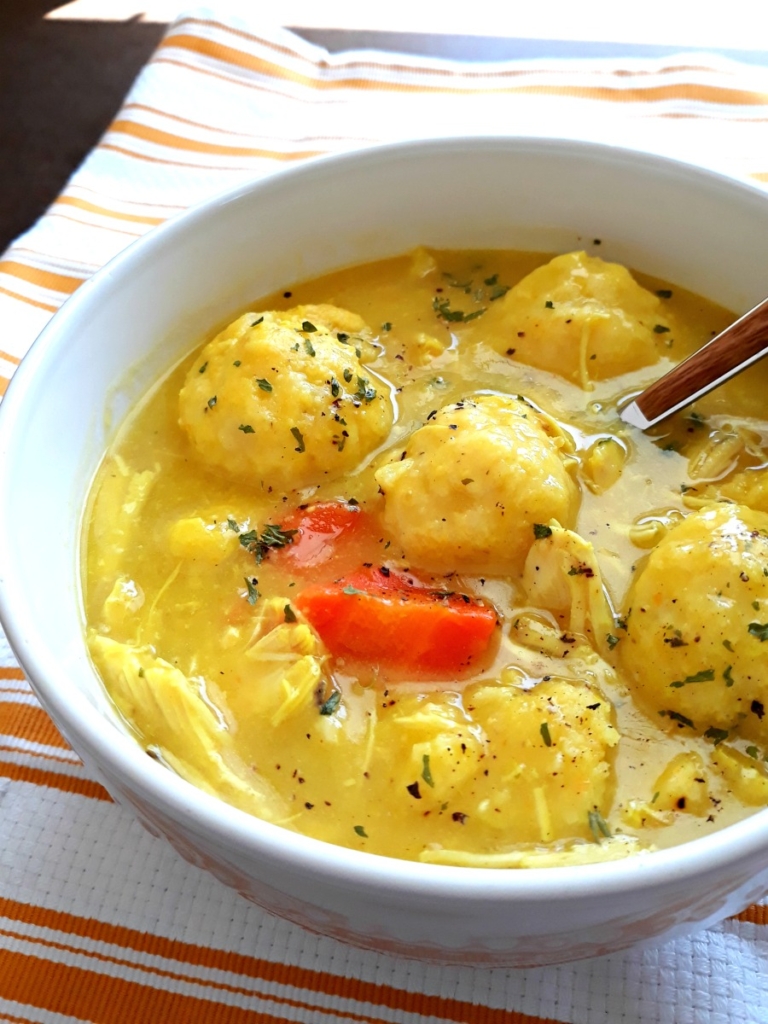 About once a week or so, usually on a Saturday or Sunday, I like to take the time to put some extra effort into a meal. I'm talking real from-scratch home cooking. This past Sunday it was a batch of these Old-Fashioned Chicken and Dumplings.
And sure, I sometimes make a quicker version for a weeknight meal. But, here I'm giving you the real-deal method I use to make what my family thinks is the best chicken and dumplings. I start with a whole chicken, some vegetables, and flour and end up with a pot of chicken stew and fluffy dumplings. And for this recipe, we're making the fluffy biscuit-like kind of dumplings, not the noodle-like type (although you can look for that recipe sometime in a future post). The dumplings also have a little bit of cornmeal added in so that they puff up in the broth but still retain a bit of substance and texture.
What are the ingredients for homemade Chicken and Dumplings:
Don't be intimidated by the long ingredient list. The ingredients are very basic and most items you will already have on hand. A few ingredients, though, are worth mentioning:
Chicken – This is the star of the show. Of course, you can make chicken and dumplings with boneless, skinless chicken breasts, but I don't recommend it. What you need for delicious chicken and dumplings is a whole chicken. Buy the best quality chicken that fits your budget. A 4-5 pound whole chicken will work best.
Poultry Seasoning – I always keep poultry seasoning on hand because it's a great all-purpose seasoning. I also like it because it contains sage which has a distinct flavor that pairs well with poultry. But if you don't have poultry seasoning, just substitute a mixture of dried herbs like thyme, rosemary, oregano, thyme, basil, marjoram, and/or sage (if you have it). Just use what you have and it will still be delicious.
Turmeric – You may be tempted to skip the turmeric in the recipe, but if you have it in your spice cabinet, I encourage you to use it in this recipe. It adds a small amount of flavor, but it gives a rich yellow color to the broth.
Chicken Base – I like to use chicken base because it adds extra seasoning to the broth and gives it a more pronounced chicken flavor. This is an optional ingredient but I think it really makes the dish more flavorful. I use this one by Better than Bouillon.
All-Purpose Flour – I use regular unbleached all-purpose flour (but bleached flour is OK, too). If you would like to make gluten-free chicken and dumplings, be sure to use a gluten-free all-purpose flour blend like this one by King Arthur Flour, or this one by Bob's Red Mill. Also, be sure that the cornmeal you are using is certified gluten-free. Because while cornmeal is naturally gluten-free, there can be traces of gluten acquired during the manufacturing process.
Tips for making Old-Fashioned Chicken and Dumplings from Scratch:
The trick to making a pot of old-fashioned chicken and dumplings as delicious as grandma used to make is TIME. Be patient. Skip the boneless, skinless chicken, and instead, start with a whole chicken. And simmer it slowly until it is fall-apart tender. In this process, you'll also end up with the rich broth that will be the base for your soup (or is it a stew?).
You'll want to simmer the chicken in a big, heavy pot on the stovetop. Or, if you aren't pressed for time, use your slow cooker. And if you want to make things a little easier, go ahead and cook the chicken a day or two ahead, then remove the meat and refrigerate both the meat and the broth until the day of your meal.
Store leftover chicken and dumplings in an airtight container in the refrigerator for 2-3 days, or in the freezer for up to 3 months.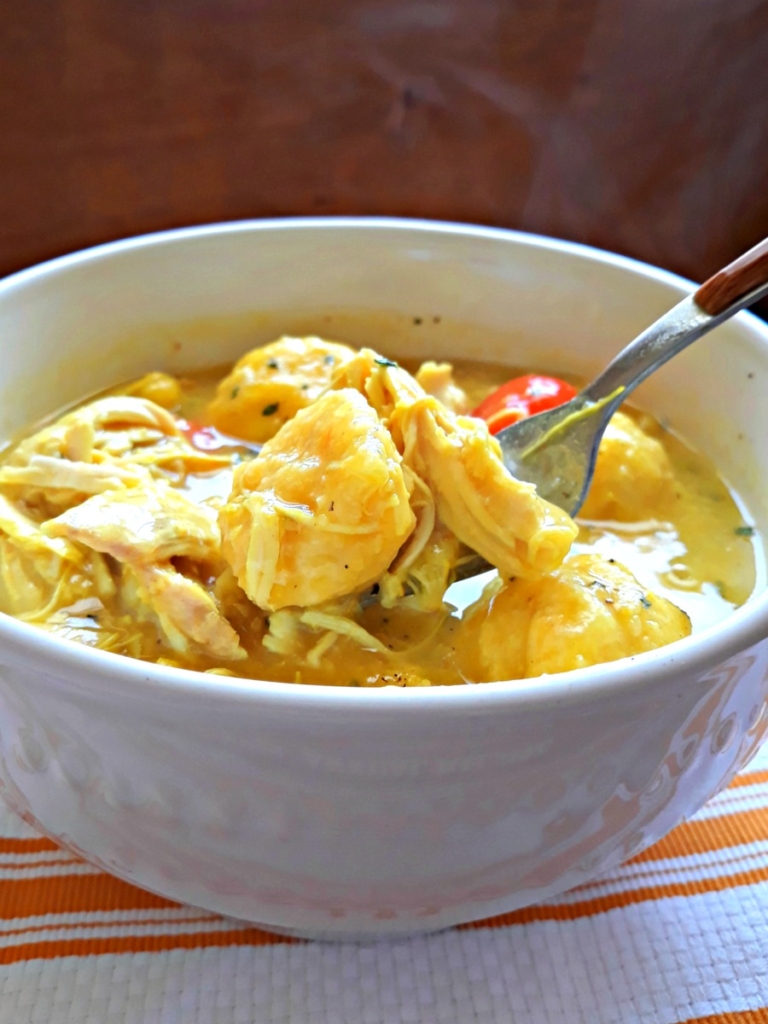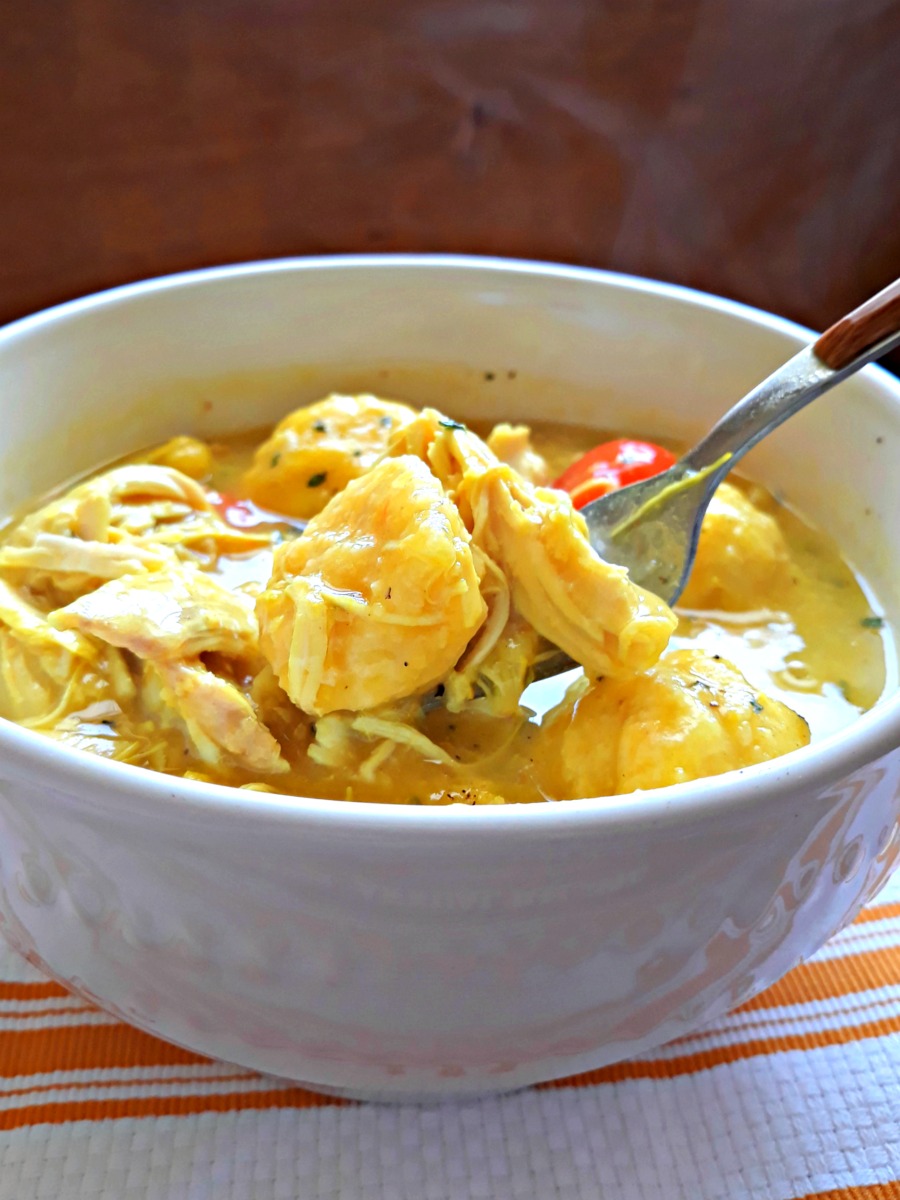 ---
If you try this recipe, I hope you love it. And follow me on Facebook, Pinterest, and Instagram so you don't miss a post.
*As an Amazon Associate I earn from qualifying purchases. This post may contain Amazon or other affiliate links, which means I will earn a commission at no additional cost to you if you click through and make a purchase.*
Print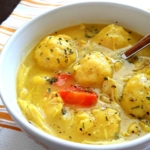 Old-Fashioned Chicken and Dumplings
---
Author:

Total Time:

0 hours

Yield:

8

Servings

1

x
Description
Tender chunks of chicken and light and fluffy dumplings float in a rich, homemade chicken broth
---
For the Chicken and Broth
1

whole chicken (about

4

pounds), giblets removed

12

cups

cold water (or enough cold water to cover the chicken; you'll need at least 8 cups)

1

carrot, unpeeled, coarsely chopped

1

yellow onion, quartered (leave the skin on)

3

cloves garlic, unpeeled

2

bay leaves

1 teaspoon

poultry seasoning

1 teaspoon

ground turmeric

3

medium carrots, sliced

2

stalks celery, sliced

2 tablespoons

chicken base (optional)

1/3

cup

all purpose flour
Salt and pepper
For the Dumplings
1 1/2

cups

all-purpose flour

1/2

cup

cornmeal

1 tablespoon

baking powder

1 teaspoon

salt

2

eggs

1/2

cup

milk

1/4

cup

melted butter
For the Assembled Chicken and Dumplings
8

cups

reserved chicken broth, divided

1

batch of prepared dumpling batter (see above)
Meat reserved from poached chicken, shredded
Salt and pepper
Fresh or dried parsley for garnish
---
Instructions
Cook the chicken: Place the chicken in a large pot, and cover with cold water. Add coarsely chopped carrots, onion quarters, garlic cloves, and bay leaves. Season with a big pinch of salt. Bring to a boil, then reduce to a simmer, and cover with a lid. Allow the chicken to simmer for 1 ¼ to 1 ½ hours, skimming off the foam occasionally. When the chicken is done, it should be tender and easily pulled from the bone, with an internal temperature of at least 170 degrees Fahrenheit. Carefully remove the chicken from the pot, pull off and shred the meat, and set aside.
Add vegetables to broth: Strain the broth made from cooking the chicken through a fine-mesh sieve. Return 7 cups to the pot, then reserve and set aside 1 additional cup to cool and use later in the recipe (you will most likely have more than the 8 cups of broth needed for this recipe – freeze the extra to use later). Add poultry seasoning, ground turmeric, sliced carrots, and sliced celery. Simmer for 5-7 minutes, or until carrots and celery are not quite tender.
Season and thicken broth: Taste the broth for seasoning. Add chicken base (this is optional, but I like to add a little chicken base to boost the flavor) and season generously with salt and pepper to taste. In a small bowl, whisk the reserved 1 cup of cooking liquid with the flour until smooth. Stir mixture into the gently bubbling broth (the broth will become slightly thickened, but not as thick as gravy.)
Make the dumplings: In a mixing bowl, whisk together the flour, cornmeal, baking powder, and salt. Make a well in the center of the dry ingredients; add eggs milk and melted butter to the well. Use a fork to whisk the wet ingredients together, then stir in the dry ingredients until everything is combined.
Assemble the chicken and dumplings: Add reserved chicken meat to the pot and stir. Drop tablespoon-size dollops of the dumpling mixture to the bubbling soup (It's fine if they sink a bit – they will pop up as they cook.) Place the lid on the pot and simmer for 20 minutes until the dumplings have puffed up and are cooked through.
Final seasoning, garnish and serve: Taste and adjust seasonings and garnish with freshly-chopped or dried parsley before serving.
Prep Time:

0 hours

Inactive Time:

0 hours

Cook Time:

0 hours