About once a week or so, usually on a Saturday or Sunday, I like to take the time to put some extra effort into a meal. I'm talking real from-scratch home cooking. This past Sunday it was a batch of these Old-Fashioned Chicken and Dumplings.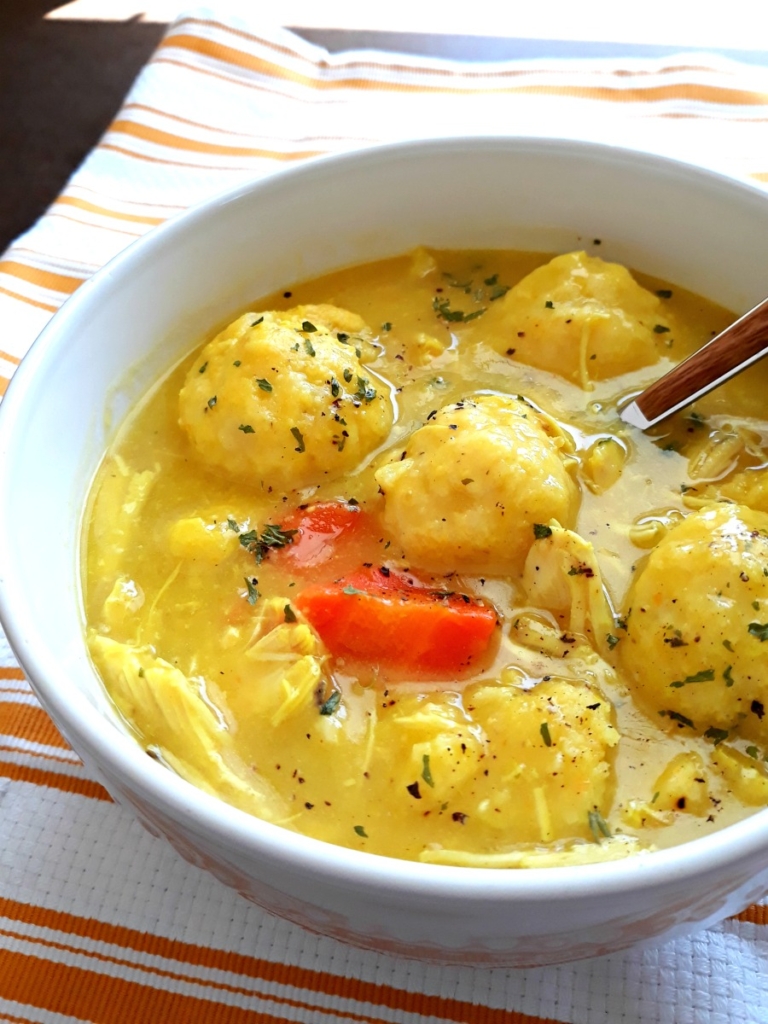 And sure, I sometimes make a quicker version for a weeknight meal, but here I'm giving you the real deal method I use to make what my family thinks is the best chicken and dumplings – starting with a whole chicken, some vegetables, and flour and ending up with a pot of chicken stew and fluffy dumplings. And for this recipe, we're making the fluffy biscuit-like kind of dumplings, not the noodle-like type (although you can look for that recipe sometime in a future post). The dumplings also have a little bit of cornmeal added in so that they puff up in the broth but still retain a bit of substance and texture.
The trick to making a pot of old-fashioned chicken and dumplings as delicious as grandma used to make is to start with a whole chicken and simmer it slowly until it is fall-apart tender. And in this process, you'll also end up with the rich broth that will be the base for your soup (or is it a stew?). Simmer the chicken in a big, heavy pot on the stovetop, or, if you aren't pressed for time, use your slow cooker. And if you want to make things a little easier, go ahead and cook the chicken a day or two ahead, then remove the meat and refrigerate both the meat and the broth until the day of your meal.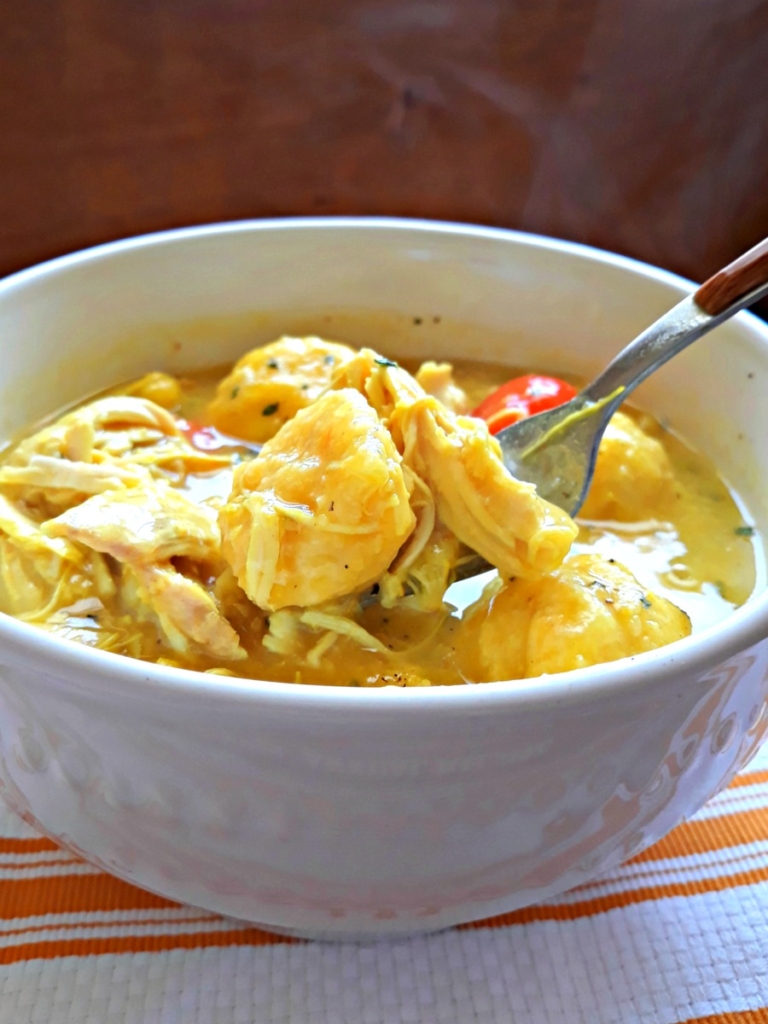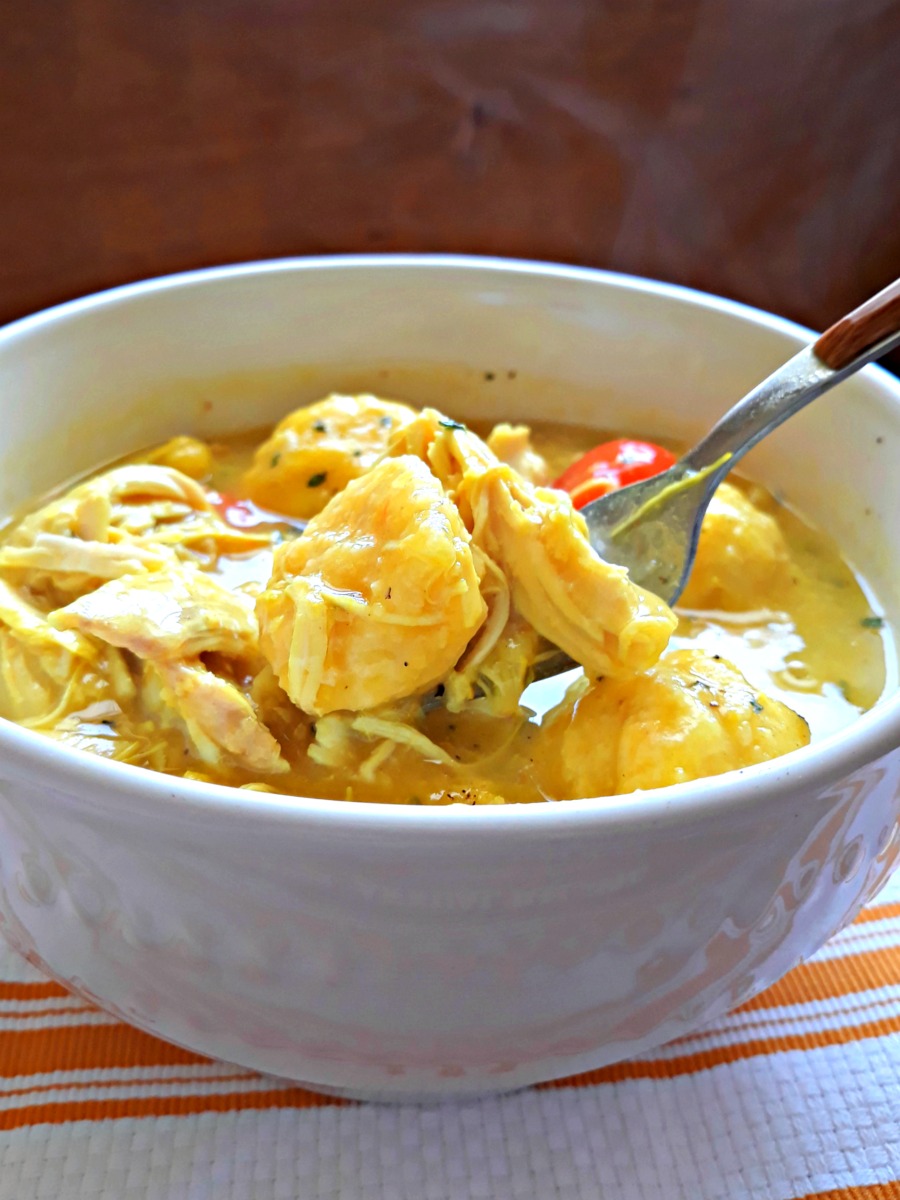 ---
If you try this recipe, I hope you love it! Leave a review for this recipe or give it a rating in the comments below.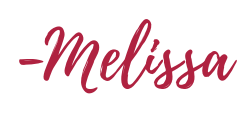 *This post contains affiliate links, which means I will earn a commission at no additional cost to you if you click through and make a purchase.*
Print
Old-Fashioned Chicken and Dumplings
Author:
Prep Time:

0 hours

Inactive Time:

0 hours

Cook Time:

0 hours

Total Time:

0 hours

Yield:

8

Servings

1

x
For the Chicken and Broth

1

whole chicken (about

4

pounds), giblets removed

12 cups

cold water

1

carrot, unpeeled, coarsely chopped

1

yellow onion, quartered (leave skin on)

3

cloves garlic, unpeeled

2

bay leaves

1 teaspoon

poultry seasoning

1 teaspoon

ground turmeric

3

medium carrots, sliced

2

stalks celery, sliced

2 tablespoons

chicken base (optional)

⅓ cup

all purpose flour
Salt and pepper
For the Dumplings

1 ½ cups

all purpose flour

½ cup

cornmeal

1 tablespoon

baking powder

1 teaspoon

salt

2

eggs

½ cup

milk

¼ cup

melted butter
For the Chicken and Dumplings

8 cups

reserved chicken broth, divided
Meat reserved from poached chicken, shredded
Salt and pepper
Fresh or dried parsley for garnish
Instructions
Cook the chicken: Place the chicken in a large pot, and cover with cold water. Add coarsely chopped carrot, onion quarters, garlic cloves, and bay leaves. Season with a big pinch of salt. Bring to a boil, then reduce to a simmer, and cover with a lid. Allow the chicken to simmer for 1 ¼ to 1 ½ hours, skimming off the foam occasionally. When the chicken is done, it should be tender and easily pulled from the bone, with an internal temperature of at least 170 degrees Fahrenheit. Carefully remove chicken from the pot, pull off and shred meat, and set aside.
Add vegetables to broth: Strain the broth made from cooking the chicken through a fine-mesh sieve. Return 7 cups to the pot, then reserve and set aside 1 additional cup to cool and use later in the recipe (you should have more than the 8 cups of broth needed for this recipe – freeze the extra to use later). Add poultry seasoning, ground turmeric, sliced carrots, and sliced celery. Simmer for 5-7 minutes, or until carrots and celery are not quite tender.
Season and thicken broth: Taste the broth for seasoning. Add chicken base (this is optional, but I like to add a little chicken base to boost the flavor) and season generously with salt and pepper to taste. In a small bowl, whisk together the reserved 1 cup of cooking liquid with the flour until smooth. Stir mixture into the gently bubbling broth (should become slightly thickened, but not as thick as a gravy.)
Make the dumplings: In a mixing bowl, whisk together the flour, cornmeal, baking powder, and salt. Make a well in the center of the dry ingredients; add eggs milk and melted butter to the well. Use a fork to whisk the wet ingredients together, then stir in the dry ingredients until everything is combined.
Assemble the chicken and dumplings: Add reserved chicken meat to the pot and stir. Drop tablespoon-size dollops of the dumpling mixture to the bubbling soup (It's fine if they sink a bit – they will pop up as they cook.) Place the lid on the pot and simmer for 20 minutes until the dumplings have puffed up and are cooked through.
Final seasoning, garnish and serve: Taste and adjust seasonings and garnish with freshly-chopped or dried parsley before serving.