This One-Pot Ground Beef Stroganoff recipe is a quick and easy dinner recipe that's perfect for busy weeknights. This classic comfort dish is made with tender ground beef, mushrooms, and egg noodles in a rich sour cream sauce. And it's not only delicious, but it's also a great way to save time and effort as it's cooked in a single pot, reducing dishes and cleanup. This easy ground beef stroganoff is ideal for a cozy meal on a chilly day or an easy weeknight dinner at any time of the year. And if you love comfort food dinners, check out my recipe for Old-Fashioned Smothered Swiss Steak.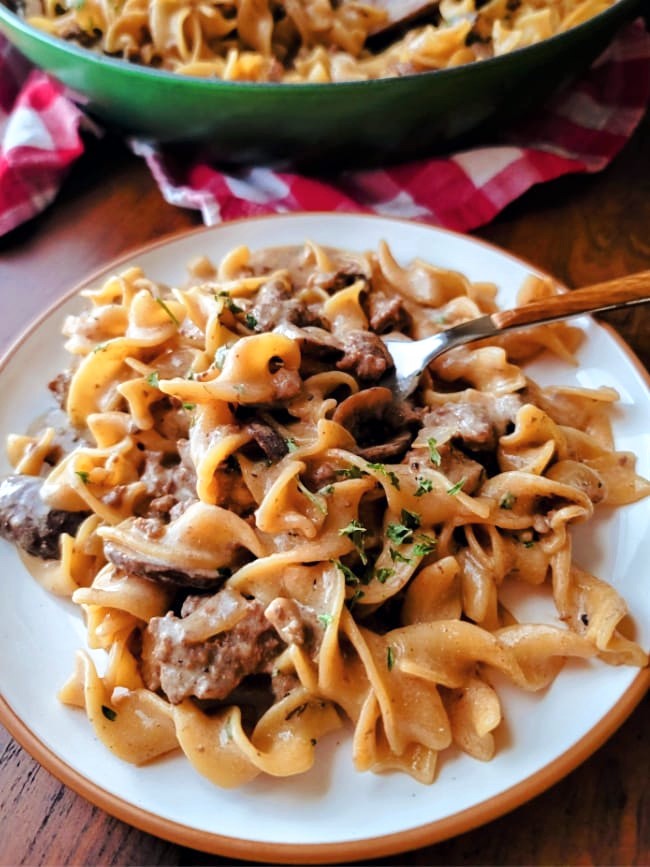 This beef stroganoff is made with hamburger meat instead of a more expensive cut of beef, making this budget-friendly. And it's all made in one pot, so it's also a great time saver. I like to think of it as a delicious Homemade Hamburger Helper. Of course, most meat is expensive in general these days, but ground beef is still a fairly cost-effective option for a protein source, especially when you're stretching a pound of meat with inexpensive pantry staples like egg noodles. As a result, this recipe will make you feel like you're eating a fancy restaurant-quality dish without breaking the bank.
So let's talk about the ingredients:
What ingredients are in Ground Beef Stroganoff?
Ground Beef – I like to use 85% lean ground beef. I find that it has just enough fat so that I don't have to drain it, but there is enough fat in the pan after browning the beef that I can cook my onions and mushrooms. Of course, you can whatever beef you like or have on hand. Additionally, you can also switch out the beef for ground turkey, ground chicken, ground bison, or whatever ground meat you prefer. You can even make a more traditional beef stroganoff by using sliced beef (like steak). For this, I find that top sirloin steak works well and turns out very tender with this recipe.
Onion – I like a yellow onion for this recipe, but any type of onion will work.
Mushrooms – Baby Bella or cremini mushrooms are what I typically use for this recipe, but you can use whatever type of mushrooms you like. White button mushrooms also work well, and, in a pinch, you can add canned mushrooms (but they aren't quite as tasty as fresh mushrooms.)
Beef broth – You can use beef broth or beef stock, either store-bought or homemade. Just make sure it's something that tastes good or your final dish won't taste good. And you'll need to adjust the salt you add to the dish depending on how much salt is in the broth. Just remember, you can always add more salt, but you can't take it away.
Egg Noodles – Regular whole egg noodles or no-yolk noodles will work. I like to use wide, hearty noodles in this dish. Any noodle that is too fine may become mushy and just won't stand up to the rich, creamy sauce.
Dried thyme – I prefer to use dried thyme instead of fresh because it's something I always have in my spice cabinet. Fresh thyme will work, too, but I think the flavor of the dried thyme actually works better here. If using ground dried thyme, use about half of the amount.
Paprika – Use regular sweet paprika, or use smoked if you like a bit of a smoky flavor. I don't recommend using hot paprika in this dish.
Sour cream – I recommend using full-fat sour cream as reduced-fat sour cream is more likely to split when added to the hot broth. And no one wants a lumpy, split sauce.

Optional Ingredients:
Dried or fresh herbs – In addition to (or in place of) dried thyme, you could also add a small pinch of dried rosemary, poultry seasoning, or ground nutmeg (which goes very well with a cream sauce). Also, you can't go wrong with adding a bay leaf to the simmering pot. Additionally, you can garnish the finished dish with fresh herbs like freshly chopped parsley or dill.
Sherry – If you keep sherry on hand, add a splash of it to the pan along with the broth. It will add a lovely flavor.
Worcestershire sauce – A small splash of Worcestershire sauce will also punch up the flavor. Don't add much or it will overpower the other flavors. You just need about a teaspoon.
Extra vegetables – You can add some extra vegetables to this dish for a little extra nutrition. Saute a finely diced carrot with the onions and mushrooms. Or add some fine green beans or a handful of peas along with the noodles and allow them to simmer.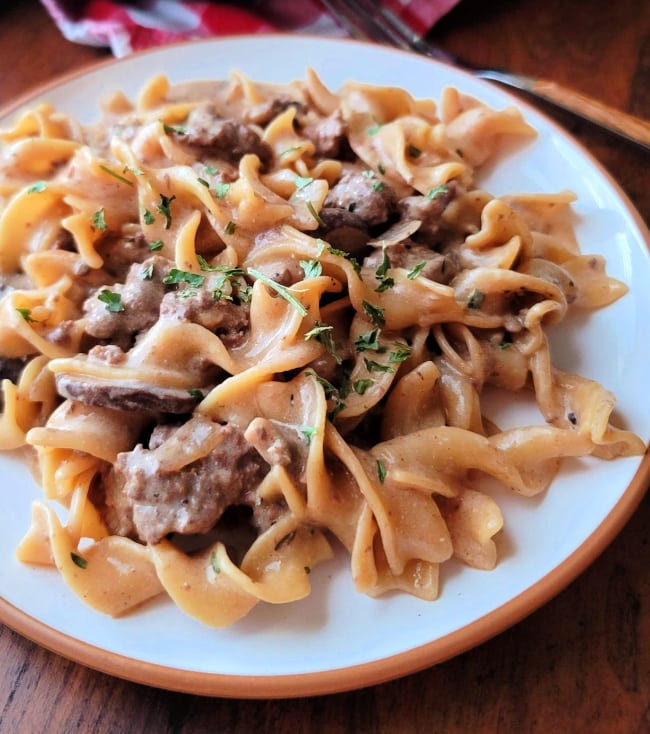 Tips for Making One-Pot Ground Beef Stroganoff:
Keep an eye on the pot while it's cooking and give it a stir once or twice. You don't want to walk away and allow everything to stick to the bottom of the pan, or for the noodles to become mushy. So, be sure to remove it from the heat as soon as the noodles are done to your liking. Also, you don't want to walk away and the pot to boil over, so watch out for that, too.
Don't allow all of the liquid to evaporate from the pot because you'll need to have about a cup of broth left in the pot to make the sauce. So if it starts to look too dry, add a splash of water or broth. I cook it with the lid on but slightly ajar to allow the steam to escape while retaining some of the broth.
Be sure to remove the pot from the heat before adding the sour cream. This will help to prevent the sour cream from curdling.
Do not be concerned if the sauce looks a little bit runny after adding sour cream. Allow it to sit for about 5 minutes and the sauce will thicken as it cools.
As always, adjust the seasonings to taste. Add more salt, pepper, or other seasonings as necessary before serving.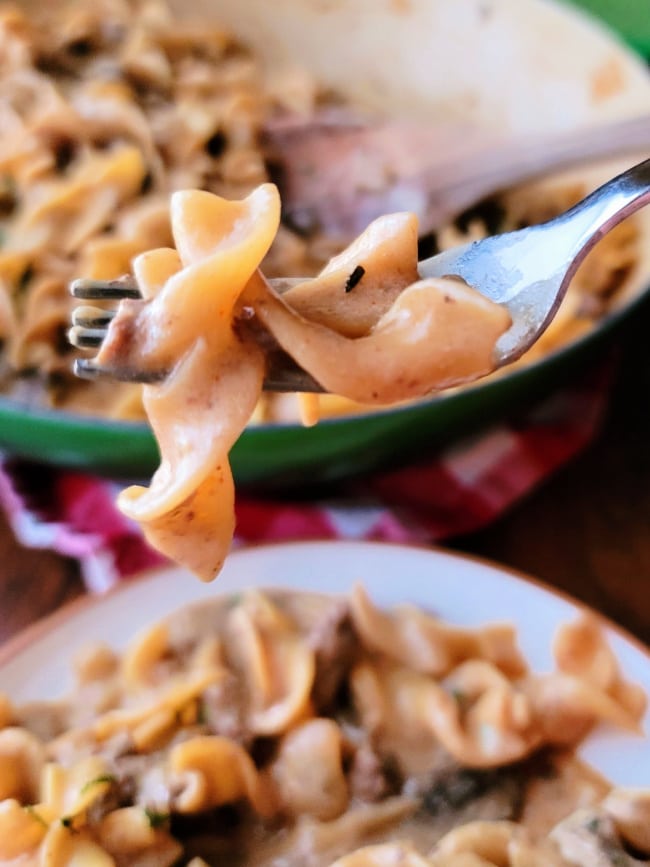 ---
If you try this recipe, I hope you love it. And follow me on Facebook, Pinterest, and Instagram so you don't miss a post.
*As an Amazon Associate I earn from qualifying purchases. This post may contain Amazon or other affiliate links, which means I will earn a commission at no additional cost to you if you click through and make a purchase.*
Print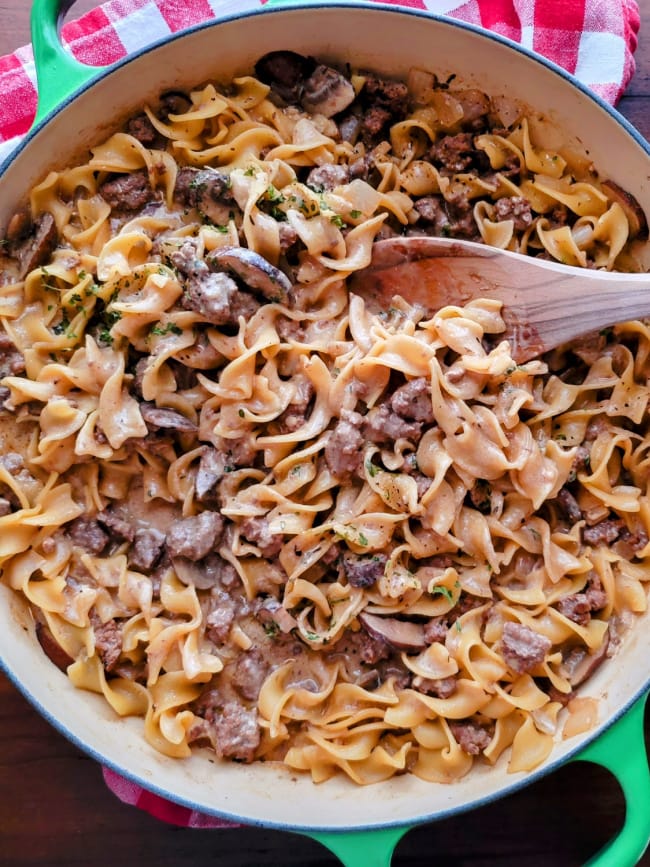 One-Pot Ground Beef Stroganoff
---
Author:

Total Time:

30 minutes

Yield:

4

servings

1

x
Description
This classic comfort dish is transformed into a time-saver using ground beef, mushrooms, and egg noodles in a rich sour cream sauce, all cooked in one pot.
---
1

pound

ground beef (85% lean works best)

1

medium onion, diced

8

ounces

mushrooms, sliced

3

cloves garlic, minced

1/2 teaspoon

dried thyme

1/4 teaspoon

paprika

4

cups

beef broth

8

ounces

wide egg noodles

8

ounces

of full fat sour cream
Salt and ground black pepper
Optional: chopped fresh herbs like parsley, dill, or chives
---
Instructions
In a large pot or Dutch oven, brown the ground beef over medium to medium-high heat. Season the beef with a generous pinch of salt (about 1/2 teaspoon) and a pinch of ground black pepper as it cooks. Drain the excess grease, but leave about 1 tablespoon in the pot for cooking the vegetables.
Add the onion, mushrooms, garlic, dried thyme, and paprika to the beef. Season with another small pinch of salt. Sauté until the onion and mushrooms are softened, or about 5 minutes.
Add the beef broth and noodles and stir to combine. Bring to a gentle boil, then immediately reduce the heat to medium-low. Cover the pot with a lid, leaving the lid slightly ajar to allow steam to escape. Simmer for 10-12 minutes or until the noodles are cooked to your liking. Stir the mixture once or twice during cooking to prevent sticking. And be sure to keep the heat high enough to simmer, but low enough so that the pot doesn't boil over.
When the noodles are cooked, remove the pot from the heat. Gently stir in the sour cream to form a smooth sauce that is free of lumps.
Season with salt and ground black pepper to taste. Serve with chopped fresh herbs (optional).
Prep Time:

10 minutes

Cook Time:

20 minutes

Category:

Main Dishes