Today I'm sharing with you the recipe for my all-time favorite Easy Homemade Pizza Dough. I've been using this recipe for many years, and it has become a family favorite and a regular for pizza night. And this dough is versatile, too. Use it for making pizzas, calzones, stromboli, and any other recipes that require pizza dough. The best part is that it is easy to make and only needs an hour to rise, so there's no need to plan ahead. (And if you're looking to make your own homemade pizza, check out my recipe for Quick and Easy Pizza Sauce, too!)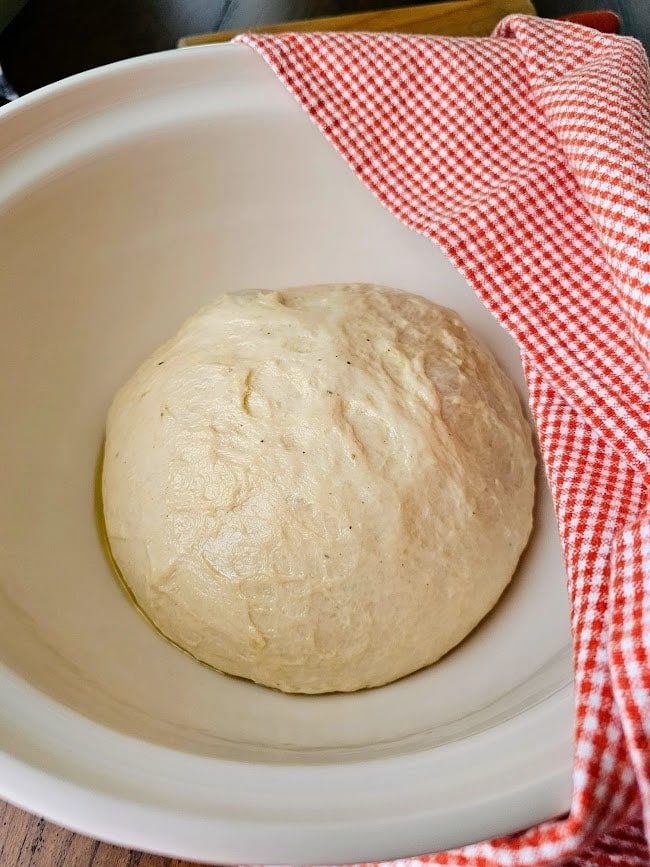 As much as I love the convenience of a good takeout pizza, there's nothing quite like the magical aroma of freshly baked pizza wafting through your kitchen. And I know that making pizza dough at home can often seem like too much of a fuss, I promise you that with this recipe, it's actually very easy and worth the effort. And while you can make a decent pie at home with store-bought pizza dough, this homemade dough will take your pizza to the next level. And, seriously, as it bakes, it the smell will beckon everyone in the house to gather around the table in anticipation.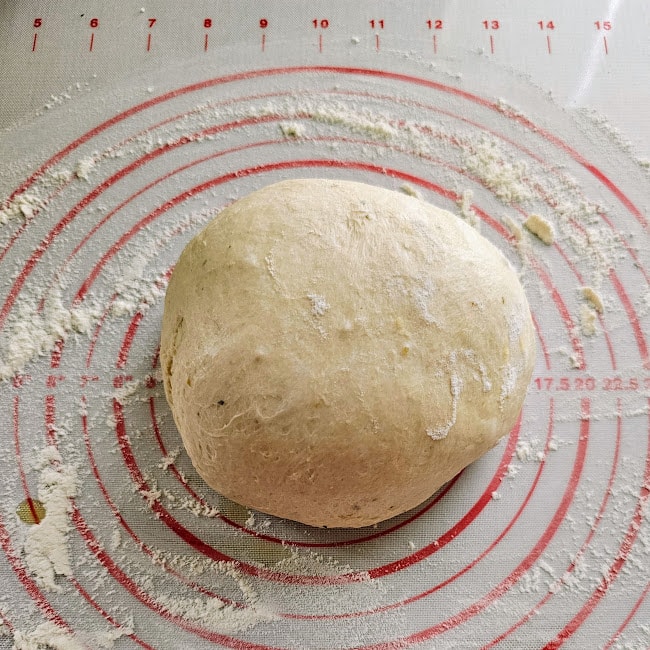 I will say, however, that this is definitely a homemade-style pizza dough. Unless you have your own pizza oven that can bake the pizza at ultra-high temperatures, your homemade pizza is not going to be exactly like what you will get from most pizza places. But being different doesn't mean that it's not as good. It's actually quite delicious. My family has really come to prefer homemade pizza and we only rarely order takeout these days.
Also, this is a very versatile dough. You can use it not only for pizza, but for breadsticks, calzones, stromboli, and even garlic knots. And it can be a thick or a thin crust. I will often make a thick-crust pizza in my cast iron skillet. Or sometimes I will make 2 thin-crust pizzas out of a single batch of dough. Or make it into 4 personal size pizzas. There are so many ways to use this dough that you'll want to make an extra batch to keep on hand in the freezer.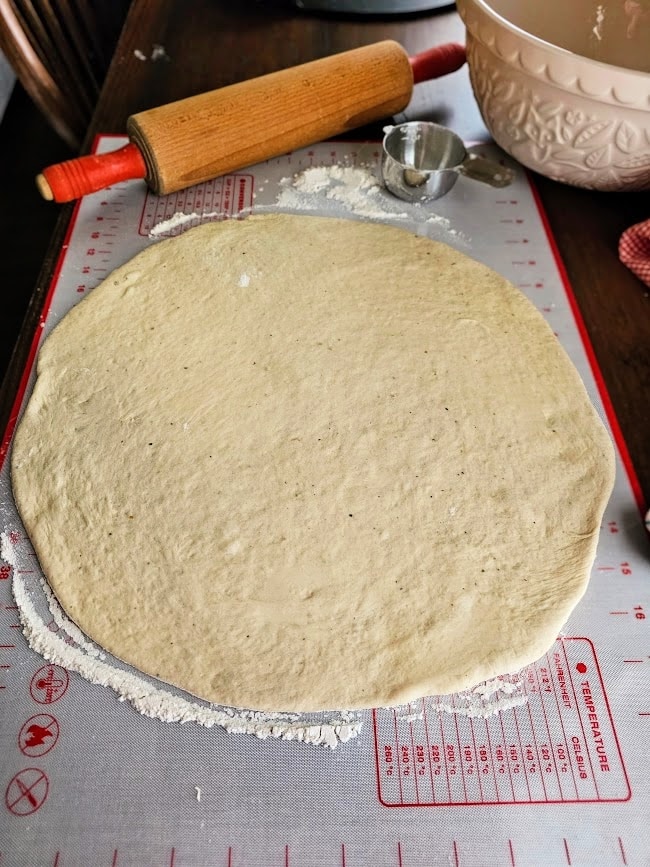 The ingredients for easy homemade pizza dough are simple:
Warm water – You'll want the water to be warm to activate the yeast, but not so hot that it will kill it. Somewhere between 105-110 degrees Fahrenheit is perfect. A few drops of the water sprinkled on your wrist should be warm but not scalding hot.
Yeast – I prefer to use active dry yeast, mainly because that is the type of yeast I always keep on hand (I keep a bag in the freezer). You can also use instant yeast if you prefer (Saf is my favorite brand). Just be aware that if you use instant yeast, your dough may rise a little bit faster. Also, if using instant yeast, you can skip the proofing step (where you add the water and yeast and allow it to foam). Instead, simply combine all of the ingredients in a mixing bowl together at the same time then proceed with the recipe.
Sugar or Honey – Sugar or honey adds a touch of sweetness to the dough. It also nourishes the yeast and encourages it to rise. Additionally, a small amount of sugar or honey can aid in achieving a beautifully toasted crust.
Olive Oil – The olive oil acts as a dough enhancer and also gives the dough a bit of flavor.
All-Purpose Flour – Regular all-purpose flour (sometimes called plain flour) is all you need for this pizza dough recipe. It's what I typically use. If you want a chewier, heartier crust, you can substitute part of the all-purpose flour with whole wheat flour. Other flours you can use include bread flour, or '00' pizza flour. Experiment and find out what flour you like best with this recipe.
Salt – A fine salt like table salt or fine sea salt work best. The salt enhances the flavor of the dough and helps to keep the moist, so please don't skip the salt.
How to freeze Homemade Pizza Dough:
I'm including instructions for freezing homemade pizza dough because it's a great way to have dough conveniently available for future use. Here's a step-by-step guide on how to freeze homemade pizza dough:
Prepare the dough according to the recipe and allow it to rise to double in size.
Portion the dough. Divide the dough into individual portions based on the size of the pizzas you plan to make in the future. Shape each portion into a ball.
Wrap the dough. Take each dough portion and lightly coat it in oil. Wrap it tightly with plastic wrap or place it in a resealable freezer bag. Make sure to remove any excess air from the packaging to prevent freezer burn.
Label and date. Use a marker to label each wrapped dough portion with the date and any additional information you find helpful. This way, you can easily identify the dough and keep track of its freshness.
Freeze the dough. Place the wrapped dough portions in the freezer. Ideally, lay them flat on a baking sheet or tray to prevent them from sticking together. Once they are partially frozen, you can stack them to save space in the freezer.
How long is pizza dough good for in the freezer? Pizza dough can typically be frozen for up to 3 months without significant loss of quality. After that time, it may start to develop freezer burn or deteriorate in texture.
To thaw frozen pizza dough, simply transfer it to the refrigerator and let it thaw overnight. Once thawed, remove the plastic wrap or bag and let the dough come to room temperature for approximately 30 minutes before shaping and baking your pizzas. In case of time constraints, you may allow the frozen dough to thaw at room temperature for approximately 2 hours.
Tips for making the best homemade pizza dough:
Use high-quality ingredients. You don't need to spend a fortune on expensive specialty ingredients, but using good ingredients will result in a better-tasting pizza.
For extra flavor, add some seasonings to the dough. Dried rosemary, basil, garlic, or an Italian seasoning blend are all nice additions.
Knead the dough well. Kneading helps develop gluten, which gives the dough elasticity and a nice chewy texture. Knead the dough for at least 5-10 minutes until it becomes smooth and elastic. You can knead it by hand or with a dough hook in a stand mixer.
Allow for proper rising time. Give the dough enough time to rise until it has doubled in size. With this recipe, it should take about an hour. This allows the yeast to activate and creates a lighter and more flavorful crust.
Use a rolling pin to roll out the dough to your desired thickness. You can also use your hands to pat out the dough and then stretch and form it into shape. Remember that it will rise in the oven, so make the dough thinner than you want your baked crust to be.
Use a sheet pan or a baking dish for a soft crust. For a crispy crust, I recommend a cast iron skillet, a cast iron pizza pan, or a pizza stone. For a deep-dish pizza, use an oven-safe pan or dish with high sides. (I make my husband's favorite deep-dish Detroit-style pizza using this recipe!)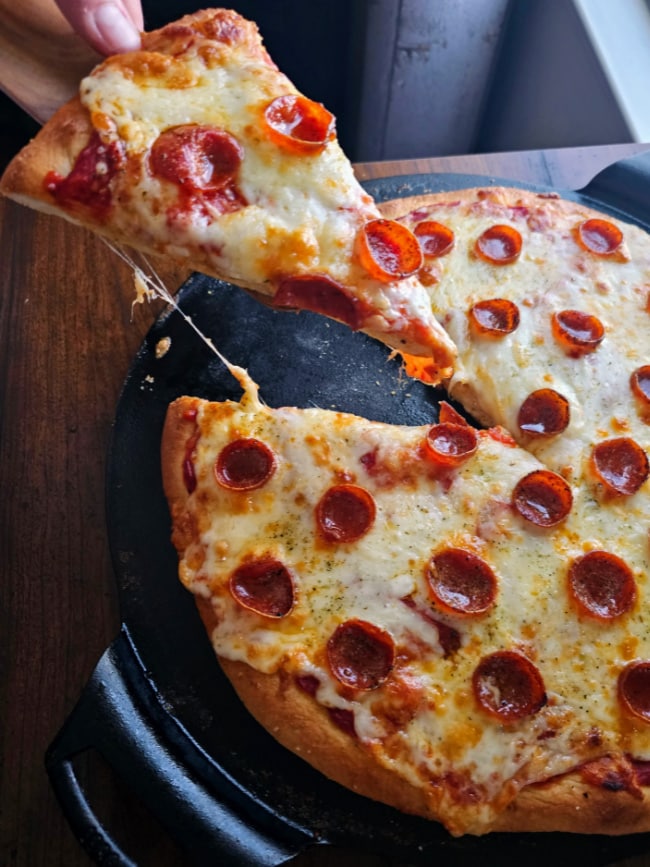 Remember, practice makes perfect when it comes to making pizza dough. Don't be discouraged if your first attempt isn't perfect. Experimenting with these tips and adjusting the process to suit your preferences will help you refine your homemade pizza dough over time. Enjoy your pizza-making adventures!
---
If you try this recipe for Easy Homemade Pizza Dough, I hope you love it. And follow me on Facebook, Pinterest, and Instagram so you don't miss a post.
*As an Amazon Associate I earn from qualifying purchases. This post may contain Amazon or other affiliate links, which means I will earn a commission at no additional cost to you if you click through and make a purchase.*
Print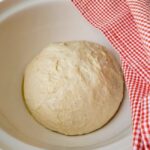 Easy Homemade Pizza Dough
---
Author:

Total Time:

0 hours
3/4

cup

warm water (about 110 degrees F)

1

packet active dry yeast (

2 1/4 teaspoons

)

1 tablespoon

sugar or honey

1 tablespoon

olive oil

2 1/2

cups

all-purpose flour (plus a little extra for kneading and rolling out dough)

1 1/4 teaspoon

salt
Oil or cornmeal for baking the crust
---
Instructions
In a large mixing bowl, combine the water, yeast, sugar, and olive oil. Set aside for 10 minutes, or until the mixture becomes foamy.
In a separate mixing bowl, add the flour and salt. Stir to combine.
When yeast is foamy, stir in the flour, adding a little at a time until the dough comes together (you may not need all of the flour). It will be slightly sticky and soft at this point.
On a lightly floured surface, knead the dough for 8-10 minutes, or until it becomes smooth and elastic. If the dough seems too sticky, add a little more flour, 1 tablespoon at a time. You can also use a stand mixer with a dough hook to knead the dough.
Shape kneaded dough into a ball, then place it in an oiled bowl. Cover bowl with a towel and place in a warm spot to rise for 1 hour, or until dough doubles in size.
Gently punch down the risen dough and then immediately pat it into shape or roll it out on a lightly floured surface.
If using a sheet pan to bake the pizza, you will need to oil the pan. If using a pizza stone, sprinkle with cornmeal. Add your choice of toppings. Bake in a 425-degree Fahrenheit oven for approximately 15-25 minutes depending on the thickness of the crust.
Notes
One batch of this dough recipe makes 1 medium-thickness 12-16-inch crust, or 2-4 smaller or thinner crusts.
I like to brush the outer edge of the crust with butter before baking. You can also sprinkle with a little bit of garlic salt at this point, too. This is an optional step but it gives the crust extra flavor and golden brown color.
Prep Time:

30 minutes

Inactive Time:

1 hour

Cook Time:

20 minutes