This Easy Gingerbread recipe is simple but so delicious. It's full of classic gingerbread flavor with lots of ginger and other warm spices. Serve it as a snack, dessert, or even breakfast. It's also perfect to serve during the holidays with a dollop of whipped cream. (And if you enjoy sweet and flavorful quick bread, check out my recipe for The Best Homemade Pumpkin Bread.)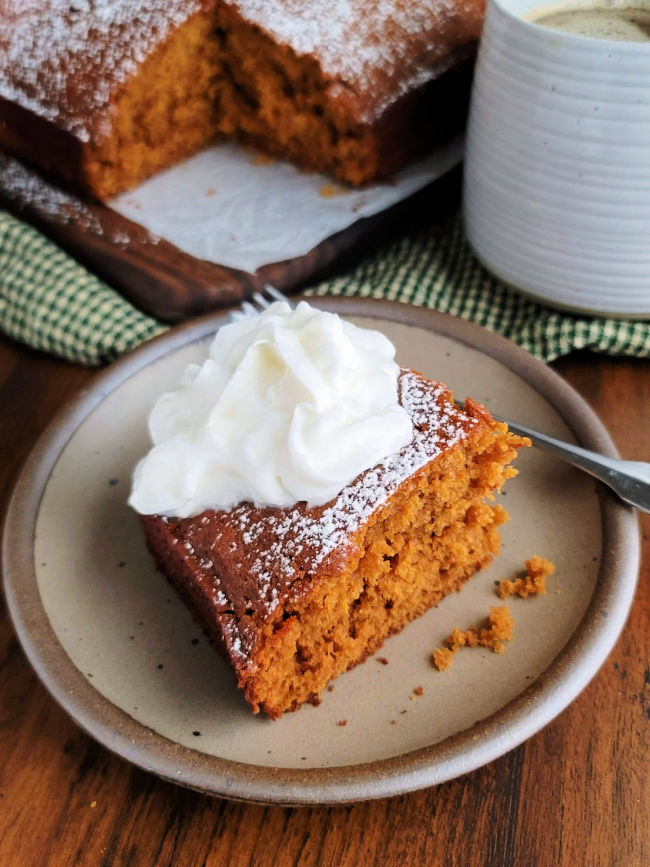 I'll just admit, I do have a bit of a sweet tooth. Especially after dinner in the evening, when I'm relaxing from the day. That's when I typically start craving something sweet. In the summer it's usually ice cream, but other times, it's a baked good from my kitchen. I just love a homemade baked treat with a cup of tea or coffee.
And I find a piece of this homemade gingerbread is a lovely treat, especially in the cold winter months. And while I know it's called ginger "bread", to me it's actually more like a cake that's filled with molasses and ginger flavor. And it's pleasantly sweet, but not overly sweet. Often I'll have a slice of this with a dusting of powdered sugar, and a mug of hot tea. Or for breakfast, I'll top it with some peanut butter and have it with my coffee.
It's also one of my favorite desserts to serve for the holidays, too. It may be plain looking but it's actually a festive-flavored cake that's easy to dress up with a dollop of homemade whipped cream. And I love that it's easy and uncomplicated, because these days, I try to mostly keep the holidays simple and even a bit rustic. It allows me more time to do the things that matter most, like enjoying my time with my loved ones.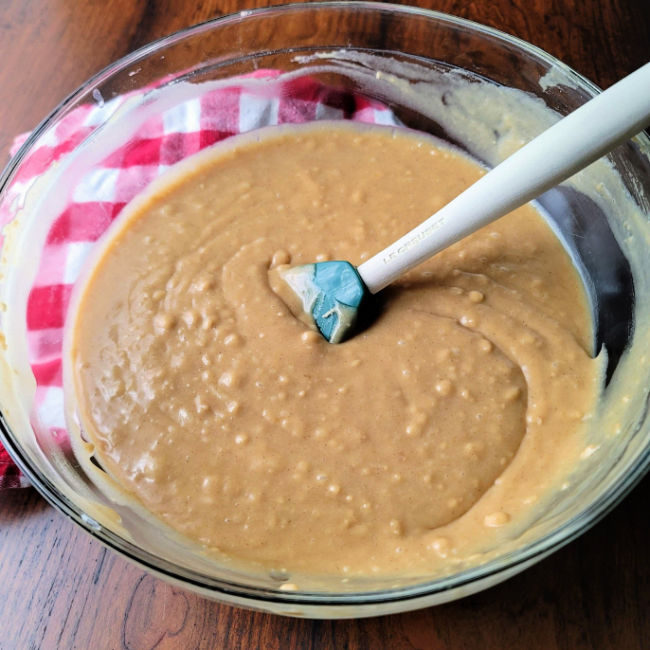 So let's talk a bit about this Easy Homemade Gingerbread recipe:
This recipe is a vintage recipe that has been around for ages, and I've been making this recipe for many years. It's a classic hot water gingerbread recipe that is so old, our grandmothers' grandmothers probably used this same recipe, or something very similar. It has an authentic gingerbread flavor and texture. It's plain and simple and that's exactly what makes it so good.
And a mention about the ingredients for gingerbread:
There is actually not a lot to say about the ingredients because they're basic ingredients that most of us have on hand. But here are a few things worth mentioning:
Molasses – this is the traditional sweetener used in gingerbread. For something a little bit different, you can substitute the molasses with mild-flavored honey or sorghum.
Ground Ginger, Cinnamon, and Cloves – Keep in mind that the fresher your spices are, the more flavorful your gingerbread will be. If your ginger has been shoved to the back of your pantry for 5 years, it probably won't give the best result and it might be time to replace it.
Hot Water – It doesn't need to be boiling. I typically use hot tap water or heat it in the microwave until it's piping hot, but not quite boiling.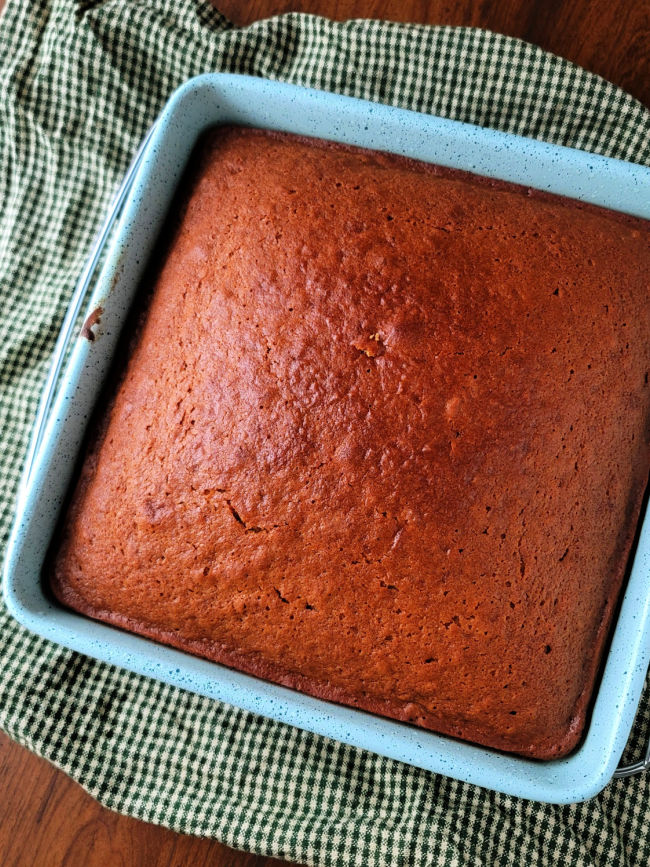 Tips for making Easy Homemade Gingerbread:
After mixing the batter, it will seem thin and runny and that's normal. There will also be some lumps. Resist the urge to mix it until the lumps are gone. Too much mixing will toughen the cake, so be sure to leave a few lumps.
I like to bake my gingerbread in a 9×9 inch cake pan, but if you prefer a loaf, a loaf pan will work, too.
Keep an eye on your gingerbread as it bakes. Mine generally takes about 40 minutes in my oven, but your oven may bake faster or slower. The last thing you want is burnt gingerbread. Not tasty at all!
Allow your gingerbread to fully cool, then dust it with powdered sugar before serving. You can also make a glaze of powdered sugar and milk, or powdered sugar and lemon juice to pour over the gingerbread.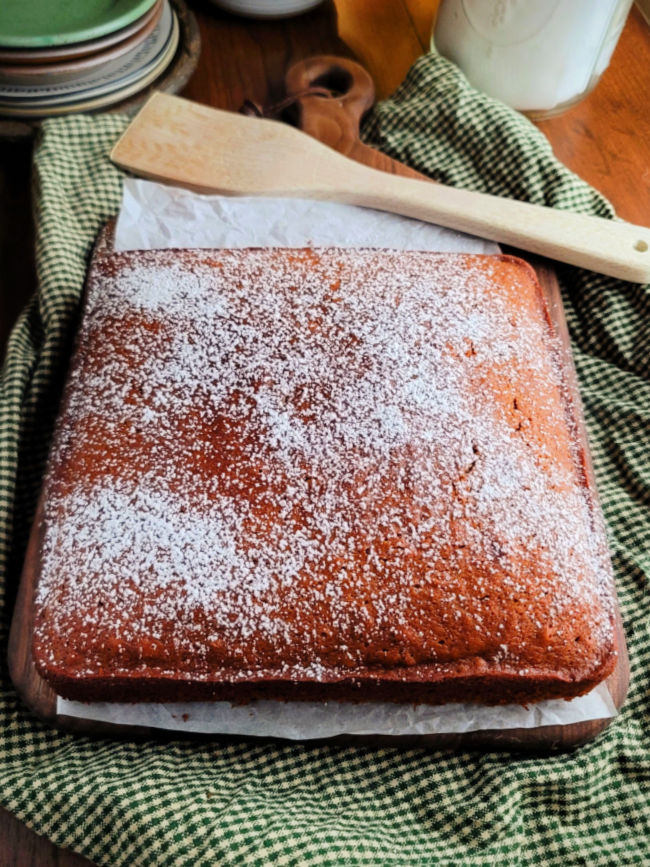 So that's all there is to make the best Homemade Gingerbread around. If you try this recipe for Easy Homemade Gingerbread, I hope you love it. Let me know in the comments below.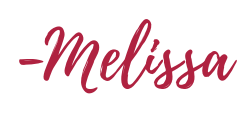 *As an Amazon Associate I earn from qualifying purchases. This post may contain Amazon or other affiliate links, which means I will earn a commission at no additional cost to you if you click through and make a purchase.*
Print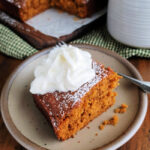 Easy Homemade Gingerbread
---
Description
A classic gingerbread that's sweet, moist, and full of warm spices.
---
2

1/2

cups all-purpose flour

1

1/2

teaspoons baking soda

1/2

teaspoon salt

1 teaspoons

ground cinnamon

1

1/2

teaspoons ground ginger

1/4

teaspoon ground cloves

1/2

cup butter, melted and cooled

1/2

cup packed brown sugar

1

egg, room temperature

1

cup

molasses

1

cup

hot water
---
Instructions
Heat oven to 350 degrees Fahrenheit. Grease a 9×9 inch baking dish and set aside while you prepare the gingerbread batter.
To a mixing bowl, add the flour, baking soda, salt, cinnamon, ginger, and cloves. Whisk to combine.
In a separate large bowl, mix the butter, brown sugar, egg, and molasses until well combined.
Gradually mix the dry ingredients into the butter mixture. Add the hot water and mix until well combined. It's normal if the batter seems thin and lumpy. It's OK to leave some lumps.
Pour the gingerbread batter into the prepared pan. Shake the pan gently to level the batter, then tap the pan gently on the countertop to remove any bubbles.
Bake for 40-50 minutes, or until the edges begin to shrink away from the pan, and a toothpick inserted into the center of the bread comes out clean. Watch carefully while baking and don't overbake.
Allow the bread to cool fully before slicing. Dust with powdered sugar or top with whipped cream.