A sweet, salty, and crunchy treat, these Butterscotch Haystacks are an easy homemade confection that requires almost no effort to make. They're perfect for the holidays, family get-togethers, or when you're just craving a quick treat. And while these candies (or cookies, as some people call them) are made with only 3 simple ingredients, don't let their simplicity fool you. Because I would say these Butterscotch Haystacks are actually simply delicious.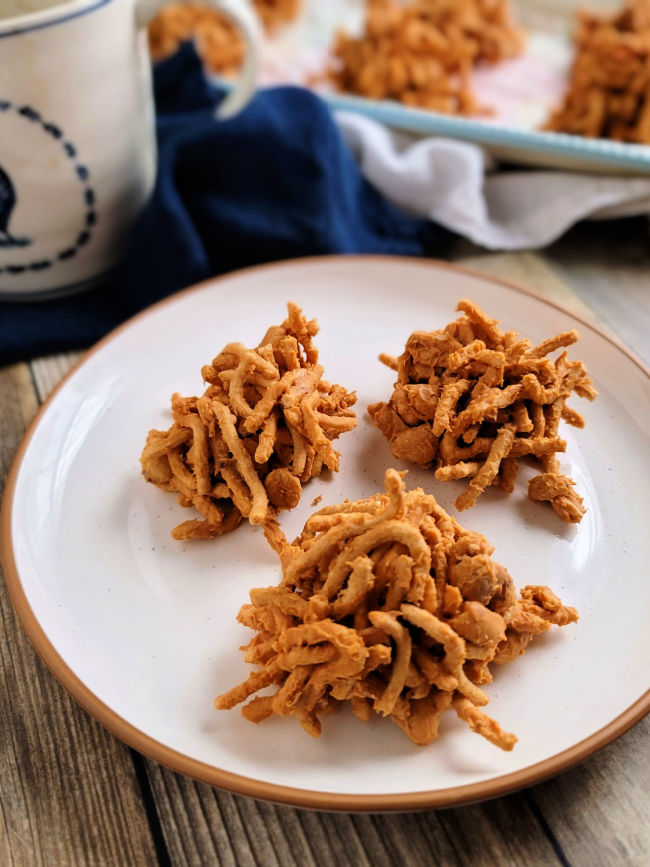 Are these Butterscotch Haystacks candies or no-bake cookies? I always call them candy, but call them haystack candy or call them haystack cookies, they're so good either way. This is a vintage recipe that's been around since about the 1960s or so. I remember them as being very popular during my childhood in the 70s and 80s. And they were popular for good reason. I mean, these are the kind of sweets that you can't eat just one of. And they have that kind of retro vibe to them, being made with chow mein noodles and all (which, if you were around back then, you know were very popular in all kinds of dishes.)
And back when I was a kid, my mom was very into making cookies and candy for the holidays (and she still does enjoy it today). I would help her make many different kinds of elaborate homemade cookies and candy. Homemade peanut butter cups, English toffee, Linzer cookies, chocolate caramel turtles, and way more. She would fill our freezer with homemade goodies that she could pull out throughout the holidays to serve to guests. But this is a different type of candy that we also made back in the day. Easy, delicious, and not fancy at all. Because sometimes it's nice to make a treat that requires minimal effort beyond some melting and stirring. And that's exactly what these Haystacks are.
So what are the ingredients for Butterscotch Haystacks?
The basic 3 ingredients are simple:
Butterscotch morsels – Any brand will do. They usually come in an 11-ounce bag.
Chow mein noodles – Be sure to get regular Chow Mein noodles that are already cooked. They are typically found in a 5-ounce can.
Peanuts – I use salted, dry-roasted peanuts, but Spanish peanuts are also good for this recipe. I leave the peanuts whole, but you can coarsely chop them if you want.
There are optional ingredients that you will see in some recipes that include things like peanut butter and marshmallows. My favorite is the basic 3 ingredient haystack, but you can fancy it up with extra ingredients to suit your taste. Try adding some sprinkles if you're serving these for the holidays.
Tips for making Butterscotch Haystacks:
Making butterscotch haystack candy (or haystack cookies), couldn't be simpler.
You'll need to melt the butterscotch morsels in a double boiler or microwave. I heat mine in the microwave for one minute, then in 20-second intervals, stirring in between until everything is smooth and melted. If the mixture stiffens up while you are stirring it or portioning out the haystacks, just return the bowl to the microwave or double boiler and heat until it loosens up again.
Allow the cookies to set up on a baking sheet lined with wax paper or a silicone mat. You can pop the pan into the fridge if you want them to set up faster.
To keep them fresh, store these haystacks in an airtight container for 3-4 days. For more extended storage, keep them in the refrigerator or freezer.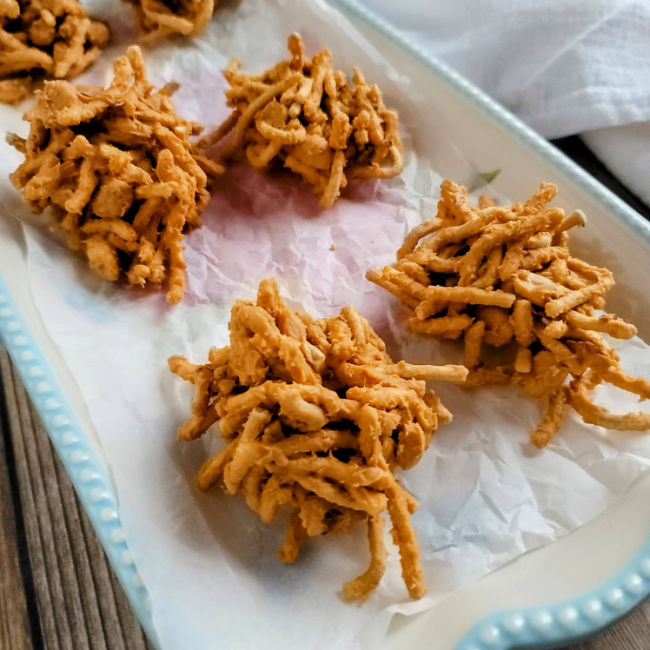 ---
So that's all there is to make Butterscotch Haystacks. If you try this recipe, I hope you love it. Let me know in the comments below.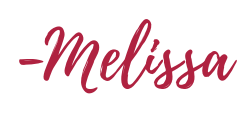 *As an Amazon Associate I earn from qualifying purchases. This post may contain Amazon or other affiliate links, which means I will earn a commission at no additional cost to you if you click through and make a purchase.*
Print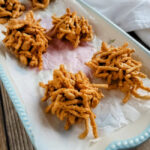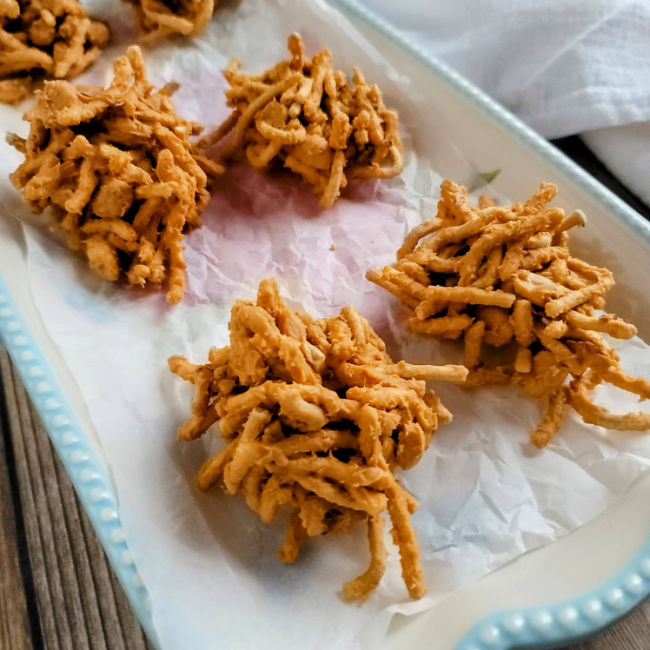 Butterscotch Haystacks
---
Author:

Total Time:

20 minutes

Yield:

About

24

cookies, depending on the size

1

x
Description
Butterscotch Haystacks are an easy and delicious homemade confection that takes almost no effort to make. Great for the holidays or a special treat.
---
1

(11-ounce) bag of butterscotch morsels

1

(5-ounce) can of chow mein noodles

1

cup

of dry-roasted or Spanish peanuts
---
Instructions
Melt the butterscotch morsels in a double boiler or in the microwave. If using the microwave, heat for 1 minute, and then for 20 seconds at a time, stirring in between, until smooth and completely melted.
Mix melted morsels, the noodles and peanuts with a wooden spoon or spatula until well combined.
Drop heaping tablespoons of the mixture onto a baking sheet lined with wax paper or a silicone mat. Allow to set for 2-3 hours, or until the candy is firm and holds together.
Store in an airtight container for 3-4 days, or in the refrigerator or freezer for longer storage.