These Maple Corn Muffins are tender and lightly sweetened with a delicate maple flavor. This recipe is so simple yet so delicious. And these muffins come together quickly making it easy to get hot, fresh bread on the table for dinner. But don't just make these for dinner. They're so good for breakfast, slathered with some butter and a little extra maple syrup. And they're perfect to go with a holiday meal, too! (And if you like quick and easy bread recipes, check out my recipe for Cheddar Onion Beer Bread.)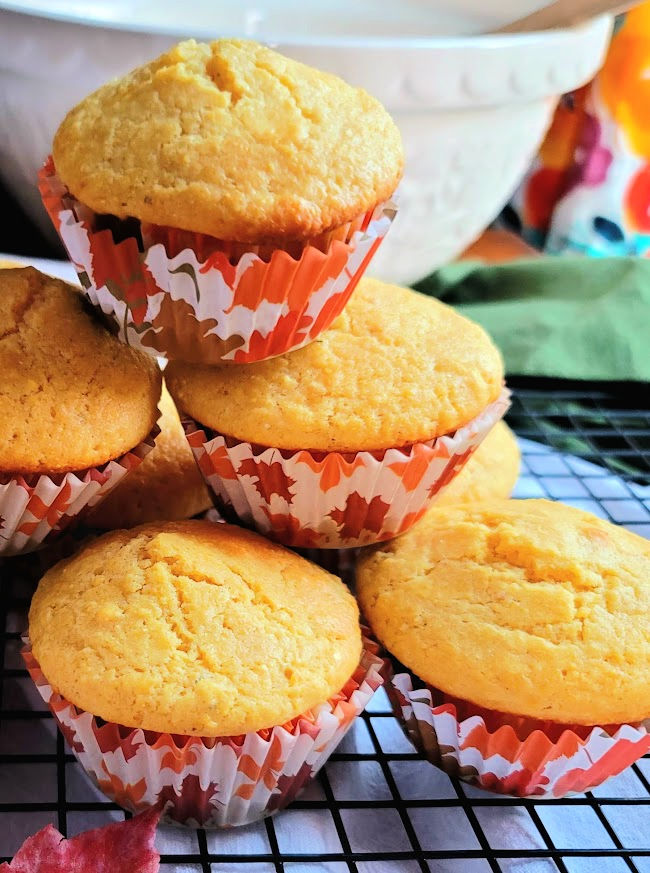 The story behind my Maple Corn Muffins:
Now I need to tell you that in our house, we have an ongoing battle the cornbreads (or in this case, cornbread muffins). I tend to favor a less sweet southern-style cornbread most of the time. My husband, however, likes his cornbread to be cake-like. He likes cornbread with lots of sugar and a lot more flour than cornmeal. So I typically alternate between baking the less sweet southern cornbread, and sweet, cake-like cornbread for my husband. But I feel like these Maple Corn Muffins are a good compromise. They are just a little sweet, but not too sweet. And while they have plenty of corn flavor and texture, they're also tender and moist.
And these maple corn muffins are quick and easy, too. You can get these on the table in about 30 minutes or so. Whip up a batch while your soup or stew is simmering on the stove. Or sometimes I make them at the last minute when I decide that I need some fresh bread to go with roast beef or roast chicken. And they are delicious for the holidays as an alternative to yeast rolls.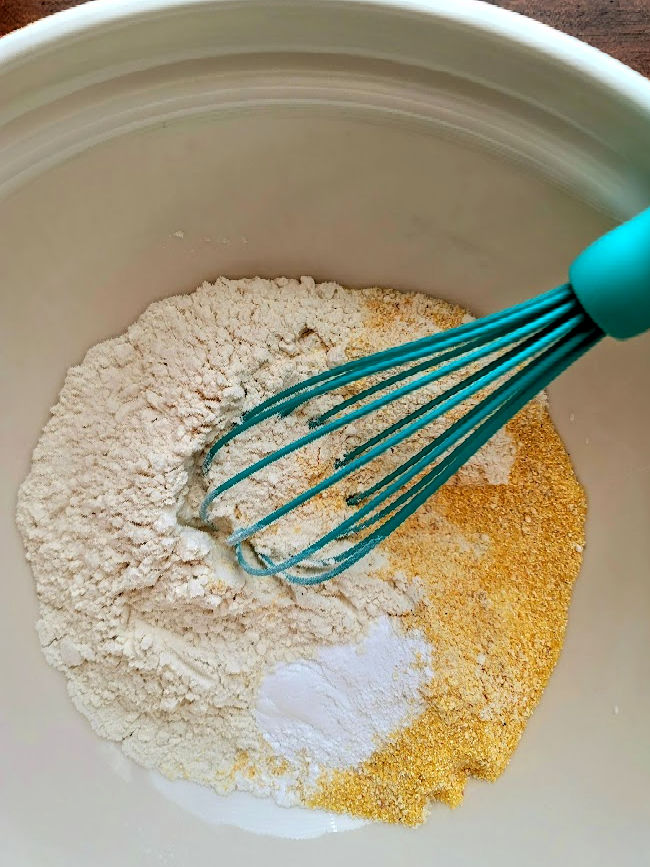 So before we get to the recipe, let's talk about a couple of the ingredients:
All-Purpose Flour – You can, of course, use whatever all-purpose flour you prefer and what you have on hand. When I can get it, I like to use unbleached all-purpose flour like King Arthur or Bob's Red Mill. However, regular all-purpose white flour will work, too. And if you want to make gluten-free corn muffins or cornbread, simply substitute a gluten-free all-purpose flour like this one by King Arthur Flour.
Cornmeal – This is the star of the show. But there are so many different types of cornmeal, it can get confusing. So first of all, make sure you're using plain cornmeal for these corn muffins and not a cornbread or corn muffin mix (which contains cornmeal, but also flour, leavening, and other ingredients.) You'll also need to pay attention to texture when choosing your cornmeal. For these muffins, you'll want fine or medium-ground cornmeal (coarse ground will make your muffins gritty.) And it doesn't matter If it is stone ground or not – either will work for this recipe. As for color, I prefer yellow cornmeal because I like my muffins to be nice and golden. But white cornmeal will work, too.
Use your favorite brand or whatever you have easy access to. If you're looking for a good brand of cornmeal you can buy online, I recommend both Bob's Red Mill and Great River Organic Milling. And if you are planning to make these muffins gluten-free, make sure your cornmeal is also gluten-free. You would think that all cornmeal is gluten-free, but some cornmeal is processed in the same facilities that process wheat and could contain traces of gluten.
Maple Syrup – Let me just tell you, maple syrup and cornbread are a perfect pairing. Use pure maple syrup and not pancake syrup for these Maple Corn Muffins. And when it comes to maple syrup, there are four grades – golden, amber, dark, and very dark. The darker the color, the more intense the maple flavor is. And of course, I always say to use whatever maple syrup you have on hand. But if you have the choice, go with dark or very dark maple syrup because these grades have more maple flavor than golden or amber syrup.
Milk – In this recipe I use regular whole milk. I know that some folks prefer to use buttermilk in their cornbread and you can go ahead and substitute buttermilk for whole milk. If you do this, however, you will also need to add 1/2 teaspoon of baking soda to the batter, in addition to the baking powder called for in the recipe.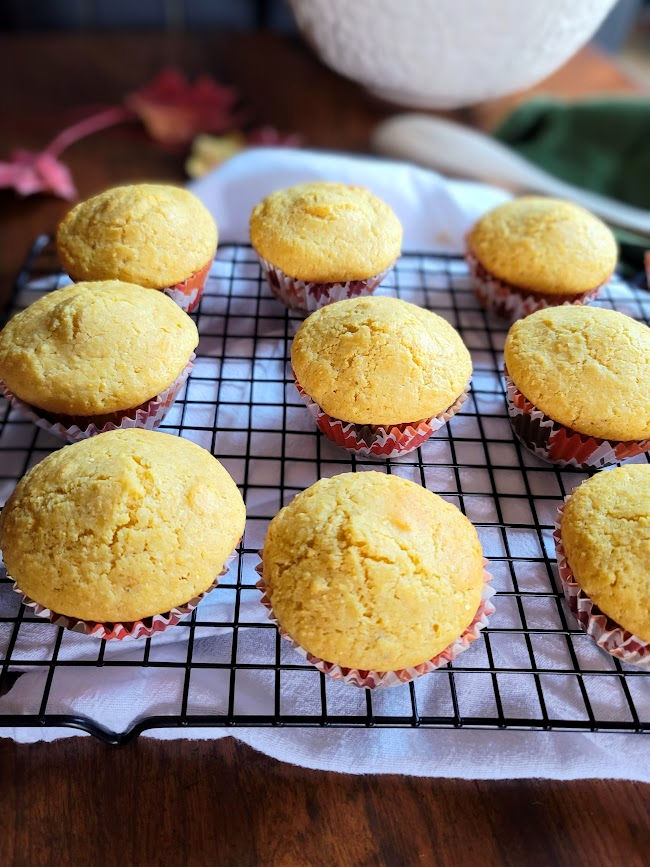 Tips for making the best corn muffins:
Grease your muffin tin or use liners. You want to make sure your perfect golden muffins don't stick to the muffin tin. It not only ruins your muffins but makes cleanup difficult. To avoid this, generously grease your muffin tin. Spray with oil, or use a paper towel to spread the oil all around the muffin cups. Or you can use butter. I like to use a pastry brush to brush the tin with melted butter. You can also use paper muffin liners, but the muffins may stick to the paper a bit. So if you want to use muffin liners, I recommend spraying them lightly with oil before pouring in the muffin batter. If you just want your muffins to look pretty, I recommend baking the muffins in an unlined tin first, and then placing the baked and cooled muffins into the paper liners.
Don't beat your muffins. You don't want dry, hard, or crumbly muffins. To avoid this, don't use an electric mixer to mix the batter. Instead, use a wooden spoon or a spatula to mix your ingredients until just well combined (It's ok to have a few lumps).
Dress up your muffins. There are so many ways to dress up corn muffins. If you like a little extra sweetness, you can sprinkle a bit of course sugar over the muffin tops before baking. Add some finely chopped nuts or dried fruit (chopped dried cranberries would be fantastic for the holidays). You can also jazz it up with some herbs and spices. For savory corn muffins, try adding some chili powder or finely chopped rosemary. For sweet corn muffins, try a dusting of cinnamon or pumpkin pie spice.
Make cornbread – If you prefer to make a loaf of maple cornbread instead of muffins, simply pour your batter into a greased cake pan or a greased cast iron skillet. It will take longer to bake than the muffins (probably around 20-25 minutes), so keep an eye on your cornbread as it bakes.
Store the muffins. If you won't be eating the muffins in one sitting, store them in a single layer in an airtight container. Keep them in a cool, dry place for up to 3 or 4 days. Beyond 4 days, you'll need to freeze them. Wrap each muffin in plastic wrap and then place them into a freezer-safe plastic bag or container. They will retainer their best quality for about 3 months.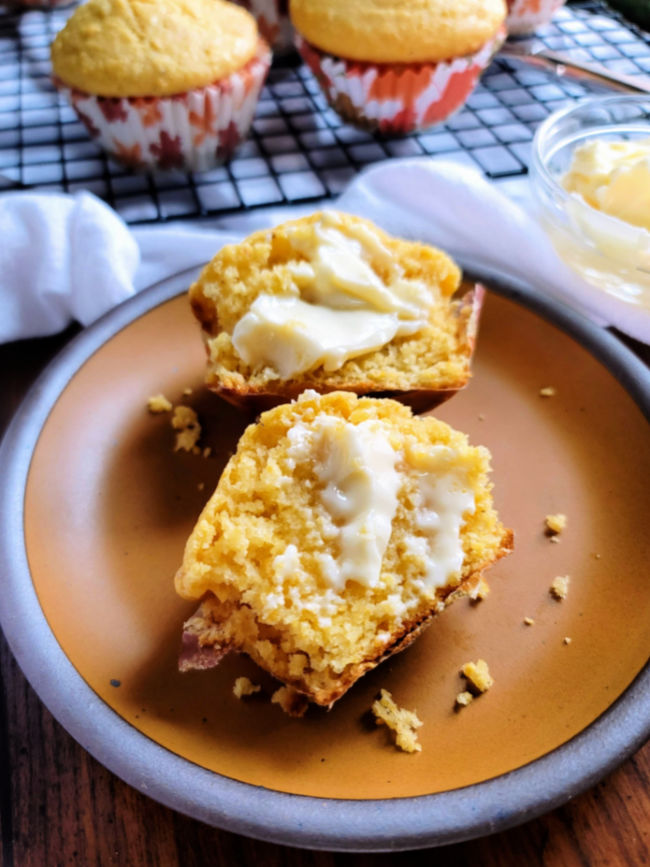 ---
As always, if you try this recipe, I hope you love it! Please let me know in the comments below.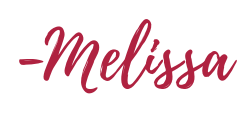 *As an Amazon Associate I earn from qualifying purchases. This post may contain Amazon or other affiliate links, which means I will earn a commission at no additional cost to you if you click through and make a purchase.*
Print
Description
These Maple Corn Muffins are tender and lightly sweet with a delicate maple flavor.
---
1 cup

all-purpose flour

1 cup

fine or medium-ground yellow cornmeal

2 teaspoons

baking powder

1/2

teaspoon salt

1

egg, room temperature

1

cup

whole milk

1/2 cup

melted and cooled butter (you don't want it to be hot enough to cook the eggs in the batter)

1/3 cup

pure maple syrup
---
Instructions
Heat oven to 400 degrees Fahrenheit.
Prepare a 12-cup muffin tip by greasing it with butter or oil, or by lining it with muffin liners.
 To a large mixing bowl, add the flour, cornmeal, baking powder, and salt. Use a whisk to combine the ingredients thoroughly.
In a separate mixing bowl, whisk the egg and the milk together. Add the melted butter and maple syrup. Whisk again until well combined.
Add the wet ingredients to the dry ingredients. Stir the mixture with a wooden spoon or spatula until just mixed. Don't overmix – it's OK if there are a few lumps remaining.
Divide the batter equally between the muffin cups. Bake in the oven for 15-17 minutes, or until muffins are lightly golden around the edges, and a toothpick inserted in the center comes out clean. Don't overbake.