I will just go ahead and admit that I am a pumpkin fanatic. Pumpkin pie, pumpkin-spiced lattes, pumpkin chili – it never gets old for me. And this Homemade Pumpkin Bread is on my list of favorite pumpkin recipes. And you know, while I always hesitate to say that a recipe is the best because there are so many great recipes out there, this one really is a family favorite.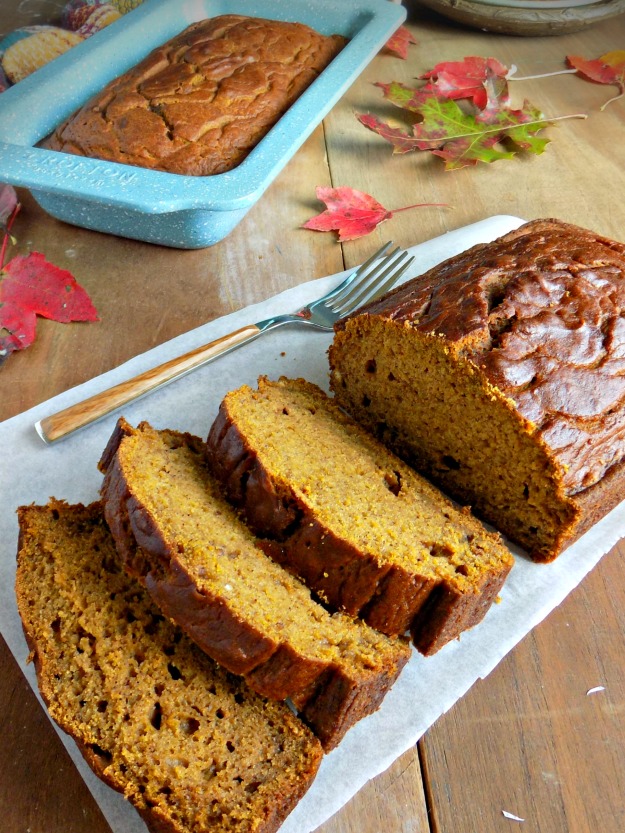 We enjoy a fancy dessert around here, but it's not something that I make (or want to eat) every day. But a seasonal quick bread like this pumpkin bread is just perfect to have around on a daily basis. It makes a great snack or treat for after dinner that is healthy-ish and not too decadent. It has just a hint of sweetness and a little bit of fall spice, and I sometimes top a slice with a little peanut butter or almond butter for a little extra protein. (And if you like this recipe for Homemade Pumpkin Bread, also check out my recipe for Double Chocolate Zucchini Bread.)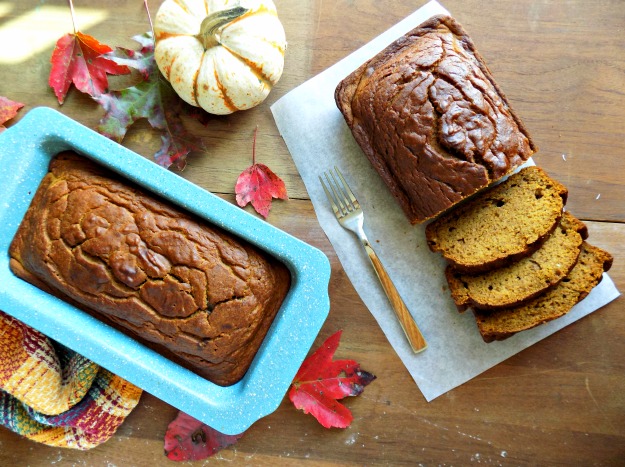 Cook's Tips:
For the oil in this recipe, use whatever kind of oil you prefer for baking. I like sunflower, organic canola, or melted and cooled coconut oil.
For sugar, I like to use unrefined cane sugar, but regular white sugar will work, too.
You can use sweetened or unsweetened applesauce in this recipe. Using sweetened applesauce will just make the pumpkin bread a little sweeter.
The recipe calls for 2 cups of pumpkin puree. If you are using canned puree, use 1 (15-ounce) can. A 15-ounce can is just shy of 2 cups, but won't really make a difference in the finished pumpkin bread.
For a little extra fiber, you can substitute up to ⅔ cup of the all-purpose flour with whole wheat flour.
I skip the electric mixer and use a wooden spoon to mix the batter for this bread. You can use an electric mixer but be careful not to overmix or your bread won't be as tender as it should be.
The loaves will take approximately an hour to bake, but always start checking early because the baking time will vary based on a variety of factors, such as how hot your oven runs and the material the loaf pan is made from.
This recipe can be used to make delicious pumpkin muffins, too. The baking time will be reduced so start checking for doneness after about 20 minutes.
---
I hope you try this recipe, and if you do, I hope you love it. Please let me know in the comments below.
Enjoy!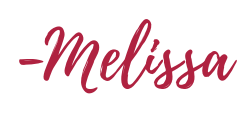 *This post may contain affiliate links, which means I will earn a commission at no additional cost to you if you click through and make a purchase.*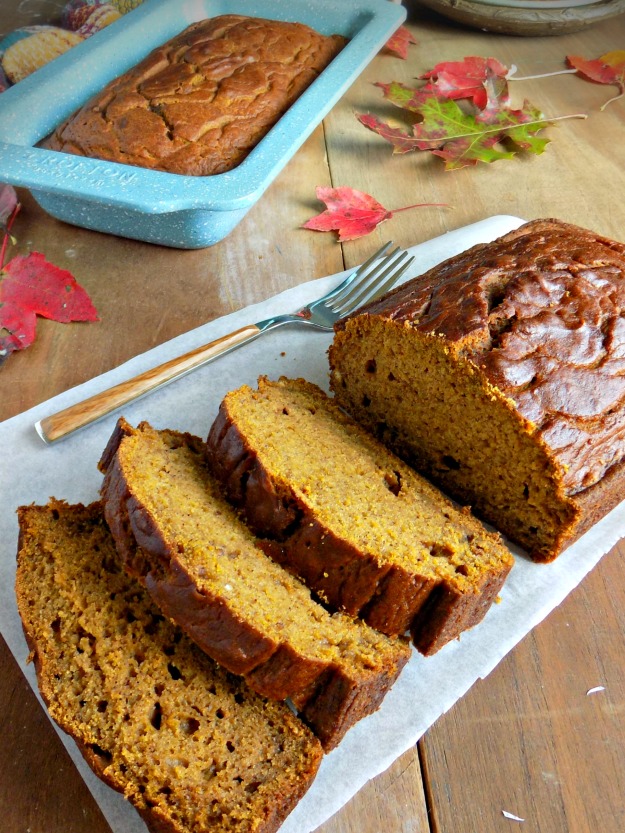 The Best Homemade Pumpkin Bread
Ingredients
½ cup oil
2 cups sugar
½ cup applesauce
4 eggs
2 cups pumpkin puree
3 ½ cups all-purpose flour
1 teaspoon baking powder
1 teaspoon baking soda
1 ½ teaspoon salt
¼ teaspoon ground cloves
1 ½ teaspoon ground cinnamon
½ teaspoon ground ginger
Pinch of nutmeg
⅔ cup water
Instructions
Preheat oven to 350 degrees Fahrenheit. Grease two 9x5-inch loaf pans.
In a mixing bowl, combine oil, sugar, applesauce, eggs, and pumpkin.
In a separate mixing bowl, whisk together flour, baking powder, baking soda, salt, cloves, cinnamon, and ginger.
Stir dry ingredients into wet ingredients. Add water and mix well.
Pour batter into prepared loaf pans. Bake for 1 hour, or until a toothpick inserted into the center of loaves comes out clean.
For more great recipes, visit my friends at:
Full Plate Thursday at Miz Helen's Country Cottage
Meal Plan Monday at Southern Bite
Weekend Potluck at The Country Cook