Today we're taking a walk down memory lane with these vintage Grape Jelly Meatballs. This is a classic appetizer for holiday gatherings, baby showers, and other special occasions. They're also delicious for an easy dinner served over rice or mashed potatoes. And with only 3 ingredients, they couldn't be any easier. (And if you like vintage holiday recipes, also check out my recipe for Butterscotch Haystacks).
I've been breaking out all of the old holiday recipes from my childhood this year. Maybe it's nostalgia, or maybe it's for a bit of fun (probably both), but it's also because these recipes really are delicious. They are tried-and-true palette pleasers. And this kind of vintage recipe tends to be simple with few ingredients, which I think makes it ideal for entertaining during the holidays. Because I don't know about you, but I'll take all of the help I can get during the busy holiday season.
So these Grape Jelly Meatballs are really just cocktail meatballs in a simple sweet and tangy sauce. You can heat them up in the slow cooker and leave them on the warm setting while your guests help themselves. Or you can make them in a large pot on the stovetop and then keep them warm on the stove. Or serve them in a decorative bowl (you don't want them to sit out at room temperature for too long, but chances are good that these meatballs will go fast!). And when you serve them, don't forget to put out the toothpicks or fancy cocktail skewers!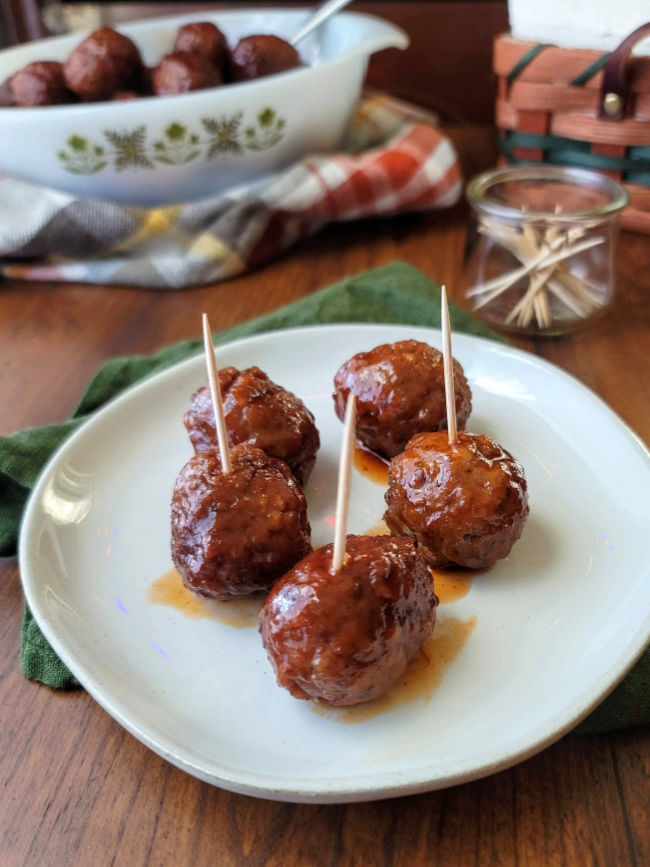 So let's talk about the ingredients for Grape Jelly Meatballs:
There are only 3 ingredients for the basic recipe:
Grape Jelly – Use your favorite store-bought or homemade grape jelly. I like the Crofter's brand of organic concord grape jelly and also Smucker's Low Sugar Grape Jelly.
Chili Sauce – This is the tomato-based chili sauce that is similar to ketchup, not the Asian-style chili sauce. Heinz is probably the most well-known brand of chili sauce and the one that I typically use. Aldi's Burman brand chili sauce is also delicious.
Meatballs – If you've followed me here for any length of time, you know that I tend to make most things from scratch. But for this recipe, I typically use frozen meatballs. I generally only make this recipe for special occasions, and that's often when I need a shortcut the most.
Of course, you can also make your own meatballs. If you do, I recommend that you fully cook them first. It will firm up the meatballs so that they hold together better in the sauce, and precooking will also remove the excess grease from the meatballs. (Because no one wants a greasy grape jelly meatball!). If you need a homemade meatball recipe, I recommend this Classic Meatballs Recipe by Betty Crocker.
And you can use whatever meat you like for your meatballs. Beef, turkey, chicken, pork, or venison will all work. You can even try frozen vegetarian meatballs (although I recommend cooking the sauce first and then adding the veggie meatballs in the last 30 minutes or so of cooking). Flavor-wise, you can use either plain meatballs or Italian-style meatballs. I have used both and they are equally delicious.
Variations of Grape Jelly Meatballs:
You can make other varieties of cocktail meatballs using this basic recipe. Try using different flavors of jelly in place of grape jelly. I like to use apricot jelly, hot pepper jelly, or even cranberry jelly. Instead of chili sauce, you can substitute regular ketchup or BBQ sauce. And you can add other ingredients, too. I sometimes add a few dashes of liquid smoke or a few tablespoons of soy sauce.
A few tips for making cocktail meatballs:
Heat the meatballs in a slow cooker, or simmer gently on the stovetop. You want the meatballs to reach an internal temperature of at least 165 degrees Fahrenheit. After that, reduce the heat and simmer for at least 1-2 hours so that the flavors all combine and the meatballs absorb the sauce a bit.
If using homemade meatballs, I recommend baking them in the oven until fully cooked. This helps to firm up the meatballs so that they hold together while simmering in the sauce. Precooking the meatballs and draining off any excess grease before adding them to the sauce also makes for a nicer sauce.
Serve these grape jelly meatballs as an appetizer with toothpicks or cocktail skewers. You can also serve these meatballs as a meal. This recipe makes plenty of sauce to smother a side of mashed potatoes, egg noodles, or rice with.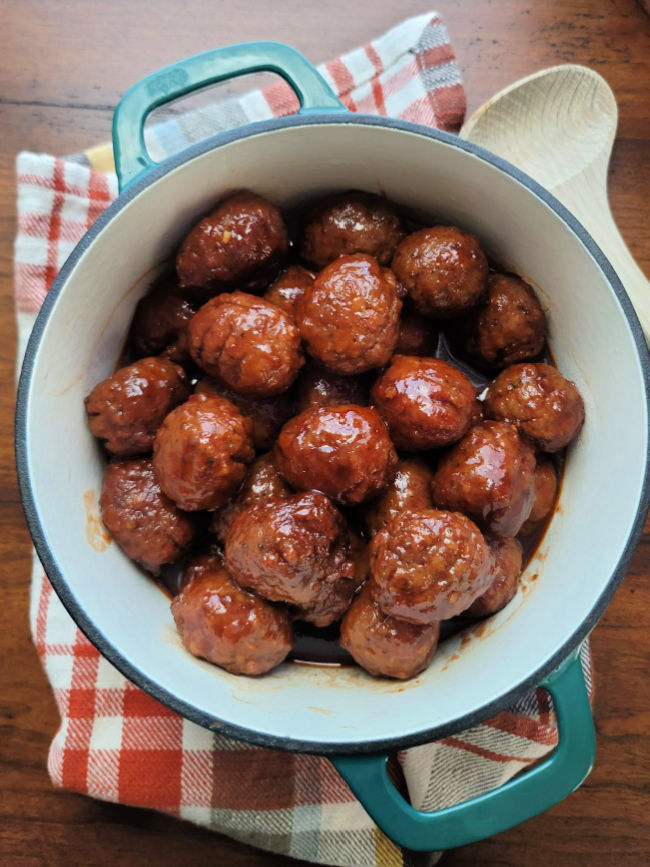 ---
So that's all there is to making Easy Grape Jelly Meatballs. I hope you give these flavorful cocktail meatballs a try at your next gathering. And if you do try this recipe, I hope you love it. Let me know in the comments below.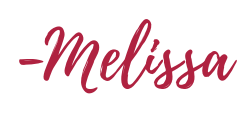 *As an Amazon Associate I earn from qualifying purchases. This post may contain Amazon or other affiliate links, which means I will earn a commission at no additional cost to you if you click through and make a purchase.*
Print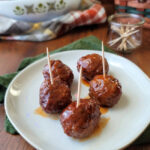 3-Ingredient Grape Jelly Meatballs
---
Description
Sweet and savory cocktail meatballs made with just 3 ingredients.
---
12

-ounce bottle of chili sauce (like Heinz)

12

ounces

grape jelly

32

ounces

of frozen meatballs (or homemade meatballs, pre-baked)
---
Instructions
In a slow cooker or a large, heavy-bottomed pot, whisk the jelly and chili sauce together. It's OK if it's not completely mixed.
Add the meatballs and toss gently with the sauce.
If using a slow cooker, cook the meatballs on high for 2-3 hours, gently stirring occasionally. Switch the slow cooker to warm for serving.
If cooking on the stove, simmer the meatballs on medium-low heat for 1-2 hours, or until the meatballs are completely heated through. Stir occasionally. Turn the heat to low to keep warm for serving.