Are you ready for a dish that will make your taste buds dance? Hot Crab Artichoke Dip is an easy-to-make, delicious appetizer that's sure to please. With its creamy, cheesy texture and succulent crab meat, this dip is the perfect way to start a party. Whether you're hosting a summer barbecue or a cozy winter gathering, this baked crab dip will surely be a hit! So, let's get started and create a dip that will have everyone asking for more! (And if you are looking for party appetizer recipes, take a look at this recipe for vintage Grape Jelly Meatballs.)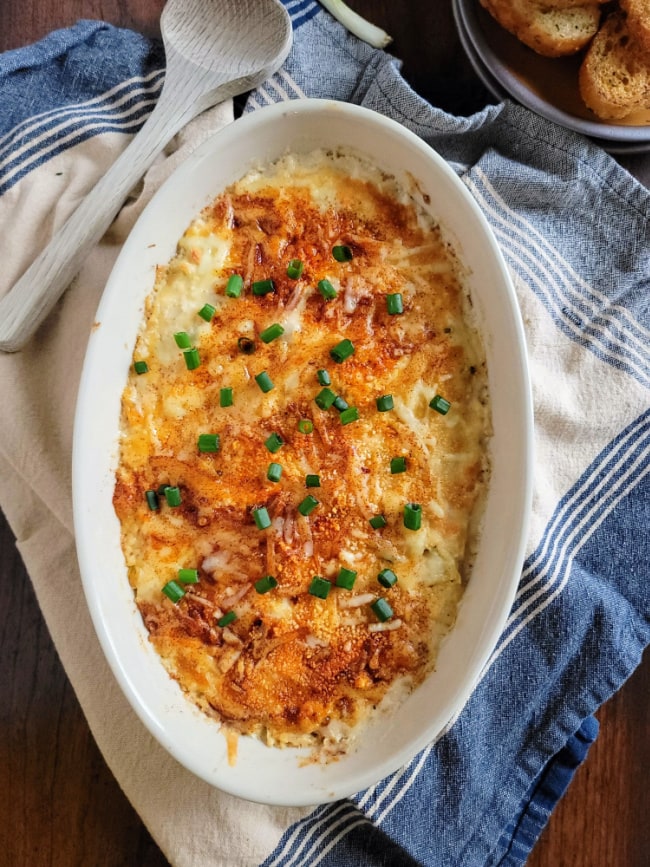 If you're not familiar with this dip, here's a bit of the history and background of Hot Crab Dip…
Hot crab dip is a creamy, cheesy seafood appetizer that has been enjoyed for decades. It most likely originated in coastal Maryland, where it's been a perennial favorite for ages. It's also popular here where I live in the southern U.S. It's traditionally made with crabmeat, cream cheese, mayonnaise, and seasonings, all baked in the oven until hot and bubbly. Over time, people have added their own variations to this classic recipe, such as adding shredded cheese, spices, and other ingredients. Hot crab dip is usually served with crackers, chips, bread, or vegetables, or bread cubes.
In my version of Hot Crab Dip, I add chopped artichoke hearts, plus some sour cream and two kinds of cheese (because IMHO, dip can never be creamy or cheesy enough, am I right?). Think of it as a combination of Artichoke Dip and Crab Dip.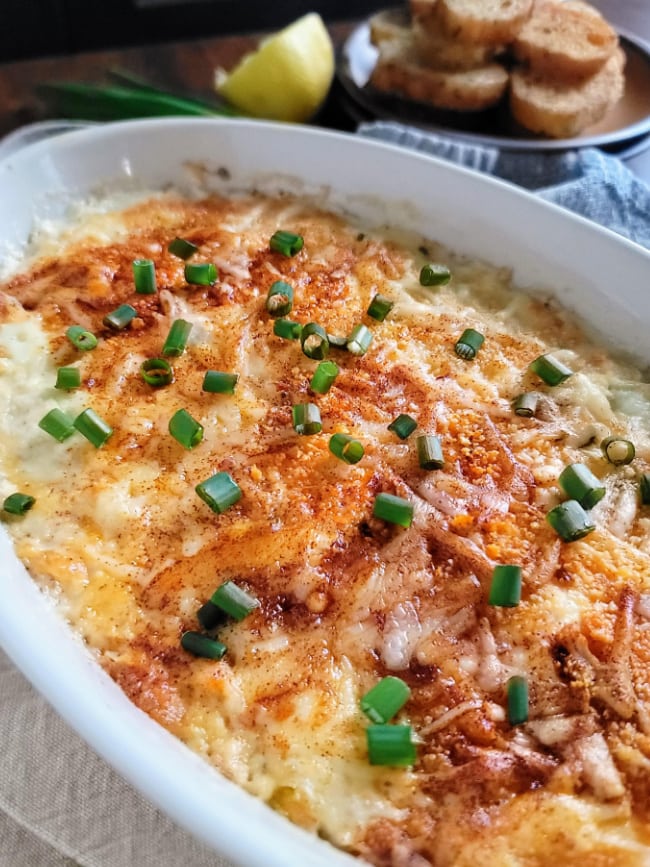 How to Serve Hot Crab Artichoke Dip
You can serve this crab dip in a variety of ways.
The easiest way to serve hot crab dip is to set it out in its baking dish with a variety of crackers, chips, or fresh vegetables. I like to use homemade or store-bought crostini or pita chips.
You can also use a hollowed-out bread bowl to bake and serve the hot crab artichoke dip. You can use store-bought or homemade bread for this. You'll need a large, hearty round loaf of white or wheat bread. Hollow out the inside, and brush the inside with melted butter. Place the bread bowl on a baking sheet, fill it with the hot crab dip and bake at 350 degrees Fahrenheit for about 30 minutes, or until the dip is bubbly and the bread is lightly golden. And don't waste the inside of the bread. Cut it into cubes, give them a quick toast in the oven, and serve those with the bread bowl for dipping.
If you prefer, you can make this Hot Crap Dip in a slow cooker instead of the oven. Add the ingredients to a slow cooker and cook on low for 1-2 hours, or until everything is heated through. Keep the slow cooker on the warm setting, add a ladle or large spoon to the crock for serving, and allow your guests to serve themselves.
Tips for making Hot Crab Artichoke Dip:
I like to use canned lump crab meat for this recipe. It's convenient and budget-friendly. If you prefer to use fresh, just make sure it is labeled lump, jumbo, or back fin. Be sure the crab is fully cooked and discard any piece of shells or cartilage you may find before using it in the recipe.
Change up the seasonings to suit your taste. A dollop or two of grated horseradish will give this dip a delicious kick. Add an Italian seasoning blend for an Italian-style dip. Or make it spicy by adding cayenne or drizzle the dip with hot sauce. You can also use Cajun or Creole seasoning.
Try using different cheeses. Monterey Jack cheese, hot pepper cheese, Swiss, or mozzarella are delicious choices.
How to store Crab Dip:
Truth be told, I rarely have leftover crab dip. But in the case that you do, store leftover crab dip in an airtight container in the refrigerator for up to 3 days.
When serving, how long can Crab Dip sit out?
And as an added food safety precaution, I don't like to allow seafood, including this dip, to sit out at room temp for more than an hour or two. After that, I refrigerate the leftover dip. If you accidentally leave this dip to sit out beyond 2 hours, just go ahead and discard it. As delicious as it is, it's not worth chancing it.
You can also serve this crab dip cold chilled. To do this, promptly cool and refrigerate the dip after baking. Serve it in a bowl nestled in a bed of ice to keep it cold while serving.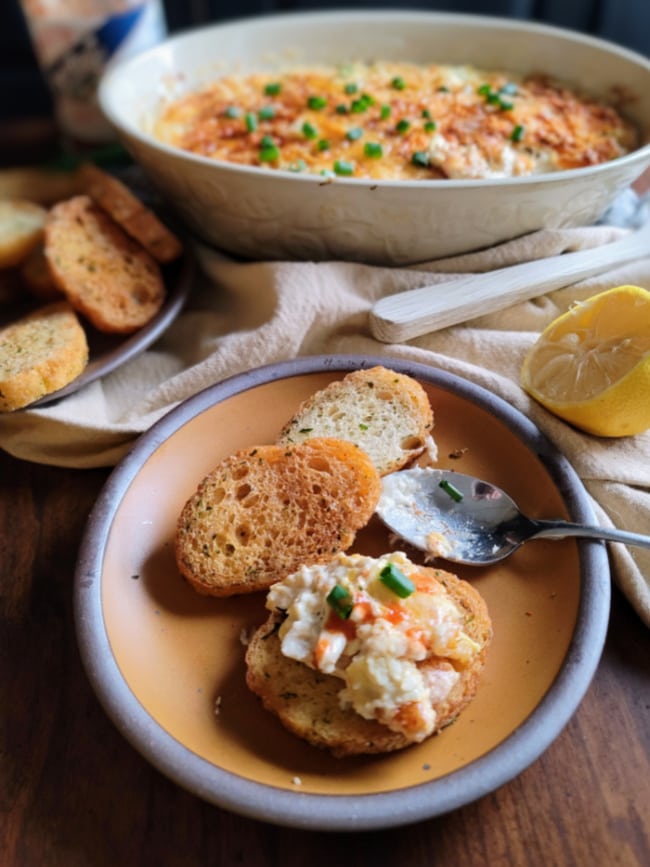 ---
If you try this recipe for Hot Artichoke Crab Dip, I hope you love it. And follow me on Facebook, Pinterest, and Instagram so you don't miss a post.
*As an Amazon Associate I earn from qualifying purchases. This post may contain Amazon or other affiliate links, which means I will earn a commission at no additional cost to you if you click through and make a purchase.*
Print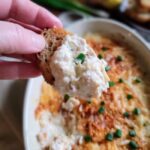 Hot Crab Artichoke Dip
---
Description
Hot crab dip is an easy-to-make, delicious appetizer that is sure to please. With its creamy, cheesy texture and succulent crab meat, this dip is the perfect way to start any party.
---
1

(8-ounce) package of cream cheese, softened

1/2

cup

mayonnaise

1/2

cup

sour cream

1 tablespoon

fresh lemon juice

1 teaspoon

Worcestershire sauce

1/4 teaspoon

garlic powder

1/4 teaspoon

onion powder

1 1/2 teaspoon

seafood seasoning (like Old Bay)

1/2

cup

grated Parmesan cheese, divided

3/4

cup

shredded cheddar cheese, divided

2

(6-ounce) cans of lump crab meat, drained

1

(14-ounce) can of artichoke hearts, drained and coarsely chopped

1/4 teaspoon

paprika

2

–

3

green onions, finely chopped (optional)
---
Instructions
Preheat oven to 350°F.  Prepare an 8×8-inch baking dish, or a similar size casserole dish, by spraying it with oil or rubbing it with butter.
In a mixing bowl, combine cream cheese, mayonnaise, sour cream, lemon juice, Worcestershire sauce, garlic powder, onion powder, seafood seasoning, ¼ cup of grated Parmesan, and ¼ cup of shredded cheddar. Use an electric mixer to mix, or stir with a sturdy spoon or spatula until well combined (the mixer is easier but you can mix it by hand if you choose).
Add the crab meat and chopped artichokes, and use a spoon or spatula to gently mix until combined.
Spread the mixture into the prepared baking dish.
Top with remaining Parmesan and cheddar cheeses. Sprinkle with paprika.
Bake for 25 minutes or until the cheese is melted and bubbly.
Garnish the top with chopped green onions. Serve warm with crostini, crackers, chips, or raw vegetables.