This Green Bean Salad with Tomatoes and Mozzarella combines the garden-fresh flavors of green beans and cherry tomatoes with a tangy basil, apple cider vinegar, and mustard dressing. It's perfect as a side dish for dinner, or as a light supper with some crusty bread to accompany it. I love this cold green bean salad recipe because it's so simple yet super-flavorful. It uses minimal ingredients and makes them taste (and look) like something special. (And if you enjoy fresh vegetable side dishes, check out my recipe for Minty Creamed Peas.)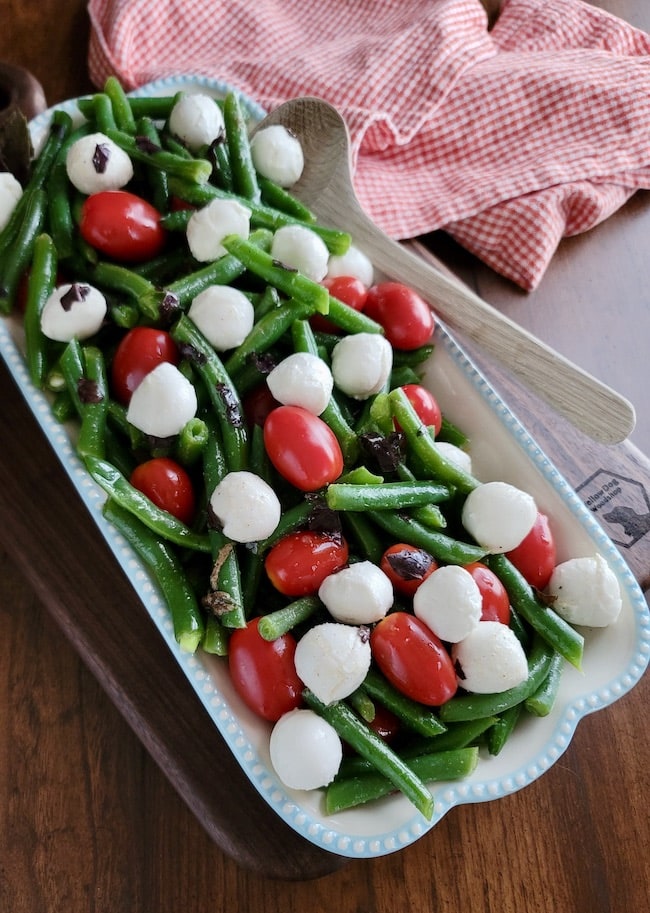 One of my favorite times of the summer gardening season is when the first fresh green beans start to come in. I like to pick them while they're still young and tender and use them to make my favorite green bean dishes, like this cold Green Bean Salad with Tomatoes and Mozzarella. Fresh vegetables picked in their season are not only the most delicious, but are the very definition of simplicity. It doesn't take much to make a fresh green bean delicious – in fact, I often snack on them straight from the vine as I pick them.
But you don't need your own garden to take advantage of the great flavor of fresh, summer produce like green beans and tomatoes. Look for seasonal produce at your local farmer's markets and even your local supermarkets. Summertime is the time to take advantage of buying green beans, tomatoes, cucumbers, zucchini, melons, and all of the delicious summer produce. It's a good time to get while the gettin' is good, so to speak.
We should also talk about cost, too, because right now, grocery prices are soaring. This green bean salad is made with simple pantry staples and fresh summer produce, so it's a frugal recipe for the summer months. But this Green Bean Salad is good for any time of year, including holidays. So if you want to make this in the colder months, save some money by using frozen or canned green beans, because fresh vegetables are always a better deal when buying them in their season.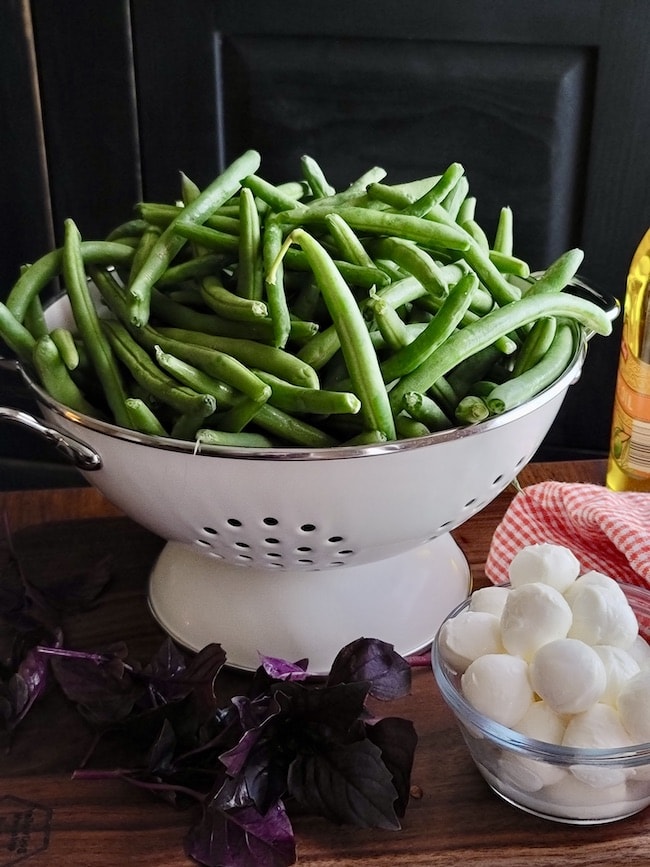 What Ingredients are in Green Bean Salad with Tomatoes and Mozzarella?
Well green beans, tomatoes, and mozzarella cheese, of course. But I also make a quick basil vinaigrette dressing for this recipe, too, so there are a few other ingredients:
Green Beans – I prefer fresh green beans, but frozen will work, too. Use beans that are on the slender side for this salad. Don't use big, lumpy green beans because they will be too tough.
Tomatoes – Use your favorite tomatoes. I use cherry or grape tomatoes, but you can use larger tomatoes and cut them into chunks. A nice, juicy heirloom tomato would be lovely in this salad.
Mozzarella Cheese – I love the little fresh mozzarella balls in this salad. You could also use a ball or log of fresh mozzarella cut into smaller pieces, or substitute the cheese of your choice.
Oil – Extra virgin olive oil is my preference in this dressing. Avocado oil, grapeseed oil, or your favorite salad oil will work, too.
Fresh Basil – I use fresh basil from my garden, but you can substitute 2 teaspoons of dried basil for the 2 tablespoons of fresh basil that the recipe calls for. If you aren't a fan of basil, go ahead and substitute it with your favorite herbs.
Apple Cider Vinegar – I use apple cider vinegar because I love the flavor, but it is also something I always have on hand. Other kinds of vinegar, like red or white wine vinegar, would be delicious, too. Experiment with different kinds of vinegar for different flavors.
Granulated Garlic – Of course, you can use a clove or two of fresh minced garlic in your dressing, but I like the granulated garlic because it is easy and the flavor isn't overpowering.
Mustard – Dijon or whole grain mustard is what I think gives the best flavor to the dressing. Don't skip the mustard because it helps to emulsify the dressing so that mixes together better.
Sugar – Sugar is an optional ingredient, but I like to add a teaspoon to tone down the tartness of the vinaigrette.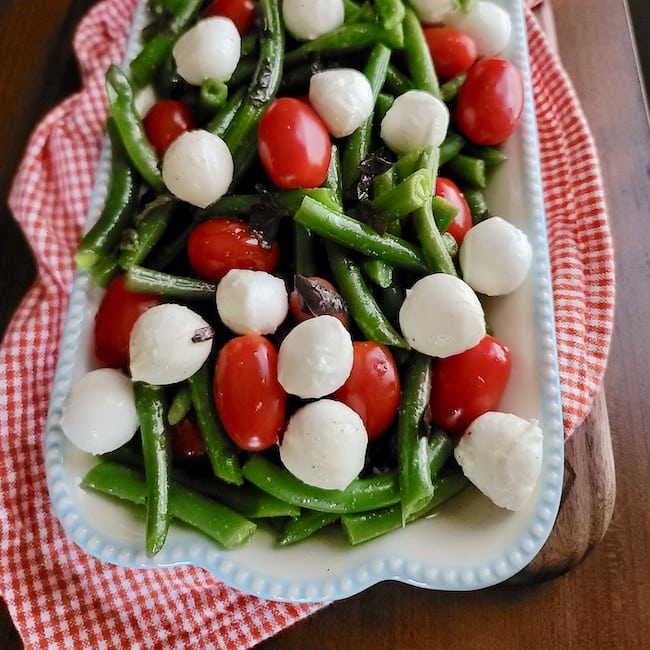 Tips for making Green Beans with Tomatoes and Mozzarella:
Double or triple the recipe, or cut it in half. This recipe is scalable. If you need more than the eight servings the recipe makes, feel free to scale up the recipe as needed. If you need less, cut it in half.
Prepare your green beans. Preparing the beans is easy. If your green beans are small and fine, simply use a pair of kitchen shears to snip off the stem end. If you are using a larger bean, you may also need to remove the string that runs down the side of the bean. Stringing beans is unnecessary with most grocery store varieties and is more common with homegrown or heirloom beans.
Use fresh, frozen, or canned green beans. I prefer fresh green beans for this recipe, but I don't mind using frozen or even my home-canned beans when fresh green beans aren't in season. To use frozen beans, blanch them until tender and then immediately transfer them to an ice water bath before proceeding with the recipe. If you're using canned beans, you can skip the blanching altogether and use them straight from the can.
Swap out ingredients. Feel free to customize this dish to your liking. Instead of mozzarella, try feta cheese, goat cheese, or chunks of cheddar. Replace basil with another herb like oregano, dill, marjoram, mint, or whatever you enjoy. Sometimes I will use my favorite dried Italian blend seasoning. You can also swap out the apple cider vinegar for white wine vinegar or balsamic vinegar. Be creative and use what you like and what you already have.
Roast or steam your green beans. If I'm using fine green beans like haricot vert, I will sometimes roast them with olive oil and garlic to use in this dish. You can also steam your beans.
Store the leftovers. Store your leftovers in a bowl with a tight-fitting lid and refrigerate for 3-5 days.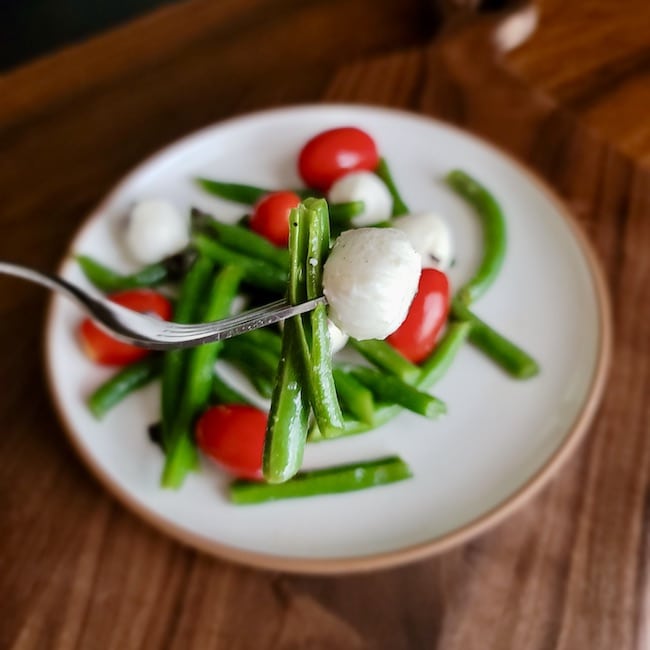 ---
I hope you try this recipe for Green Beans with Tomatoes and Mozzarella, and if you do, I hope you enjoy! Let me know in the comments below!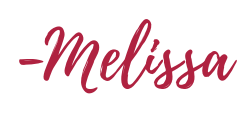 Print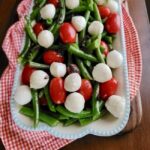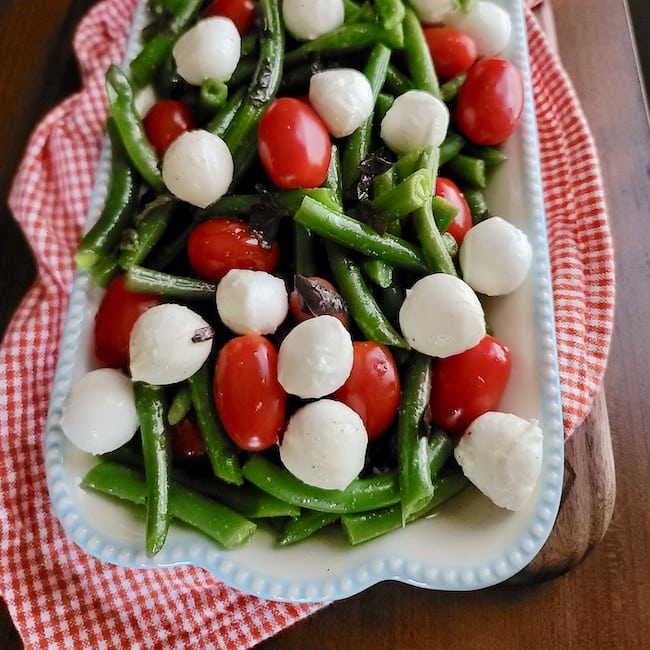 Green Bean Salad with Tomatoes and Mozzarella
---
Author:

Total Time:

30 minutes

Yield:

8

-

10

Servings

1

x
Description
A delicious cold Green Bean Salad that includes tomatoes, fresh mozzarella, and a zesty vingaigrette.
---
For the Vinaigrette Dressing:
1/2 cup

olive oil

1/4 cup

apple cider vinegar

1 tablespoon

Dijon or whole grain mustard

2 tablespoons

chopped, fresh basil (or

2 teaspoons

dried basil)

1 teaspoon

granulated garlic

1 teaspoon

sugar (optional)

3/4 teaspoon

salt

1/4 teaspoon

ground black pepper
For the Salad
2

pounds fresh green beans (stem end and strings removed)

1 pint

cherry or grape tomatoes

8 ounces

of fresh mozzarella (use small balls or cut a large ball into bite-size pieces)
---
Instructions
Whisk the dressing ingredients together and set aside.
Blanch the green beans in boiling water for 2-3 minutes for fine beans, or 6-8 minutes for larger beans (or until tender to your liking). Remove beans from boiling water and place them into a bowl of ice water to stop the cooking. Drain.
In a large bowl, add drained beans, tomatoes, and mozzarella. Drizzle with dressing and gently toss to combine.
Season with extra salt and pepper, if needed, before serving.
Prep Time:

0 hours

Additional Time:

0 hours

Cook Time:

30 minutes