This Apple Butter Pumpkin Pie with Pecan Streusel Topping is the stuff sweet dreams are made of. The filling combines apple and pumpkin flavors with warm fall spices. And if that isn't delicious enough, we then top it with a crumbly, buttery pecan streusel topping. I can tell you that this makes a very special pie for the holidays, or for Sunday dinner. I like to serve it simply with just a dollop of whipped cream on top. (And if you would like to make your own Apple Butter, check out my recipe for the Easiest Homemade Apple Butter.)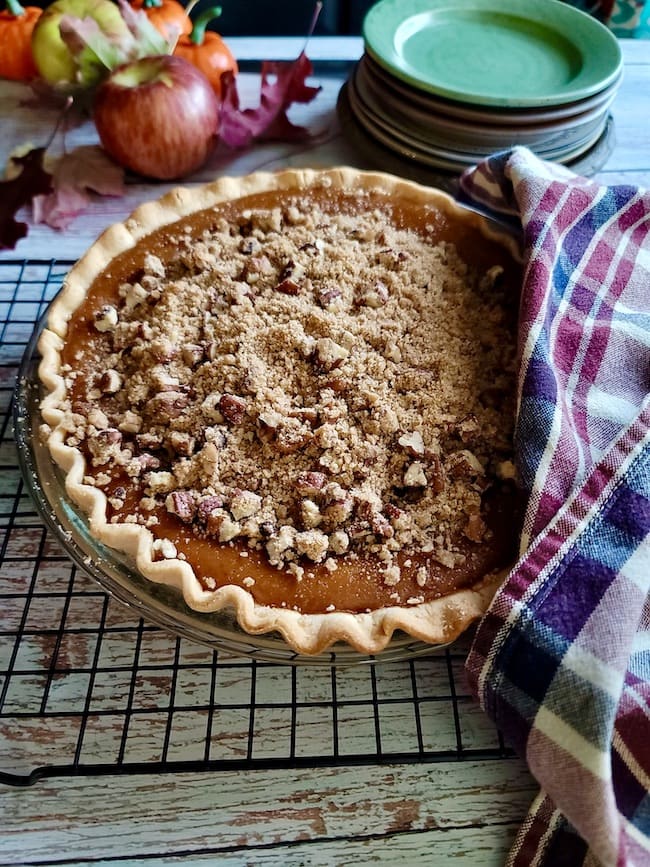 Now I know that combining apple butter and pumpkin puree together in a pie might sound a bit strange to some folks. But I can tell you honestly that my family thinks this is the absolute best pumpkin pie. The addition of apple butter gives a regular ol' pumpkin pie a slightly fruity twist. And unless you're a pumpkin pie purist (and no shame if you are!), I think you'll agree that the combination is delightfully different!
And can we just talk about the streusel topping for a minute? I mean, is it really necessary to make a pumpkin pie with streusel topping? My answer is that it's not absolutely necessary, but it does take this pumpkin pie from very good to amazing! And I wouldn't tell you this if I didn't believe it. Because if you are a regular reader here, you know that I favor simple recipes. I don't dress up my recipes and take extra steps (and extra ingredients) if I don't think it's worth it. But in this case, I really recommend you don't skip the streusel topping.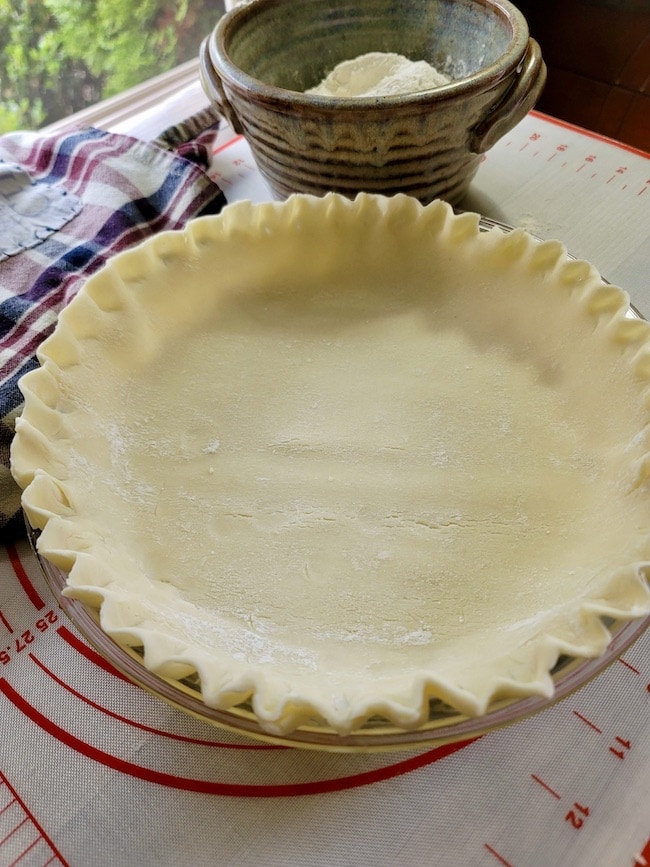 So before we get started, let's talk about the ingredients for Apple Butter Pumpkin Pie with Pecan Streusel Topping:
Pie Crust – Use your favorite homemade or store-bought pie crust. You'll need a single crust if you are making just one pie. If you want to make your own pie crust and don't already have a favorite recipe, I recommend these:
Apple Butter – You can use store-bought or homemade, but make sure it is something thick and rich. You don't want a runny pie filling or a flavorless pie, so use high-quality apple butter in this recipe.
Pumpkin Puree – Again, you can use a can of store-bought puree or homemade. If you're going to use a can of pumpkin puree, make sure it is pure pumpkin and not pumpkin pie mix. As far as brands go, I think Libby's is the best, but you can use whatever brand you prefer.
If you're using homemade pumpkin puree, there are a few things to be aware of, First, you'll need to use a pumpkin that is good for making pies. Sugar pie pumpkins are perfect for pies. And if you're feeling adventurous, you can even use other winter squash in place of pumpkin. I often make fresh pumpkin pies using my homegrown Candy Roaster squash (which are like pumpkins but don't look anything like the orange around pumpkins we're all familiar with). Butternut squash, kabocha squash, and cushaw are all winter squashes that make a lovely pie.
Also, know that fresh pumpkin puree will typically have a different texture than a can of pumpkin. But I actually like the texture of a fresh pumpkin pie. It is a bit more velvety, whereas the canned pumpkin is lighter and smoother. And while it may not be worth it to make your own fresh pumpkin puree just for the 1 cup needed for this recipe, you can always make a batch and freeze the extra pumpkin puree for later. If you've never made your own, I recommend this article by Allrecipes.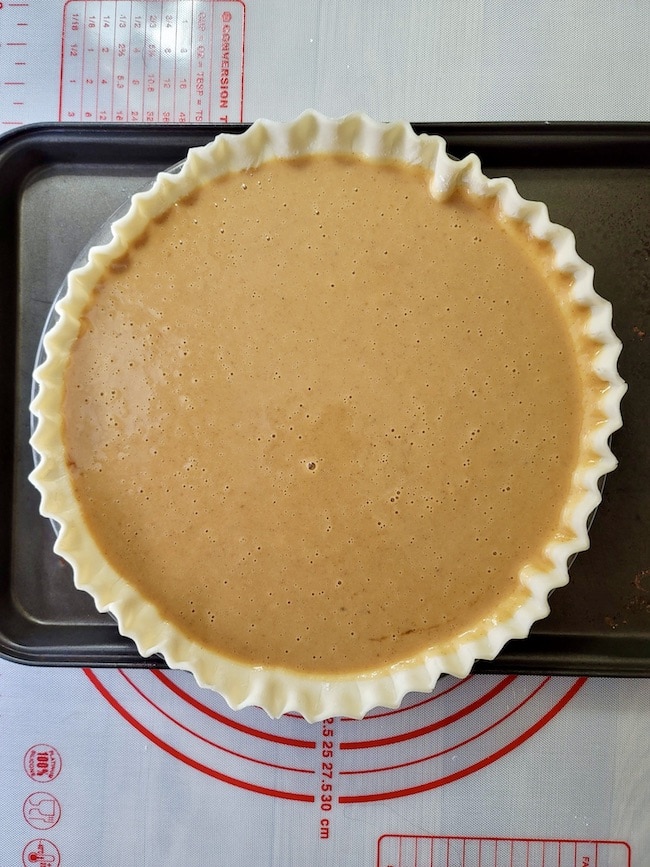 Evaporated Milk – I've tested this recipe using heavy cream, half and half, and evaporated milk. And while the cream and half-and-half pies were OK, in my opinion, the evaporated milk won out for flavor and texture every time. So I'm going to recommend that you use evaporated milk in this pie and don't substitute it.
Sugar – I like to use a mix of brown and granulated sugar for the apple butter pumpkin pie. I think the combination makes the tastiest pie, but you can actually use all of one or the other. And be fair warned, this is a sweet pie. So if you don't like your pies very sweet, go ahead and reduce the amount of sugar. You can also use your favorite sugar substitute, as long as it is one that is safe for baking (substitute according to the package directions).
Spices – I use a mix of fall spices as listed in the recipe. If you want to take a shortcut, use 1-2 teaspoons of either pumpkin pie spice or apple pie spice in place of the individual spices called for in the recipe.
Pecans – You can substitute walnuts in the streusel topping if you prefer. If you wish to avoid nuts, simply leave them out or substitute them with crushed pretzels to give it that added crunch.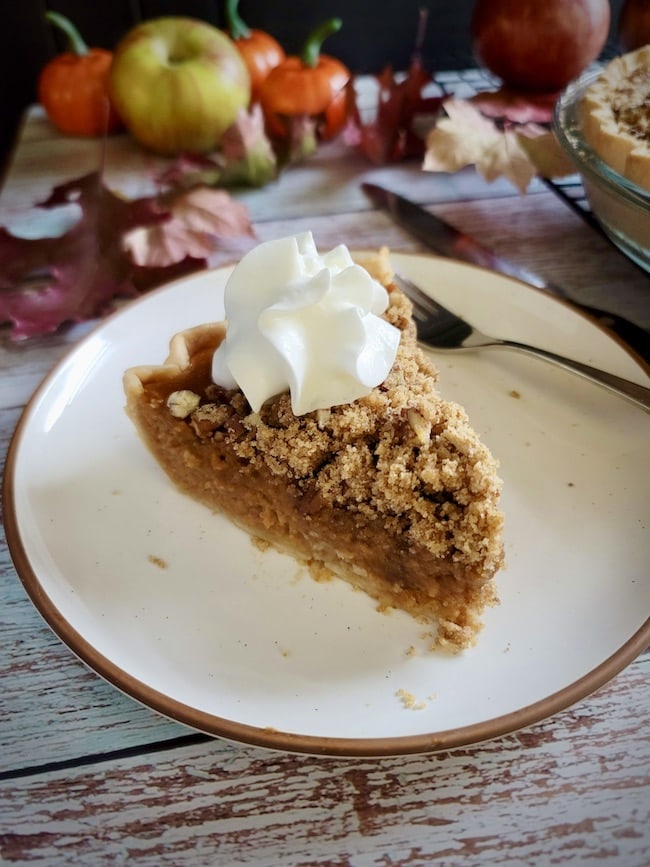 Tips for making Apple Butter Pumpkin Pie with Pecan Streusel:
Should I blind-bake the crust? When it comes to pumpkin pies, there seems to be a debate about whether or not to blind bake the crust. Personally, I do not blind-bake the crust for pumpkin pies. I don't feel that it's necessary. Of course, you can go ahead and blind-bake it if you like, it won't hurt the pie. You'll just want to keep an eye on the crust later in the process to make sure it doesn't get too dark.
Have a pie crust shield or some aluminum foil ready. Keep an eye on the pie as it bakes to see how the crust is browning. If it begins to get too brown, place a pie shield (like this one) on the pie to protect the outer edges of the crust. You can also fashion a pie shield out of aluminum foil:
Cool and refrigerate. After pulling your pie out of the oven, allow it to cool on a rack for 1-2 hours, until nearly completely cool. Cover with plastic wrap and place it in the refrigerator to chill. For the best flavor and consistency, allow the pie to chill for several hours before serving. If you have leftover pie, store it in the refrigerator for 3-4 days.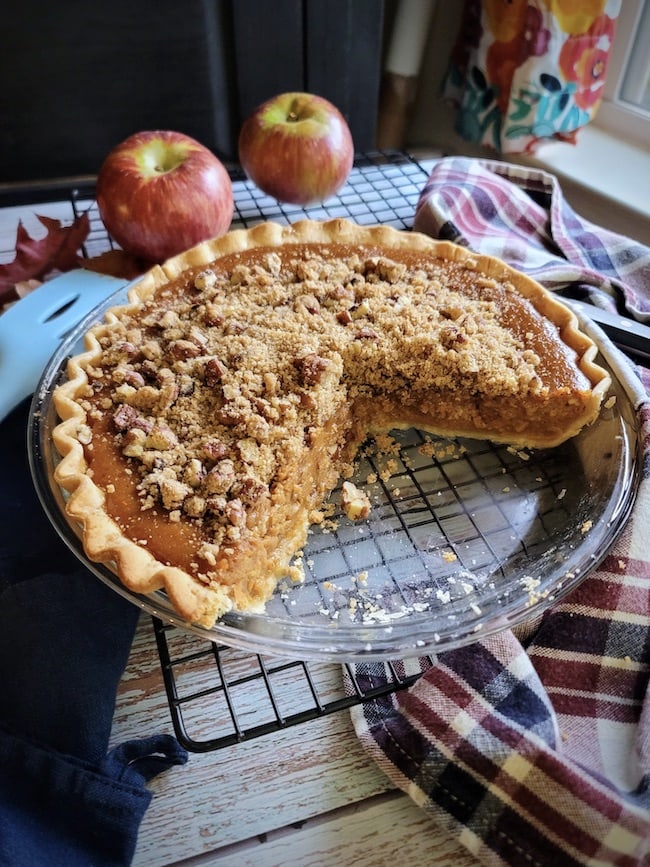 ---
If you try this recipe for Apple Butter Pumpkin Pie, I hope you love it. And follow me on Facebook, Pinterest, and Instagram so you don't miss a post.
*As an Amazon Associate I earn from qualifying purchases. This post may contain Amazon or other affiliate links, which means I will earn a commission at no additional cost to you if you click through and make a purchase.*
Print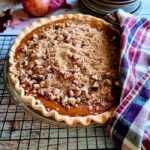 Apple Butter Pumpkin Pie with Pecan Streusel Topping
---
Author:

Total Time:

1 hour 45 minutes

Yield:

1

9-inch pie, or about

8

slices

1

x
Description
A fruity twist on a classic pumpkin pie with the fall flavors of both apple and pumpkin and a crumbly pecan streusel topping.
---
For the filling
1

cup

evaporated milk

3

eggs, room temperature

3/4

cup

packed brown sugar

1/4

cup

granulated sugar

3/4 teaspoon

ground cinnamon

1/2 teaspoon

ground ginger

1/4 teaspoon

ground nutmeg
Pinch of ground cloves

1/2 teaspoon

fine salt

1

cup

pumpkin puree

1

cup

apple butter

1

pie crust, prepared and waiting in a 9-inch pie pan
For the streusel topping
1/4

cup

butter, softened

1/2

cup

flour

1/3

cup

brown sugar

1/2

cup

chopped pecans
---
Instructions
Heat oven to 375 degrees Fahrenheit.
Whisk together the evaporated milk and eggs until well combined. (I use a hand whisk for this, but you can use an electric hand mixer or a stand mixer.)
Add sugar, spices, and salt. Whisk again to combine.
Add the pumpkin puree and apple butter to the mixture. Blend until fully combined using a whisk or a mixer.
Pour filling into a prepared pie crust. (Blind baking is optional.)
Bake for 50 to 60 minutes. or until the filling is set around the edges and slightly jiggly in the center. A knife inserted into the filling should come out clean. (If the crust begins to get too brown anytime during baking, cover the edges of the pie crust with a pie shield or aluminum foil.)
While the pie is baking, combine streusel topping ingredients in a bowl and set it aside.
After 50-60 minutes, carefully remove the pie from the oven and crumble the streusel over the top of the pie. Place back into the oven and bake for another 15 minutes.
Remove the pie from the oven and allow it to cool on a cooling rack for 1-2 hours, and then place it in the refrigerator to chill. Serve the pie chilled, whipped cream is a bonus!
Prep Time:

30 minutes

Cook Time:

75 minutes